After months of being teased with videos and photos that possibly don't even have anything to do with the American Horror Story, we finally know the theme!
Season 6 of American Horror Story is about an interracial couple Shelby (Lily Rabe) and Matt (Andre Holland) who go on to a TV show called 'My Roanoke Nightmare', in which they talk about a traumatic experience they had whilst living in a decrepit farmhouse in the middle of nowhere and are haunted by Roanoke ghosts, or that group of racist men who they beat at buying the house… Who knows right now?
'My Roanoke Nightmare' is put together with interviews with Shelby and Matt, which are then recreated by 'actors' played by Sarah Paulson as Shelby and Cuba Gooding Jr. as Matt.
Let's talk about the word 'Roanoke' for a minute… It's the most intriguing word so far, right?
Roanoke is one of America's oldest unsolved mysteries back in August 1587, when a group of 115 English settlers arrived in Roanoke Island, what is also now known as North Carolina. John White, governor of the colony sailed back to England to gather fresh supplies, but as he arrived, a major naval war broke out between England and Spain. In August 1590, John returned to Roanoke where he had left his wife, daughter, infant granddaughter and other settlers, however, they had all mysteriously vanished with no signs of a struggle or battle. There was also no trace of the colony or its inhabitants, but there was a peculiar clue as to what may have happened. A single word 'Croatoan' carved in to a wooden post. Investigations have continued over the centuries but no one has come to any satisfactory answer as of yet. Researchers found out that the word 'Croatoan' was the name of an island south of Roanoke, which was home to a Native American tribe of the same name. Theories say that perhaps the colonists were killed/abducted by the Native Americans. Other people say that they tried to sail towards England on their own and got lost at sea or maybe they moved further to another friendly tribe. 
How does this have anything to do with the new season? We don't know just yet as it's only the first episode but we're sure it will all piece together soon enough! Ryan Murphy has said before that the seasons all connect together and many rumours have said that this season will connect to 'Murder House' as babies are supposedly very important this time round. If we throw it back to 'Murder House', we may all remember this short conversation between Violet and Chad.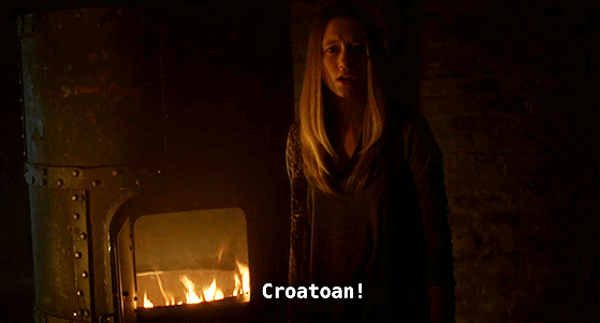 Interesting…
The American Horror Story Facebook and Twitter page also just changed their profile picture today to a photo that definitely confirms that this theme is 'Roanoke'.
So, all we can do now is be patient and let the story unravel as it goes along! There's still many questions such as; is each episode based on a different story? Or is this all completely focused on Shelby and Matt? It's all exciting but oh so painful having to wait so long! Lady Gaga will be making her first appearance in this season next Wednesday – we can't wait for that! Unfortunately, nobody knows when Evan Peters will be making an arrival to the show, which is driving the fans crazy, time will only tell us what we want to know!
Watched the first episode? Make sure you check out next week's preview!
See what's coming next… #AHS6 pic.twitter.com/XLcvKKWHG2

— AmericanHorrorStory (@AHSFX) September 15, 2016
Tweet us your opinions of 'American Horror Story: Roanoke' over at @CelebMix!