Would an award show still be an award show without a magnificent red carpet fashion decked out with pop culture celebrities in trend-setting designer attires? We don't think so!
The 2022 American Music Awards took place this weekend at the Microsoft Theater in Los Angeles, California, and saw pop celebrities from the USA and beyond come together to celebrate one of the biggest musical extravaganzas, honouring distinguished artists and notable music releases and moments in the last year.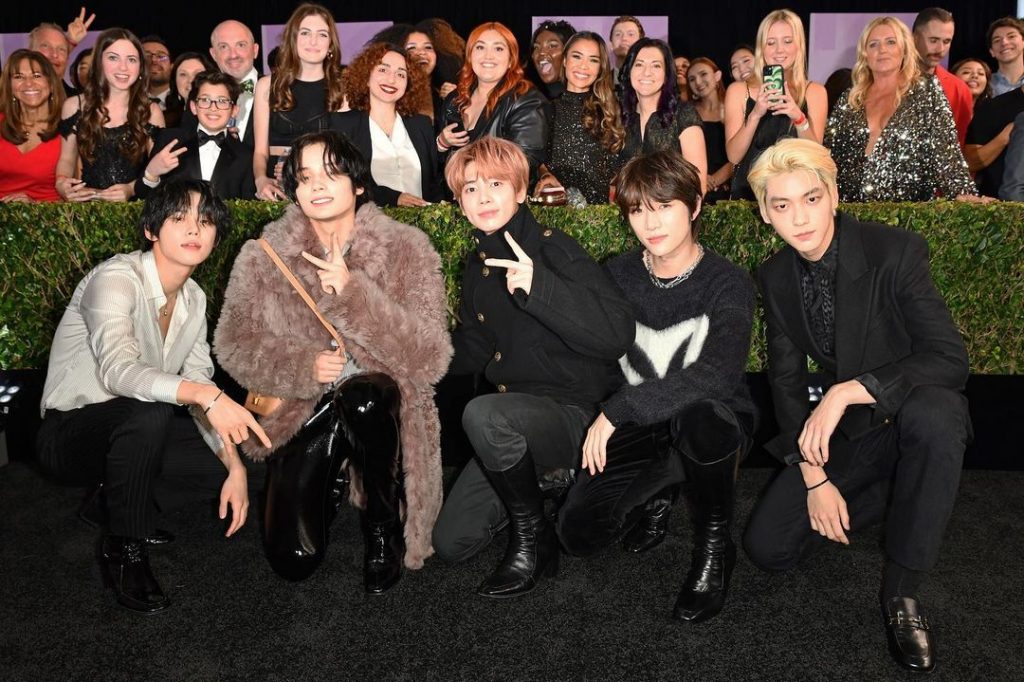 Evenings like these award shows, however, are about more than just the nominees and winners, as the red carpet captivates the viewers with dazzling fashion donned by celebrities in attendance, leaning into the spectacle, and embracing and setting the new trends.
The AMAs are renowned for their theatrical and extravagant red-carpet attires, with a dress code that might read "black-tie," but the red-carpet fashion would always be immaculate and anything but traditional tuxedos and evening gowns. And to commemorate its 50th edition, the red carpet witnessed a triumphant comeback this year after a long pandemic fashion drought as stars brought their immaculate style in dazzling designer attires to the event, giving us major fashion inspiration for the next year.
We saw a plethora of artists adorned in classic black, strutting around in everything from big fashion labels and couture to small designers. In fact, we also saw a few young fashion debutants, all dolled up in crystals and twinning in Marc Jacobs and Dilara Findikoglu, and oozing the Gen Z powerhouse aesthetics, thus establishing how rapidly the young generation is taking over and becoming the face of American music.
From custom, vintage, couture, ready-to-wear, off-the-runway, or completely mysterious ensembles, here are some of our top picks among the best-dressed celebrities at the 2022 American Music Awards red carpet.
Taylor Swift
Taylor Swift goes disco glam to the 2022 American Music Awards (she didn't attend the red carpet but posed for the cameras) as she donned a bedazzling gold beaded jumpsuit by The Blonds, that emphasised her curves just in the right amount. In the sleeveless spaghetti strap and open-back jumpsuit, covered in gold sequins and crystals with a plunging neckline and a waist belt, she opted for her signature red lips, golden heels, and luxurious blonde locks cascading down her shoulders like golden waterfall waves, accentuating Swift's glorious presence.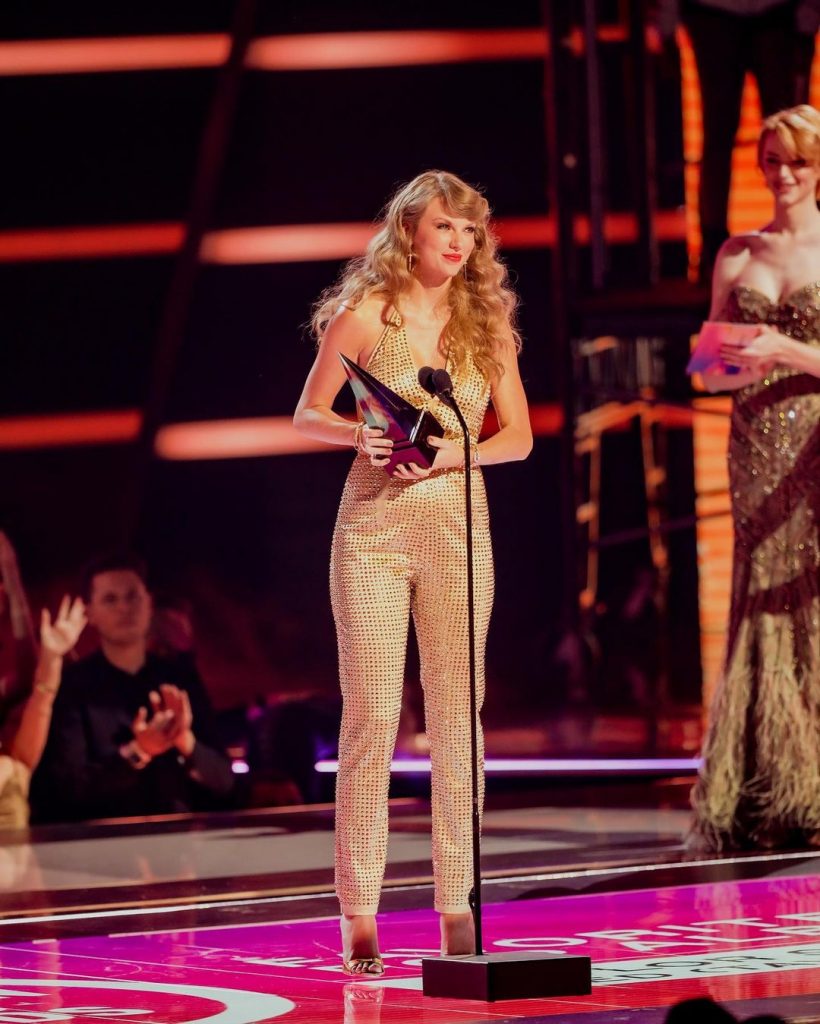 Dove Cameron
Dove Cameron debuted on the red carpet seeping the perfect Gen-Z fashion as she wore a Marc Jacobs's Autumn/Winter 2-22-23 ensemble featuring a sexy white bustier, corset top and a black puffer jacket-styled bustier skirt set, turned down to give an illusion of a skirt. She coupled it with fingerless leather gloves, cat-eyes winged eyeliner, and pin-straight, face-framing braided strands with a ponytail, pulling off a dazzling punk look—in line with the sharp musical style she's been experimenting with lately. We're getting major fall fashion vibes with this look that will keep you both snuggly and stylish.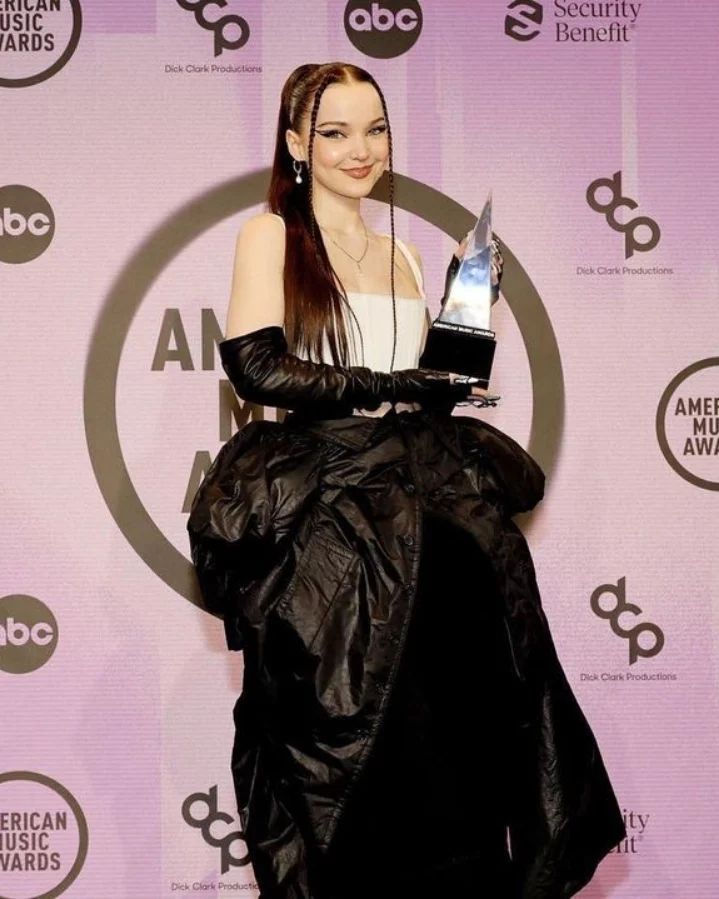 Bebe Rexha
American pop singer-songwriter Bebe Rexha attended the 2022 American Music Awards red carpet, this time opting for all red as she donned a custom-tailored Buerlangma tulle gown coupled with gloves by Atelier Biser. She embraced her queen vibes making a grand entry by taking up most of the carpet in her strikingly enormous red dress embellished with big ruffles from the shoulders to the skirt. The latter featured a long train gracefully trailing behind her and sweeping the red carpet, underscoring her beautiful face.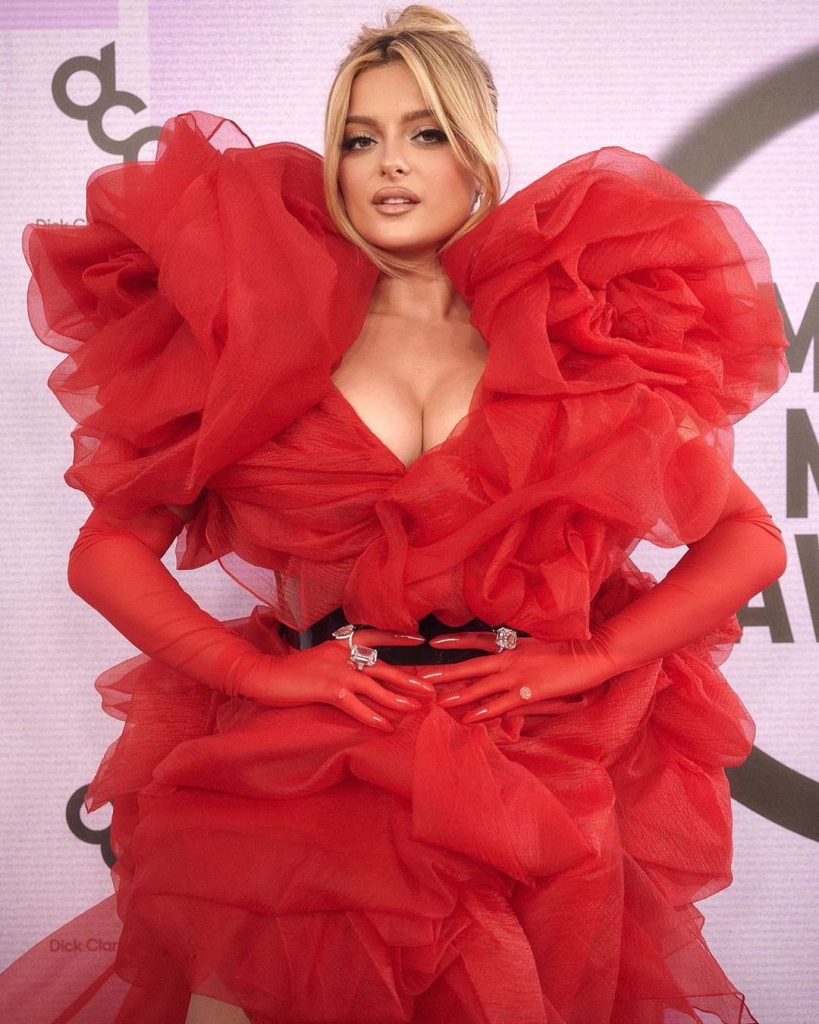 Kelly Rowland
Kelly Rowland unveiled her wild side as she swaggered down the red carpet in a spring 2022 couture dress right from the runway, comprising a strapless leopard-print Nicolas Jebran gown, looking slick and stylish as ever. It featured a high side slit with a dramatically long train and ruched fabric details on the bodice and sweetheart neckline to create a ripple-like effect. She finished her look with a pair of long black leather gloves, black pointed-toe stilettos, glamorous makeup look and a sleek blunt-cut bob hairdo.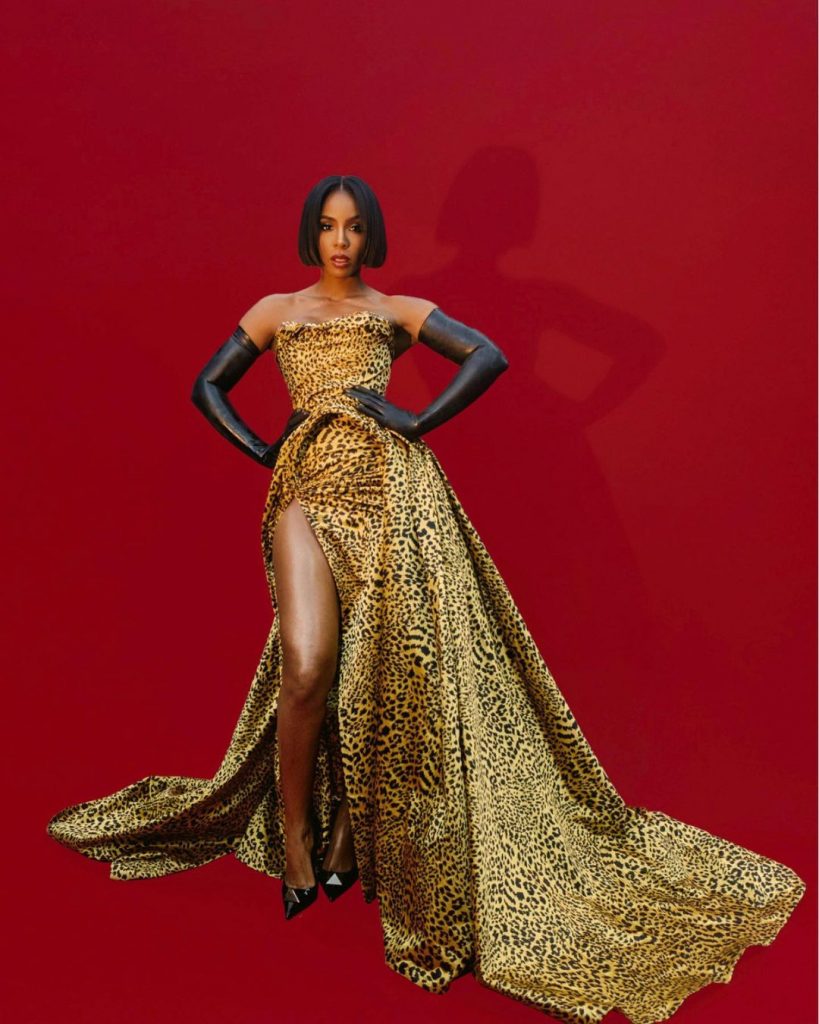 Machine Gun Kelly
MGK nailed their outfit for the red carpet, and we mean, **literally**. The American rapper and singer, known for breaking gender norms with their style, strutted down the 2022 American Music Awards red carpet in a pokey spike-adorned opulent purple suit by Dolce & Gabbana, which worked as a good fence around the man as these were several inches long, silver spikes made of gunmetal. We wonder if this outfit is hug-friendly though, hmm.. probably not!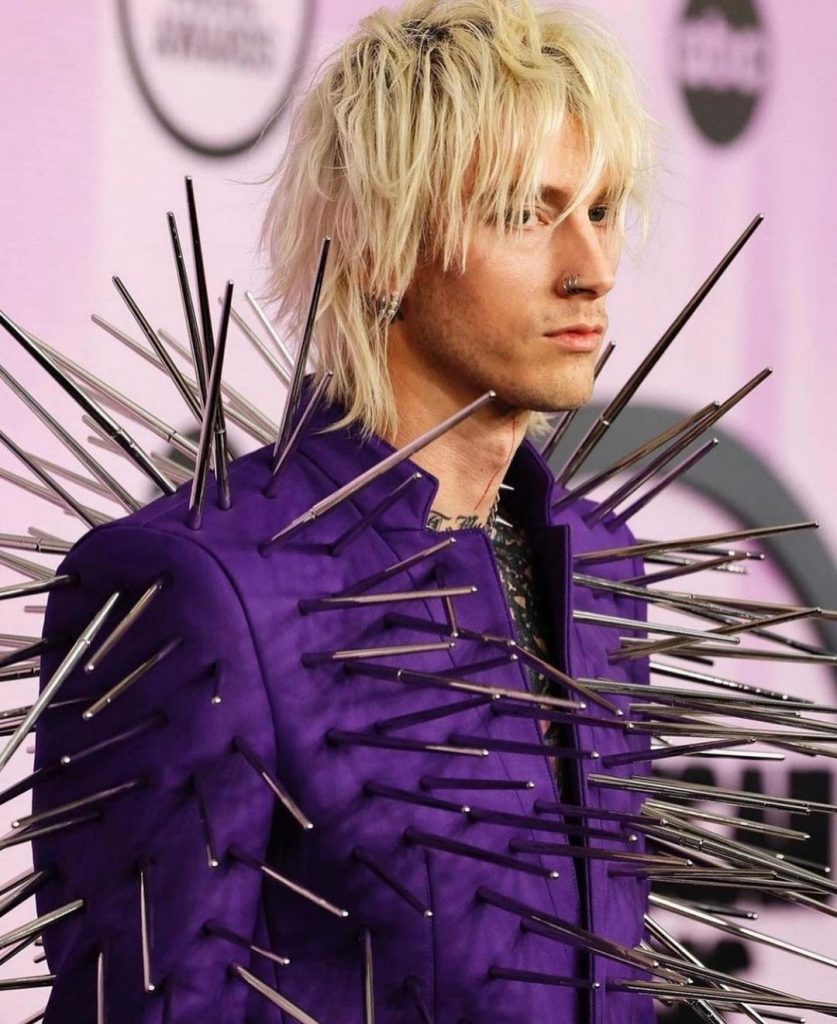 Sabrina Carpenter
Sabrina Carpenter brought on glitz and glamour to the red carpet in her sparkly Oscar de la Renta outfit. It makes up a sleeveless pale peach crop top with silver undertones and a matching miniskirt, adorned with silver-hued crystal mesh with long crustal fringes wafting across the red carpet. She finished her look with a thin diamond bracelet, diamond and dark silver rings, a pale nude pedicure, and sky-high mirrored platform sandals with her signature blonde locks in waves.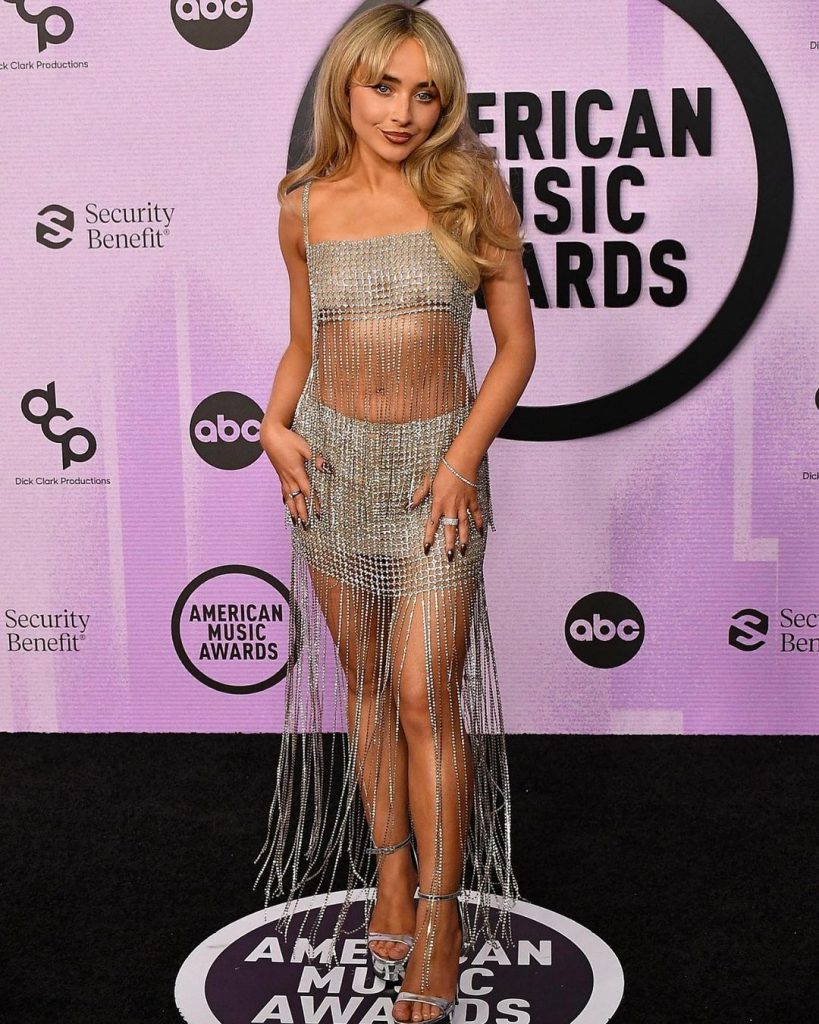 Becky G
Becky G arrived at the 2022 American Music Awards red carpet, soaring in towering heels and wearing a little black dress. The 25-year-old "Mamiii" hitmaker looked stylish as ever as she arrived in a huge flared shoulder accented black velvet Monsoori minidress with a bow and a silky flowing train that resembled the components of a big knotted bow. She finished her ensemble with a pair of matching black gloves, sparkling diamond stud earrings, and a pair of Giuseppe Zanotti patent platform sandals.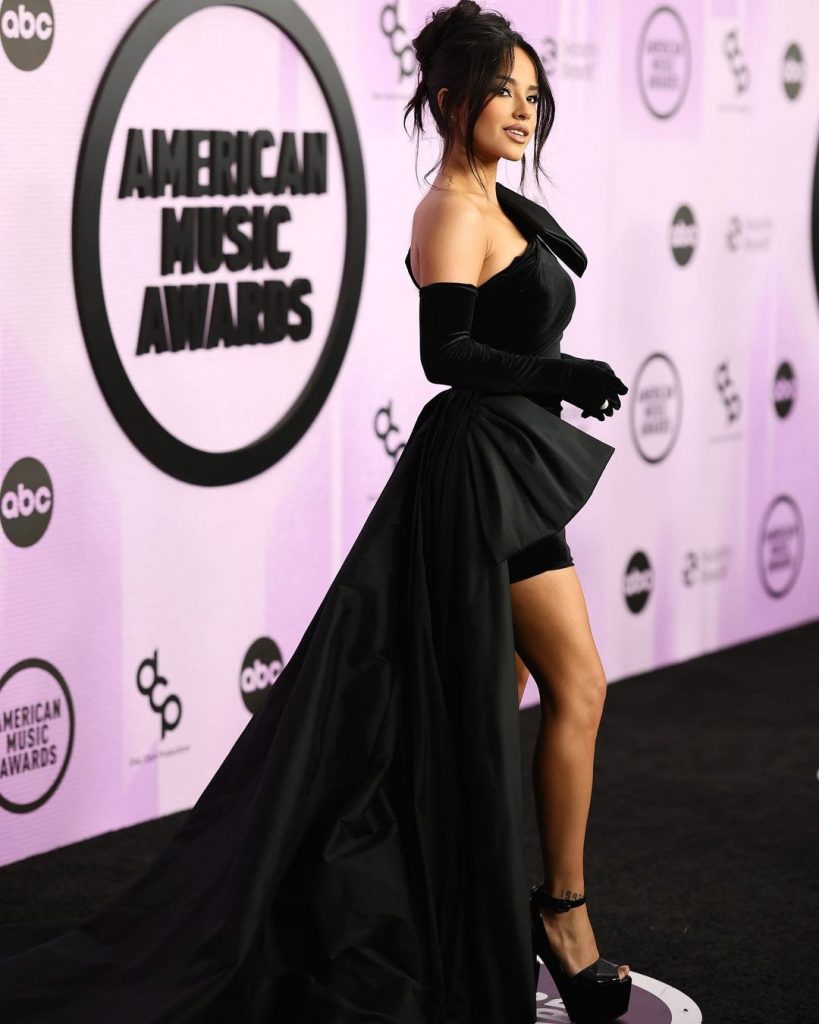 Anitta
Brazilian musician Anitta had a night to remember at the 2022 AMAs, as she took home the trophy for Favourite Female Latin Artist, and stole the show with her vintage wardrobe. She approached her styling with a winner's approach as she strutted down the red carpet in a risqué and provocative, Carmen Miranda-inspired foam-fitting black and white custom Mugler gown with peekaboo panels on the butt, giving a cheeky display. The statuesque frame of the dress gave the singer a sleek and sexy look while accentuating her curves, coupled with Tiffany & Co. jewellery that complemented her outfit.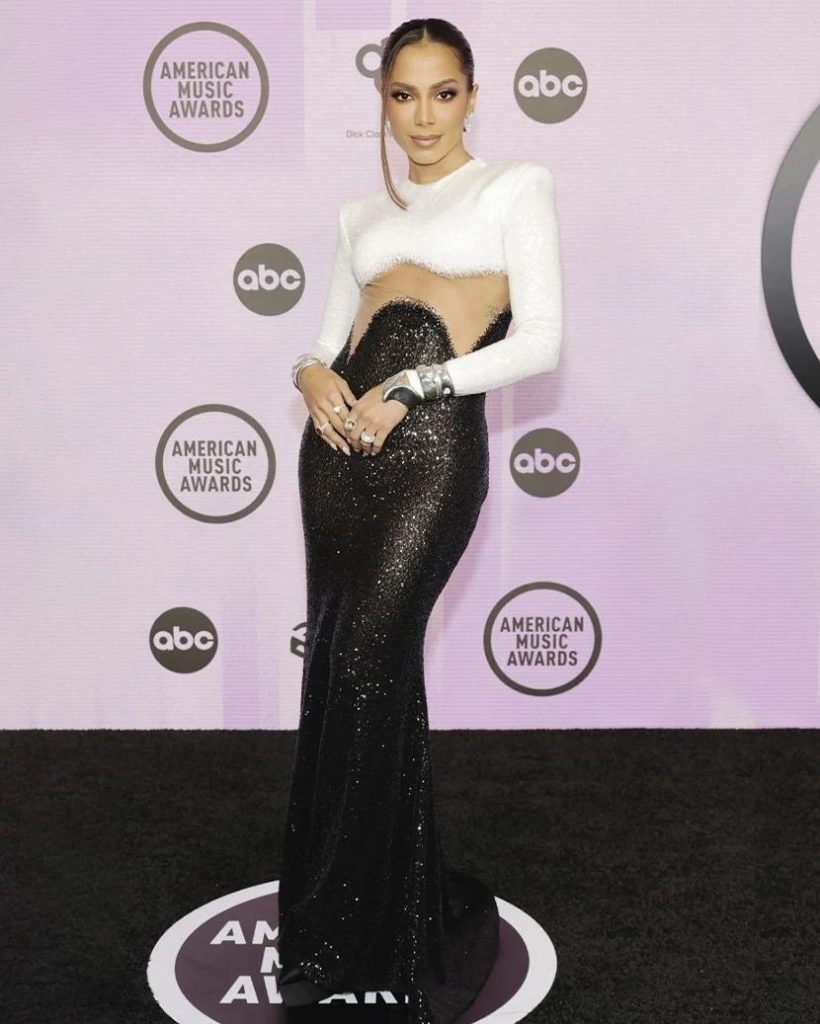 Carrie Underwood
Carrie Underwood sparkles in a pink beaded Tony Ward dress with colourful fringe trimming details at the 2022 American Music Awards red carpet. With a baby pink dress with silver straps and silver trim around the keyhole neckline and shoulders, two off-the-shoulder straps and panels of fringe in blue, dark pink, yellow and green, the country music superstar brought her signature vibrant brand of rural elegance in spades. The style is a regular favourite of hers in her wardrobe, and the thigh-high slit highlighted the singer's incredibly toned legs with nude-glam makeup and flowy blonde waves.
Meghan Trainor
Well, she could have her Gucci on, or she could wear her Louis Vuitton, or she could be in her Versace dress, with her hair in a morning mess, and would still have made us all look at her heart-eyed. Meghan, however, channelled her inner barbie at the 2022 AMAs as she strutted down the red carpet and turned heads in a sparkling, custom hot pink pantsuit by Michael Costello.
The "Made You Look" singer opted for statement dressing in her sequined hot pink, deep-neck suit blazer with silver buckle and wide-leg trousers and went for the risqué look by opting to wear nothing underneath the blazer as she concealed herself with her long, blonde tresses parted on the side and cascading down the shoulders. She accessorised the look with a silver choker and silver midi rings with matching makeup, looking gorgeous as ever.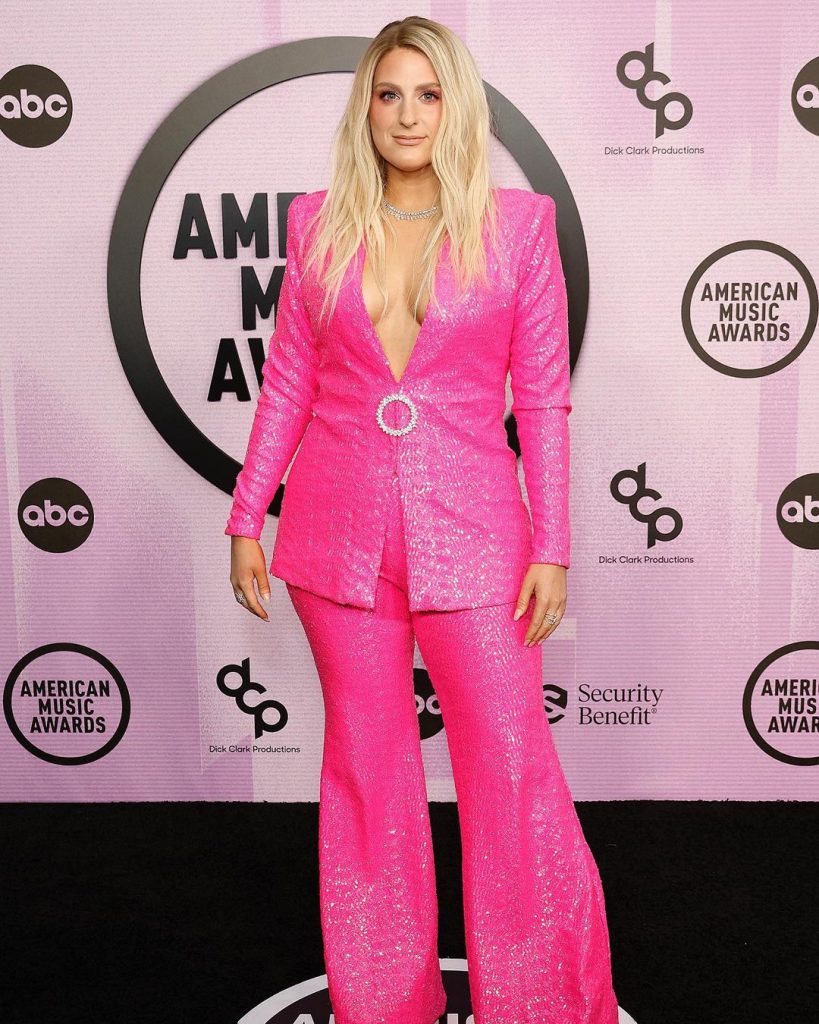 Liza Koshy
Liza Koshy attended the 2022 American Music Award wearing a sculptural black-and-white dress by Morfium Fashion with black long boots, looking like AMA's HOT MAMA!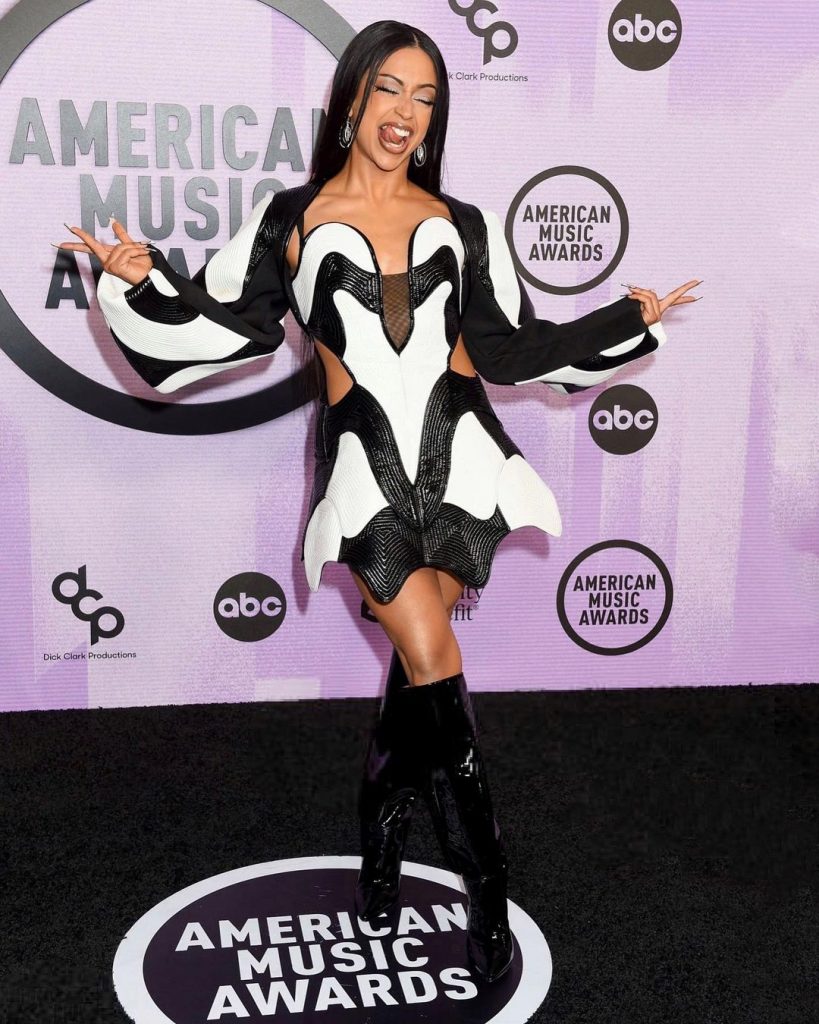 Tinashe
Great minds think alike! Both Tinashe and Dove Cameron wore the same look on the red carpet as they donned Marc Jacobs, but styled it differently, and stole the show. Tinashe chose a monochrome two-piece from Marc Jacobs' fall 2022 collection—a cropped white corset and black maxi skirt and leather gloves—and accessorised it with a pair of monogrammed sunglasses with a unique rose-inspired hairstyle, giving us early 00s vibes.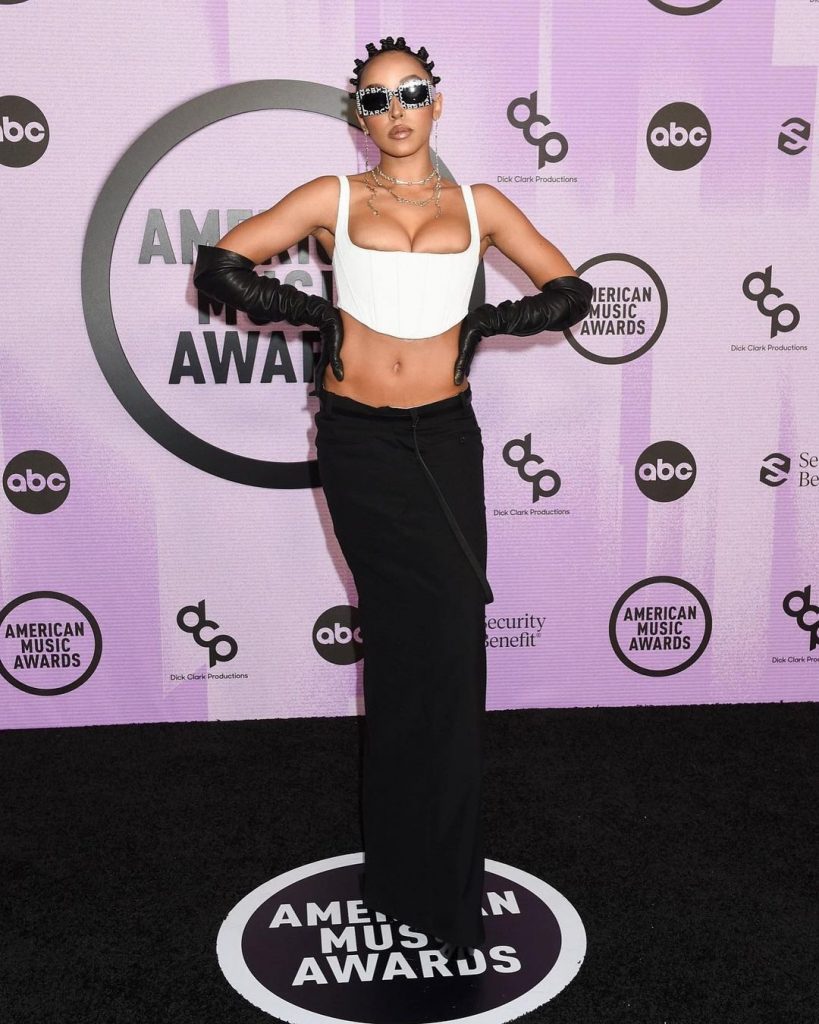 Latto
American rapper Alyssa Michelle Stephens, professionally known as Big Latto, dressed in an all-black, custom-made Dilara Findikoglu outfit, like the omen on the red carpet at the 2022 American Music Awards.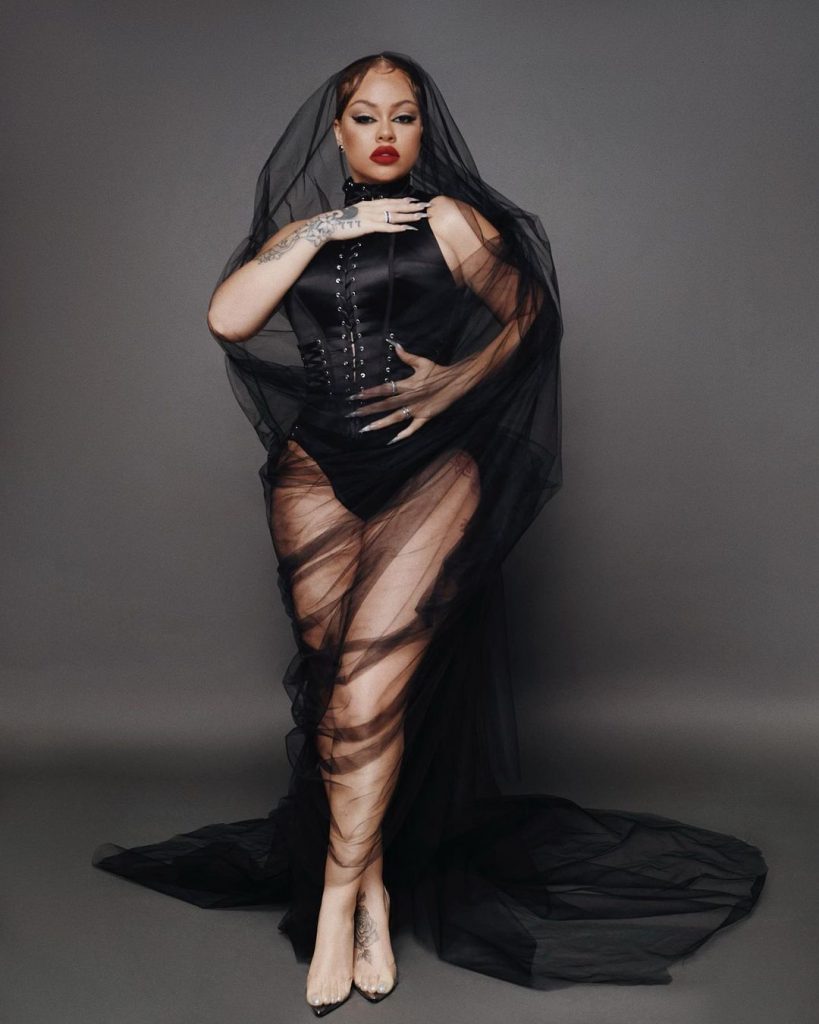 Kali Uchis
Kali Uchis chose a custom-made, vivid crimson Dilara Findikoglu gown with embellishments made of red feathers.
Ellie Goulding
"Love Me Like You Do" singer Ellie Goulding strutted down the red carpet at the 2022 American Music Awards as she puts her toned midriff on display donning a Philosophy di Lorenzo Serafini-designed two-piece ensemble. She posed in an asymmetrical, sparkling bandeau silver wrap top paired with a crystal-covered skirt with sheer panelling and complementary gloves to keep things graceful and modest for the big evening.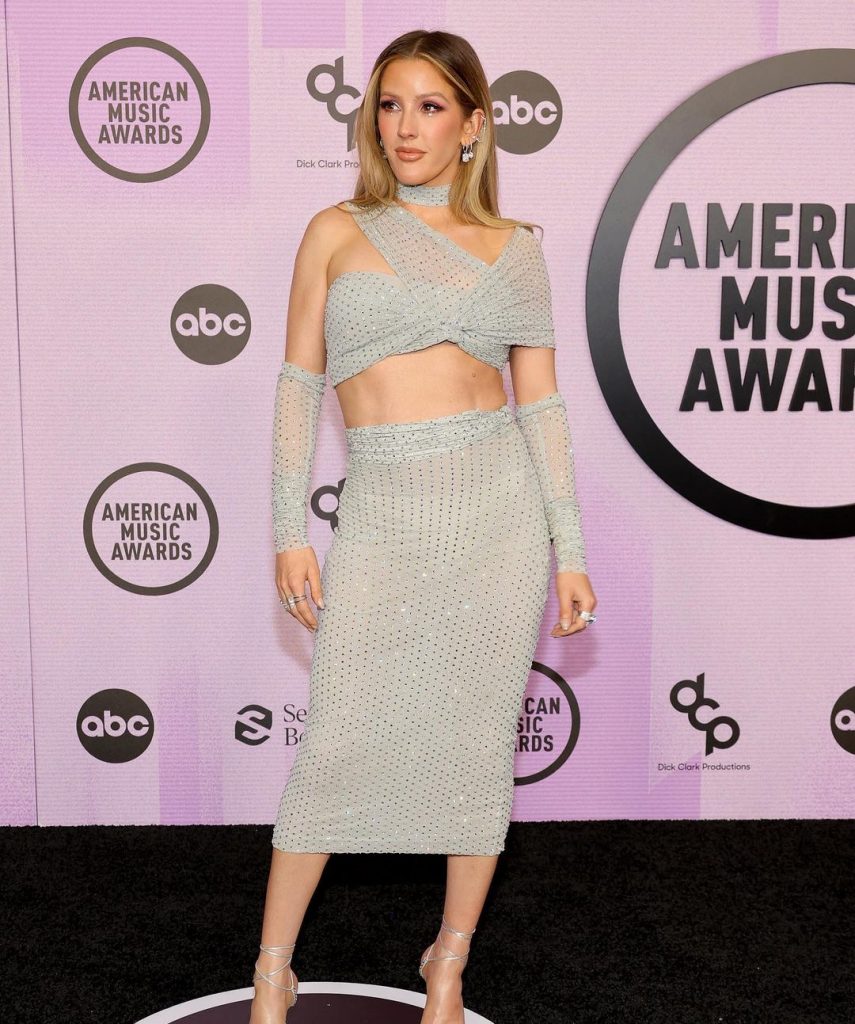 P!nk
P!nk, as customary, became one of the evening's distinguished red carpet impressions with her elegant yet vibrant style, as she dressed in a green and black fringed mini-dress by Bob Mackie and Cher with no back to show off her toned legs. The black fringe blending in with the green fabric gave the impression that a lightning bolt was passing over her chest as a unique attention to detail.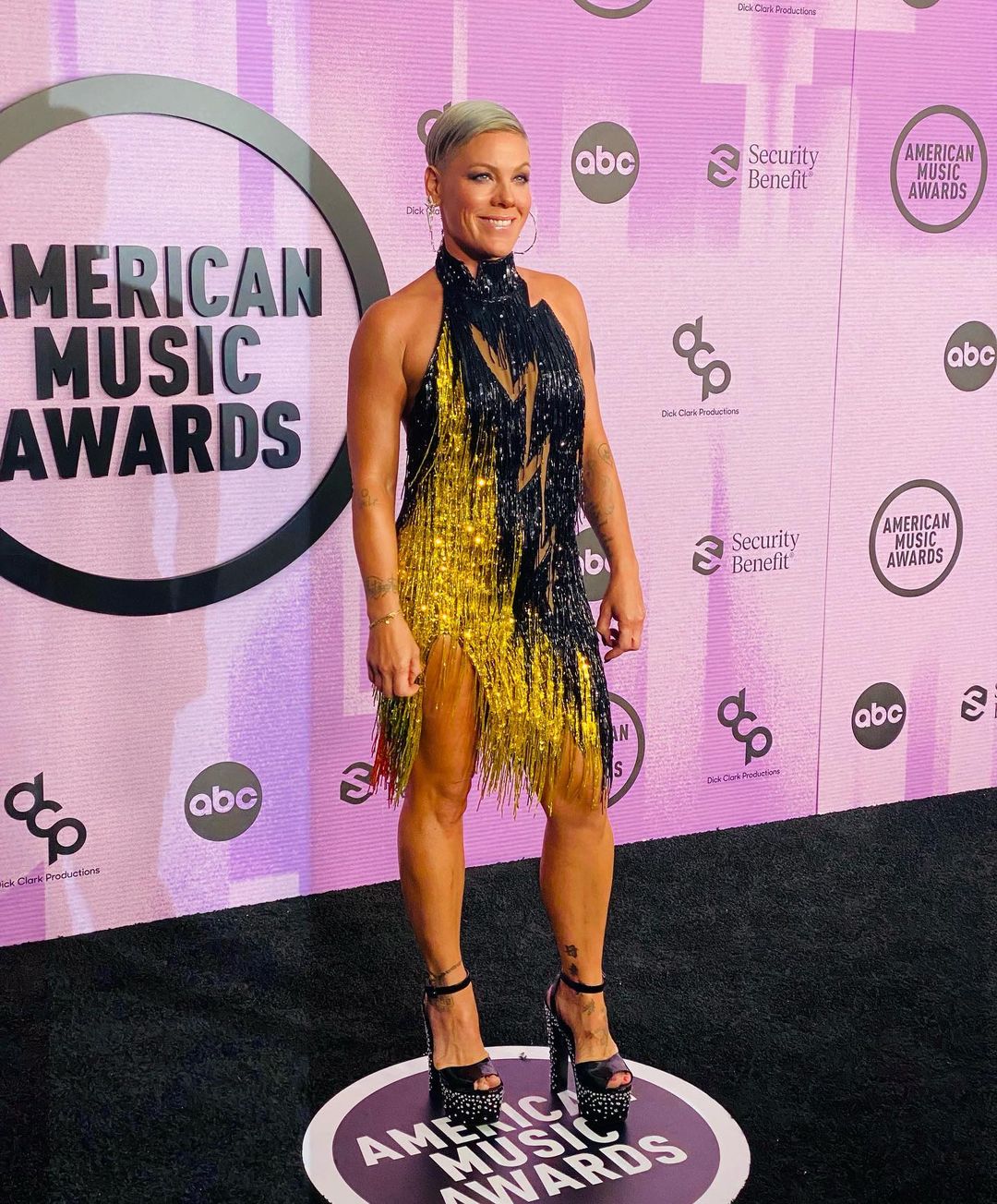 Muni Long
Muni Long arrived in an eye-catching design by Spanish designer Juana Martin, as she opted for a knee-length pleated gown with fan-shaped sleeves.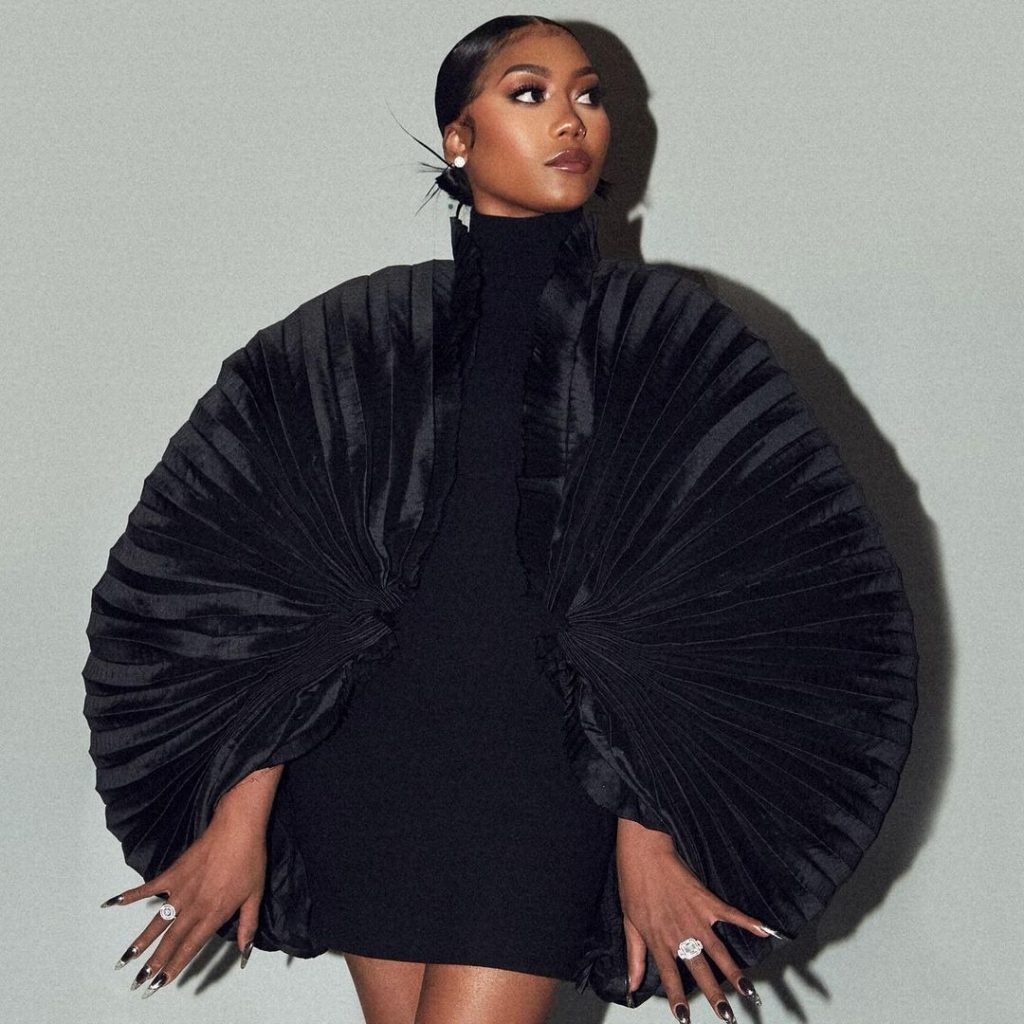 Kim Petras
Kim Petras appeared to nod to the double denim look served up by Britney Spears (and Justin Timberlake) at the AMAs back in 2001. She wore a studded stone-washed double denim Blumarine long fitted dress that highlighted her curves, paired with a handbag with a jewelled cross necklace at the 2022 American Music Awards, looking stylish as ever.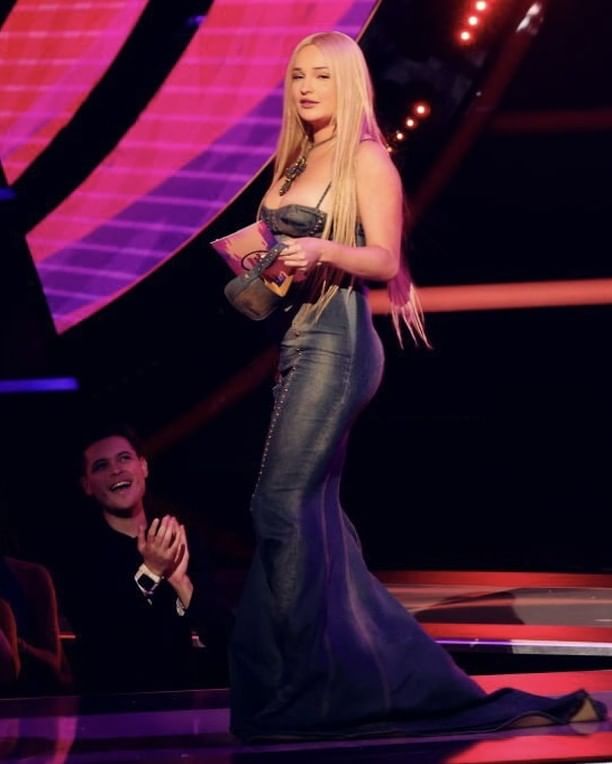 Which celebrity fashion looks were your favourite from the 2022 American Music Awards? Share your thoughts with us on Twitter at @CelebMix!