Bryce Dallas Howard is, to put it lightly, doing pretty well; as one of the stars in last years Jurassic World, one of the biggest movies of all time, and its two upcoming sequels, it's fair to say she's probably inundates with offers to dress her for Red Carpet events like last nights Golden Globes, but it turns out that Bryce always goes out and buys her dresses herself!
In an interview with E! News' Guiliana Rancic, Howard revealed that her dress was bought from a department store, Neiman Marcus, and that she went to chose it and collect it herself. Guiliana seemed surprised, confused and….well, she pulled this face.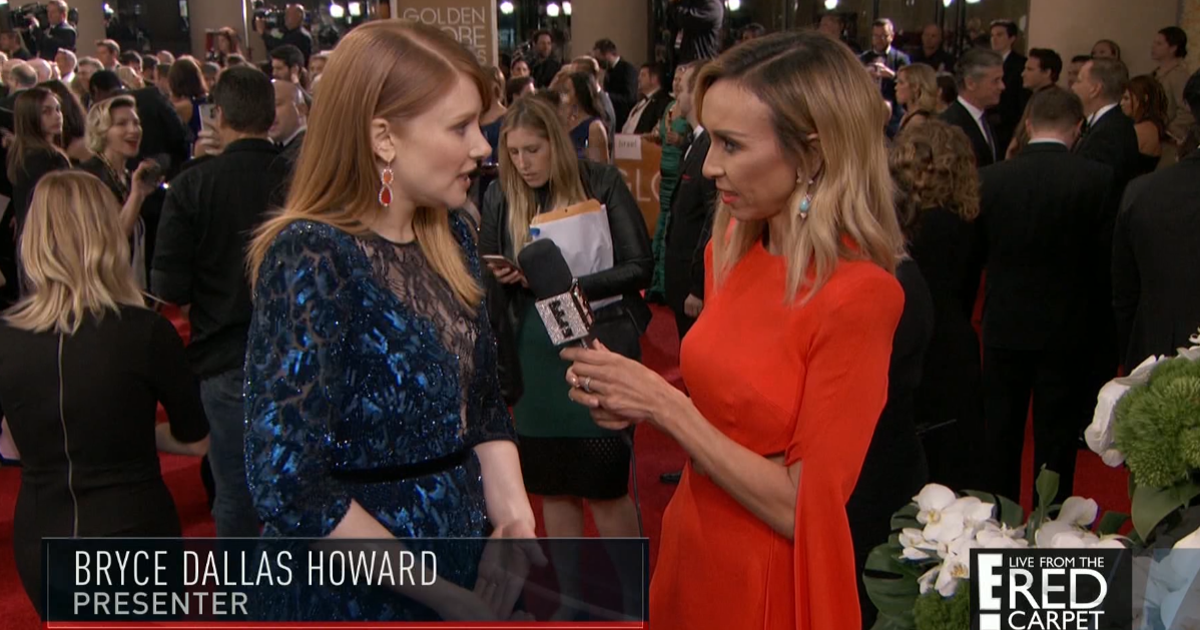 Bryce Dallas Howard then went on to explain why she choses to wear store bought dresses to shows like this, saying that "I like having lots of options for a size six, as opposed to maybe one option."  and claiming that "I always go to department stores for this kind of stuff."
Howard is referring to the fact that most women on the Red Carpet will be wearing dresses not even released yet, that would have been part of a selection sent to them by designers for them to pick from! Sample clothing by designer brands, however, is predominantly made for US Size 0 or Size 2, so for a size 6 like Bryce Dallas Howard the number of dresses for her to pick from is severely limited…sometimes there might even be one or two!
At least by doing this, though, she can ensure she gets to wear the dress on her terms, that it's something she loves and something she'd be happy to wear! Plus, she get's to take it home at the end of the night, and not everyone on the Red Carpet can say that!
The dress in question can be seen and purchases here , but just 'cause it's not fresh off the runway doesn't mean it's cheap!
We love ya, Bryce, and think you looked amazing either way!
Don't forget to follow us on Twitter @CelebMix, or leave a comment below!