As 2022 draws to a close, rising Norwegian recording artist Nicola Høie celebrates her incredibly successful year, with the unveiling of her brand new single 'Skydiving' – a spirited and infectious remake of a track originally recorded by Canadian pop jaganaught Lights.
Co-written by English singer-songwriter Fiona Bevan (Ed Sheeran, One Direction, Kylie Minogue) and Matt Rad (Little Mix, James Arthur, New Hope Club), with production from Johannes Willinder, the upbeat single is available to download / stream NOW via Northern Powerhouse Records on all major platforms.
---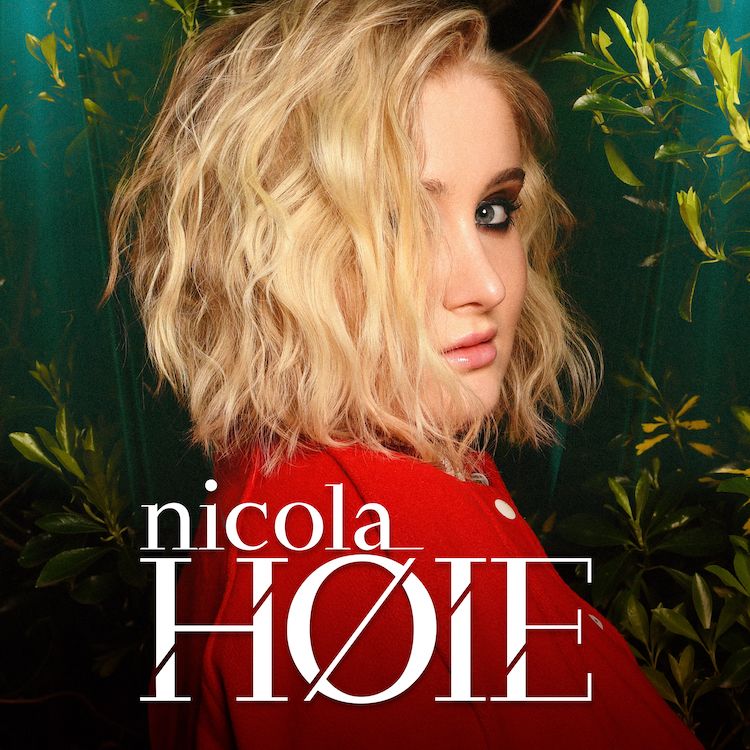 ---
With the release of her debut single 'Secrets' earlier this year, Nicola's solo career got off to a flying start, with the track receiving widespread praise for it's punchy contemporary pop sound and unique vocal production, as well as support from both Apple Music and Spotify, who featured the song on several of their most popular playlists, including the Best TikTok Viral Songs 2022 and Beats of Tomorrow. The follow up 'Never Buy My Love' would go on to achieve similar success and amass more the 36,000 streams on Spotify alone just over a month after its release!
Hailing from Norway, but now residing full-time in Denmark, Høie describes her eclectic, yet distinctive sound as being an exquisite mixture of international sonic flavours, inspired by her love of mainstream UK and USA pop, and reflective of her Scandinavian roots. Having spent the last two years honing her craft and working on her debut album in Stockholm, Berlin and Liverpool, Nicola now looks set to dominate the rest of 2023 and beyond!
To commemorate the launch of 'Skydiving', we caught up with Nicola to talk musical inspirations, the importance of giving back to those in need, and why she really, really loves Adele…
Hey Nicola! Your new single 'Skydiving' is out TODAY – tell us everything about the track…
Ok so 'Skydiving' is a cover version of song by Lights, who is an amazing Canadian recording artist! Her music is incredible, she has a really unique sound, and amazing style so I'm very excited to be singing her song. I first heard the track when I was over in Stockholm working in the studio with some new producers, one of my sound engineers Johannes played it to me and I felt instantly drawn to it, and like I could do something really special with it. I've always sort of believe that if you're going to do a remake of someone else's song, then you have to make it your own and put a fresh spin on it, so that's what we tried to do! We mixed up the production, experimented with some of the melodies, and really just played up to the happy vibe of the original.
As an artist and as a creative person, it must be such a fun process to deconstruct a song in that way, with the hope of then turning it into a track that will sit alongside all of the original material in your catalogue…
Yeah it can be, but if I'm being totally honest with you, I think I actually have more fun writing and working on my own material. That's maybe because I'm someone who has a hard time adjusting to change sometimes – it can take me a minute to get my head around doing and trying new things… I can get a little too in my head and overthink things (laughs). Having said that though, when you find the right song, doing a remake can be equally as rewarding and fulfilling as creating new songs – I guess it's nice to do a bit of both.
How would you say 'Skydiving' differs from previous single releases 'Never Buy My Love' and 'Secrets'?
Erm… I think 'Never Buy My Love' is little more sassy; it's actually kind of savage (laughs). The overall message of that song is me saying to someone: "you can't mess with me, I simply won't allow it so don't even try it!" and 'Secrets' is kind of that way too. 'Skydiving' is more mellow, it's about falling in love with someone and feeling like you're completely out of control but in the best possible way. It's a little more positive and innocent… which makes a nice change, it's good to not be telling someone off for once (laughs).
Sometimes you just have to be a little brutal, and put people in their place…
(Laughs) yes that's very true! Do you know what's interesting though, I'm really not a sassy or savage person! I kind of hate confrontation and shy away from it… some people might disagree with that, but I really don't like to get into arguments or disagreements. I guess that's why some of the lyrics in my songs are the way they are, because I'd much rather put that all of that emotion into a track and voice my opinions through my music.
That's interesting! So when you're in 'pop star' mode do you sometimes feel like you're taking on a character or adopting some sort of alter ego?
That's a really good, interesting question! In the beginning I'd say no, not at all – I was so shy, and I suffered from terrible stage fright, to the point where I would ask people to turn off the lights while I was singing so that nobody could see me (laughs). I remember thinking to myself: "Nicola if you really want to make a go of this, then you need to get these nerves under control!" So that's where the idea of embodying a character came from, and it's honestly helped me so much! Before when I would perform or even sing in the studio, I would overthink EVERYTHING, and constantly worry… do people like me? Am I good enough? Are all of the other singers out there better than me? But now, because I'm thinking and focusing more on telling a story and the lyrics I'm sining, I'm finding all of those nerves are going away and I'm getting lost in all of the emotions and the messages of my songs which is a really great feeling. I'm also kind of realising that when you make music it's for other people to enjoy, like it's not all about me (laughs).
With that in mind, what do you hope people feel and what do you hope they take away after listening to 'Skydiving'?
Ooh… ok, so I know this is going to sound incredibly cliche, but I just want, and hope that people feel happy when they hear it – it's that simple! There's so much going on the world right now, and so much negativity, it's crazy! Everyday it seems like there's another problem, or another crisis, people are having to deal with so much and I don't like it… things feel very dark and weird don't they? So if someone can put this song on, and dance around for a few minutes and forget all of their problems and worries, then that would make me really happy.
---
Nicola Høie – Skydiving (Lyric Video)
---
Growing up was it always your dream to be a singer and performer?
Hmm… do you know what I'm not sure! I'd say I was probably about 8-years-old when I first started to really enjoy singing, but I don't think at that age I thought about anything of it, it was just something I did for fun and I was happy to sing around the house. But then I heard Adele on the radio one day, and that changed everything… 
That's so funny, because that was going to be our next next question… which artists did you listen to as a child and who, if any, inspired you to pursue a career in music?
(Laughs) sorry I got in there before you! Yeah, Adele! Adele is the one who inspired EVERYTHING! I feel like I've been listening to her music forever, she's incredible. I love her melodies, her videos, her performances, her outfits… everything! She is such a pure and true artist, and I admire how vulnerable she is and deep her lyrics go. I adore her, and hope to one day see her live. Before Adele I'd say singing was just a hobby I had, it wasn't that deep and like I said, it was just something I did for fun. But once I'd heard her music, I knew this (singing) was something I wanted to do as a career… I say it so casually, like it's so easy to just become a professional singer isn't it?! (Laughs). Of course I know it's not (easy) and I've always been aware of how many other millions of people there are out there that want to be in this business too, but I think when you love something as much as I love singing, then you owe it to yourself to at least give it a shot and try to make your dreams come true.
It's one thing to have a dream, but a whole other thing to turn that dream into a reality! How did you go about actively making all of this happen, and what would you say was your 'big break' in the industry?
I would say coming over to the UK was a huge turning point for me. I was very lucky and I got to go to Parr Street Studios in Liverpool and record some songs there – Adele songs may I add (laughs) – and I truly, truly loved the whole experience! Parr Street Studios is an amazing place, so many incredible artists have played there, I'm talking Coldplay, Rihanna and Drake, it's honestly legendary, so I think being in that environment really inspired me to get serious and work hard to make all of this happen. But it was kind hard to know where to start or what to do next (after recording in Liverpool) because no-one in family has ever really done anything like this before, so we didn't have any connections or anybody we could reach out to ask for some help and advice. Luckily though, me and my Dad met this guy at the studio called Sam Ellis who became like a bit of a mentor to me and was really, super helpful in advising me about all aspects of this business. After a lot of going back and fourth, he kind of agreed to take me under his wing and… yeah, we've been working together ever since to get me to where I am now. Can I also just say my family have been incredible too! They are so supportive, and they really encourage me to brave, and fearless, and throw everything I've got at making, like you said, my dream become a reality. 
---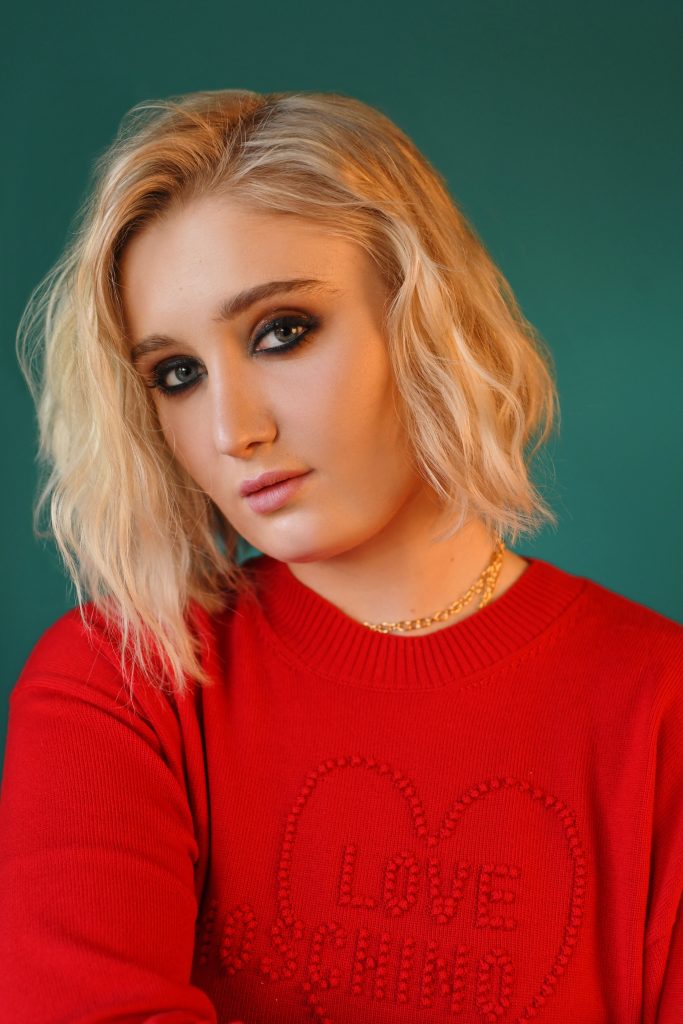 ---
Once you got into the studio, how did you go about creating and developing your own style and sound?
Really it was just a lot of trial and error, and having trust in the people I was working with! You have to kind of have faith in these people because they really know what they're doing, and so I knew that with their help, I could create a style and a sound that I was really proud of.
For anybody listening to you for the first time, how would you best describe your music?
It's pop with an edge! I'm inspired by all different genres of music and I think that's reflected in my original songs – they have lots of different flavours and feels to them, it's not just straight up pop, there's elements of rock, R&B, soul in there too. I also really love big, emotional ballads, so watch out because I have a few of those coming your way too!
You've talked a lot in the past abut being influenced by the UK and US pop scene – why do you think those entertainers, and that style of music resonates with you so much?
Honestly, everything about that world speaks to me! It goes without saying that Adele is my number one favourite artist of all time, and she always will be (laughs) but as well as her, I've always loved people like Michael Jackson, The Beatles, Stevie Wonder, Bruno Mars, Prince, Whitney Houston… the list goes on and on! All of their music is just so incredibly powerful and profound, so when you listen to it you can't help but feel empowered yourself, does that make sense? They pour everything they have into their work, and you can tell how much it means to them, they're so passionate, and committed, and invested in what they do, they're literally giving the world their heart and soul. And it's not just their music, as performers they are so focused and dominant on stage! They captivate audiences and command their attention which I love! Watching them, I learn so much, and just talking to you know I'm thinking about how timeless their music is – like it spans generations doesn't it? I aspire to be just like them one day, I really do. 
It's interesting isn't because so many of those international acts come to Europe to work with producers and writers over here, what do you think makes the European music scene so special?
There are a ton of incredibly talented writers and producers over here in Europe aren't they? They make amazing music that's successful all around the world, and so I guess all artists want in on that! I've been very lucky to work quite a lot Berlin and Stockholm, so I've seen first hand just how skilled these musicians are – it's kind of mind blowing! One European producer I'd die to work with is Max Martin – that man is a legend! His music is just out of this world, it's like it's impossible for him to write or record a bad song (laughs). I feel like he played a massive part in making the European music scene what it is today. Some of the people I collaborated with on my album have worked with him, so in my head I feel like I'm one step closer to doing a song with him (laughs).
---
I heard Adele on the radio one day, and that changed everything… 

Nicola on how Adele inspired her to pursue a career in music.
---
Things seem to be going really well for you right now – you must be having so much fun?
Yeah, I really am. I'm very lucky to be doing this and I don't take any of it for granted. I think I went through a stage where I was very serious about everything, and wouldn't really allow myself to enjoy the moment – like I would get so angry and beat myself up if I made a mistake! All of that pressure, that I totally created in my head, kind of killed my love of creating for a while. It was like I was obsessed with making sure everything was perfect, which was silly because nothing is ever totally perfect is it? Some of the greatest music ever made has little, tiny imperfections to it, but it's the 'flaws' that make it magical right?
Outside of music do you have any other dreams or aspirations you'd like to explore?
Well before I became a singer I wanted to a either a lawyer or an FBI agent, so I guess I could revisit those two things again (laughs). I'm obsessed with crime dramas and movies – I find that whole world fascinating! In all seriousness though, there is one goal I've had since I was about 9 years old, and that was to create a programme for kids in school who have difficulty studying. I always really struggled in school, I had immense learning difficulties and nobody really knew what to do or how to deal with me, it was really bad. I've always believed that everybody's brain functions differently, and because of that that people learn in totally different ways… but that's a reality that's too hard for some people to grasp, and because of that, unfortunately a lot of school students are put into a box, and if they don't learn in the 'normal' way, they're classed as being not every bright and they become like an outsider. It's so important for teachers and educators to have compassion, and to lead with kindness when it comes to dealing with those kids who find school hard, because when they do, magical things happen! I had this one teacher who really took me under her wing, and nurtured me, and it changed my life! I'm not saying I all of a sudden didn't struggle anymore, but knowing I had someone in my corner who I could turn to made a massive difference. I want to provide that service and support for those kids who I feel like I did growing up, so hopefully if my music career goes well and I get to a place where I have a platform from where I can speak from and have influence, then that's what I'll do. 
As we look forward to 2023, what can we expect to see from you in the new year?
Hopefully a lot! I think 2023 is going to be a really exciting year! I have a lot more music coming out, which I'm super excited for everyone to hear, and I'll be heading back into the studio to work on some new material with a bunch of cool producers so… yeah, you can expect a lot of positive, fun things from me next year!
'Skydiving' is available to download / stream now.
---
Let us know your thoughts on Nicola Høie over on Twitter @CelebMix now!