They were once the renowned "bad boys" of the British music scene, famous for their edgy, urban style, shaved heads, tattoos and wild partying lifestyles! But behind the headlines, and their playful, rogue image East 17 (Terry Coldwell, Brian Harvey, John Hendy and Tony Mortimer) would go onto to prove their worth time and time again, becoming one of the decades biggest and best selling acts, with with their rabble-rousing brand of boy-band pop striking a chord with a fresh generation of young teens looking to find their place in the world. 
Originally formed in Walthamstow, East London back in 1991, the groups chart reign saw them achieve 18 top 20 singles (including "Deep", "Steam", "Let It Rain", and "It's Alright"), and 4 top ten albums, amassing worldwide sales of over 20 million!
Now made up of Coldwell, along with Ivor Novello award-winning singer Robbie Craig and Joe Livermore, the band continue to tour the U.K. and Europe delighting fans both old and new with their electrifying stage shows and energetic live sets!
---
East 17 – House of Love (Official Music Video)
---
In celebration of Christmas 2022, the groups original member Terry Coldwell has teamed up with global multimedia platform Trace, to take over Trace Xmas – the brands joyful and merry T.V. channel dedicated to all things Christmas! 
Available to watch on Sky channel 359, Hits That Sleighed The 90's sees Coldwell provide a rundown of his favourite ever festive hits including East 17's legendary 1994 Christmas number one, "Stay Another Day".
Other stars set to appear in the series include S Club 7's Jo O'Meara, Megan McKenna, Kerry Katona, Sugababes singer Mutya Buena, Gareth Gates, Tulisa, Lisa Maffia, Aurora, and The Darkness frontman Justin Hawkins.
Currently on tour in the U.K. throughout the whole of December, we caught up with East 17 to talk life on the road, group dynamics, Christmas classics and how they hope the bands music will live on forever…
2022 has been another incredible year for East 17! How are you feeling as the year draws to a close?
Terry: Oh mate, we've had an absolute ball this year! People don't seem to be getting bored of the 90's nostalgia, which is obviously great for us (laughs), so we just continue to ride the wave and make the most of every opportunity we're given.
You're currently the most booked British pop band on the European festival circuit! That's a pretty impressive accolade to have to your credit…
T: Isn't that mental?! I can't quite believe it, and actually hearing you say it I'm a bit like, "woah that's amazing!" We just do what we do man, and we work hard – we don't get caught up in the hype that a lot of other bands do, and we take our performances really seriously! People might have an opinion about the fact we're not the original East 17 line up, but if we weren't any good, or a nightmare to work with, then we wouldn't get asked to do any of these gigs! So I think credit to us – we're very happy to booked and busy!
Terry, as you say you're the only original member of the band in the current line-up, from your perspective what is it do you think about the combination of you, Robbie and Joe that works so well?
T: The energy between us is just right, it's as simple as that, it's all about the energy! We have a great chemistry together on stage, and off stage we have a right laugh together too – it's like being on holiday with your mates, I love these guys! And they've brought so much to the band – Robbie knows what he's doing, 'cause he's been in the industry for about 60 years now…
R: (Laughs) you what? To be fair, it feels like it's been that long sometimes!
T: And Joe is just unbelievable! He's an amazing singer, and has had a wicked career! He's an ex-British gymnast, he played Cedric in Harry Potter, he was a body double for Elijah Wood… and what was that other one you did?
Joe: (Laughing) I was a stuntman in Bourne Identity 5.
T: See? He's a proper legend this guy!
Robbie: I know a lot of people see us and think "oh they're not all the real East 17" but when we're performing our set, nobody gives a shit about Joe and I not being in the original line up because they're too busy getting high on hearing all the music again!
---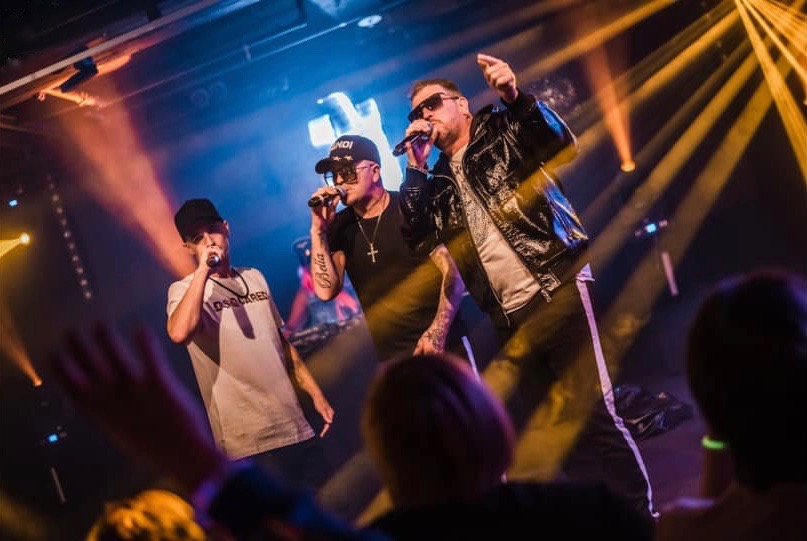 ---
Between the three of you, how do you tune out that sort of negativity then, and remain tight as a trio?
T: We just focus on what we do, and make sure we bring our A game every time we get on that stage! We can't think about or worry what other people think about us… we haven't got the time, we're too busy.
R: We really respect the fans, we're not out here trying to erase the past, or replace anyone that came before us, without the other three lads we wouldn't be here doing what we do now. The original East 17 line-up was fantastic! Personally I don't know any of the formers members, I've never met them, but I have nothing but respect for them.
T: Do you know what, we're not the only band that don't go out there with their original line up! When we do these festivals now, there's plenty of bands performing with either a member missing or without even an original member at all! Like I said before though, we're having a ball so that's all that matters!
30 years in and still enjoying what you're doing – who's winning?
T: (Laughs) Definitely mate! I love that, you're spot on there, 'cause we do feel like we're winning! I'm really driven, I absolutely love what I do and I feel blessed to still be able to do it. I don't wanna sound big headed or nothing, but I am the one who's been driving this thing forward for all these years! And I have honestly tried so many times to get all of the original members back together, but sadly I've never managed to pull it off… what can you do? For me it's always been about our music, that's our legacy and I'm doing my best to keep that alive.
R: Terry and I first started working together about 9 years ago now, and in that time we've worked really hard to keep the spirit of East 17 alive. We don't always get everything right, but we've honed our craft and got our live show to the point where audiences seem to really love what we're doing, so we've got no complaints.
---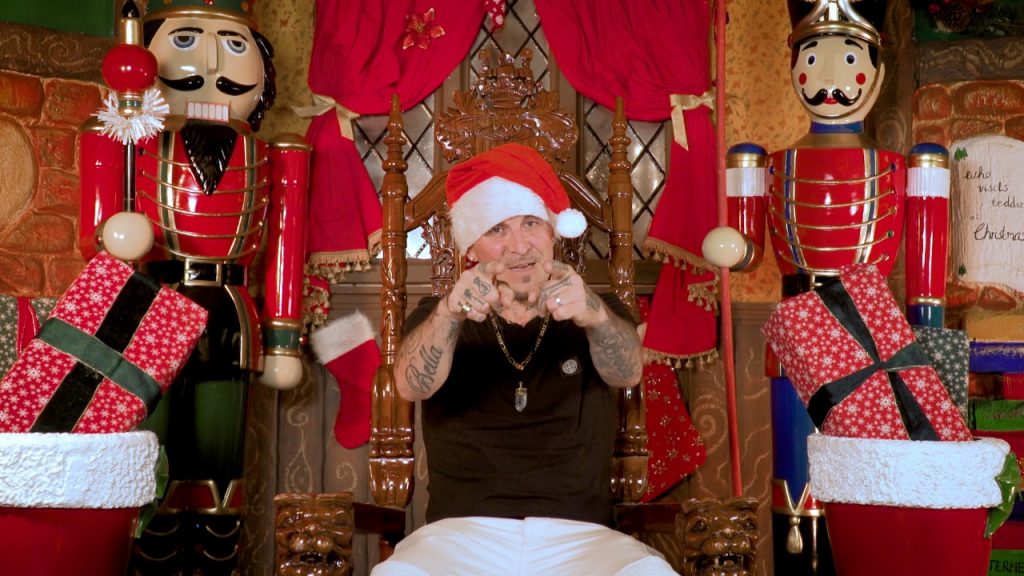 ---
It's crazy to think we're now just 3 weeks away from Christmas! Terry you've teamed up with Trace Xmas to host an episode of "Hits That Sleighed The 90's" – are you a big fan of the festive season?
T: Yeah I'm a massive fan of Christmas, I always really enjoy this time of year – we're just always super busy though! We actually have 36 shows booked in between now and Christmas so we're gonna be knackered by the time we sit down to eat our dinner on Christmas day (laughs). But I had a laugh with the team at Trace Xmas they were cool.
Tell us a little about what it was like to film the show…
T: Do you know what's funny? I've not done anything like that in a while, so it was a bit like going back in time to the 90's (laughs). They had me doing all sorts on the day, I was eating loads of mince pies one minute and then doing quick fire questions the next, so they definitely kept me on my toes. It's a good show though, it's a nice little idea and they've got a good group of people taking part this year. It's always nice to reminisce and I enjoyed picking out some of the favourite songs and Christmas number 1's.
Talking of Christmas number 1's, your song "Stay Another Day" is up there as being one of the greatest of all time! 28 years on from its release, how do you feel about that song now?
T: Mate, that song means everything to me, it was heaven sent!
J: We performed at a gig the other night when we switched the Christmas lights on in Romford and I couldn't believe the reaction it got and the effect it was having on people.
T: It's crazy isn't it? It means a lot to people, it always has! I've had so many messages over the years from fans telling how it's impacted their lives – it might have been their favourite song growing up so it reminds them of being a kid, or it was played at a family members funeral… it's special, special song.
The song has been covered by some pretty amazing artists – most notably Kylie Minogue and Girls Aloud – and the video is always remembered for the fashion…
T: The video is iconic! Those white coats… (laughs) those white coats, what can I say?! I loved them! It always makes me laugh when I see people re-creating parts of it online,
It must be an incredible feeling to have a track like that in your catalogue?
T: Oh it is – it really, really is. It's our legacy, when I'm dead and gone, hopefully my great-grandkids will hear it one day and say: "wow, that was my great grandad!" That would be pretty sweet. I said before it means a lot to people, but it means a hell of a lot to us too, it's the song that keeps our dream alive, because every year it sort of reinvents the band!
---
East 17 – Stay Another Day (Official Music Video)
---
There's no denying that your music helped to define an incredibly exciting era in British pop! We know you're always working on new material, and that you enjoyed great international success with your last album "24/7", so can we expect to hear any new tracks from you anytime soon…
R: We could possibly has some new stuff to share with you… am I allowed to say that? (Laughs)
T: Yeah, we've been working on a couple tracks haven't we? But we're not putting any pressure on ourselves to rush release anything though. We're just enjoying the process of writing together and seeing what we come up with.
As we look towards 2023 then, what can fans expect to see next from East 17?
R: I'd say live work is our number one priority next year! We want to play even more live shows than we have in 2022!
T: Definitely more live shows and touring! What's great about where we're at now, is that we manage ourselves, and we have our own boutique record label, so we can call the shots and decide what we do and when we do it, which is a great position to be in. 
R: Yeah, we're not trying to force anything, we're just happy to go with the flow. We're good friends, and we enjoy coming to work everyday – you might see people in other bands looking miserable, and almost waiting for the day when they can hang up their mics, but that isn't us, we love what we do, and we're lucky to be able to do it. I look at my parents who are both still working as musicians in their 70's, how good is that? They won't ever retire, and they'll probably pop their clogs on stage because they love what they do some so much! And us three are like that, we're having the best time.
T: To us this ain't work, it's like being on holiday with your mates because we honestly have that much fun when we're together, and then we get on stage and have even more fun… and get paid for it?? How mad is that?! So yeah, we'll have more of the same please in 2023!
---
Let us know your thoughts on East 17 over on Twitter @CelebMix now!