Ed Sheeran is taking 2step at a time!
Ed Sheeran is the quintessential pop icon of the modern era. He is a multi-award-winning, widely recognized, and one of the most celebrated and versatile musicians that the music industry has. Besides his captivating smile and charming, laid-back personality, he is a talented musician with impeccable taste, a knack for details, flawless pitch, strong curiosity, and in-depth knowledge of the various musical genres throughout the decades.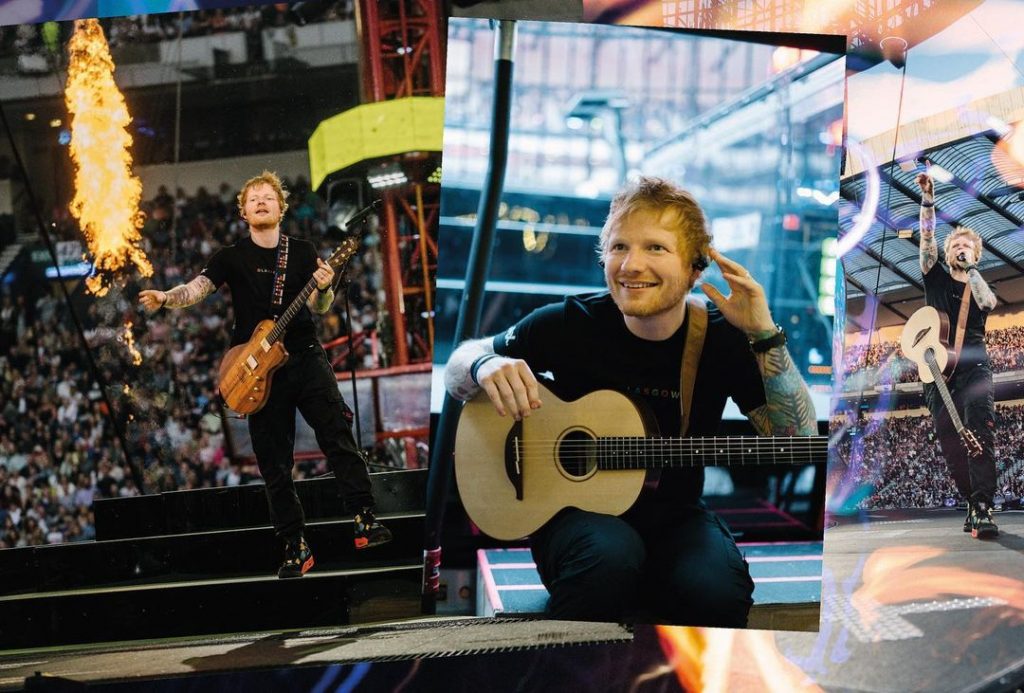 Ed Sheeran flawlessly blends various elements from folk, hip-hop, pop, dance, soul, and rock into his songs, transcending genres and sonic styles. His songwriting prowess is unparalleled and so deeply reverberating, as he usually integrates his personal experiences as his motivation, interwoven with earworm music, creating a hypnotizing atmosphere.
Ed Sheeran has an incredibly diverse and lustrous discography that serves everyone with a good music flavor. Currently, he is working on an exciting and unique "2step" project by putting the single on a global map, which we are relishing. Listen to the original version of "2step" featuring on Sheeran's fifth studio album Equals (=) here. The LP marked the singer-songwriter's grand return to the music scene after his 2017 album Plus (+).
According to Ed, he wrote this song from the perspective of the lowest point of confidence. He has chosen "2step" as one of his favorite songs on the album, and now he is collaborating with an array of musicians from around the globe for an array of unique remix versions of his hit track, "2step." From Ukraine, Finland, India, Ireland, Italy, Sweden, Australia, France, the United Kingdom, and Brazil, he is leveraging his passion for teamwork and collaboration by building something so eclectic, diverse, and powerful.
Below is the compilation of all the remix versions of "2step" below. Enjoy!
Lil Baby
This music video was a fabulous masterwork stemming from the mind of our beloved singer-songwriter. Directed by Henry Scholfield, the official music video for the single features Ed Sheeran and Lil Baby. As noted in the video's disclaimer, in the beginning, Ed filmed this video in Kyiv, Ukraine, prior to the devastating war between Russia and Ukraine. To show his support, he pledged to donate all the record royalties from YouTube streams of this video to the DEC's Ukrainian Humanitarian Appeal.
Listen to the "2step" feat. Lil Baby here!
Armaan Malik
First destination: India!
This Indian remix version featuring "Pop Prince of Bollywood" depicts the peaks and troughs of an artist's life. It talks about the good and the bad, the creative process, and how much they rely on their loved ones for support to make it through. Armaan Malik is putting India on the global music map with his love for all things pop, and this is demonstrated well with his successful all-English singles, from "No Control" to "You."
"I'm beyond excited to be featured on this version of '2Step' with Ed Sheeran. He's always been such an inspiration, and I'm a big fan of his music and incredible songwriting. This is a huge moment not only for me but also for other Indian artists too. I genuinely believe that this will be the beginning for a lot more collaborations of this nature."

Armaan Malik on his collaboration with Ed Sheeran
On his social media, Armaan Malik slipped a hint about his collaboration with Ed before tweeting, "[this is] bigger than you can ever imagine and, most importantly, it means so much to me." He further added, "It is about confidence, finding power in your art, and leaning on your loved ones. When we have the support of the people we love, we can overcome any adversity. Nothing can keep us from moving forward. Two steps at a time."
Listen to the "2step" feat. Armaan Malik here!
Denise Chaila
The next stop is Ireland, and Ed shook hands with Denise Chaila, the rising Irish artist who's gradually making a mark on the international music scene. Denise Chaila was one of the opening acts for Ed Sheeran's sold-out Mathematics tour in Ireland, who astonished the audience with her incredible performance display. So when Ed Sheeran announced an Irish remix of his popular single "2Step" featuring Denise Chaila, it displayed her rising stardom in the Irish and global music scenes.
Denise Chaila is ecstatic to be a part of this global collaboration series and still feels like it's a dream come true. When asked about the collaboration, she said, "I feel like I'm dreaming or sleepwalking. This is without question the biggest opportunity I've had in my career so far to grow my aspirations beyond the limits of my own expectations." She further explains how he came to have this opportunity.
"Being asked to remix 2step was a dream, and being Ed's support act was beautiful because, mostly, it was him supporting me. Offering my voice to a song about pushing through difficulty to dance inside joy was, honestly, the perfect way to approach the immensity of what these opportunities mean to me. This has been affirming, emboldening, and beautiful, and I hope what I managed to do here feels good, and right, and does justice to Ed's heart for this song."

Denise Chaila on his collaboration with Ed Sheeran
Listen to the "2step" feat. Denise Chaila here!
Antytila
Ed Sheeran teamed up with Ukrainian band Antytila for a remix version of "2step" with a new verse inspired by a flicker of hope and optimism amidst the crisis and war. It explains the necessity of holding on to hope while spending time apart from loved ones. The lead singer of Antytila, Taras Topolia, recorded his vocals while working as a paramedic outside Kyiv and shot the music video. Profits from the video will go to charities supporting Ukrainian refugee children.
Listen to the "2step" feat. Antytila here!
Quevedo
The chart-topping singer collaborated with Spanish artist Quevedo for yet another mind-blowing remix version of "2step." Listen to the "2step" feat. Quevedo here!
Potter Payper
For the UK remix, Ed joined hands with Potter Payper to jam on! Listen to the "2step" feat. Potter Payper here!
Ultimo
For the Italian remix, Ed joined forces with the rising Italian pop singer-songwriter Ultimo, and this version is to die for. Make sure you hit the play button below!
Leto
Good news for French music lovers. For this version, Ed featured the French rapper and producer, Leto, and it's a great opportunity for the latter to shine on the international music scene. Listen to the "2step" feat. Leto here!
Ellinoora
Listen to Ed Sheeran x Ellinoora collab for "2step" below!
1.Cuz
Listen to Ed Sheeran x 1.Cuz collab for "2step" below! Listen to the "2step" feat. 1.Cuz here!
Budjerah
For a brand-new remix of "2step," Ed Sheeran has engaged an award-winning, Australian R&B newcomer Budjerah. To hear the beauty of this fabulous fusion of two worlds for a refreshing new sound, click the play button below.
Star.One
What a journey we've had on this one – from a TikTok to an official remix! Star.One x Ed Sheeran is the collab we didn't know we needed. Want to know why? Then check out below! Stream here!
Chefin
Popular Brazilian artist Chefin teamed up with Ed Sheeran to create a brand-new musical flavour that is too beguiling and delightful to resist.
reezy
Listen to Ed Sheeran x reezy collab for "2step" below!
Which remix version of the "2step" by Ed Sheeran is your favourite and became the summer jam for 2022? Do you like this concept of global collaboration because we do? Share your thoughts with us on Twitter @CelebMix!