Louis Tomlinson is an artist who constantly gives back to his fans in any way he can, from free merch to a live stream and now a FREE one-day festival, The Away From Home Festival.
We have put together a guide with EVERYTHING you need to know about The Away From Home Festival.
What is the The Away From Home Festival?
The Away From Home Festival is a new one-day festival created and curated by Louis and his team at LTHQ. Talking about the festival Louis said "I've been sat on this idea for the last 12 months at least and now to see it come to life makes me very excited. Personally, playing live shows is the best part of what I do and it's been far too long since I've seen my fans, so I wanted to put this festival on to say thank you for all the support and celebrate the return of live music. I've got a really good feeling it's going to be a really special night. We all deserve that!"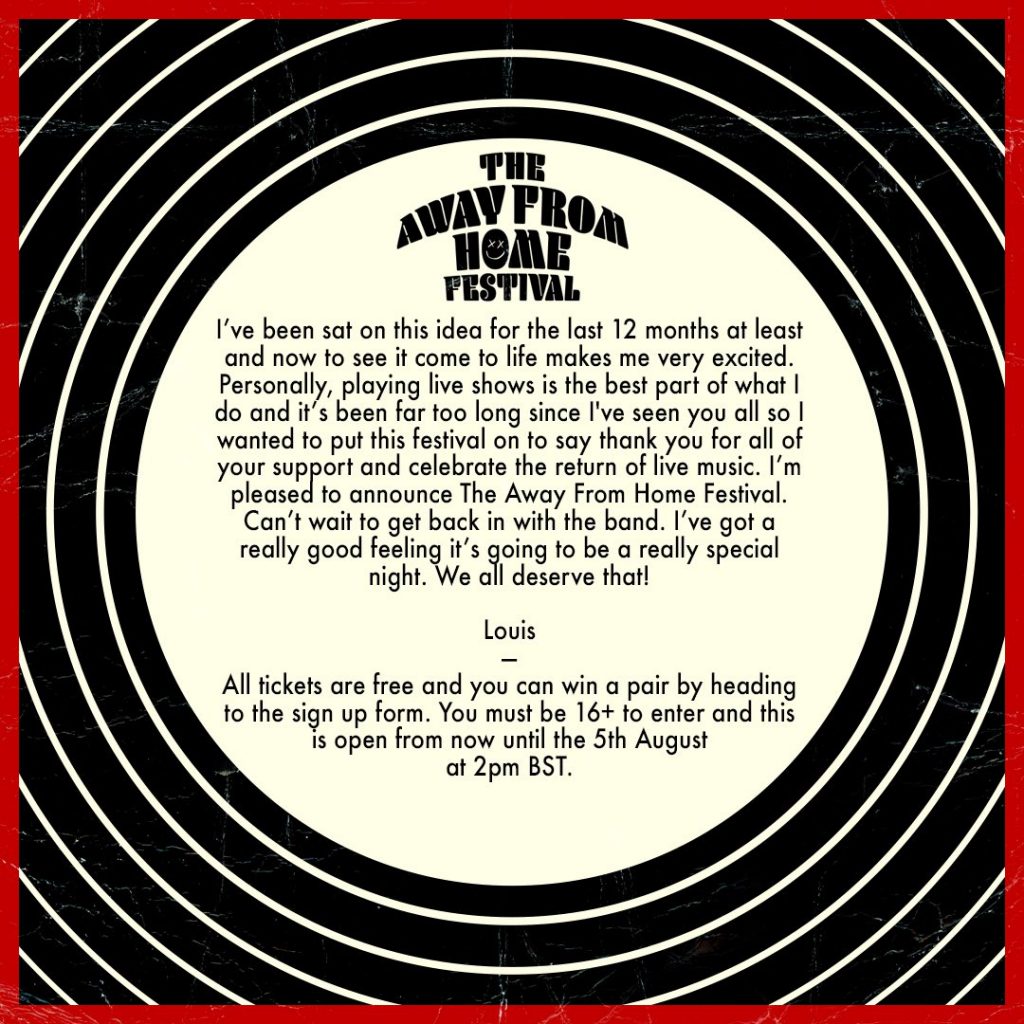 When and where will The Away From Home Festival take place?
The festival will take place on Monday 30 August, in London, the UK at Crystal Palace Bowl, an iconic South London venue with over 60 years of live music heritage and a legacy as an outdoor performance venue stretching back over a century.
Who will be performing at the Festival?
Louis has curated an amazing lineup for the one-day event which he will of course headline. Scottish band The Snuts who recently hit No.1 on the Official Album Charts, Essex indie punk newcomers Bilk, and DJ sets from Radio1's Jess Iszatt are all set to feature.
How do I get tickets?
Most importantly TICKETS ARE FREE. All you have to do is sign up, here, to be in with a chance of winning one of the 8,500 tickets available to fans.
Age restriction: You must be 16+ to enter this competition. The event is open to 14+ (Under 16s must be accompanied by an adult)
Photo ID will be required at the event to verify the winner's name given on the entry form.
The prize draw begins at 4 pm BST on 29th July 2021 and ends at 2 pm BST on 5th August 2021. Entries received after this time will not be included. There are 3750 pairs (2 tickets) of tickets available for The Away From Home Festival at Crystal Palace Bowl, London.
Successful applicants will be sent an email by See Tickets with their tickets no later than 6 pm BST on 12th August 2021.
Are there any COVID guidelines I need to be aware of to attend the Away From Home Festival?
Yes. Louis and his team want The Away From Home Festival to be a completely relaxed and safe event, so there are some guidelines that must be followed in order to attend.
The venue is working with all the relevant organisations and Public Health Authorities to ensure a safe and responsible event for all guests and staff.
It is a condition of entry to the event that all participants attending The Away From Home Festival need to show one of the following:
– Proof of full COVID-19 vaccination. This requires two doses of a COVID-19 vaccine being given at least 14 days prior to attendance at the event.
OR
– Proof of a negative COVID-19 Lateral Flow Test (LFD) carried out at home within 48 hours before the show you are attending.
OR
– Proof of natural immunity based upon a positive PCR test taken within 180 days of the Event (including 10 days self-isolation following the result).
FOR NON-UK BASED FANS
Due to COVID restrictions for international travellers, please only apply for tickets if you can adhere to government restrictions. Please find more information here.
International ticket holders who do not have access to the NHS app will need to show proof of a negative Lateral Flow Test. The Lateral Flow Test will need to be taken within 48 hours before the Festival.
You can either: Order to your home address here
Find out the nearest location to pick one up near you here
You will then be able to show evidence of the negative test via the text message or email that will be sent to you. For more information and FAQs please click here
If I don't get tickets, will I still be able to see Louis perform?
Yes. Louis has said on Twitter that a live stream of the festival will be made available after the event, with info about that to be announced soon.
He also replied to fans saying he hopes to make it an annual event, which would be AMAZING!
Let us know at @CelebMix if you are as excited as us about Louis creating his own festival!