Award-winning independent artist LT, formerly known as Leanne Tennant, continues to make waves in the music industry with her latest single 'Act Your Age,' in collaboration with renowned Australian writers Joel Quartermain and Edwin White.
LT delivered a slick, dreamy pop masterpiece which showcases her distinctive alternative indie-pop sound, fusing her ethereal vocals with lush textures and melodic soundscapes. With its hypnotic allure and unforgettable hook, this track is bound to leave a lasting impression. 'Act Your Age' accompanies a glamorous Brendan Schoenmaker-directed music video — starring Leanne Tennant and Jess Goodfellow alongside other supporting artists. Filmed in Brisbane City Hall, the accompanying music video finds the songstress leading a mob of dance-possessed employees, inciting rebellion and liberating them from the shackles of societal expectations.
The burgeoning songstress delves into the themes of ageism and questions the societal pressures, stereotypes, and expectations that push people to fit within a framework — you be a certain age, look a certain way, dress and behave like a certain age — to be deemed acceptable. The single ultimately rejects the notion and constraints placed upon us by society that dictate to us what's appropriate for each age as we grow and restrict our ability to live our life how we choose.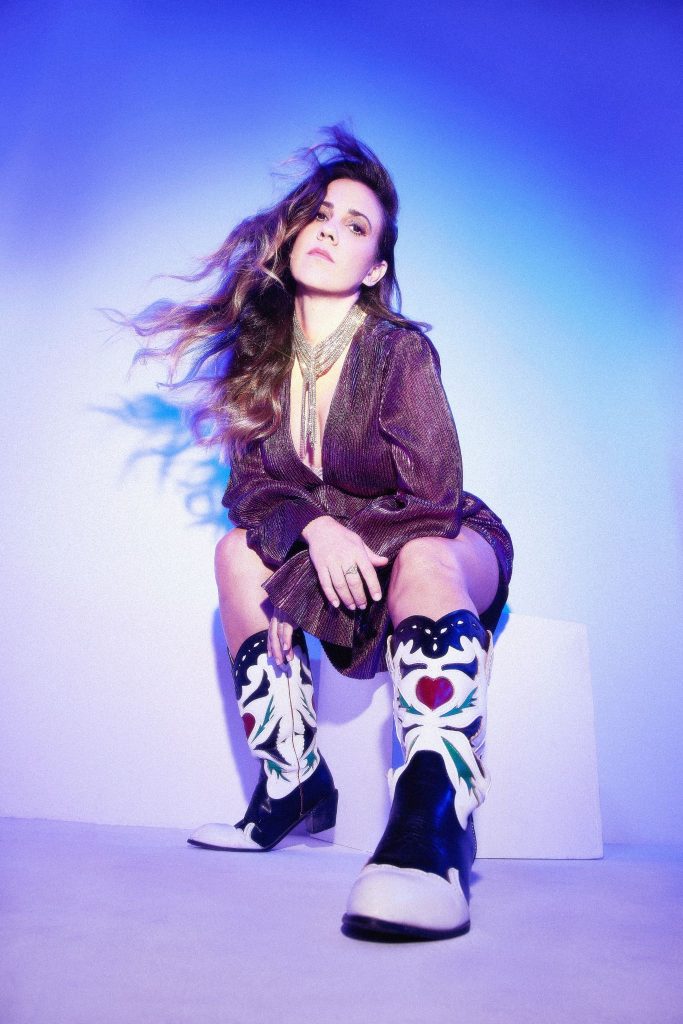 UK-born songstress LT has travelled across the globe in pursuit of her goals, establishing her expansive artistry as a burgeoning independent musician, broadening her aural frontiers, and positioning herself as a trailblazer that will put her on the mainstream map in no time. She draws inspiration from a diverse range of sources, incorporating the rhythmic bounce of Devon Cole, the pop sensibilities of Lily Meola, and the audio aesthetics often associated with Goldfrapp or Kimbra. Her own music explores elements reminiscent of MARINA, Sohodolls, and Melanie Martinez, resulting in a unique and captivating sound.
In this exclusive interview, we delved into LT's captivating musical journey, exploring the creative processes behind 'Act Your Age' and its mesmerising music video. We also gained unique insights into her soundscapes and distinct style, which have earned her widespread acclaim, as well as her current life in Tropical North Queensland, Australia, and how her surroundings have influenced her artistry.
Join us as we unravel the enchanting world of LT, discover her inspirations, and glimpse into the promising future of this remarkable artist.
Congratulations on the success of "Act Your Age". Can you elaborate more on what motivated you to explore the theme of ageism and societal expectations?
I've experienced ageism throughout my career in many different forms. In today's world, it is disappointing to still see the question "What's your age" being included on application forms for showcasing career opportunities or music platforms and industry figures focusing on the age of an artist rather than the quality of their music. It just shouldn't matter.
If you had to redefine what it means to 'act your age' on your own terms, what are some things you would do or not do, thus rejecting the conformities?
I refuse to believe that I am no longer of value just because I am no longer 20.
Walk us through the behind-the-scenes of your creative process for this single. How did you approach your vocal delivery and production process to set the emotional tone?
The other writers on this track Joel Quartermain and Edwin White also co-produced this track. I followed their lead and trusted wholeheartedly in their direction for the delivery. We recorded in sections to remain focused and give it some sass and bounce.
Who was the creative genius behind the accompanying music video who came up with the idea of a mob of dance-possessed employees? How do you think the choreography and visual storytelling conveyed the core essence of the song's message? Were there any particular scenes that stood out to you the most?
Brendan Schoenmaker was behind the video for 'Act Your Age'. Initially, I mentioned that I wanted a lot of movement to complement the track and its rhythmically charged groove. So when Brendan shared his idea with me about the possessed dancers and his reference points, I immediately jumped at the opportunity to get started. My favourite part would have to be the shirt rip and button fling moment. That sums it up entirely.
You filmed this entire music video in just one day at Brisbane City Hall with a sizable crew. Are there any interesting incidents you can share from the set or any challenges you had to overcome?
The whole day went so well. The only challenge was getting locked out of the building when I went for a quick break and getting completely lost trying to get back in just as it was my turn to be on camera. I'll do anything to hide from a camera.
Who were your biggest influences growing up and how have they shaped your unique style? Adding to that, as your sound continues to evolve within the alt-indie pop genre, how would you personally describe your current style and its distinctive elements? Are there any specific genres or styles you aspire to dabble into maybe through collaborations?
My tastes in artists and genres have shifted a lot over the years which is why my writing also continues to change shape. I just love music and get excited to try and learn anything new. I would say my current style leans heavily into the indie pop world however some of the new stuff I've been working on is exploring more of a dance element. I'm forever influenced by rock, punk and the blues, so I will always go a little starry-eyed over anything sitting in that landscape. I honestly just love it all.
Being an independent artist, how important is it for you to have creative control over your music and brand image? How do you juggle these various responsibilities of a highly competitive and demanding industry while balancing your personal growth and mental well-being?
I think the largest challenge for any artist is the expectation that you must deliver content at every waking moment. I am a truly independent artist which means I don't have a label, management, or agent, which also means my hands are pretty full and pockets fairly light. The demand to be a content creator and have new music every six weeks is nearly impossible and extremely stressful.
As you moved to Australia, it must have been a significant transition for you both personally and professionally. How has this cultural and environmental shift impacted your music career? Are there any obvious differences—challenges and rewards—that you can share with us?
There is a stronger celebration and support of genres and artists of all different ages and backgrounds across radio in the UK. That's the biggest thing I've noticed. It's near impossible to receive significant radio support in Australia if you're over the age of 25 or if you're not Jimmy Barnes or INXS. Also, touring in Australia is a challenge due to the size and expense of getting around, but it's totally worth it when you get to connect with others. It's a beautiful place with inspiration at every corner.
What is your definition of success and has it changed at all as you continue to get recognition for your musical brilliance?
Success is fluid and something that is impossible to chase as it changes in different stages of your career. I just hope I get to continue working with other artists I admire and that they want to work with me too. I think that's really it.
How do you actively engage with your fans and foster a sense of community around your music?
I love chatting with people across social media. Sometimes we swap stories and funny moments and sometimes, I'm lucky enough to receive demos. It's such a privilege to be shown people's ideas, fears, or dreams, and it's one I don't take lightly.
On a fun note, if you could organise a music festival, what would it look like and which six artists would be on the lineup?
It would be a weird hectic mix. Just like me. Hah! The Growlers, La Roux, Sleaford Mods, Oasis (come on lads), Lanie Lane if she came out of retirement and Amy Winehouse if she came back to life.
Looking ahead, what are your two main goals to achieve this year? Are there any new releases or live shows on the horizon?
Goal 1 – write my best album, Goal 2 – find the money to release it. In the meantime, I might have a little collaboration on the horizon coming out so stay tuned.
Stream and purchase 'Act Your Age' on all digital streaming platforms here!
CONNECT WITH LT
Website | Facebook | Instagram | Spotify | YouTube | TikTok | Twitter
Share your thoughts with us on this brand-new powerhouse music video release by LT on Twitter at @CelebMix!