When Dinah, Camila, Lauren, Ally, and Normani were brought together in July 2012, no one knew what their future would hold. They could've either succeeded or they could've fade off into the distance. There are plenty of contestants from The X Factor that have gone on to do great things, like One Direction, but there are many of them who are simply forgotten about after they leave the stage that final time (which stinks, really).
Luckily, after three years of wonderfulness, Fifth Harmony is still around and better than ever. They've released their first album, their second is on the way, and they've been on several amazing tours. To say they haven't been successful would be nonsense.
Since their creation, they've really done nothing but good. Before even diving into their music, it's hard not to love them for their personalities. All of the girls are kindhearted and extremely talented, and each of them has something special about them. They've also never been afraid to share their thoughts.
They're also very big on the empowerment of women, which is very important right now. Feminism is a big and current issue, as women still aren't being treated equally. Fifth Harmony has become a huge part of this movement with everything they do to support it.
Them being around is a statement in itself. The music industry is typically male-dominated, but it's clear that Fifth Harmony has had some fantastic success in the charts. Their most memorable songs are also about the empowerment of women, like their hits "BO$$" and "Worth It".
"BO$$" is all about having confidence and being yourself. This message is important to the current world of teenagers, as a lot of them struggle to be comfortable with who they are; especially women. With the media being the way it is, it's easy for a woman to not feel good enough. Since it's such a big problem, Fifth Harmony has stepped up to stop it.

"Worth It" is all about women being, well, worth it. The video focuses on the girls being CEOs, which is usually a male job position. It stands as a powerful anthem for women everywhere, and you can learn more about it here.
If you talk to almost any Harmonizer, they'll tell you that these girls have changed the way they see themselves. It's absolutely incredible. It's not easy to make a difference in the world, definitely in such a short period of time, but Fifth Harmony has done just that.
With all these motivational songs and their personalities, it's no wonder they were named Group of the Year at Billboard's Women in Music Awards. When they came to get their award, Dinah told the crowd that "each one of you in this room is beautiful strong and powerful beyond measures." That really tells you what kind of people they are.
For everything the girls of Fifth Harmony do, we definitely think they deserve this award. What do you think? Tell us in the comments, or tweet us at @CelebMix.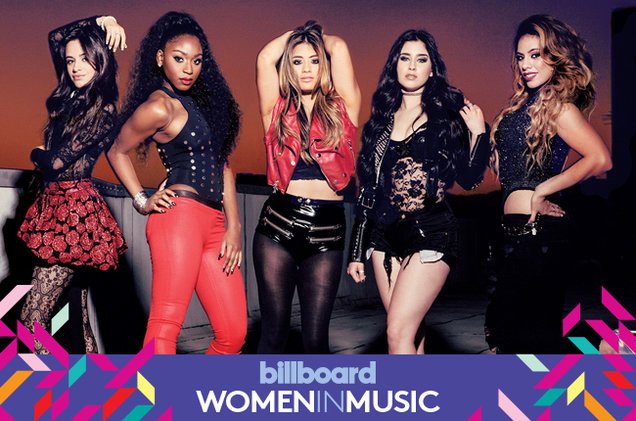 Congrats again, Fifth Harmony!