For the last five years, Cory's Law; set up by Cory Monteith's Mom, Ann McGregor, and a few close friends, has celebrated his birthday by raising funds for various youth performing arts charities in and around Vancouver, something Cory was very passionate about due to the opportunities the arts gave him.
This year, however, we find ourselves in the unchartered territory of a global pandemic. These difficult and challenging times have given the team at Cory's Law time to look back over the many memories they have of Cory. Their favourites all seem to have a connection; Cory laughing and smiling, sharing hugs whilst raising money for those less fortunate at various wonderful events, making a difference to so many people.
These memories have helped Cory's Law choose this year's charity. They have decided to support one of the first charities Cory became involved with in 2010. It will also mark 10 years since Cory took on the role of Ambassador for Virgin Unite, something he was incredibly proud of.
Covenant House Vancouver helps young people between 16-24 who have fled physical, emotional and sexual abuse; those who have been forced from their homes; and those who have aged out of foster care. Their purpose is to serve all youth, with absolute respect and unconditional love, to help youth experiencing homelessness, and to protect and safeguard all youth in need. During this time of lockdown and isolation these young people are even more vulnerable, the risks even greater. It is more important than ever that the help and guidance provided by Covenant House can continue through these strange and unprecedented times.
Covenant House provides a range of support programs such as street outreach and drop-in services; sheltered accommodation and counselling options which help these young people get back on their feet and live independently.
Cory was an outspoken supporter of the fight against youth homelessness and his dedication and advocacy helped raise more than $200,000 for at-risk youth programs in Canada through RE*Generation – a joint initiative of Virgin Unite and Virgin Mobile Canada. Cory felt that he had a responsibility to help those who needed it because he believed that we all deserve a chance.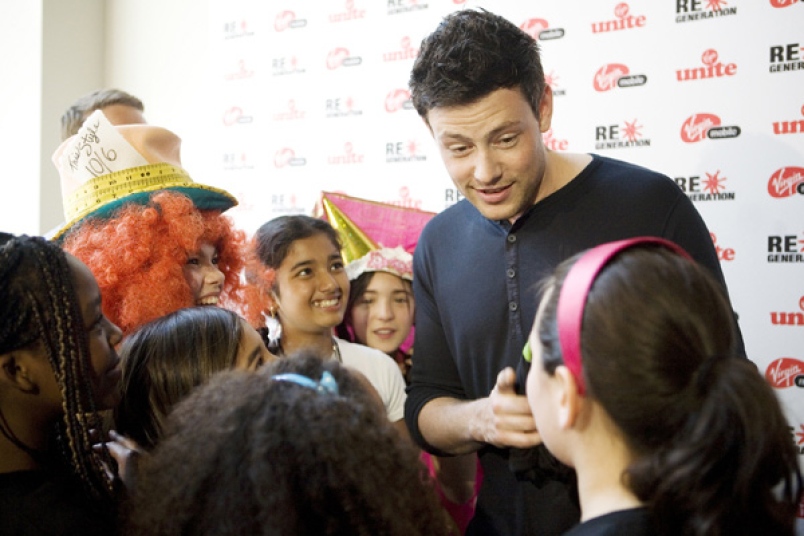 As Ambassador for Virgin Unite, Cory worked alongside the founder of Virgin Unite, international businessman, Richard Branson. When Cory passed away in 2013, Branson lead the tributes to his friend: "Cory was a beautiful soul, a lovely human being with a big heart who moved mountains to make the world a better place. He was deeply committed to ending youth homelessness. We'll never forget watching him on the streets in Canada working with homeless teenagers and organisations like Foyer in the UK, inspiring and giving a lifeline of hope to young people who were overwhelmed that he took the time to walk beside them to listen and share his own story".
Cory did not just show up at fundraisers when the press was there to take pictures. For him, the fame was not what mattered the most. Actively helping others, not just financially but by showing up in person and getting involved, was the most important thing. He was set on making a positive difference in this world and that is what Cory's Law continue to honour.
If you can, Cory's Law would love for you to help them celebrate Cory's 38th birthday by raising money for a charity that meant so much to him. You can donate through our Canada Helps page, leaving a message for Cory. Raising awareness is just as wonderful – please feel free to spread the word.
If you are living overseas and want to make a donation, please use the postal code M5T3B2 as the fundraiser page does not accept international postal codes. You can still support the cause through the same link.
Be the change Cory wanted to see in the world. Make a difference. Give hope for the future.
This article was written in collaboration with Cory's Law.