Freya Lewis was an ordinary 14-year-old girl who loved music, One Direction (she's a Harry girl) and Ariana Grande among her top picks. On the 22nd May 2017, she went to see Ariana Grande on her Dangerous Woman tour at Manchester Arena with her best friend Nell Andrews. That night changed her life forever. The horrific devastation caused by a terrorist took the lives of Nell and 21 others and left thousands of others forever physically and mentally scarred.
Now Freya with the help of ghostwriter Amisha Desai has written her story. What Makes Us Stronger, tells the story of the night her life changed, her coming to terms with what happened to her, dealing with her guilt that she was alive and Nell wasn't.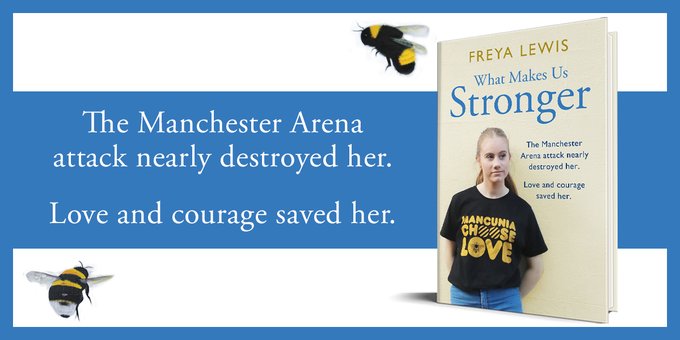 The Ariana Grande gig she intended that faithful night was the first her parents had allowed her to attend alone, allowing her to take a friend instead, she chose Nell, her best friend who she'd met on the second day of high school and the pair who had instantly clicked. Freya kept the tickets a secret from Nell for five months, acting as if she hadn't managed to get some like Nell hadn't when they went on sale. She surprised Nell with the ticket on her birthday.
Freya has lived in Holmes Chapel, Cheshire all her life. In her words "It's a safe little village, where not much happens." The biggest claim to fame is it's where Harry Styles grew up and went to school. So it's no wonder Freya became a huge fan of his. Harry features a lot in the book, from his song "Sign of the Times" being an anchor for Freya to think of happy thoughts and try to stay awake in the ambulance, to the personal phone call Harry made to her while she was still hospital when Freya had just come round from one of the numerous surgeries and all she could say was I love you down the phone.
She later got to meet Harry in person at a taping he did at Media City in Salford, she attended with her entire family, her dad moaning about having to fork out for the sweater Freya wore which had Harry's tattoos on it, and Mitch Rowland and Adam Pendergast, members of Harry's band commenting that it was "cool" and he'd had a "few more" since. Her meeting with Harry was one of the many moving and emotional moments within the book, the photo of Harry kissing her on the cheek, particularly poignant as it was a request from Nell who had once asked, if you ever meet him you must get a photo of him kissing your cheek.
Also, an equally lovely moment were the words spoken to her by Anne Twist, Harry's Mum who was stood behind her during the taping of the show in which Harry dedicated Sign of the Times to her.
"We've got to stick together you and I."

Anne Twist- What Makes Us Stronger, Freya Lewis, page 221
In 2008 Freya won an NHS Heroes award for all her fundraising work for Royal Manchester Children's Hospital. She was invited to the award ceremony by some of her favourite members of the Coronation Street cast including Lucy Fallon, who she has become firm friends with, so much so Lucy is the voice of the audiobook for What Makes Us Stronger.
The NHS Heroes Award was another huge event in Freya's life. Not only was she presented the award by Harry's One Direction bandmate Louis Tomlinson, whose song Two of Us had resonated with her, flew back from LA just to present her with the award.
There's a song by Louis Tomlinson from One Direction called Two of Us. It really spoke to me because the whole song is about living life for the two of us. And that is how I feel about Nell," Freya says. "I feel like she's with me now. Everywhere I go and everything I do, she's there beside me. I'll just continue taking her everywhere I go with me in life."

Freya Lewis Damian Whitworth for The Times in february 2020
It's also where she met Amisha Desai, who would help her put her thoughts on paper and enabled her to tell her story.
What Makes Us Stronger isn't an easy read, despite it being ultimately uplifting, both her Mum and Dad's accounts of the events of the 22nd May are particularly harrowing but by reading them you come to understand Freya's journey a lot more. Her Mum would later tell Ariana Grande when she visited Freya in the hospital that the attack was not her fault.
As she turned to leave, Mum was hovering by the bed. She and Ariana looked at each other for a moment, then Mum's face went serious 'Don't worry', she said softly, 'it wasn't your fault.'

What Makes Us Stronger, Freya Lewis, page 58
Her dad selflessly kept the village of Holmes Chapel updated of Freya's recovery on the school's blog. With parents like that, her sister Georgia being an absolute tower of strength and Freya's number one cheerleader while taking her A-Levels it's very easy to see where Freya's warm, selfless and determined nature stems from.
It's a story of resilience, of remarkable strength but ultimately it's an uplifting and heartwarming tribute and legacy to her best friend, a love letter to the community of Holmes Chapel and a thank you to her friends and family and all those who have helped her in the last few years. It's a book that has the potential to help so many people come to terms with the feelings they have, and it's one we think everyone should read as Freya's outlook on life is one the world could learn a lot from.
You can purchase your copy here.