Dodie Clark, also known as doddleoddle or simply 'dodie', is celebrating her 22nd birthday today, April 11th! The past year has been action-packed for Dodie- from embarking on three tours to releasing her debut EP, 'Intertwined', to incredible growth on both of her YouTube channels, it's  been a whirlwind of well-earned success and accomplishments. To celebrate, Dodie posted a short ukulele cover of Taylor Swift's '22'- donning Taylor's signature red lipstick, black hat, and sunglasses while singing along to the rather relevant lyrics.
On on top of the regular birthday excitement, Dodie has another huge milestone to celebrate today- she reached one million subscribers on her YouTube channel, doddleoddle! On Dodie's 18th birthday, her cake promised her one million subscribers- it's such a strange coincidence that she would go on to reach that achievement exactly four years later.
4 years later

and here we are! pic.twitter.com/79OW2cAv6U

— dodie (@doddleoddle) April 11, 2017
Of course, many of Dodie's close friends and fellow YouTube content creators wished her a happy birthday today on Twitter:
HECK big happy birthday to @doddleoddle and congrats on 1MILLION. jeez gurl u rockin' ?

— Luke Cutforth (@LukeCutforth) April 11, 2017
@doddleoddle happy birth pic.twitter.com/mE3APfir9Q

— BRY (@BryOnTour) April 11, 2017
#getdodieto1milliononherbirthday
HAPPY BIRTHDAY @doddleoddle ?
Your music and your voice and yo face all make me smile!
*22 squishy hugs*

— Melanie Murphy (@melaniietweets) April 11, 2017
A big happy birthday to @doddleoddle! Hope it's a sunny 10/10 dodie yellow day ??

— Evan Edinger (@EvanEdinger) April 11, 2017
In addition to all of that love and support, Dodie's loyal and talented fan community went all out to celebrate her birthday by creating some magnificent pieces of art, along with sweet messages and video compilations. Here are just some of our favourites we came across today:
just wanted to wish you a very happy birthday ~ pic.twitter.com/zrQfeHanvN

— martina ?? COMMISSIONS OPEN! (@martisun_) April 11, 2017
happy birthday? hope u have a terrific day, angel @doddleoddle (lol too late, eh?) pic.twitter.com/eKI7q2KuLK

— ???? (@enwaisee) April 11, 2017
happy birthday @doddleoddle ??? pic.twitter.com/Tb0nl5TOWq

— kia ???? (@sacredeeer) April 11, 2017
https://twitter.com/ceuberia/status/851631926251335680
happy birthday dodie!!

(the lyrics are 22 by taylor swift) pic.twitter.com/YP3IcdaeMp

— jam (@jamhanif_) April 11, 2017
To celebrate her birthday, we put together a short list of some of our favourite Dodie videos from the past year. There are countless gems from the past year alone, so be sure to check out her YouTube channels doddleoddle and doddlevloggle for more awesome videos!
1. Dear Younger Me
Sticking with the birthday theme, we thought we'd include this video where Dodie gives valuable advice to the younger version of herself. From general life advice to fashion tips it's incredible to see how far she's come since her teenage years.
2. I've Been Busy
In case you had any doubt that Dodie is always on the move, this video contains a long list of everything she was up to in late spring last year- summed up in a song, obviously! This video is simultaneously fun to sing along to and great motivation to get something done.
3. Would You Be So Kind?
One of Dodie's original songs from the past year, 'Would You Be So Kind', is quickly becoming a fan favourite. The upbeat, cheery tune is reminiscent of 'Absolutely Smitten', and is bound to make you dance around the room.
4. Why I Love La La Land So Much
There's nothing better than watching someone talk about something they're clearly very passionate about. Dodie's love for La La Land is infectious, and it's quite an experience to witness her excitement in this chatty, eleven-minute long video, especially if you're a fan of the film yourself.
5. Sick of Losing Soulmates
Dodie's first music video on her official VEVO channel was released last year! Directed by Sammy Paul, the video artistically documents the complicated relationship described in 'Sick of Losing Soulmates', the lead single from Dodie's EP 'Intertwined'.
CelebMix would like to wish Dodie a very happy 22nd birthday, as well as a huge congratulations for reaching one million subscribers! We're so proud of everything you've accomplished in the past year, and we know you'll go on to achieve even more amazing things in the future. Thank you for continuing to create art that inspires people across the world, and for always being authentically, unapologetically you.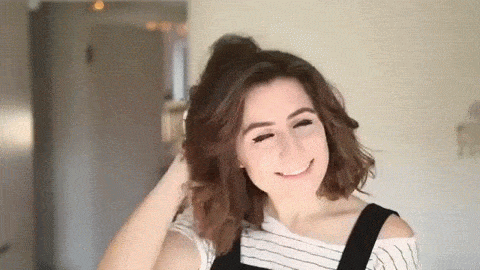 Want more Dodie-themed content to celebrate her birthday today? Check out these past articles we've written about her:
YouTuber of the Week: Doddleoddle | Why Fans Love Dodie | EP Review: dodie- 'Intertwined' | Dodie Clark's Five Best Covers
Or take this quiz to find out which song from Dodie's 'Intertwined' EP you are!
How did you celebrate Dodie's birthday today? Let us know on Twitter @CelebMix.