Holly Humberstone has returned with her first release of 2021, in the form of new single 'Haunted House'. Alongside this an incredibly personal video for the track filmed in her childhood home has been shared.
'Haunted House' sings about the house which Holly grew up in, with her sincere vocals telling the tale of changing times, moving out and away from a place which was once just a home but became much more than that. Referencing "all these ghosts I've grown with" and the changes she has gone through within the house alongside those who also live in it and have shared the experiences with her, looking over her and her sisters along the way. Acting as a goodbye to the house which has turned into a fortress, it features a powerful harmony driven outro as Holly remembers the many years spent there and the memories made, even with those she may not be able to see. It is a hauntingly beautiful affair and again showcases the vocal and lyrical maturity which Holly Humberstone possess as an artist. The video sees us going into Holly's family home as we see what goes on behind closed doors, with her mum and dad also making an appearance. You can check it out below!
Speaking about the track, Holly says, "I wrote this song about the old and characterful house I grew up in. The house is such a huge part of who I am and our family. With my sisters and I moving out and living separate lives, coming home feels very comforting and one of the only things keeping us all connected. The house is almost falling down around us now though, and we've realised that pretty soon we'll be forced to leave. There's a cellar full of meat hooks and a climate so damp mushrooms grow out of the walls. Loads of people have probably died here in the past but I've always felt really safe. It's like a seventh family member. It's part of me."
The singer-songwriter released her debut EP Falling Asleep At The Wheel last year, which featured tracks ranging from sassy 'Vanilla' with lines singing of when you realise a relationship has become stale to powerful and heartfelt 'Deep End' where her soaring vocals tell of the being there for those closest to you when they're going through a challenging time. Holly also shared her short film On The Run; a visual accompaniment to her debut EP. You can check it out here.
Holly Humberstone is a force to be reckoned with as her debut EP highlighted her story-telling talents and abilities to create relatable, sincere music. Since the release she has gone on to perform on The Late Late Show with James Corden and Jimmy Kimmel! Live, be named the BBC Sound of 2021 runner-up and confirm a collaboration with The 1975 frontman Matt Healy. A run of headline dates are scheduled to take place across May and June, however due to the ongoing pandemic the singer-songwriter has confirmed these are likely to be rescheduled to a later date.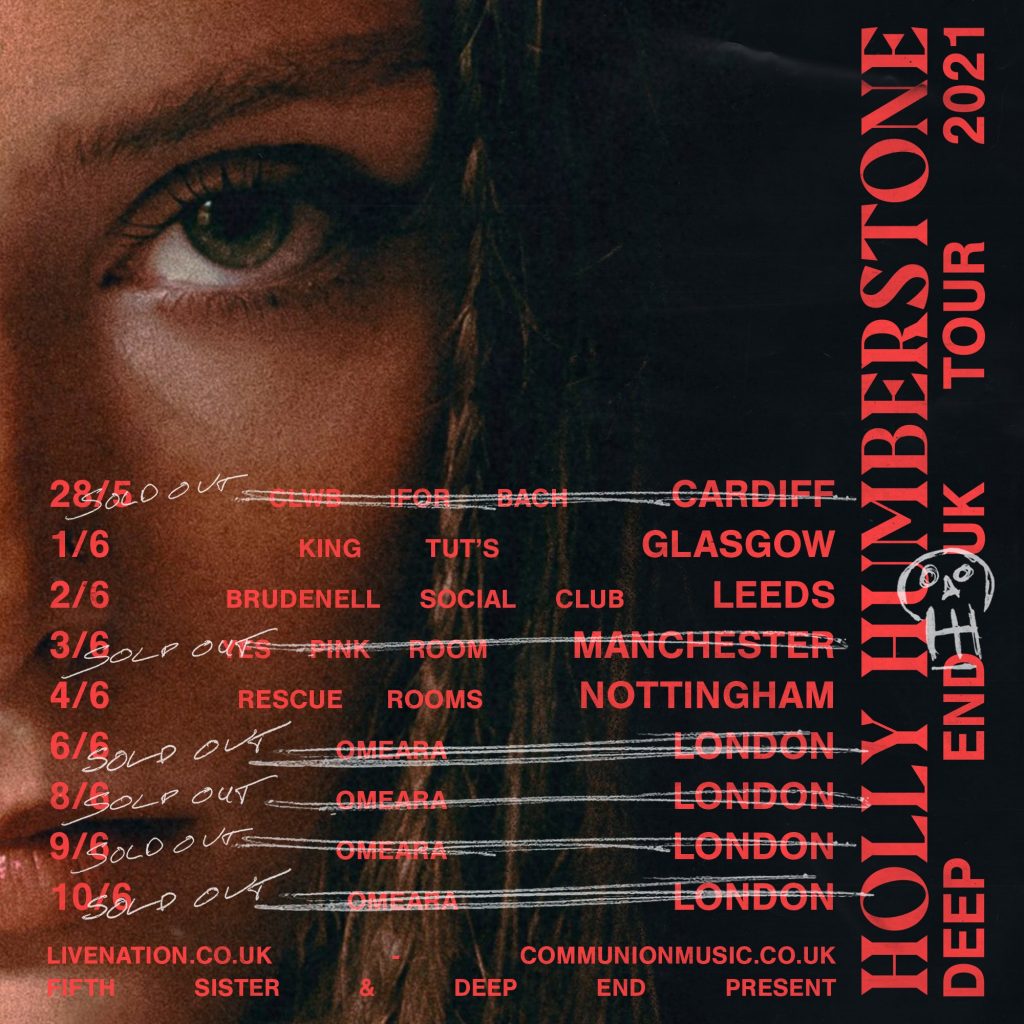 Keep your eyes peeled on Holly's socials (Facebook, Instagram, Twitter) for more details on her live shows and also her forthcoming second EP which is set for release in the coming months.
'Haunted House' is out now on Darkroom/Interscope Records and Polydor Records. You can download and stream it HERE.
What do you think of Holly Humberstone's new single? Tweet us @CelebMix and let us know your thoughts.