Have you bought an old apartment and want to give it a new life? Is your house no longer to your liking and you would like to make it more modern? Are you planning to sell your property but your interior is out of fashion, not to say outdated?
In all these situations, the problem remains the same: how to modernize your place? What type of work to do, in order not to spend a fortune? Which decoration to choose, what wall and floor coverings should one bet on? Our specialists are here to give you the right advice for a successful new layout.
Whatever the purpose of the project, undertaking the modernization of your house or flat is always a good idea! Indeed, in addition to making it more comfortable and more to your taste, this operation also helps enhance your home – provided you do it well! Follow this guide for some of the best practices in terms of price and chicness.
What helps make an interior more modern?
Modernizing your place does not necessarily mean that you have to undertake heavy and restrictive restoration processes. Indeed, depending on the condition of your home, a simple redesigned layout and a few tips can already change everything.
One of the first things that can really make a difference is repainting your apartment. When you see faded paint on the walls, it inevitably results in the impression of a neglected interior. That is why you can choose to paint the place in more neutral colors that reflect light, such as white or beige. 
Some more intense colors are also very chic, but you have to be careful not to give an impression of confinement with too dark colors. You can also bring an extra touch of modernity to your interior by painting the door frames with a color that will contrast with that of your walls.
Apart from the restoration of the walls, that of the floors is also to be taken into account. In the case of parquet, a simple sanding accompanied by a good finish is enough to give your floors all the shine they deserve.
The need to change windows that are not sufficiently insulating is also an opportunity to modernize your apartment while saving energy: for this, you can opt for models with a dark aluminum frame that will contrast with your white walls – the effect is guaranteed!
Finally, opening up the space is often a good idea in apartments where the rooms are small and dark. With the help of an architect, you can then knock down some partitions to create a kitchen + living room, for example.
Good to know: if you want to demolish a load-bearing wall, you have to call an architect for a preliminary diagnosis. In addition, the authorization of the condominium manager is also required.
Inspired by second-hand and salvage decoration trends, revamping antique furniture is now also quite common. If you want to refresh a wardrobe or sideboard inherited from your grandmother's house, you can manage to nicely integrate it into your interior!
Such pieces of furniture have the charm of the past years, but are not always up to date. Depending on your tastes, price of paint, and desire to create, you can give the furniture a makeover and a new life. Remember to also start with less daring projects.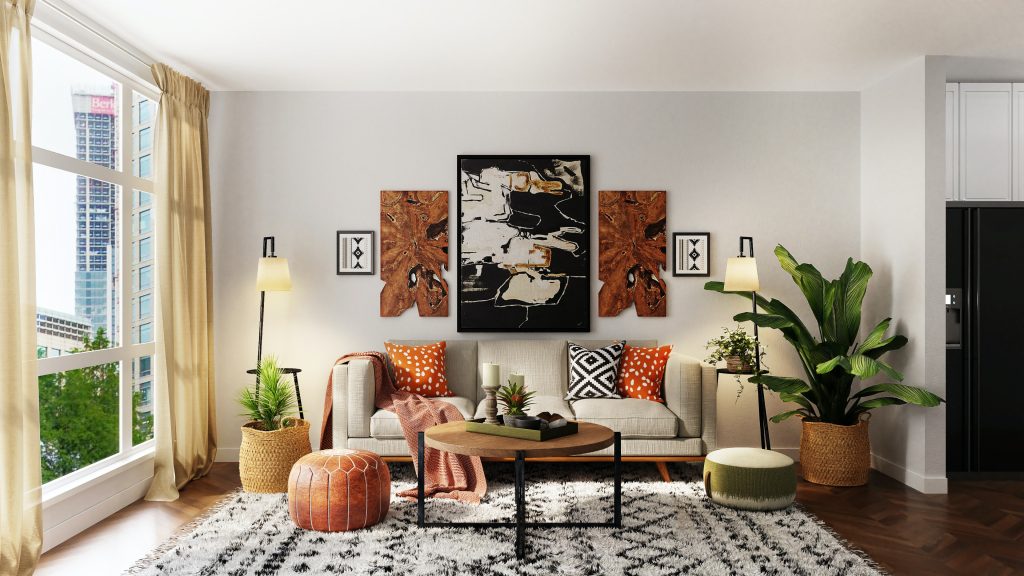 On another subject, some prefer neutral tones and light finishes, while others have fun using fluorescent and contemporary shades. All in all, with paint, fabric or even wallpaper, there are many options for revamping an old piece of furniture.
Available in beautiful colors, chairs, tables, armchairs, sideboards, wardrobes or even office furniture are enjoying a second life on Nationwide Furniture Outlet! They can be acquired for any home, adapting to a personalized decoration and evolving desires.
But if you're still more into DIY, ask yourself the right questions before completely revamping a piece of furniture, because it also takes some specific knowledge. Plus, this is a one way road, so it is better to be sure of your choice, especially for old family furniture which also has sentimental value and which tells a story.
Here are some tips and decorating ideas to modernize your interior
There are countless decorating tips and ideas for modernizing an interior. For example, you can bet on lightness by using a canopy. This design element not only gives a contemporary style to the room it is in, it's also a great way to bring more light into your home.
If you want to keep your spaces closed, a glass roof is an effective alternative which, while delimiting the spaces, lets light in and gives the impression of a larger area.
A deco trick that is also very trendy is to dare using a mix between modern and retro.
Indeed, the danger of losing that cachet that old apartments have when you start to modernize your place is quite real!. So don't hesitate to keep certain vintage elements – retro parquet, quirky tiles, old cupboards – and mix them skillfully with a more contemporary layout.
Often forgotten, lighting can also play an important role in decorating and modernizing your interior. Do not hesitate to opt for original, chic models to catch the eye. In addition to illuminating the space, they should really add style to the room. Mix chandeliers, floor lamps, wall lights and spotlights for a successful effect and a brightness adapted to each moment of the day.
Finally, for those lucky enough to live in a pre-war building, don't hesitate to update the moldings that adorn your walls and ceilings and make them stand out with color. To do this, you can either dare the bright colors, or bet on sobriety with a mix of white and black. In this way, you can erfectly combine the old and the modern.
Looking for decorating ideas to modernize your apartment? Don't hesitate to take a look at our other articles for some inspiration!