Miami-based rising pop star Ike Rhein returns triumphantly to the music scene with his latest single, "RUSH," featuring Billboard-charting rapper Zoey Dollaz, released on September 8. "RUSH" may be the first single released by the pop crooner this year, but he has been very productive as he has officially wrapped his forthcoming debut album. This song is just the tip of the iceberg, a tantalizing glimpse of the exhilarating journey that Ike Rhein is about to take us on with his highly anticipated debut album, "Memoir," set to grace our ears in early 2024.
Originally from Grand Rapids, Michigan, but now calling Miami, Florida his home, Ike Rhein is a 21-year-old prodigy with the power to captivate the masses and carve a distinct niche. In "RUSH," he invites us into the fast-paced world of a music artist, which, in his words, "can give you and those around you a real rush." This laid-back yet bravado-laden track weaves sleek and captivating lyrics into a sonic masterpiece that effortlessly fuses elements of Hip-Hop/Rap and R&B/Soul.
The result? A song that's not just catchy but undeniably vibey, and deserves a spot on your 2023 summer playlist!
"Being a music artist is a fast-paced ride, and it can give you and those around you a real rush,"
Ike Rhein's journey, from foster care to musical stardom is as remarkable as his music itself, and an inspiring one. He discovered solace in music at a tender age, using it as a means to navigate life's complexities. He honed his craft, learned to play multiple instruments, and began crafting melodies and compositions that would soon captivate audiences worldwide. His, passion, talent and dedication didn't go unnoticed. His work has been featured in a multitude of media outlets, along with nearly half a million followers on social media and millions of streams and views, he's made a lasting impression on music enthusiasts worldwide.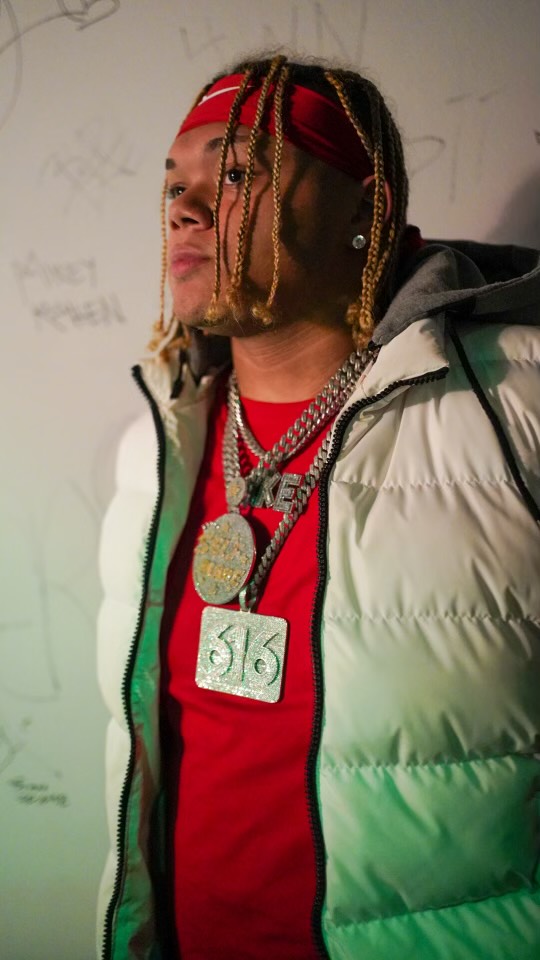 "RUSH" is more than just a song; it's an intoxicating journey into the fast lane of love, lust, desire and pursuit, all within the laid-back exterior of a modern love song that oozes confidence and charm. What sets "RUSH" apart is its genre-defying sound. Ike Rhein fearlessly blends elements from various musical realms, such as Hip-Hop/Rap and R&B/Soul, creating a sonic masterpiece that's incredibly catchy and infectious.
The credit for this exuberant fusion goes to Ike Rhein's assembled dream team, including multi-platinum producer Danny E.B (Dannyebtracks), who lent his expertise and brought the track to life, while the lyrics are penned by multi-platinum songwriter Felly The Voice and the charismatic Zoey Dollaz. Their combined talents shine through in every note, adding a layer of depth and complexity to the composition, making "RUSH" an instant hit.
However, "RUSH" is just the opening act of Ike Rhein's musical resurgence. The rising pop talent has two more singles in the pipeline, both to be released ahead of the debut album. One of these singles promises an exciting collaboration with multi-platinum superstar Sean Kingston. The excitement is palpable, and Ike Rhein's return to the spotlight is nothing short of spectacular.
But before we look ahead, let's take a moment to savour the present and heed the call to "rush" into Ike Rhein's world of musical enchantment. His fusion of futuristic notes, evocative storytelling, genre-defying soundscapes and nostalgic vocals promise to propel him to the forefront of the global stage. With "RUSH" as the leading light, the world is about to discover the unique and evocative sound of Ike Rhein—a rising star on a meteoric trajectory in the realm of modern pop music.
Stream and listen to 'RUSH' below:
CONNECT WITH IKE RHEIN
Facebook | Instagram | Twitter/X | TikTok | Website
Share your thoughts with us on Twitter/X at @CelebMix!