Actress and performer Anna Danshina finds herself on the brink of more acclaim this week – with the premiere of her latest feature film BREAK set to take place in London on Wednesday evening!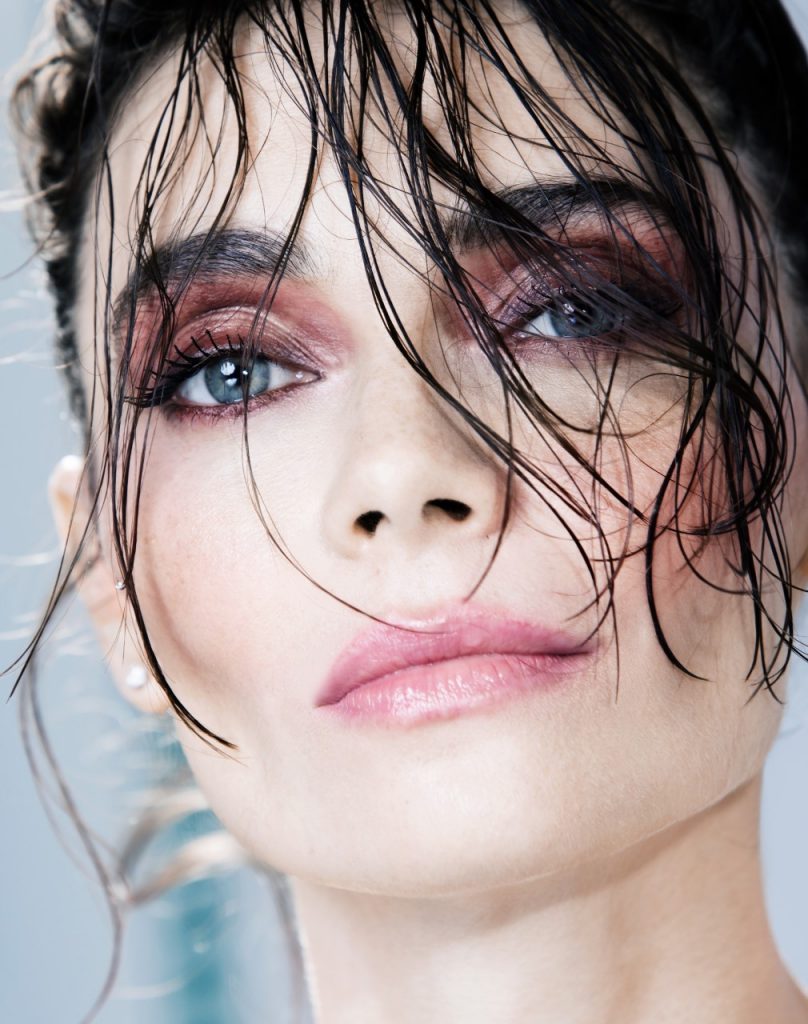 He has the talent, all he needs now is a… BREAK!
BREAK Films and Scanner-Rhodes Productions are proud to present the release of the new British independent film BREAK – a heartwarming, thriller starring Sam Gittins, David Yip, BAFTA Winner Adam Deacon and the late, great Hollywood screen icon Rutger Hauer, in his final screen role.
The film follows the story of troubled but talented Spencer Pryde (Sam Gittins), a teenager wasting his life on petty crime and violence, until a chance encounter with Chinese stranger and former 'eight ball' pool champion, Vince Qiang (David Yip) and tough guy club owner Ray (Rutger Hauer) presents him with the opportunity to turn his life around.
In her role as Alena, we see Danshina play a woman desperate to seek justice for her late brother, Denis – who as a young teenager, was killed in a gang fight. Alena is feisty, strong and courageous, but beneath her tough exterior she's vulnerable, sad and heartbroken at the loss of her little brother – but through the films many twists and turns, will she manage to find the closure she so desperately needs?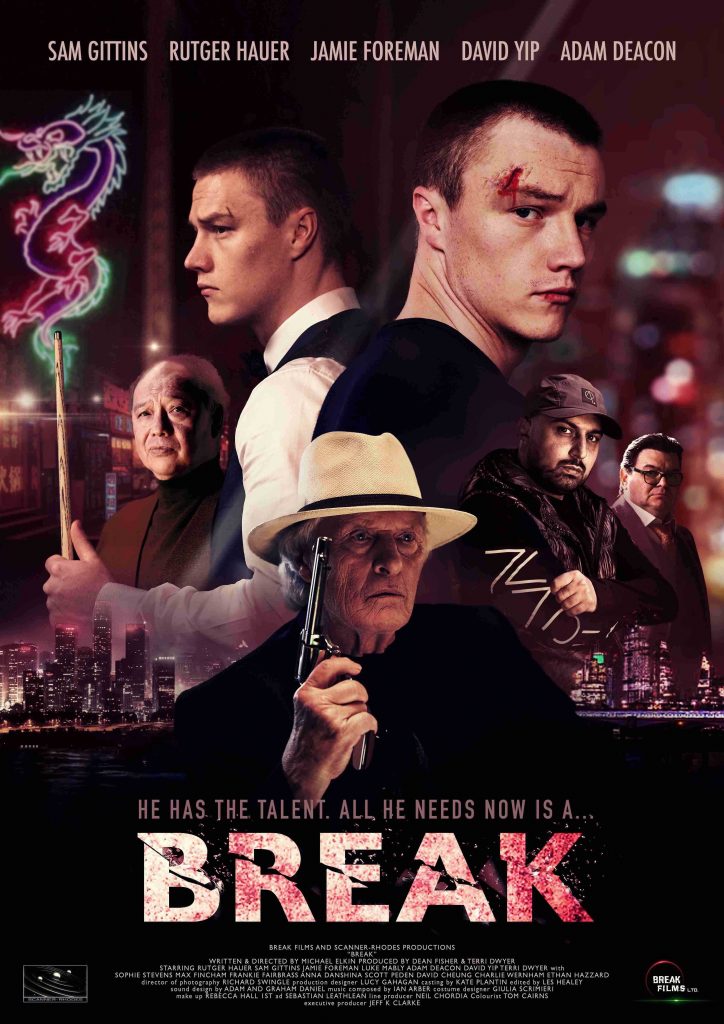 Ahead of BREAK's world premiere, we caught up with Anna to talk life in lockdown, BREAK and Love Possibly!
2020 has been quite the unpredictable year so far – how have you been finding life over the past few months?
You're absolutely right, 2020 has been very different for many of us, and we've all found ourselves facing some very real and unique challenges. For me personally, I have to admit that things have been a little crazy as at the beginning of the pandemic, when lockdown started, I was in Los Angeles – I'd gone out there and was very excited to be taking part in the pilot season auditions, but then the lockdown measures were imposed. Everything happened very quickly; I remember I had an audition confirmed for one of the lead roles in a Disney TV show and I was preparing for it, but then the local authorities introduced some strict quarantine measures and all auditions were changed to self-tapes. Then a few days later they imposed restrictions for travelling, and international flights started to be cancelled so I was worried I would be stuck on my own out there without my family. But luckily, I was able to catch a flight to London and spend the rest of quarantine here at home with my dear husband and my adorable guinea pigs and pets.
We here at CelebMix always try to focus on the positives in life, so we wonder… what have been some of your favourite moments in lockdown? Are there things that you've managed to do whilst being at home that you wouldn't normally have had the time to do?
I decided pretty early on that I really wanted to stay active, and try to do as much as I could work-wise, so I've continued with my professional acting work, as despite the lockdown some auditions have still been happening online. And I've discovered a lot of interesting online initiatives for actors which I've taken part in, such as monologue competitions, self-tape challenges, zoom meetings and masterclasses with some outstanding film directors. I've continued doing my sitcom sessions with LA tutors and actors via zoom. We're so lucky that we live in a digital era where we can still find ways to communicate with each other! Away from the work side of things I acquired a new hobby – metal detecting. I recently watched the TV show Detectorists on BBC and I was just fascinated by it! I have my own metal detector now and I was practicing in my garden – I found some horse shoes, old nails and a penny from 1978… I'm determined to find more valuable artefacts one day. With regards to my favourite moment, it was on my birthday in May when my husband secretly baked a cake for me. He never baked anything before, and I was very pleased he did it for my birthday. Unfortunately, we could not invite guests to share the cake, but still it was a great birthday surprise. 
---
BREAK: The Official Film Trailer
So, as things begin to slowly go back to 'normal', you're gearing up for the big premiere of your new movie BREAK this week , how are you feeling?
I feel very excited about it actually. The premiere was supposed to happen earlier in spring, but it had to be rearranged because of the quarantine. It is the first Drive In Premiere in the UK and I've never been to a Drive In cinema theatre before, so I'm looking forward to it! I can't wait to see all of the cast and crew again. I had been excited to see Rutger Hauer again, but sadly he is no longer with us. 
You've all worked so hard on the project – do you get nervous in anticipating hearing people's reactions to it? 
Yes, we all worked very hard, and I do get nervous about peoples' reactions to it, but at the same time, I feel confident that those who see it, will really enjoy it! The film has all the necessary components for success – a great story, a wonderful cast and amazing cinematography. I've actually already seen it and I think our director Michael Elkin has done an amazing job! I also think that a lot of snooker fans will particularly enjoy BREAK as the lead character Spencer Pryde (Sam Gittis) is uniquely talented player and we have British snooker star Jack Lisowski, Chinese sensation Liang Wenbo and World Snooker Champion Ken Doherty make cameos, so there's a little bit of something in there for everyone!
You play Alena in the film, can you tell us a little bit about her and what it was like to play her?
So Alena is the protégé of Ray (Rutger Hauer) and her brother Denis, was a close friend of Spencer's. Denis was sadly killed in a gang fight, so really Alena is seeking justice for her brother. She's a remarkably strong female character, one that you would describe "as hard as nails" but at the same time she is a good person – I'd like to have a friend like her in real life, I think we could have a good time together! I loved play her as I like to perform strong roles and characters with Alena's internal power and charisma.
Do you have any particular favourite scenes in the film that you're excited for people to see?
I do but I don't want to give away too much, as I want the movie lovers to watch it and enjoy it as I did the first time. 
The film has all the necessary components for success – a great story, a wonderful cast and amazing cinematography.
What was it like working with the rest of the cast? Do you have any fun stories to share from your time on set?
It was great to work with the cast and crew of this film. There was a wonderful and friendly atmosphere on set and I am particularly thankful to our film director Michael Elkin and our producers Terri Dwyer and Dean Fisher for that! I'd worked with Adam Deacon before so it was nice to be back on set with him again and I loved working with Sam Gittis – he was fantastic! Of course, I have to say that I was very happy to act along side Rutger Hauer, he is a truly legendary actor and an amazing person. He was very creative on set, suggesting a number of interesting ideas. You could clearly see how professional he was, he tried to make every take different, adding something or changing something in his performance, so it never became repetitive. It felt very special to work with him on set. 
How would you best describe the film to anyone thinking of going to see it?
I see BREAK as a film about major life transformation, about dreams and the ability we all have to try and achieve them! I also think it's a movie about passion, sport, love and friendship. 
The big 'drive in' premiere takes place in London this week – it's going to be such a unique and different experience for everyone involved – you must be pretty excited about it?
Yes, I am – I'm so looking forward to it! Like I said before, I think it's the first UK drive in premiere, so that's a big deal for us! I saw photographs of the venue and it has an absolutely huge screen, and I thought to myself "I don't know if I will ever have my face on a big screen again like this ever again!" I'm sure it's going to be a lot of fun!
As a performer, how does it feel watching yourself up there on the big screen?
I always feel slightly nervous seeing myself for the first time in a new film, and I think many actors feel the same, because in the film industry you rarely get to see your scenes before the film is finished, so you do feel excited to watch the movie when it's all done! It feels great when others and yourself enjoy your character's life on screen. I generally like watching myself, but I enjoy even more the moments in films when I actually stop perceiving myself as watching myself and just see a character living its life and looking at me from the big screen.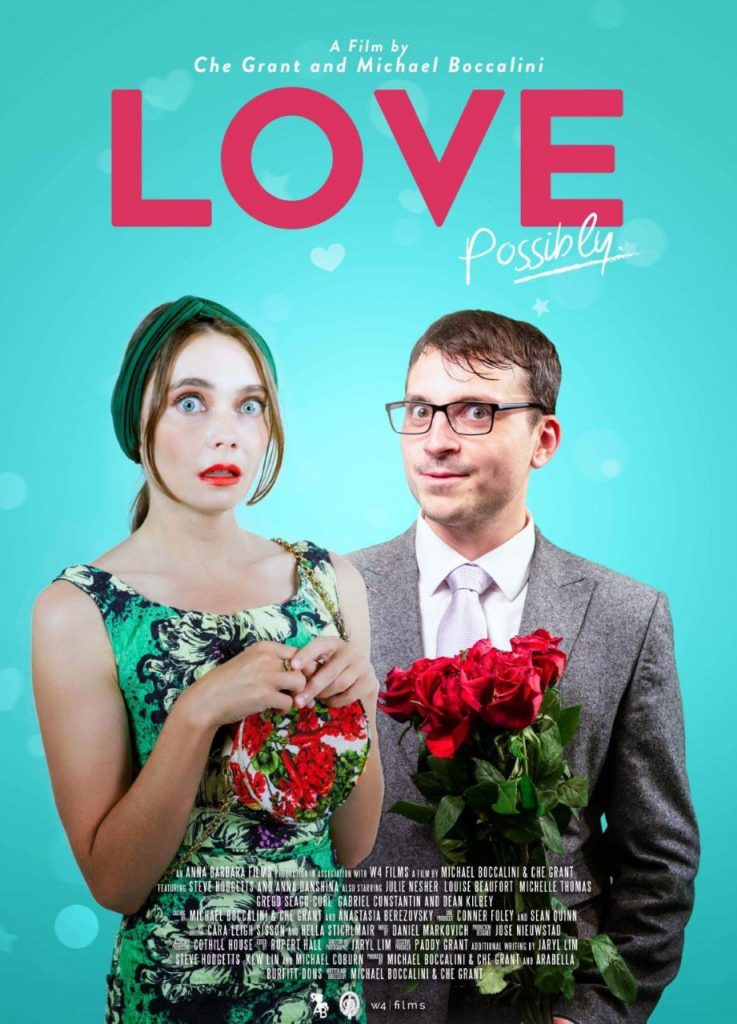 You recently starred in the hilarious Love Possibly – you must have had so much fun working on that project?
Oh I did! It is a remarkable British film, with a heart warm love story, but also lots of hilarious moments. I remember when we had a premiere screening in London at the famous Ham Yard Hotel, the laughter of the audience was endless, and people were approaching me after the screening including some outstanding film professionals saying how grateful they were for such a wonderful film and how they enjoyed my performance! It was great to work on that project, it was one of my first feature films after I graduated from the Drama Centre London. I became very good friends with the directors of the film Che Grant and Michael Boccalini, we travelled together to various film festivals in the USA and Britain to introduce the film to the audience.
And you also won a number of awards playing the role of 'Lana' in the film, congrats! How did that feel? And it is important to you to be recognised for your work or are you simply just happy to be doing something you love for a living?
Thank you! Yes, the film received more than 60 awards internationally in some very prominent international film festivals such as Catalina Film Festival, Los Angeles Independent Film Festival and Awards, and Sochi International Film Festival. I was really happy that I personally received 8 awards for playing Lana. It felt very special that jury members from various countries recognised my work on this film. But it also felt special when I received requests for a signed picture of me through my agent in London from movie fans who live in places in the world that I have never been. Some people sent notes saying that I am their favourite actress. It is very touching to receive such remarks. But also, one of the most remarkable moments was when I saw myself on a gigantic poster of 'Love Possibly' in Times Square in February this year. As an actress, it meant a lot to me, as Times Square is perceived to be a symbolic creative centre of Western Civilisation and "to hang there" for a few weeks on a poster the size of a building felt like a milestone in my career. 
Love Possibly: The Official Film Trailer
---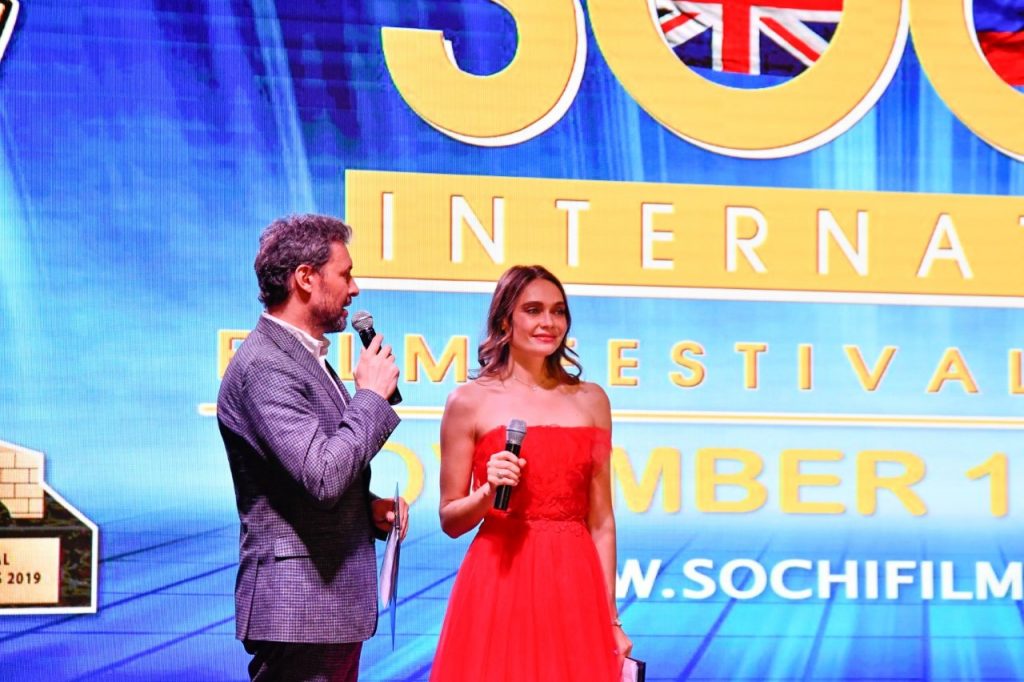 Looking back on your career so far, do you have a favourite role that you've played?
It's difficult to say which role I enjoyed most because I only agree to play roles that I like. Sometimes they say that actors should not decline projects if they have time to play them, but I disagree, I think you should only play parts that you feel passionate about, then the audience will truly enjoy what you do. 
Do you have a dream role or an ideal film you'd love to be a part of?
I would like to act in a multi-camera sitcom, as somebody clever, quirky, funny and likeable. Also, I would love to be in a fantasy film, I think I could be a very good magician, a witch or a fairy!
Looking forward to the future, what's next for Anna Danshina?  
Well, recently I've been auditioning for some great projects in the USA, France and Britain, including lead parts for TV shows and films. Also, when the quarantine is lifted, I'm going to be working in the USA on a number of films and TV shows… provided the industry successfully recovers from the lockdown! I am really looking forward to going back to the film set. 
BREAK will premiere at Brent Cross Drive-In on 22nd July and rolled out nationwide in other drive-in venues, starting with Sheffield. To buy tickets for the premiere, please go to breakfilms.co.uk. Follow @BrEAK_Film on Twitter and/or @breakukfilm on Instagram & Facebook for more news.
---
Let us know your thoughts over on Twitter @CelebMix now!