As a new artist on the cusp of becoming one of the hottest names in British R&B, up and coming singer/songwriter Benji Brown is currently riding high following the release of his latest single Yesterday's Love.
Marking a noticeable shift in sound and style from the soulful, laid back groove of his debut Déjà Vu, the deeply personal and eloquently written love song serves as the perfect musical number to showcase an all together different side to Brown, as a confident and self-aware artist, in total control of his talent and career.
---
In the beginning…
Having grown up in Northampton in the early 2000's, surrounded by music and inspired by the phenomenal achievements of his big sister, indie pop singer-songwriter, model and record producer VV Brown, Benji first began posting musical content online when he was just 16 years old – gaining attention and praise for his interpretations of songs by some of musics biggest names.
"Music has always been a part of my life." the now 22 year-old says. "Growing up surrounded by powerful songwriters I've never felt I could compete, until now. With age has come a maturity in my music and artistry that is a commentary of emotions over the past year."
Having spent the majority of 2020 focused on honing his songwriting craft, and working with fellow creatives and musicians Dan Ferrari-Lane, Greg West, and Huw Roberts, Brown emerged from the studio in October with a barrage of songs with which he's ready to unleash in 2021 as part of his upcoming, debut EP.
We caught up with Benji to talk new music, his incredibly authentic creative process and why it's important for him as an artist to be vulnerable in his work…
Congratulations on the release of your new single "Yesterday's Love" – it's beautiful ballad, with a really poignant message that's guaranteed to resonate with a lot of people right now, what inspired the track?
Before we started the session, I played a song called "Never The Less" which is a demo track by my sister VV Brown, the song is about a breakup – her partner has left her and she's dwelling on the love she had yesterday, we then took the word yesterday and ran with that for the theme of the song.
It's a song that's clearly very personal to you, how nerve-wracking / daunting is it to put out a single of this nature?
I don't mind showing my vulnerable side in my music, I was worried for others to hear it as it's different to my debut single "Déjá Vu", I felt I laid my heart out on the table and was very honest with this one.
---
Déjà Vu (Official Video)
---
It must be a very cathartic experience for you as a songwriter, to be able to write such honest lyrics and to express your emotions through song?
I couldn't have written this track without my amazing co-writers Dan Ferrari-Lane, Greg West and Huw Roberts. We had fun writing and creating this one, we have worked together on many projects and this is my favourite one. I'm grateful that we got to create something so real and honest.
What message or feeling do you hope fans take away when listening to the track?
I like songs that are relatable to me and others. I know for sure someone listening has gone through heartbreak, listening to "Yesterday's Love" you kinda hear what others have gone through, and you start to relate it to your own life. I want people to know that it's okay to be vulnerable.
You're currently working an EP – can you tell us a little bit about what we can expect to hear when it's released?
The EP is slowly in the works, and you can expect to hear more heartbreak. This body of work has to be on point, it will represent me as an artist and you will really get to hear my story.
Who have you been working with on this project?
I worked with incredible producers Dan Ferrari Lane, Greg West and Huw Roberts. I met them all last year and we all got on so well. Being in their company and working with them was a great feeling. I work better when working with friends, the sessions were so chill and there was no pressure it felt so free.
This past year we have all had to work in a completely different way, how have the restrictions placed upon us effected your creative process?
I feel like we all have days where we feel motivated and the next not. I try to keep myself busy by practicing the piano, and having zoom writing parties with friends.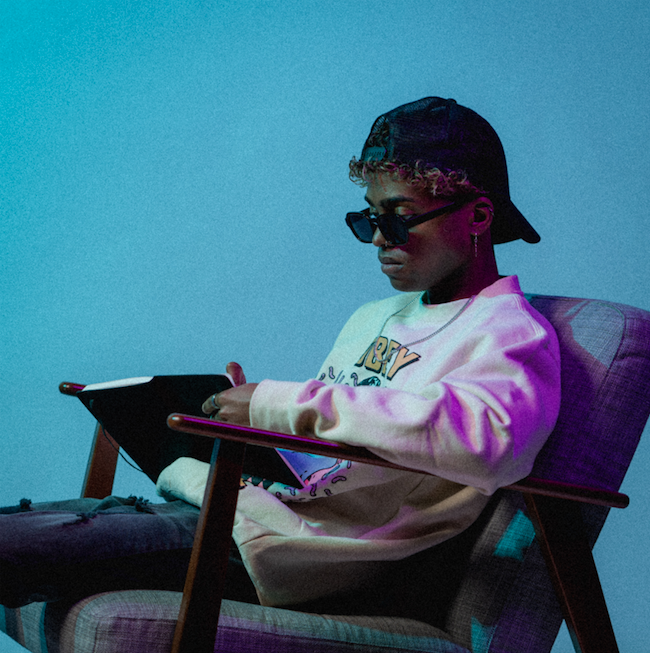 What or who is currently inspiring the music you're making?
I take inspiration from a few artists, but with regards to this new project I'm really inspired by 6lack, PrettyMuch and Chris Brown. They all make the style of music I would love to make, and I feel I'm picking up little traits from them and I'm putting them into my work.
You've managed to build an incredible following online – how would you say your dynamic and approach to social media has changed over the years?
Social media has developed so much over the years. I feel it's so important for an artist to have a profile and engage with whoever you have online, whether it's 1 follower or 100 followers.
The last time we spoke you told us about your clothing line and your love of fashion, have you been working on any new style related projects?
At the end of 2020, I had a meeting with my cousin Noami who is an illustrator located in Canada and we decided that in 2021 we're going to collaborate and work on some pieces together which is set to launch this year!
What's next for Benji Brown?
More singles, and an EP later this year. Hopefully we can tour soon and perform live.
Yesterday's Love is available to download / stream now.
---
Let us know your thoughts on Benji Brown over on Twitter @CelebMix now!