Swedish recording artist Boy Destroy is currently riding high following the release of his deeply personal debut EP, Warpaint – a gutsy collection of 6 reflective and introspective tracks that address the alt-pop stars troubled and dark past.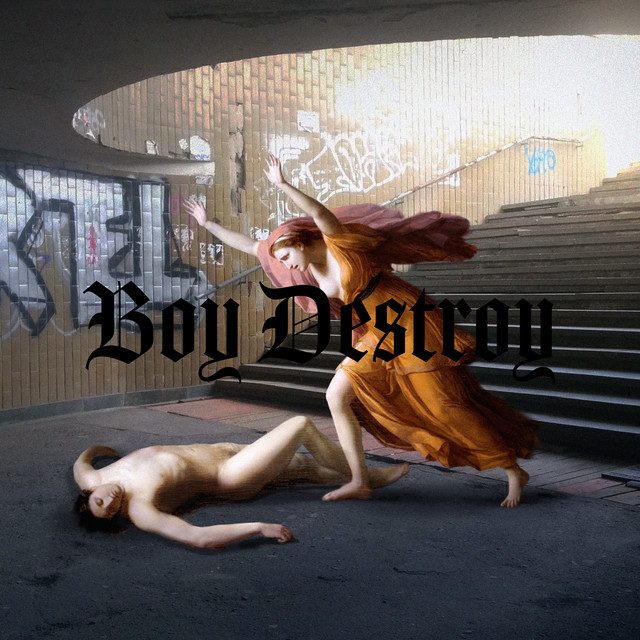 Self-released via the independent label Loyalty Obsession, and produced by We Know Nothing, the extended play fearlessly documents Boy Destroy's vulnerable and emotive coming-of-age story, detailing both the "harsh yet beautiful" realities surrounding sex, sorrow, death, addiction, cheating, fighting, deception and dishonesty.
Wearing his heart on his sleeve, and boldly baring his soul in the hopes of emancipating himself from the trauma of his past, Boy Destroy uses his unique talents as a formidable songwriter and innovative musician, to produce a truly cohesive body of work that marries together an eclectic mix of clever rhythms and diverse sonic sounds.
Warpaint (Official Video)
"This EP is an autobiographical collection of stories, and a look back on a certain aspect of my previous and sometimes troubled life." Boy Destroy explains. "I've written many songs over the last few years, but the ones on the EP were written whilst I was getting out of some pretty tough times battling addictions and a messy life. I was to cope, I still am."
"The songs are about the people that gave up one me as a consequence of my actions. Some I still love, whilst other instead gave up on me after I tried to quite poisoning myself. I've written about them too, people isolated from their emotions like islands. This story is as much about destruction and loss, as it is a story of forgiveness and forbearance. I'm still wrestling with my scars and my mixed emotions, but I'm devoted. It's about the boy destroyed."
Warpaint x Boy Destroy
To commemorate the EP's release, we caught up with Boy Destroy to talk new music, conquering personal demons and his hopes to inspire fans to break free from the past…
Congratulations on the release of your new EP Warpaint – how does it feel to have new music out there for everybody to hear?
Thank you so much! It's always a rush of fear and excitement to release something so personal – it's like jumping into a lake on a hot summer's day, but I love it!
There's a real eclectic mix of sounds on there, how would best describe the style of music you've created on this project?
I mean I could go on and on about what genre it is, but I think whatever 'style' it is, that's up to the listener to determine if they really want to do that. I'm very inspired by Jeff Buckley, Dominic Fike, Smashing Pumpkins, old literature, and the movies of Werner Herzog.
Was there a particular vibe you were looking to create?
I wanted something quite uniform for this EP in particular, since many of the songs deal with the same subjects of self destruction and heartache. As a writer I think it's really important not to try and decide everything in advance though, you must let the songs go where they need and want to go.
Lyrically you've been incredible honest and vulnerable in terms of the subject matters you've tackled, which we salute you very much for! Does being so open make the prospect of other people hearing these tracks more daunting?
Before we released 'Warpaint' I was so scared dude! But it's become easier as the roll out has progressed. I am what I am, that's not gonna change. If people love or hate me for being what I am, that's up to them, I can't and won't change who I am inside.
Would it be fair to say that music and creating this EP has been somewhat of a therapeutic experience for you?
It has, and it continues to be. Many of the new songs I've written deal with stuff that has happened in recent time and continues to build on some of the subjects I talk about on the EP.
You've worked with the same team of writers on each of the songs, how was it collaborating with them? And what was the atmosphere like in the studio?
We Know Nothing and I have a really nice collaboration. We are friends, writers, soul brothers in a way; they get me and I get them. Sometimes we get on each other's nerves but most of the time we work in unison and are tight knit unit – I'm very lucky to have them. The atmosphere is always different from the time prior when we work. Sometimes I'm almost crying from writing about something really personal and sometimes we are laughing.
What do you hope listeners take away from hearing Warpaint for the first time?
My only wish with this EP, is that people will take it with them. If they need help letting go of past trauma, I hope it is that. If they need help getting out of their head, I hope it works as escapism. The EP isn't only mine anymore and I just hope it finds many homes throughout the world.
When the world is somewhat back to normal, are there any plans for you to tour / play live?
Yeah dude, 110%! I'm so excited to get to play some shows, perform these songs live, meet people, see places, discover myself and others. I'm very excited for all that.
What's next for Boy Destroy?
I will continue to release music, continue to challenge myself and try to grow as a person. That's really what I do. 2021 will be a sick year, if I get my way. I can't wait to watch it unfold.
Warpaint is available to download / stream now.
---
Let us know your thoughts on Boy Destroy over on Twitter @CelebMix now!