Whilst the past 18 months have been a quiet affair for many due to the pandemic, Cheat Codes have been busy working on the next instalment of their three-part Hellraisers album.
The electronic trio, made up of KEVI, Trevor Dahl, and Matthew Russell, first rose to fame in 2016 thanks to the global success of their Kris Kross Amsterdam collaboration 'Sex'. Since then, they have gone on to deliver bop after bop, teaming up with an extensive and impressive list of artists including Kim Petras, Liam Payne, Little Mix and David Guetta, without forgetting the sensational Demi Lovato collaboration 'No Promises'.
However, it wasn't until earlier this year that they unveiled the first part of their debut album Hellraisers. Featuring singles including 'Lean on Me' featuring Tinashe and 'Hate You + Love You' with AJ Mitchell, the pop-influenced album was just a taster of what the trio has in store for their fans as the second pop-punk inspired chapter is on its way very soon.
Alongside preparing part two (and three) of their album, Cheat Codes have also been working on individual single releases including the euphoric 'Never Love You Again', a country-tinged offering featuring Little Big Town and Bryn Christopher. As they continue to thrive with their genre-bending fusion of feel-good releases, it's safe to say that Cheat Codes are at the top of their game and look set to reach stratospheric new heights with their forthcoming era.
We recently caught up with Trevor, Matthew and KEVI on Zoom to discuss their latest singles, what can be expected from Hellraisers Part 2, working with their pop-punk idols and much more.
You recently released a track called 'Never Love You Again', which is an amazing summer song by the way. You've released it with Little Big Town and Bryn Christopher so how did that collaboration come about you?
Matthew: You know we've actually been writing with Bryn for a few years now. We did sessions with him in person before the lockdown and we just never found the right songs for Cheat Codes and like the Cheat Codes sound so during the lockdown we kind of took another stab at it. We found this record and we just really felt like the vocals are soulful and folky, and we had the idea of combining his vocals with Little Big Town and it was this perfect blend.  Really good dance records sound great with folky kind of vocals and Bryn is just an amazing vocalist so it was perfect.
How long would you say it took for the song to kind of come together into its final form?
M: This record didn't take too long, we've had a good relationship with Bryn for a few years now so it makes it way easier when you have that chemistry and you're not afraid to share ideas or go back and forth on tweaks or anything like that. I don't know, what do you think Trev, probably like four or five months?
Trevor: Yeah, from the beginning to end when it came out that makes sense!
Obviously it's got a great summer melody to it but what would you say is the standout lyric from the track?
KEVI: I like the "Baby you cast a spell on me" [Trevor and Matthew laugh as it's the opening lyric]
T: I was thinking about that too! It's the beginning lyric of the song but it grabs you, that you cast a spell on me. The way he sings it too just pulls you in.
CelebMix: It really sets the tone for the whole song!
M: I like the second verse too which says "but I blame the chemicals" cos it's a classic go to when you get into a fight with your girlfriend. It's like "babe I was drunk, I'm sorry, it was the chemicals not me".
This was your first time going into the country genre, is this something that you can see yourself doing again in the future?
T: Oh yeah! We're trying to dive in, we've got our toes wet now so we're going in for sure. We've got a handful of songs that we're working on that are very country driven with some really really cool artists. It's cool to explore that world as we haven't done it before. We're always trying to go down different roads and try new things and make different styles of music with all types of artists that we respect.
Along with the song you've also released the music video which is just amazing, it's so feel good! Can you tell us about it?
M: For people who don't necessarily follow our videos, Braxton [Goe] is a good friend of mine, well all of us but I went to high school with him. He was in our video for 'Sex' which was one of our first ones and it kind of became a viral video so we've actually had him in a lot of our videos. We haven't had him in a while so we thought it would be perfect timing to bring him back and good on him because we thought it would be really funny if he had all this choreography and he actually worked on the choreography for a week or two and practised all the moves! We were like, "well hopefully he nails it" you know cos it's mainly him in the video but we thought he did a great job.
CelebMix: I agree, he absolutely killed it. I just love that it's such a fun video and it makes you wanna dance along as well with him!
T: I'm glad! He's funny, he's been in like six or seven of our videos which is a lot. He's in 'Visions', 'Sex', 'Let Me Hold You', 'Can't Fight It', he's in a lot. I'm glad that we finally got him his own video you know.
CelebMix: He is low key the fourth member now!
T: He really is! 
As well as that track, you've also just started your new album cycle with the release of 'All Things $ Can Do', what can you tell us about the track?
T: We did that with Travis Barker and Tove Stryrke – Travis is a huge influence for us, speaking for myself I loved Blink 182 since I was a kid and I grew up on that music. The first show I ever went to was to see +44 which was his band with Mark Hoppus when Blink took a hiatus. I grew up watching the videos, listening to their music…the first song I learned on bass was 'Carousel' so to have a song with him is super cool and it's kind of a full circle moment. I mean to be able to do that 15 years later and getting to work on a song with him is kinda cool. The song is a little bit different than anything we've ever done and Kevi sings on it which is awesome. We're able to go down this alternative pop punk route for this part two album and we're stoked about it!
M: We've had live instruments in our tracks before but we haven't really had live drums as far as I can remember, they're mostly samples that we cut up and edit and tweak with the sounds, especially with electronic music, it's a lot of electronic drums. Him going into the studio and recording his drums,  it's almost like a throwback or a flashback to back in the day as that's kinda how we started doing music. We went into the studio and you had your band members and you each recorded your parts and then you watched them put it all together with the producer. It was fun to feel that process again as a lot has changed in the music industry since those days.
Talking about pop punk, Hellraisers Part 2 is going to explore that genre and it's something which is really popular at the moment. What inspired you to go down that route?
K: We grew up on it pretty much.
M: Kevi's uncle was in Sugar Ray, I kind of liked that classic 90s rock and then me and Trevor, we got into music from bands like Blink 182. I think one of the first shows that I went to had From First To Last as the opener,  the lead singer was Sonny Moore who is now known as Skrillex. That was back in the day when I was a teenager but the whole idea of the three part album is kind of the backgrounds of music that we all came up on and what made us fall in love with music. We didn't have to dive into it for the first time, we kind of have a background in it as well so it's more like revisiting it because it's what inspired us to become musicians in the first place.
T: It's one of those things where people are like "they've probably never done this before in their lives" but we grew up on it when we were 12/13 playing the guitar and playing bass and drums in our parents' garages. That's what we were doing, we were playing pop punk and learning those songs and writing those types of songs in our first bands and so it's pretty nostalgic to be able to go back and make an album like that.
Apart from going into a different genre to what people have heard from you before, what can fans expect from Hellraisers Part 2 and how would you say that it's different from the first part of the album?
T: We've been working with all different bands that we loved growing up, a bunch of really cool throwbacks and also people who are still killing it now as well. It's super cool that they're still thriving and doing their thing and that we're able to work with them after listening to them for so long. [Trevor mentioned three of the different bands/artists they've been working with but we're sworn to secrecy!]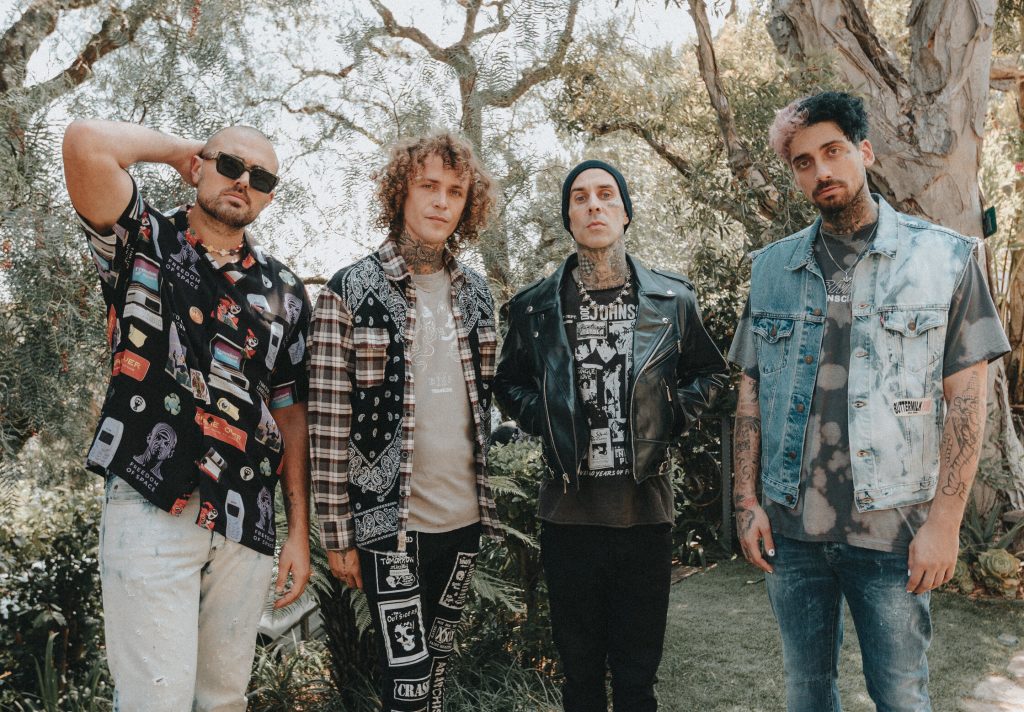 That sounds so exciting and they're all people that everyone's really familiar with so I can't wait to see what you're going to be doing with them! This will be the second instalment of a three part album –  do you already know what path you want to take for the third instalment and have you started working on it?
T: Oh yeeeah! We've been working on the three parts for a while. Part three is very dance oriented… 
M: It's more of our classic Cheat Codes sound, like four on the floor dance records and we just wanted to give a little inspiration from all three of us and we definitely have some collaborations that we're working on in the dance world as well. It's going to be good, I mean you know how it is when you kind of divert from your sound that maybe people know you from, it might be weird for people so that's another reason we wanted to give an album's worth of material to kind of tell a story. Some of the records on part three will be more of the typical sound that people fell in love with over the years. Do it for the fans, it's what it's all about.
K: Amen!
It sounds like you've been writing a hell of a lot so how do you go about condensing what makes each part of the record because I'm sure you've got plenty of spare songs going as well?
T: We just try to create as many different ideas, like we just had so many different songs and ideas to choose from just by staying in the studio for a year straight. It's a matter of making a bunch of ideas without putting any walls up, just being free to create and seeing which songs go together naturally without overthinking  it too much. It was cool to be able to work on a three part album because we didn't have to stick to one thing when we wanted to create, we could just make a song and if it worked for one of the parts then cool, and if it doesn't then make another one!
You're also known for doing a lot of remixes and for Hellraisers Part 1 you actually released a whole remix version of the album. What did it feel like to give the creative responsibility to somebody else and being on the other side of it for a change?  
M: It's cool because, especially part one and part two of the album, we made it specifically so that it wasn't a dance format. We wanted it to be its own thing, stand on its own feet, like you can just listen to it separate from a club environment so we did the remixes so that it could live in the club too. We hit up a lot of DJs that we're big fans of and that we knew would do a good job. We got Danny Quest, Riggi & Piros, Blinkie etc. What's exciting for us is giving them notes, working on it back and forth but also road testing it with an audience and seeing how it goes so you get both feedback from our first impressions and also the crowd.
We've spoken briefly about collaborations and you've got loads coming up on the new album plus you've already worked with huge names such as Demi Lovato, Liam Payne and Little Mix. Who's next on your wish list?
T: So many people, it's hard to zero in on one specific artist but we've always wanted to do Drake. He's the number one, he's the GOAT. His track record, c'mon, he's just never missed. It would be cool to work with him. I would also like to work with Paul McCartney, I loved The Beatles growing up so somebody like that would be fucking cool.
CelebMix: We've got to manifest it guys, this needs to happen. We need a Drake x Cheat Codes collaboration and we need it now haha.
T: I think if we say it in every interview, like every time, then it's going to happen. You can't go wrong by speaking it into the universe every time.
We 100% agree! You've recently been able to perform live again after the pandemic stopped things for a while – what was it like going back on stage again? 
T: It's good to be back. It was one of the things where I didn't know if we were going to be nervous the first time but no not at all. We were just super stoked. Vegas is open again which has been really cool, we've been over at the Marquee at Cosmo which we had to take a year off from doing, and festivals have been a blast to do again too.
Speaking of the pandemic, obviously it's hit a lot of people in many different ways but you guys just seem to have kept going throughout it all. You don't seem to have stopped as you've released a load of new music and you've obviously been working on even more new music. Did you find it easier to be creative during that time when everything shut down?
T: I think so, for me it was nice to get into the swing of things and not have to leave every three days to go play shows. It was cool to really get into a cycle of habit, just working on music when I woke up and then continue on through the day. I like keeping it going everyday as opposed to having to stop and restart…
M: The phone wasn't ringing and there were a lot of days or a lot of months in the lockdown where I didn't know what day it was…
T: Nobody could do anything, it's not like you'd get a call to tell you what was happening.
M: At the very beginning I was still tracking it, I'd be like "oh it's Monday, am I going to get some emails or some text messages" and then I wouldn't and I'd be like "oh damn!".
Obviously there's a few months left of the year but what are your goals for the rest of 2021?
M: Part two [of the album], part three and then 2022 we're doing the Hellraisers tour, it's a bus tour and it's live, we're going to have a live drummer, playing live instruments and we're going to do it real. The real Cheat Codes experience. That's the main focus for me, what about you guys?
T: Yeah that's been the focus for a while, it's exciting to finally have part two and part three coming. Both the album and the tour are something we've wanted to do since we started.
CelebMix: I hope the tour is going to include the UK as well when you're allowed to come over because we definitely want to see you!
T: That would be cool!
Thank you so much to Cheat Codes for their time. 'All Things $ Can Do' and 'Never Love You Again' are available to download and stream now.
Are you excited for a new Cheat Codes album? Let us know on Twitter @CelebMix