Dominican recording artist Navy is hyped and looking forward to an exciting new year following the release of her debut solo single Pity – a sultry, R&B, sassy slow jam that tells the story of one persons plight having fallen in love with somebody already in a relationship. 
Launched in the latter months of 2020 to universal critical acclaim, Navy finds herself in an exhilarating new place in her life – demonstrating her impressive credentials as a dynamic and versatile artist in her own right, as well as continuing to make music with her group, Taste Of Pluto, the fierce Hip-Hop collective from the Caribbean that fuse multiple musical genres together to bridge the gap between the old school & the new school.
We caught up with the super talented singer/songwriter to talk new music, going it alone and what's next for Taste Of Pluto…
Congratulations on the release of your debut solo single, Pity – how does it feel to be releasing music away from Taste Of Pluto?
Thank you! It feels… well, kind of normal (laughs). Taste Of Pluto, as a collective was formed by three artists who were used to creating music on their own, so suddenly becoming part of a team felt like a little bit more of a change for me.
What was your thought process behind branching out on your own?
I found that I was writing a lot, especially during the lockdown, so my A&R took a look at all of the songs I'd been working on and said "Hey! We may have a Navy solo project, or several, here!" (laughs).
Pity is an absolute BOP! Lyrically it tackles the subject of "forbidden love" and all of the conflicting emotions a person can feel as a result, what inspired the track?
The inspiration behind this track came from me talking to one of my friends, who was really hurt by the fact that she was in a similar situation. She and this guy really liked each other, but they were both in relationships at that moment – I guess relationships they both respected enough to not want to walk away from.
How did you go about creating and deciding on a musical style to fit with the kind of solo artist you want to be?
It sort of came naturally. Living and having the ability to do multiple genres lead me to find my sound, because if the music may be one genre, but how I deliver my vocals on there may be another or several others, it's hard to call it a genre or type of music.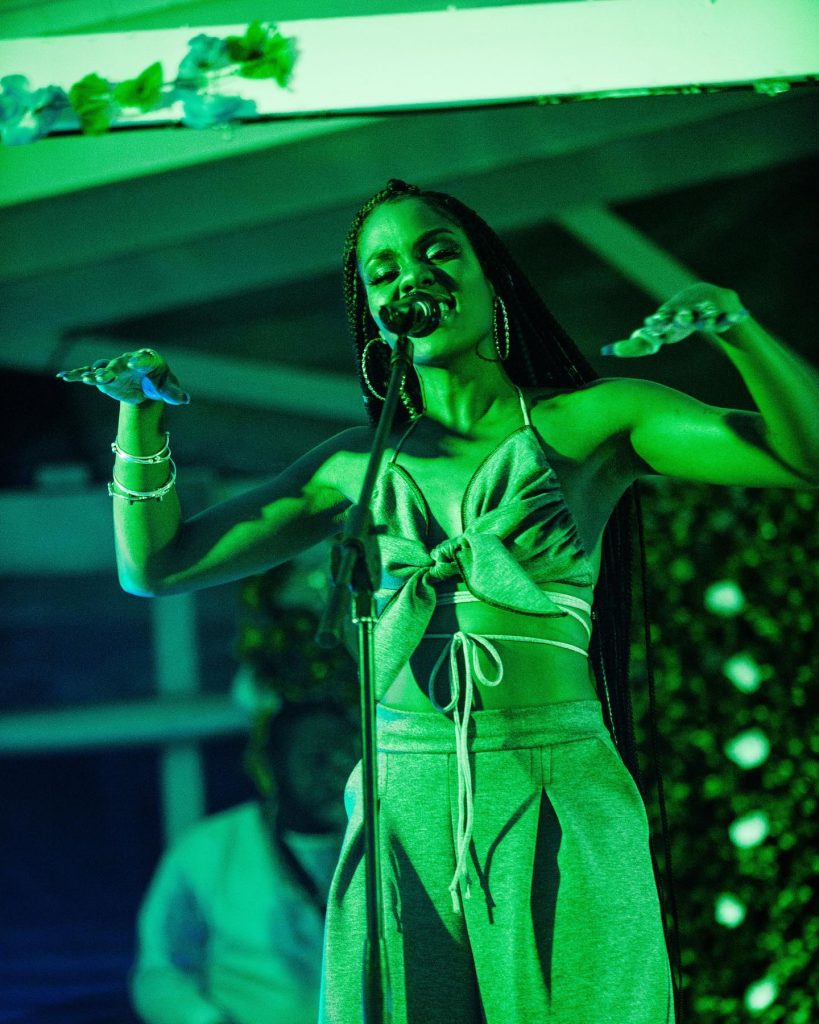 Who would you say are your biggest musical influences and how have they inspired the sound of the single?
I have so many musical influences its hard to say who the biggest is. There are things that I like about so many great singers and musicians. Some of those to whom I look often include Stevie Wonder, Tanya Stephens, Lala Hathaway, Anita Baker, Millie Smalls, Sade, Jewel, Red Hot Chili Peppers, Coldplay and Billy Ocean.
What has the fan reaction been like so far?
The fan reaction has been incredible. I literally have to go on Google Translate to interpret some of the lovely messages that people from all of the world are sending.
And what about Marwin and Tyler – we imagine they have been super supportive in their feedback and encouragement of you doing this side project?
Yes, both Marwin and Tyler have been very supportive, as will I be when they release some of their solo fire as well!
You recently premiered the official music video for Pity – from the scenery to the fashion to the ICONIC finger snap with your girls, the video looks like it was a lot of fun to film! How was the experience for you?
It was indeed a lot of fun. Because I travel a lot for my work, I'm usually by myself, if not with the members of Taste of Pluto, working on new music, or reading, or designing. So to be around all that sassy female energy for the entirety of the shoot was refreshing. The choreography was on the spot too – it made me feel like I was back in high school; Pretty Boy Worldwide has a way of making work fun!
---
Navy – Pity (Official Music Video)
---
Looking forward to future new music from NAVY – what can fans expect?
Fans can expect more "bops" and relatable music that they can chill, dance, and vibe to. I have lots and lots of music, all ready and all prepared to launch when the time is right.
Of course, you releasing tracks on your own doesn't signal the end of Taste Of Pluto – can you tell us a little of what the band have planned?
We as a collective have completed two projects, with some accompanying visuals having already been shot, which is exciting. Right now though it's really just a case of us, standing on the starting line to run when the world really reopens – we are ready and we know our fans are waiting.
2020 was without doubt a challenging year for many! Focusing on the positives, what would you say were some of your highlights, and what are you looking forward to in 2021?
The real highlight for me was being granted the grace to effectively work through the lockdown, and now watching and celebrating the fruits of my labour. In 2021 I'm looking forward to touring and meeting some of my fans for sure.
Pity is available now.
---
Let us know your thoughts on NAVY over on Twitter @CelebMix now!