With the release of her brand new single Nothing Left But Family, British soul diva Rebecca Ferguson celebrates a decade in music!
And though it's hard for us to believe that 10 whole years have passed since Liverpool native Rebecca first appeared The X Factor back in 2010, her much revered and celebrated stint on the show winning the hearts of the nation, what a 10 years it's been…
With millions of records sold, multiple hit singles, 7 headline tours, MOBO, MTV and Soul Train Award nominations and four studio albums under her belt, and production on her fifth well underway, career-wise things have never looked better for Ferguson! Now, if we could just find a way to eradicate the COVID-19 pandemic thats currently sweeping the globe, and continue on with our new 'normal'…
"It's just insane isn't it?" Rebecca says aghast as we begin to discuss the events of the year so far. "And just when you think things can't get any worse there seems to be something else that comes up on the news where you just go 'oh no!' – but on the whole, I can't complain, I'm doing good."
"The first few weeks we're quite hard mind," she admits candidly. "Personally I found myself struggling quite a bit; I was just disinfecting everything in my sight – the door handles, work surfaces… everything, I was definitely living on my nerves, but I feel like I've managed to relax into it now."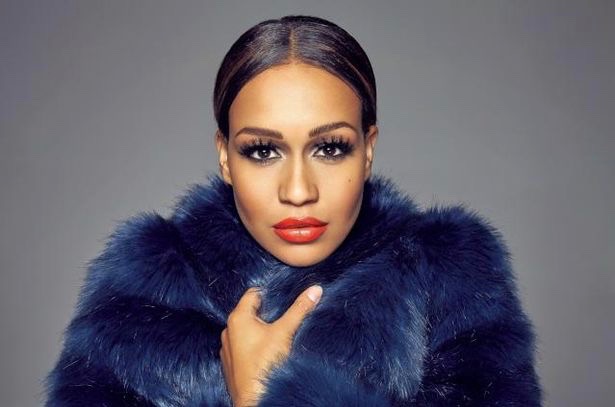 It was back in January of this year when we last caught up with Rebecca! Fresh from celebrating Christmas and New Year with family, she was gearing up to tour Europe and the U.K. for her first set of live shows in two years.
"The tour was great!" Rebecca says as talk turns to life before lockdown. "Everything worked out really well, it was so nice being on stage and the fans seemed to love it; so all in all, I'm really happy with how things went."
Happy, and also maybe a little relieved we wonder, considering how much the world seemed to change in the weeks following her final show? "I was really lucky there wasn't I?" Ferguson acknowledges. "I know a lot of people who had their tours book in for the summer and right up until the end of the year, so it's really fortunate that I got mine done before any of this (pandemic) got really serious… do you know what, when you think about how bad it could have been for me and my team, I'm really grateful for how everything worked out for us."
With her 2020 tour now officially wrapped, Ferguson finds herself focusing on the future, both optimistic and excited about the new music she's been working on over the course of the past 12 months. "All of the tracks I've done so far have got a really upbeat feeling to them." she tells us enthusiastically. "There's obviously there's going to be some ballads on there too, but overall it's quite dancey."
And of all the songs she's most hyped for people to hear, it's current single Nothing Left But Family – recorded at Abbey Road Studios with legendary hit-maker Nile Rogers, that seems to bring her the most joy.
"I just love it! And it definitely feels like a very fitting time to be bringing out." Rebecca says of the tracks release. "For a while I wasn't sure if it was still going to come out as planned, because at the start of lockdown, a lot things started to be held back, but as a team we all just agreed that this was the perfect moment to release it – it's the kind of song that people need to hear right now don't you think?"
"I woke up straight into a storm…"
With it's rich, full and timeless sound, relatable lyrics and sophisticated musical production, Nothing Left But Family sees Rebecca Ferguson back doing what she does best – making classic R&B/soul records, both authentic in feeling and enduring in sound.
Co-written by Ferguson herself along with long-term collaborator EG White (Céline Dion, Kylie Minogue, Dua Lipa, Sam Smith), and Rodgers (who also appears as a vocalist on the track) the song evokes an emotive and tangible sense of unity and togetherness, as the Rebecca conveys the tracks message with effortless ease, delivering a beautiful vocal that radiates straight through the soul.
"Working with Nile was…" Rebecca pauses before breaking out into laughter. "Sorry, saying it out loud just makes me laugh sometimes, because I still can't quite believe I'm getting to work with him… he's a legend isn't he?"
"What he's done on this track in-particular is amazing, he's added a real feeling of magic to the song, that sounds so timeless and old school, and that's exactly the sound that I was hoping to achieve this time around, so I'm just made up!"
Listen to Nothing Left But Family below:
"Put on your fake smile, and wipe away your real tears…"
"I've got to be honest, being in the music industry hasn't always been easy for me." Rebecca confesses as we talk more about her time working with Rodgers in the studio. "What Niles done for me, is wake me up in a way to who I used to be before all of this (her career) became my reality."
"I was really quite disillusioned with music, but his belief in me as a singer and his love and passion for music has inspired me so much, and its reminded me why we as artists make music, you know it's not about money or fame, it's about the joy we get from doing what we love. He's changed my life, he really has."
"But now I feel like I'm in a really good place." Rebecca concludes. "I'm being treated respectfully and fairly, I've got a really good team around me which I'm really grateful for and I just… I just feel happy."
Being in the music industry hasn't always been easy for me; and I've found myself feeling quite disillusioned by it at times.
Few will forget the very first time they saw Rebecca Ferguson perform, an elegantly dressed yet painfully shy 23-year-old X Factor contestant, auditioning in front of judges Simon Cowell, Louis Walsh and Nicole Scherzinger.
Taking to the stage at Manchester's Central Convention Complex to sing a rendition of Sam Cooke's A Change Is Going To Come, Ferguson was so nervous she was unable look anyone in the eye. "I'm sorry, I've lost my confidence." she nervously told the judges at the time.
Yet as the show progressed, we saw the young Liverpudlian blossom, growing in confidence and stature week by week, eventually reaching the shows grand final, coming runner up to series winner Matt Cardle. Looking back, it seems sad in a way to think that Rebecca, so beautiful and poised, couldn't yet see the immense talent growing inside of her, that the entire nation bore witness to in that very first audition.
"I've found a new confidence within myself I think." Rebecca admits. "For a long time people would say to me 'Rebecca you're a really great singer' and I just didn't know what to say in response to that, I don't know if that's because I didn't believe what they were saying, or that I didn't want come across as arrogant or a big diva by saying 'oh thank you – I know!' So I'd just downplay everything."
Recalling moments early on in her career when she was always encouraged to act out and be the stereotypical demanding diva, Ferguson laughs "people have said to me for a long time 'oh come on Rebecca, you need to be more of a diva, act out a bit more!' And I'm like 'no, no, no, no, no!' I just couldn't be that way! But this new confidence I have found feels good, and I like being more in control of what I'm doing."
Quick to reassure us that doesn't means she's crossed over to the dark side and has become a nightmare diva-in-training, she quickly adds: "don't get me wrong, it's not like I've now become this big diva when I say I'm more confident, I guess I'm just more comfortable in who I am, and what I do."
---
"I break down big then, I start again…"
In an industry that is ever changing and evolving, and the ways in which fans consume music continues to alter year after year, the inner workings of the pop world have most certainly changed since Ferguson first started out back in 2010. And as artists of all ages still find themselves adjusting to new chart rules and regulations, and the streaming phenomenon continues to gain traction, it can be tricky for some to know how to define success in the digital age.
"There's always such a focus on numbers and streams isn't there?" Rebecca says. "But to me, if a song touches someone, even if it's just one person, and it helps them in their life, then to me that's success – it's about me being able to make a connection with people."
But does she ever feel a pressure to stay relevant or conform to what's working musically in the current climate we wonder? "Never." Ferguson says defiantly. "I never think about appealing to a certain audience or feeling like I have to make music that fits in with whatever sounds popular at that particular moment in time – it's just not me, I just don't think that way. I'm a soul singer, I want to explore my feelings and express the inner pain that I sometimes feel as a human being. I'm moved by melodies and lyrics, and how a song makes me feel, it's not about trying to do what's current and cool. It works for some artists, and I get that, but it's just not me."
I'm a soul singer, I want to explore my feelings and express the inner pain that I sometimes feel, I don't want to chase trends.
As a woman of strong will, who has openly admitted to suffering with confidence and low self-esteem issues in the past, Rebecca finally feels to be at place in her life where she's brave enough to accept and know her own self-worth.
"I'm a big believer, in always trusting my gut instinct about things, and that's something I've had to learn over time. When I think back to working on my first album, I had real arguments with people over what songs to record! I remember being presented with about 5 tracks and thinking to myself, 'these just aren't the right fit for me', so I had to speak up and stand my ground and say 'no', because it just felt wrong to compromise in that way – I just just wasn't up for working in that way."
Reflecting further Rebecca adds "whatever decisions I've made in my life, whether it be in my professional or personal life, whenever I've trusted my gut instinct, everything has gone right. And whenever I've ignored that gut feeling… well, it hasn't always gone so well for me, so I'm a great believer in following your instinct going with your gut feeling about something."
Rebecca Ferguson – Superwoman
---
"It's not a question of when, just how…"
"I do feel like this is a bit of a new beginning for me." Rebecca says with an air of lightness in her voice. "For the first time, I'm happy and that's just me being totally honest with you, I don't think I ever really was all that happy before. But over these past few years, I've found a genuine happiness which is really nice. And the bonus is, that I'm making music at the same time so it's all positive."
As we begin to wrap up our conversation, we can't help but wonder what the young Rebecca would have thought of all that's happened throughout the course of the last 10 years…
"If you'd said to me 10 years I'd still be doing this for a living, and I'd have a record out with Nile Rodgers, I just wouldn't have believed you! I feel so lucky and if I'm honest, I don't think any of what's happened to me has really sunk in."
"But I'm grateful, I know that much! And I don't take anything for granted! I know how hard it is to break into this industry, and I know it's even harder to stick around so to be 10 years in… I'm just so thankful. It's a tough, tough business – I'm so lucky."
With her natural allure, elegant poise and caring temperament you just can't help but fall a little bit in love with Rebecca Ferguson… her undeniable talent and dignified grace being an added, and incredible bonus, to the already wonderful woman she is.
"I'm learning to appreciate what I've done so far in my career. And I'm excited to see what's coming next… I'll just keep riding the wave, and see what happens."
---
Let us know your thoughts on Rebecca Ferguson's brand new single 'Nothing Left But Family' over on Twitter @CelebMix now!