Rising star opens up about his love of making music!
Fresh from the release and subsequent success of his self-titled EP, platinum selling recording artist Ryland James is feeling reflective.
"It's always nerve-wracking putting new music out." Ryland admits as we begin our exclusive interview. "But my goal as an artist has always been to try help guide, and offer some sort of comfort to those who are maybe feeling a little bit lost to not feel so alone – I hope at this time in-particular, that my music can do that for people."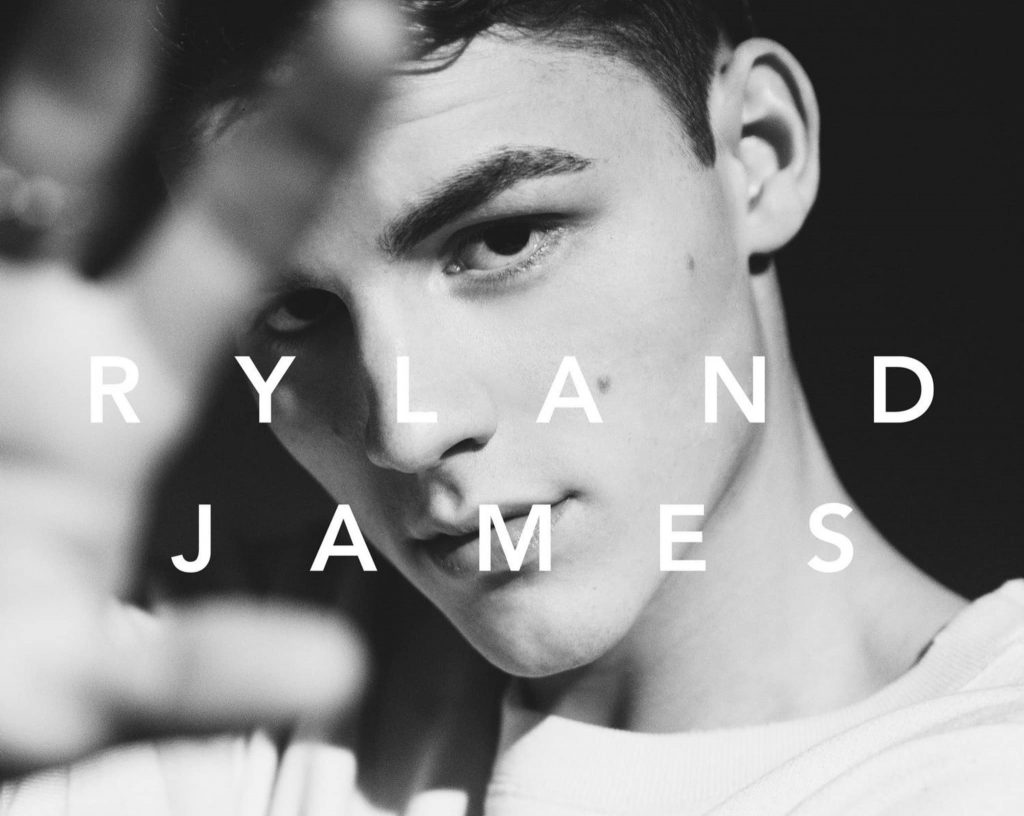 "From the deepest part of me…"
Made up of 7 powerful and emotionally charged tracks, Ryland James pours his heart and soul into his latest work – his eclectic and unique sound, serving as the perfect showcase to highlight his capabilities as an accomplished singer and songwriter.
We caught up with Ryland to talk creative processes, songwriting, musical inspirations and touring with Alessia Cara…
Congratulations on the release of your brand new self-titled EP! How does it feel now that it's finally out?
It feels absolutely amazing! I've been waiting to put this project out for a few years now, so finally getting to release it for people to hear has been magical.
It must be pretty daunting putting new music out there – what has the fan reaction been like so far?
Their reaction has been nothing short of phenomenal. There's definitely a nervous energy that comes leading up to release day, but as soon as the songs were out and I saw people's comments and messages coming in, any doubts I had were relinquished. I'm just happy they're relating to the music and finding emotional depth in whatever way that manifests itself.
Can you tell us a little bit about the creative process that went into making the EP?
The creative process for the EP was spread out over a few years. I wrote the songs in a lot of different places with a lot of different people. 'Better Off' for example was written in Hamilton, Ontario, 'In My Head' in Stockholm, and 'Water' in LA. Each of them has such a special place in my heart, and my goal was to create the songs so that they hit people at their emotional core both lyrically and sonically. If I've made someone react viscerally or if I've stimulated some kind of emotional response, then I've done my job.
You've written a couple of the tracks on there, what inspired you lyrically to create those songs?
Yes, I almost always like to have a hand in the creation process of the songs themselves. I take inspiration from a lot of things in my life and in others (lives). For the most part these songs were actually quite impersonal at first – I had a part in writing them, but I hadn't necessarily gone through some of the experiences we were talking about. I've always been a self-proclaimed empath so writing stories I feel others can relate to or giving someone else's stories life through my music makes me feel fulfilled. I put myself in others' shoes and truly feel like I can experience their pain, anger, victory… all of it. As I've gotten a bit older though, I've started experiencing some of the things I've written about for myself, and the songs have taken on a new life because of that. I aim to be a guide to those who are hurting or lost, and if my experience or others' experiences I write about can help in any way then I feel I'm truly accomplishing my meaning in life.
What do you hope listeners take away from hearing this new music?
I really hope listeners create their own meanings from the songs I've created. Each of us has a really individual inner world with such unique experiences that I can't expect everyone to take away the same message from what I've written. I just hope people feel deeply healed and accepting of themselves and their lives through it. Whatever the emotion of the song, I just want people to know there's someone there for them always and that what they're experiencing is all part of the natural up and down dynamics of being human.
The latest single to be released from the EP is Water – how would you best describe the single to those who haven't heard it yet?
Yes! This one's a fun song. It's really summery and upbeat but stays very true to my more organic soul and gospel roots sound. It's about a person that you know is bad for you, but still pulls you in with their mysterious nature – basically like the sirens in Greek mythology. There's a beauty and magnetism to them, but they're extremely dangerous, and there's just something in the water that keeps you coming back for more.
The track's accompanying music video is EPIC! It's like a mini movie – how much fun did you have making it?
Making the video for this song was incredible! It was like vacation for two days at the cottage in the middle of summer. We honestly had so much fun, aside from performing in the freezing water for several hours, which I should've expected with a song literally called 'Water'. It was all worth it in the end though. I got to drive a boat and a ski-doo for the first time, do some sunbathing, hang out with friends. It really was exactly as you described it – epic!
Ryland James – Water (Official Music Video)
Last year you hit the road and toured North America with Alessia Cara, what was that experience like?
Honestly it was the best experience of my life! Alessia has been such a huge inspiration of mine from the time she started releasing her own music back in 2015. She was the one artist I wanted to open for the most, so when I got the call in LA that I'd be touring with her, my mind went blank. There was just nothing for a minute. It took me a while to process it was actually happening and then I think I had a dance party in the car. Her audience on the road was so kind and accepting, and they were so full of energy, I couldn't have asked for a better first cross-continent experience. They knew all the words to the songs I had out, and their love only kept growing as the tour went on. Alessia has become one of my closest friends in the industry since, and I look up to her massively. Her advice, wisdom, and example is just unparalleled. I'd do it all over again in a heartbeat.
If circumstances permit, are there any plans for you to play any live shows to promote the new music?
Absolutely! I actually just played my first live show back very recently. It was a drive-in concert which I think is such a great idea for staying safe, but getting to still enjoy live music in person. I'm hoping to do more of them as long as they're safely permitted.
Is touring / playing live something you enjoy?
It's my favourite part of being a musician. Performing on stage has always been my greatest passion in life. There's nothing that can match the feeling of getting to connect with an audience through music. Music is so universal, so vulnerable, and so cutting to the core that the energy that comes from it when it connects is truly unique and almost spiritual. I love getting to see the faces of those who listen to my songs, and getting to fully appreciate them in person. Every show is a sharing of stories and lessons and love. I adore being able to do it for a living.
Who would you say are you main musical inspirations and how have they influenced the music you make?
So many artists have inspired me on my musical journey. The most notable for the EP were Adele and Sam Smith. I just love the way they use their voices. I came from soul and gospel roots at home, so naturally I've always gravitated toward really soulful singers who pour everything they've got into their music. Whitney Houston and Michael Jackson were some other really big influences of mine when I was younger. Singers who can make me feel the essence of their being through their voices always inspire me to my core, and make me want to replicate that in my own music. 
Are there any artists on the scene right now that you'd like to collaborate with?
I would love to collaborate with Alessia. I think we could create something really cool if we sat down and put something together. I've been meaning to talk to her about it for a while. I'd also love to work with Tori Kelly. She's another inspiration of mine I got to meet for the first time on tour last year. Her voice is everything, and her writing is fantastic. Of course I'd love to sing with Adele at some point. I'm just such a huge fan, I'd probably die of awe if I ever got the chance.
What's next for Ryland James?
I've been working on a lot of new music lately that'll be coming a lot sooner than you'd think, so keep an eye out for that. Apart from that I'll be trying to do as many live shows as possible and continuing to spread as much love as I can in any way possible, being as much of a positive influence as I can be in these seemingly dark times we're going through.
---
Let us know your thoughts on Ryland James over on Twitter @CelebMix now!