It seems hard to believe that it has been 10 years since British vocal harmony group The Overtones first burst onto the scene, with their distinctive brand of retro-inspired, contemporary pop capturing the hearts of millions of music lovers around the world.
Famous for hits including Gambling Man, Loving the Sound and Runaway Sue, throughout the course of their impressive career, the band have racked up platinum record sales, released 6 studio albums, scored four Top 10's, sold out tours across the nation, performed for Her Majesty The Queen at Buckingham Palace and sung to one million people at the Brandenburg Gate in Berlin.
Having firmly established themselves as one of the UK's most popular live acts, best known for their incredible showmanship, exquisite vocals, perfectly-pitched harmonies and undeniable sense of timeless style, the effortlessly charming group – made up of Mark Franks, Darren Everest, Jay James and Mike Crawshaw – now look to the future, with the upcoming release of their brand new album, 10.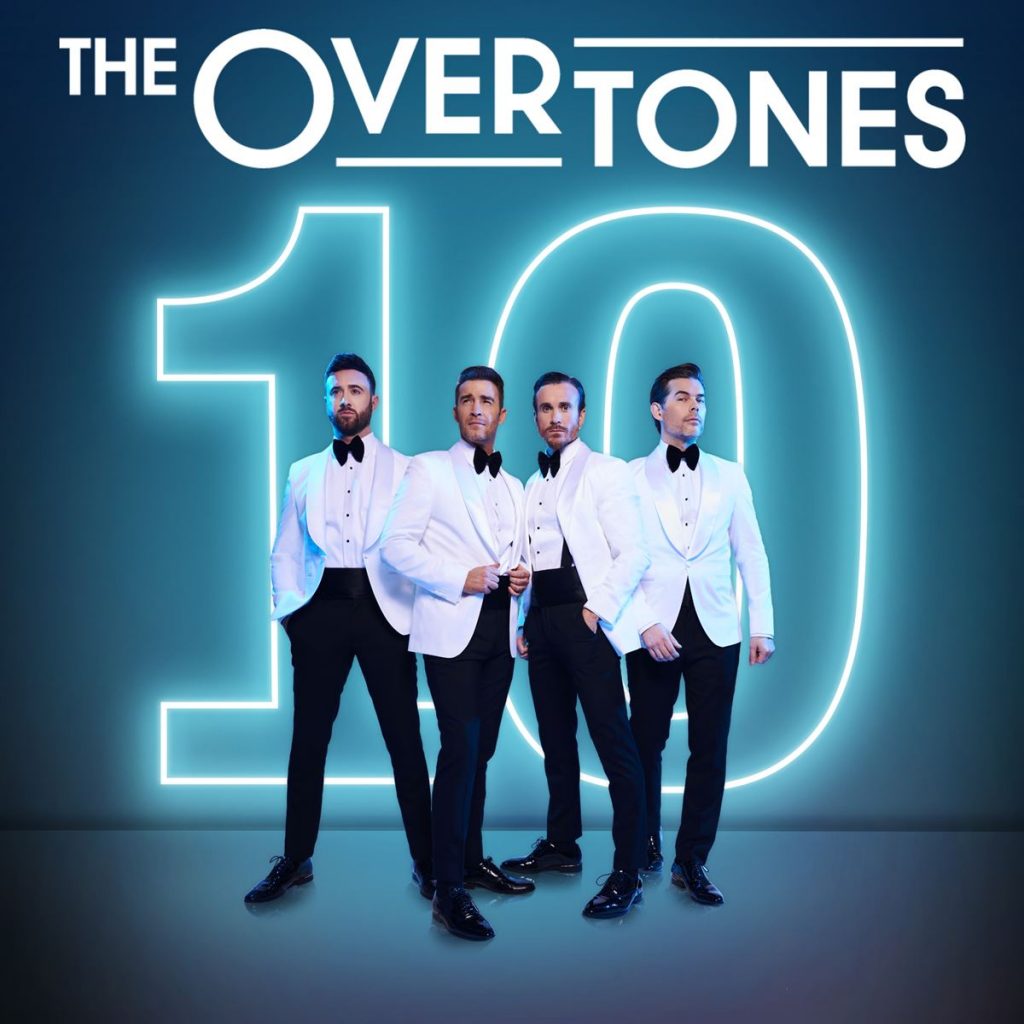 To say that 2020 was a year like no other would be an understatement, as the entire world was brought to its knees as a result of the global coronavirus pandemic. People were forced to stay home, kept apart from loved ones and encouraged stop all unnecessary travel in a bid to try to curb the spread of the virus.
For everyone, but especially those working in the arts and hospitality industries, life came to a grinding halt, with theatres, concert venues, clubs, cafes, bars and restaurants all forced to close for the foreseeable future. For a band like The Overtones, who's non-stop schedule of promotion and touring sees them spend the majority of each year, playing live shows up and down the country, the sudden change of pace, unsurprisingly came as something of a shock.
But that was then, and this is now, and as they reflect upon the events of the last 12 months, the group admit that whilst times have been tough for everybody, there does now seem to be light at the end of the tunnel.
"It's been such a weird and difficult time for people hasn't it?" Mike says with a sense of compassion as we begin our virtual interview via Zoom. "I mean when you really think about it, what a crazy, crazy year we've all had! For us as a band and as a group of friends, I think our sort of motto and outlook has been to try to get on with things and adapt as best we can – which, to be fair has been the case for everyone, we're no different. But as things slowly start to get back to normal, we find ourselves now chomping at the bit to kick off our 10th anniversary year properly, and celebrate with everybody!"
"We can't get for this album to come out, and for the tour at the end of the year!" Mark adds excitedly. "We just want to be on stage, see our fans and get back to doing what we love. I think at this point, we're all ready to party and have a big night out aren't we?.."
---
"Celebrations in the heart 'cause we're (re)united!"
In the same week that saw a number of social restrictions lifted in the U.K., allowing members of the public the freedom to now visit bars, restaurants, theatres and cinemas, The Overtones delight fans with release of their latest single, A Night To Remember – an extra special, celebratory cover version of Shalamar's 1982 classic disco anthem.
The Overtones – A Night To Remember (Official Lyric Video)
"We're all about the feel good, that's what our music's always been about – and you don't really get more feel good than 'A Night To Remember' do you?" Darren says of the groups decision to release the track as the second single to be lifted off of the album 10. "We want people to hear this song and feel inspired to get back out there and live life again! The time has come I think, where we all need to reconnect with the people we've missed this year, and start to make some wonderful new memories together."
"It's such an upbeat and unifying track." Mark adds. "Whenever we've done a cover version of another song in the past, it's always been really important to us that we put our own stamp on it and make it our own. So with this particular track, towards the end we've added a little bit of a mash up and mixed in another song, which we think people will really love and be excited by."
"We put so much thought into everything we do, nothing just happens by chance in terms of the music we make and release." Jay explains. "So as the boys have already said, our hope in remaking this song and putting it out at this time, was simply to make people feel good again, and what a privilege it is for us to be able to do that! As a band we never take anything for granted, we know how lucky we are be doing what we do for a living, and our group "philosophy" if you like, has always been that each show we do, could be our last show, and each song we put out, could be the last song we put out, so because of that, we always give everything we do our all."
"We've been so lucky." Mark acknowledges. "We've got ten years of experience under our belts now, so I feel like we've reached a place where we know what works for us as a band and what our audience want from The Overtones."
And what fans of the vocal harmony group want now more than ever, is new music…
---
"We want people to hear this song and feel inspired to get back out there and live life again!"

Mark Franks on the bands hopes to rouse the nations spirits with the release of their new single.
---
TEN.
In celebration of their tenth anniversary together as a group, The Overtones will release their seventh studio album 10 this coming July. Made up of an eclectic mix of nostalgic hits, original songs and two epic collaborations, including a special cover of Can't Take My Eyes Off Of You with long-term friend of the band Michael Ball and a beautiful, reimagined version of Simply Red's classic hit Stars featuring West End star Marisha Wallace, the album looks set to be the groups most innovative and creative release of their career so far.
"Its been a year and a half in the making." Jay says of the record. "And I think it's fair to say that if it hadn't been for the pandemic, we probably would have made a totally different album. And I say that because the break we had to take during lockdown, gave us more time to really think about what we wanted to do, and how we were going to celebrate ten years of The Overtones."
"With every album we've made, and forgive me because Darren said this before, but it's true – with every album we've made, it's always been about making music that makes people feel good." Mark muses as the discussion into the idea and concept behind the record deepens. "We've often said that our tours are like one big party, and in a way I suppose our albums are no different, so we want people to be able to put this CD on, and get up and have a good old dance around their kitchen or living room. I think now more than ever people need a bit of fun, and a bit of escapism don't they? And hopefully we can provide them with both of those things with the music we've made on this album."
With its carefully considered track-list guaranteed to take die-hard fans of the band on a nostalgic trip down memory lane, 10 marks the beginning of an incredibly special chapter in the career of The Overtones, one of which the band are all clearly very excited about.
"There's no denying that this album as a whole is a total celebration of tracks from our past, present and future." Darren says. "Being a celebration of ten years, there were certain songs that we just knew had to be on the album, but on the flip side of that, some of the new tracks we've recorded are songs we've wanted to do for years but due to scheduling or whatever we never got the chance to before, so now felt like the perfect opportunity to remake those songs and put them out there for the fans to hopefully enjoy. We feel like this is our best work yet, we're really proud of it."
One of the standout tracks featured on 10, is the bands epic reworking of their debut single, Gambling Man, now re-titled Gambling Man 2.0. Originally featured on their album Good Ol' Fashioned Love, the new remixed version of the track sees the boys build on the musical foundations that made the track a hit over a decade ago, combining a myriad of contemporary sounds and instruments to give the song a dramatic James Bond-esque makeover, adding dazzling strings, crashing drums and an all together new brass section to create an out-and-out big band style bop, that is guaranteed to go down a storm with audiences at the groups live shows, set to take place later in the year.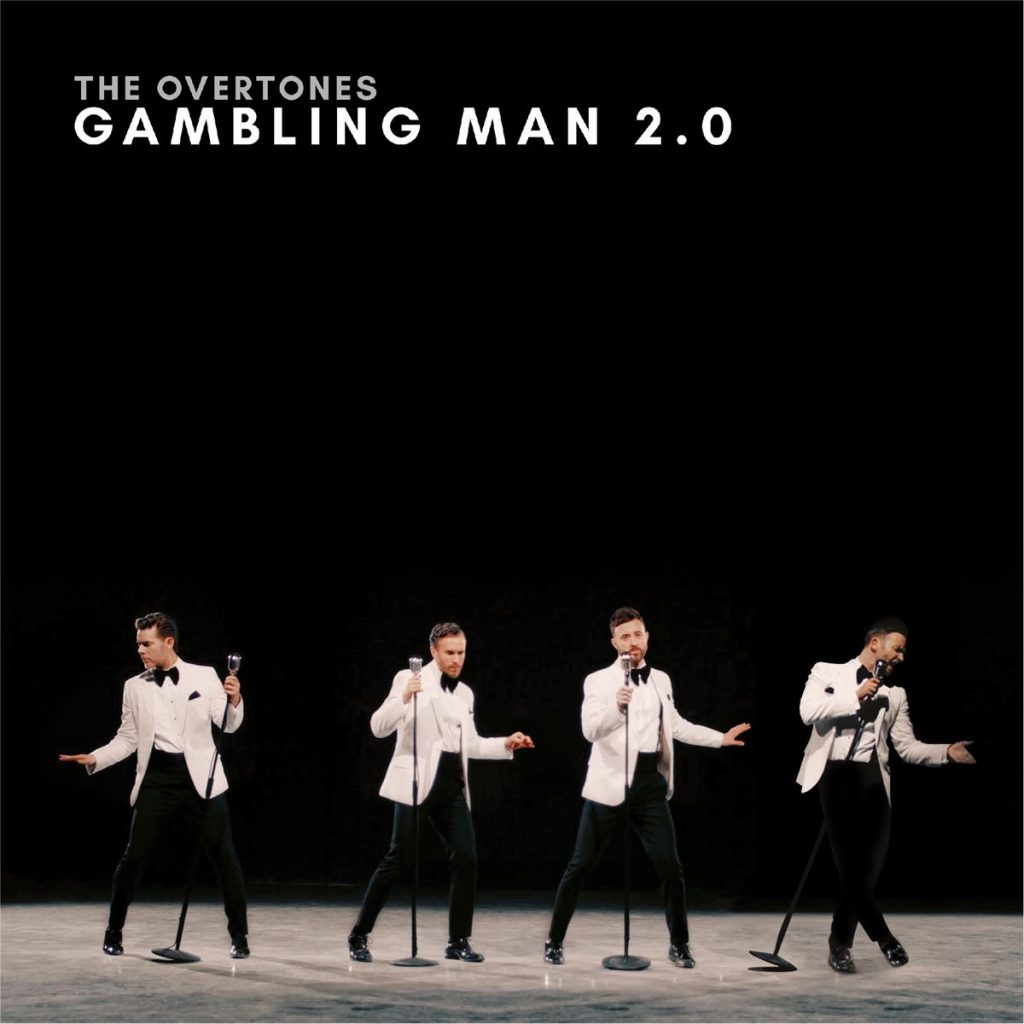 "To be totally honest with you, it really wasn't an easy decision to include 'Gambling Man' on this album." Mike admits candidly. "It was a big song for us back in the day – you know, it was our debut single, it was the song that introduced us to the world and… it was huge! We have so many memories attached to it, and in a funny way it does kind of feel like just yesterday that we were performing it for the first time, live on This Morning; so I think between all of us, there was this lingering question in the air as to whether or not we should re-record it or not because if we did, we had to do it justice."
"Ultimately though we came to the unanimous decision that, of course, it had to be featured on the record, because at the end of the day it is such an important song for us, it's a big part of our history and we are immensely proud of it. As we've said, this album really is about us celebrating our past, present and future together, and for us 'Gambling Man' typifies that past, and we're so, so thrilled with how it came out!"
The Overtones – Gambling Man 2.0 (Official Music Video)
---
"We feel like this record is our best work yet, we're really proud of it."

Darren Everest on the groups upcoming 7th studio album, 10.
---
"Gonna make this a night to remember…"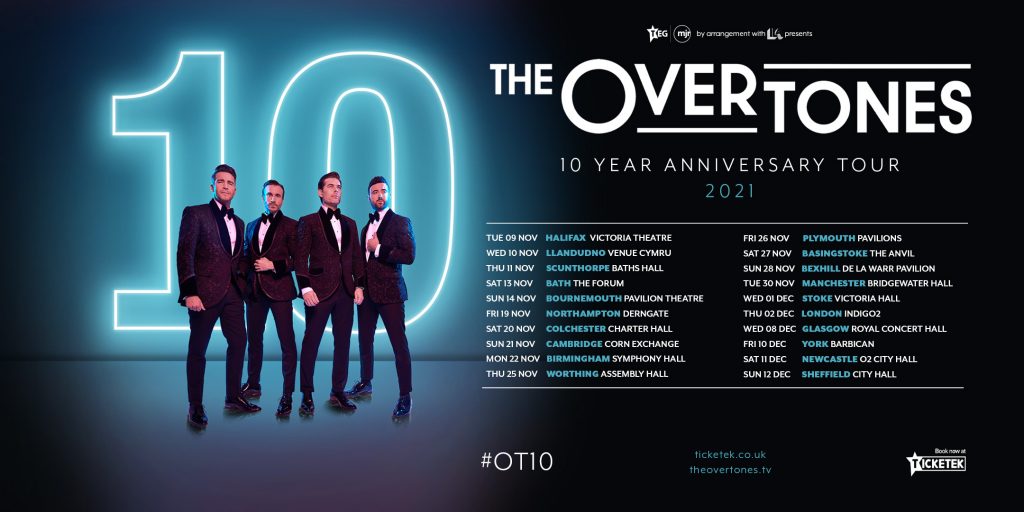 As a band famous for the extraordinary live shows, filled with the perfect mix of originality and classic nostalgia, Mike, Mark, Darren and Jay all seemingly come alive as talk turns to their upcoming tour. Scheduled to kick off at The Victoria Theatre in Halifax, West Yorkshire on Tuesday November 9th, before playing a further 20 dates at venues up and down the U.K., the band promise to pull out all the stops to give fans a night they won't forget!
"Can you imagine us being back on stage, together, and playing 'A Night To Remember' live during this tour?" An excited Mark asks his fellow bandmates. "I'm not saying, it's going to open the show or anything, but… it would be a great way to kick things off don't you think?"
"Don't give anything away!!!" Jay chimes in. "We don't want to spoil it for the fans!"
"Just thinking about the energy on that first night… it's going to be absolutely mental! Mike's hips have been locked away for two years now, imagine what they're gonna do on stage." Darren jokes. "To think that it's been that long since we were last out on the road is crazy, because for so long touring and playing live was like the focal point of what we did, it was our favourite part of being in the band, so we can't wait to get back out there in front of the fans and play our music live."
It's at this point in proceedings that we realise, that the constant thread that has run throughout the course of our entire interview, is the clear appreciation and love the band have for their fans; and how that love plays a key factor in each and every decision they make together as a collective, in the hopes of giving back and thanks to a group of people who's unwavering devotion has got them to where they are today as The Overtones.
"To establish a genuine connection with our fans has always been important to us." Mike says of the unique bond the group share with their audience. "I think part of the reason why we've lasted as long as we have, and why we're still here today doing what we do, is because of the relationship we have with them. We love that our fans feel like they can approach us and talk to us as they would a friend, and tell us about their day or what's going on in their lives, and know they're going to get a genuine reaction from us in return."
"A lot of the conversations we've had as a group over the last year have revolved around the fans – what do they want to hear? What do they want to see when they come to one of our shows? What kind of merchandise do they want?" Jay adds. "And we've spent a lot of lockdown trying to come up with new and different ways to connect with them too, whether that be our 'Sunday Social' series, zoom broadcasts, Instagram lives, Facebook lives… we love making that connection, it's fun for us."
"Our fans have been through a lot this year and we wanted to help them feel less alone." Mike concludes. "I hope we've been able to do that and help them to forget their worries and have some fun throughout all of this."
---
"I think part of the reason why we've lasted as long as we have, and why we're still here today doing what we do, is because of the relationship we have with our fans."

Mike Crawshaw on the special and unique relationship The Overtones share with their audience.
---
The Overtones: Ten years on…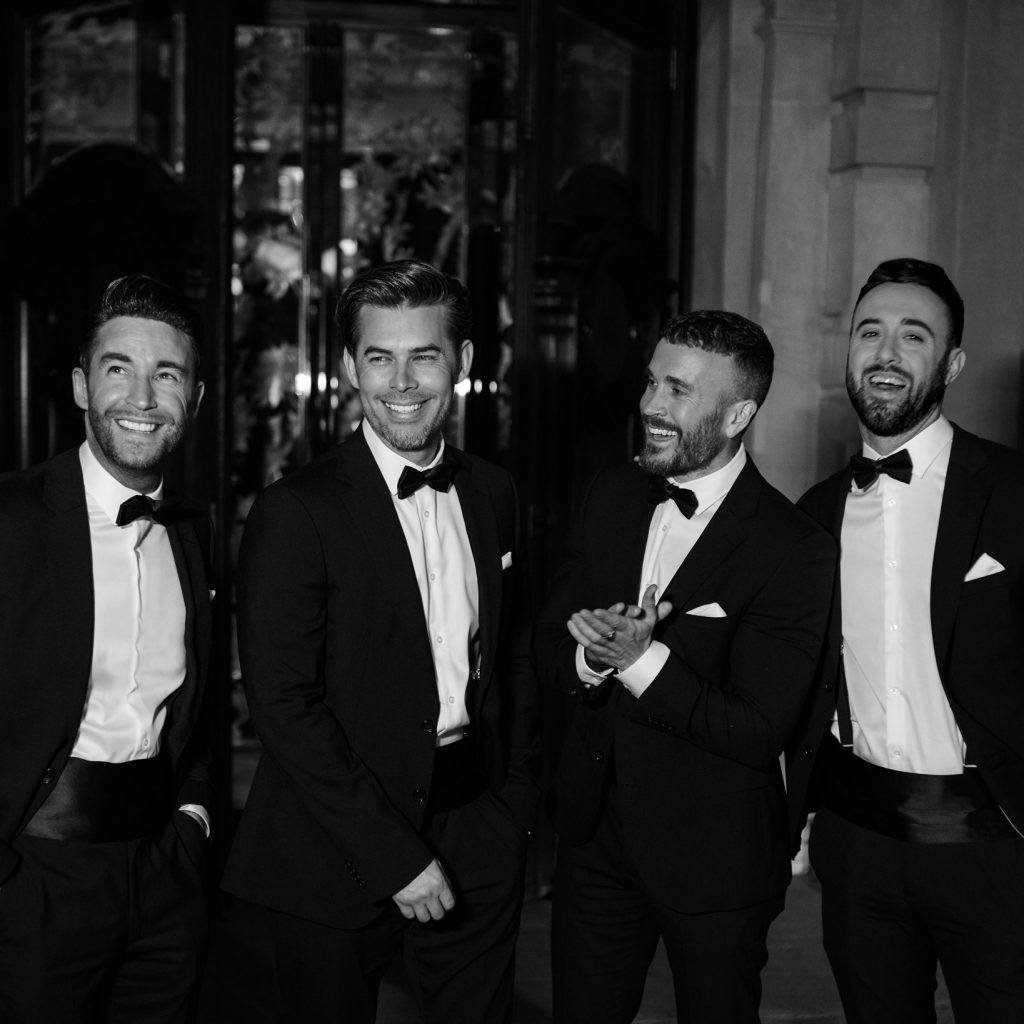 For any artist celebrating a significant anniversary in the often fickle and fleeting world of entertainment, an acknowledgement of appreciation and respect for their accomplishments should always be shown. And as The Overtones creep ever closer to the official tenth anniversary commemorating the release of their debut album later in the year, nobody can deny the fact that their decade rein together, is anything other than a truly phenomenal achievement.
However for outsiders looking in, it's easy to think of this remarkable milestone in the bands incredible career as being an undeniably, joyous and celebratory moment, which of course it is, but we can't help but wonder how it really feels for the four men themselves, as they reflect upon the life and journey they've lived through together as friends over the course of the last ten years.
"Do you know what, we've gone through a lot together as a band, we really have… the last ten years have been huge for us in so many ways." Mike reflects. "We've had incredible highs and terrible lows, and I feel like this album (pauses) I don't know, it's weird, but I feel like this album is a testament to all of that and really does celebrate everything we've been through… a lot of life happens in ten years doesn't it? And we're not shying away from anything that's happened to us, so you know the album is a nod to past members, it does serve as a legacy to us and to Timmy (Matley), and we do sort of go there and wear our hearts on our selves, because what we do means everything to us."
"I think something else we really feel, is a sense of pride, I'm really proud of us!" Darren adds. "To have stuck around for ten years and to have survived this brutal industry, in spite of all we've been through, is a pretty amazing thing."
"And we're not done yet…" Mark says with smile. "We want to carry on, not only for ourselves, but as Mike says, for Timmy's legacy and also for our fans too! We're going to stick around for as long as they want us, and I feel like from this moment on, we should all just celebrate and have fun for the rest of the year!"
"I'm up for that!" Darren laughs. "Let's keep it moving and look forward to the next ten years… together!"
The Overtones new album 10 is scheduled for release on July 30th, and is available to pre-order now.
---
Let us know your thoughts on The Overtones over on Twitter @CelebMix now!