We all are familiar with musical legends that have shaped the industry today such as Cher, Michael Jackson and Diana Ross. These household names possess incredible artistry and range, but do you ever think about the factors that led them to a life of success. Behind the scenes, these mega-stars spend hours perfecting their craft. That's where a vocal coach comes in. Seth Riggs trained these renowned icons along with many others and the apple does not fall far from the tree. His daughter Kathleen Riggs has taken his proven method and taught some incredible talents as well. From instructing Ezra Koenig of Vampire Weekend to managers and producers like Scooter Braun and Quincy Jones, she has accumulated an impressive client list.
Something that sets this method apart from the rest is that the technique can be applied to a myriad of genres. She allows singers to unleash their maximum potential and discover their authentic voice. Being one of Los Angeles' most highly acclaimed vocal coaches, Riggs has certainly soared to the top of her field. We spoke with the trainer, discussing her technique, her father's influence and more.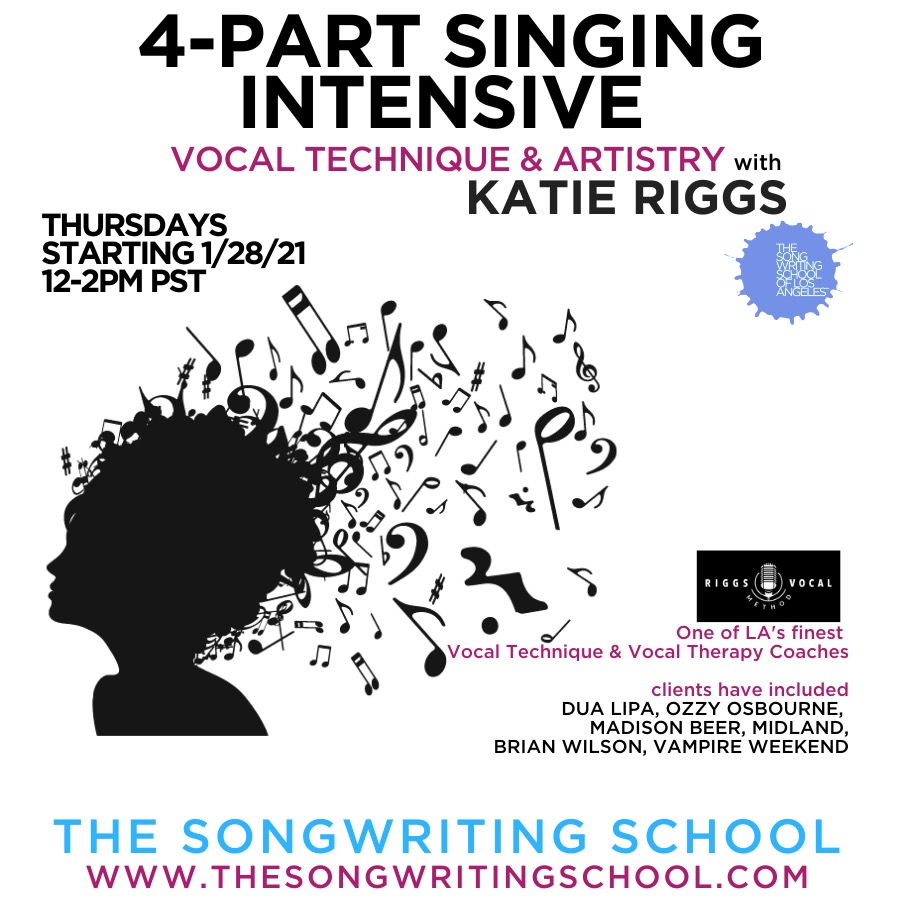 You are highly proficient in your field with over twenty years of success. Why do you feel your technique is such an effective method for vocal training and what other factors can also be attributed to your achievement?
Thank you for saying that. I really do love what I do. Being able to turn the lights on for my students in regards to their voice means the world to me. Usually women, men, boys and girls come in to sing not knowing that their voices are capable of easily doing so much more. This technique enables singers to sing throughout their range effortlessly, eliminating any breaks or squeeze as they sing from lower notes to high notes. To bridge the area between chest and head voice is the challenge of most singers. This way, the singer has creative freedoms they wouldn't otherwise be able to sing. It brings confidence because it builds in reliable range. This applies to ALL GENRES of music. And that is why this method is such an effective method for vocal training. You want to be intentional when you sing, not worrying about whether or not your voice is going to break into a falsetto or start straining at any point in the song. What a relief!
Another factor that can also be attributed to my success as a vocal coach is absolutely hands down my sobriety. I've been clean and sober in recovery for over 10 years and counting. It has taught me to really take care of myself. I do a great deal of meditation, meetings, eating the right things, getting enough sleep, drinking enough water, physical exercise, the inner work and because of it I'm fully able to show up in my work and in my life authentically myself to be of service. My sobriety gifts me the sensitivity and introspection into myself and others I simply didn't have before. It is very useful in this business.
Speaking of this technique was created by your father Seth Riggs and it has been studied by over 200 Grammy winners including Stevie Wonder, Tina Turner and Barbara Streisand to name a few. What led you down the path to following in your father's footsteps and what lessons have you learned from him?
I've been fascinated by music my whole life starting with singing with my Mom at her piano when I was just a little girl. I have 6 brothers and sisters. I'm the second to youngest of 7. I would sing Musical Theatre and Opera with her and then sing Pop, Soul and R&B with my Dad in our home studio. Both profoundly had an influence on my fascination with singing and then teaching. I've been hearing music since I was in my mom's womb… literally. She was auditioning for the Metropolitan Opera when she was pregnant with me. My mom and my Dads love for music was a life force and it very quickly became mine.
My mom and dad were married for 26 years until my mom passed away when I was 15 years old… looking back that was probably one of the most traumatizing times of my life. I started working as a teen in ice cream and chocolate shops and my dad kept bugging me to teach. I knew I loved to sing but I didn't know if I had the courage to teach. I started training when I was 8 years old with him and would take lessons all the time, I still do. He'd keep reminding me that I had a gift and I should use it to help others.. so when all my friends started looking at colleges to attend I sat in with him everyday, took notes, and started teaching when I was 17 years old.
I've learned a great deal of work ethic from my Dad. How to show up and be professional. How to work with different personalities. I've learned how to advocate for myself, and I've learned that I deserve a seat at the table. I've learned every little thing about voice from my Dad as he's been my only teacher. There are many professional singers and institutions of singing that don't teach what we teach which is the "middle" or "the mix" because they come to us with breaks in their voices. I've learned that this technique is like a secret weapon for singers. And that once we learn it and have it we can move more quickly into the creative realm. We can let go of the technique in our minds because our vocal cords have learnt it and now we can tap into sharing our heart. I've learned that teaching takes patience. Some people will get it right away and others it will take longer a few months or a year. But all it ever takes is practice and patience.
Your client list includes some of the industry's most prominent talents such as Dua Lipa, Ozzy Ozbourne and Madison Beer. What has your experience been like coaching these world-class stars?
That we're all humans and that these humans are being recognized for their brilliance but we all have good days and bad days and some of the very same vocal issues. The projects are different but what is being asked of them is the same. I'm there to help sustain their voice on tours, rehearsals, recordings, talk shows etc. There is not one celebrity client I've worked with that hasn't been very kind, passionate, down to earth, hardworking and very easy to get along with. Thank God! I am very grateful for being able to work with them in this way.
There is pressure from the outside world to keep up with appearances and certain personalities but when they come to me I'm allowed in. Instead of walking around with a sort of armor on, my clients can take all that stuff off, be vulnerable and get to work.
On the subject of clients, is there a specific encounter you had while training that really stuck out to you?
I was working with Dua Lipa on her first live performances. Her album was already recorded and now was the time she'd start singing these songs live. I remember her being so nervous and shy to sing at her first YouTube live events in Los Angeles but seeing her walk on the stage was like watching a Queen ascend her throne. This was her home, this is where she got to get acknowledged for her gifts. Very cool to watch it happen for her. I knew she was going to be a star. As soon as she opened up to sing everyone could feel it. I know I did. And now she is a Mega Star and very still just as humble and kind as she was in the beginning. This is goals people!
Your teaching method can be applied to a wide variety of styles and genres. What makes this type of training so versatile?
This training is so versatile because all I'm doing is implementing specific exercises that tailor to building in the connection between the singers chest and head voice. For a very long time if you wanted to sing Musical Theatre you'd go to a Musical Theatre Coach, or if you wanted to sing Jazz or Gospel or Pop or R&B, Country or Folk you'd go see those particular coaches. This technique works across the board. We build in the range and that maximizes availability of range there is to style with. You want to be intentional when you sing. You don't want your voice just to do things without them being meant. Being fully immersed in the emotional content of a song knowing your voice will show up for you is magic.
In these unusual circumstances where we are forced to distance from one another, how has your vocal coaching changed?
My vocal coaching hasn't changed. For me, the most challenging part of the transition to online teaching wasn't in and around the tools to facilitate it. It was the emotional transition, you know, the realization that Covid was about to change everyone's daily life. Thankfully, I'm programmed to look for solutions in my life and figure out a way through. And because I have been teaching online via Skype in different countries and cities for many years now, my transition from in person vocal coaching to online has been surprisingly smooth. I'm so very grateful for that.
So now I teach solely online all over the world via Skype, FaceTime and Zoom. I record all of my lessons using GarageBand and send the recording through text or email for students to practice with. As long as I can keep all the different time zones correct and we have a strong Wi-Fi connection, I'm golden. The truth is, I'm definitely blessed, because to do what I love to do, all I ever need is a keyboard, my voice and theirs. But also who doesn't love to show up some days in pajamas!
Finally, who are some of your biggest inspirations and how have they influenced you along your journey?
My biggest inspirations are those that don't quit. It's the resilience for me. The music business and/or the line of work you wish to become apart of can be rough and often is full of "No's" or "Not Yet's". I've seen clients reinvent themselves over and over and over again and that's inspiring to me. To not give up, to lean into the process and just try try again. Literally the only way to fail is to quit. My hat is off to anyone that hangs in there with their passion, and soft hearts, and drive to get out there. To anyone that isn't afraid to start from scratch or start over. To get heard and still be just as fiery about it. That's inspiring. It influences me in the way that when I see people move thru adversity it means I can too.
Visit her website and Instagram for more information on Kathleen Riggs and how to join one of her vocal coaching sessions.