Last night, (Friday, February 21st) British country crossover sensations Ward Thomas played their first arena gig in the city of Cardiff.
The outstanding duo consisting of Hampshire born twin sisters Catherine and Lizzy are currently out on the road supporting pop superstar James Blunt before they head out on their own headlining tour this April and May.
Previously, the girls have performed at the Glee Club, The Globe, The Tramshed, and the St David's Hall on headlining tours in the city, and last night they made their arena debut.
Making the brave and bold decision to support themselves for the first time, on their biggest UK tour to date, Ward Thomas arrived on stage at the Motorpoint Arena to open with a completely Acapela rendition of Alison Kraus' classic ' A Living Prayer'.
Putting an almost Hymn like spin on the hauntingly beautiful song the twins' spellbinding vocal harmonies rang out stunningly across the venue.
A truly beautiful way to kick-off their stripped back set and a quick way to get the Welsh crowd falling in love with their voices.
Ward Thomas, who remained seated throughout their standout support slot then went into their biggest hit 'Carry You Home' – having to start again though as, as Lizzy put it "we fu**ed up" much to the amusement of the audience.
This is always a massive crowd pleaser and on a Friday night in the city of Cardiff it went down an absolute storm.
'Cartwheels' was next – a definite nod the LP of the same name which in 2016 put Ward Thomas on the map when it became the first record by a UK country act to top the Official UK Top 40 Album Chart.
Stripped to its core the poignant lyrics swept through the arena and brought the Welsh crowd into the heartbreakingly beautiful story.
They then completely won over the 5,000 strong audience when they announced their track 'I Believe In You' was dedicated to the Wales rugby team who play tonight (February 22nd) although as Catherine quipped "our hotel cost a fu**ing fortune because of that".
With its anthemic chorus and sing-a-long verses this one was a real crowd pleaser with the sisters even wearing red to show further support to the team.
'No Fooling Me' was next – a truly beautiful ballad that is lifted off their latest album 'Restless Minds' the soaring, heartfelt lyrics elevated the girls' set and shone a light on their remarkable vocal control.
Next was a brand new song titled 'Hold Space', an Indie Pop vibe with a toe-tapping production combined with poignant lyrics about being there for someone who is struggling with their mental health – this could go on to be a major breakout track worldwide for the pair.
"You may know this next one, because we didn't write it", Lizzy joked before launching into a breathtaking version of Fleetwood Mac's Landslide – total harmony heaven ensued.
The aptly titled 'One More Goodbye' closed out their outstanding 8 song support slot – the perfect closer.
Before exiting the stage to loud cheers and whistles the UK duo thanked the fans for coming out early and invited everyone to meet them at the merch stand in the interval. A popular choice as hundreds queued to grab a quick selfie with the fast rising duo.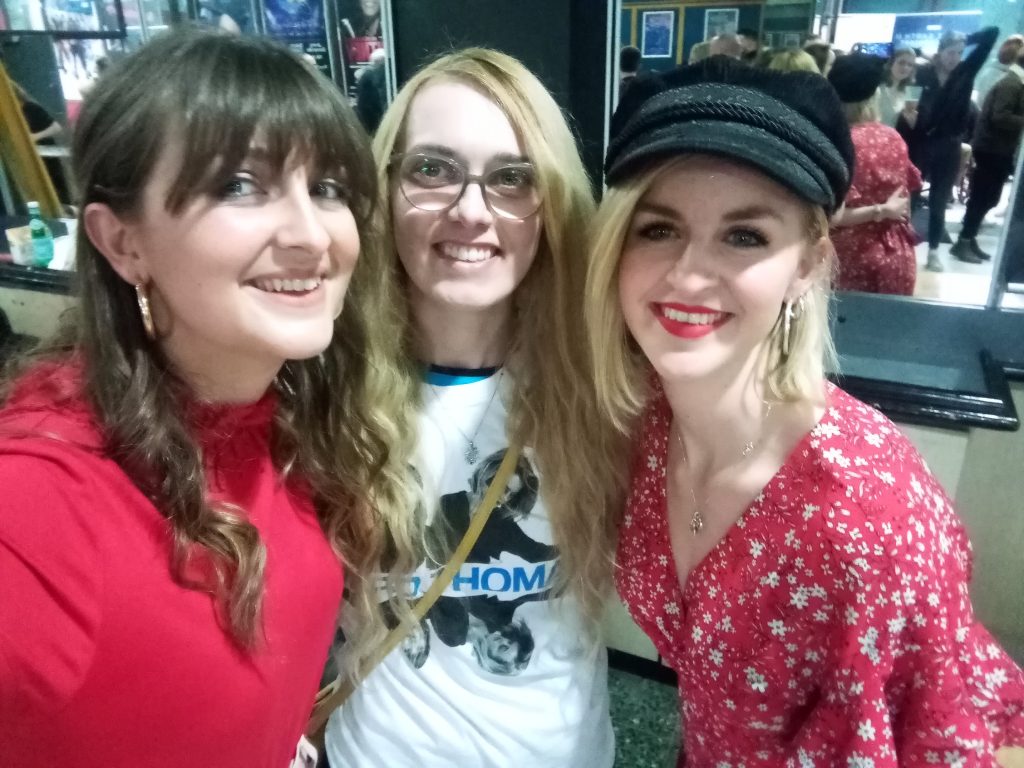 However, their night wasn't over as during James Blunt's headlining set he invited them back on stage, laughingly announcing "this is the threesome I always wanted" – before asking them to join him for a rendition of their collaboration 'Halfway'.
Hearing their three voices together live was truly sensational and moment that will stay with us all that were there for a very long time.
Having seen Ward Thomas at every venue listed at the start of this review seeing them hold their own in the main arena was something truly beautiful and a true insight in to their incredible growth and on-stage confidence which has grown ten-fold since their first live gig in Cardiff several years ago.
They won themselves a whole host of new listeners thanks to their breathtaking vocal harmonies and equally their sweet, and down-to-earth stage demeanour and presence.
A wonderful opening set from a duo only getting bigger and better.
RATING: 5/5
Tickets for their own headlining tour are on sale now from wardthomasmusic.com/live
Were you in the audience in Cardiff last night? Let us know your thoughts across social media!
Feature photography credit: Sophia Burnell