Louis Tomlinson has revealed the tracklist for the upcoming and highly anticipated debut album, Walls.
He revealed it in a rather creative way, via a live stream. Fans tuned in to a live stream this morning at 8 am, to see artist Jay Kaes painting a mural. As the hours went on it became very clear the mural was depicting Louis.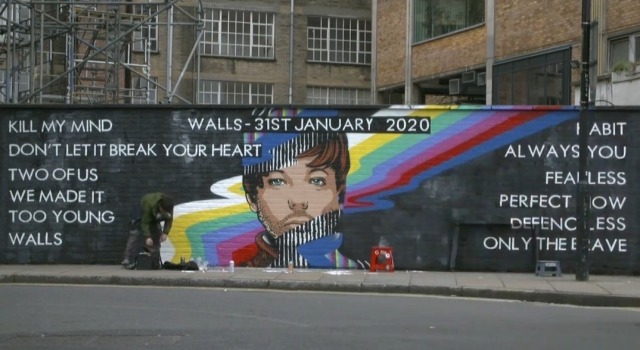 Later he began adding track names to the mural, thus unveiling the tracklist for Louis's debut solo album which will be released later this month on January 31.
The album has 12 tracks, including singles Two of Us, Kill My Mind, We Made It and Don't Let It Break Your Heart.
Over 12,000 fans tuned in to watch the entire live stream which went on for hours, showing just how dedicated the We Made It singers fanbase is to his career. They were rewarded with a glimpse of Louis who turned up to the Shoreditch street to see the mural. He even posed with lucky fans who had gone to check out the mural.
Louis will be embarking on a world tour in March, you can get all the info on where he will be visiting and pre-order his album on his official website.
Let us know which track you cannot wait to hear at @celebmix!