Chicago R&B artist Matt B recently dropped his latest single, "Deep," a song about being caught in a lop-sided relationship, recognizing it for what it is, and moving on to find real love.
Matt B was in the studio, laying down tracks for his forthcoming album, EDEN, with Grammy-winning engineer and producer Sam Thomas, and multiple Grammy-winning producer Bryan-Michael Cox, when he was introduced to the song.
According to Matt, "Sam had some records he wanted to play me that he and Tricky Stewart had been working on. One of the first demos he played was 'Deep.' I instantly connected with it and wanted to cut it right away. When we started vocal tracking with Tricky, I made some tweaks to the record; especially in the bridge. I knew right there that we had a banger that all my fans would love."
Talking about the actual recording process, Sam Thomas shares, "Matt has an amazing range of vocals and his delivery is on point. It was a blast cutting this song with him, the recording process was rather quick as he headed to the booth, Tricky and myself at the board, lights down low, candles lit, and an R&B Star on the mic. Matt was amazing in the booth. Takes direction very well and crafted this hit into his own. R&B is far from dead and Matt B showcases that."
Originally from Chicago, Matt B signed with Starbase Records Japan in 2014, followed by releasing his debut album, LOVE & WAR, which hit the top spot on iTunes' R&B Charts. In 2016, he dropped his second album, DIVE, which also rocketed to #1 on iTunes.
Priority Records signed Matt B in 2017, followed by releasing his single, "Need Your Love," followed one year later by his EP, RISE, amassing more than 500,000 streams on Spotify.
"Deep" opens on stridently gleaming synths riding a trap-lite rhythm as luminous pop and smooth R&B colors travel overhead. Radiating a suffusing echo, tasty backing harmonies highlight Matt B's delicious falsetto, infusing the lyrics with passionate urgency.
"Baby it's not that deep / For me to lose no more sleep / Baby it's not that deep / For you to keep on punishing me / With things from the past / I thought we would last / But I did the math / Subtract not add / Baby it's not that deep."
Matt B has it going on, and "Deep" has it all: sonic pressure, a potent suggestive rhythm, and the wickedly evocative voice of Matt B.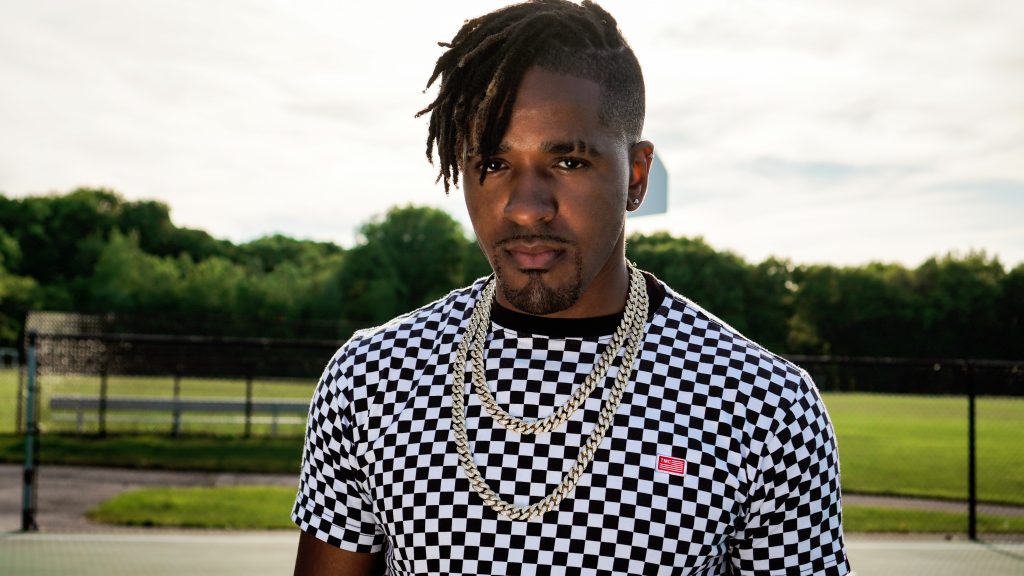 CelebMix caught up with Matt B to find out more about the inspiration for "Deep," how he got started in music, and what listeners can expect from his forthcoming album
How did you get started in music? What's the backstory there?
I come from a very musical family. I grew up in the church, so music has always been a big part of my life. The game changer was when I went into high school and started performing with my brothers. From that point on, I knew I wanted to be a musician.
What's your favorite song to belt out in the car or the shower?
Haha, I don't do that actually. I'm more into saving my talents for the stage!
What singers/musicians influenced you the most?
Usher, Stevie Wonder, Boyz II Men, and Kanye West.
Which artists are you listening to right now?
I'm currently listening to Poo Bear, who is more of a songwriter than an artist. Also, Beyonce's latest project 'The Gift' was dope. I've also been listening to Chris Brown, August Alsina, and Kanye.
Hip-hop/R&B is by far the most popular music genre in the world. How do you keep your sound fresh and avoid coming across as derivative?
Listening to things outside of hip-hop/R&B is the best way to avoid sounding very "cookie cutter." By doing this, you can find other elements to bring back to the genre that are unique.
Why do you make music?
I make music because it's my therapy. It's my way of releasing my emotions and inner thoughts into the world in a creative way.
What is your songwriting process? Do the rhymes come first, or the music?
The music comes before the rhymes. However, in more recent times I've been trying to write the lyrics beforehand. I have been writing a lot of poetry during the last few months of quarantine, so that's been helping me flip the game up a little bit and expand my creativity.
What was the inspiration for your new track "Deep?"
I was in the studio with B Cox, my manager Angela, and Sam Thomas came into the studio with some new records he wanted to play. After he played "Deep," I knew that I wanted to cut it. We went to the studio and I added my own creative spin on the record. "Deep" is about a relationship gone wrong; and with a lot of soul searching and clarity, you soon realize that the relationship is not worth the trouble.
You'll be dropping a full-length album soon. What can you tell us about it?
The album will take the listener on a journey into who I am as a person, what I've been through in my life, and more. My manager, Angela, helped to secure a lot of great heavy-hitters like Bryan-Michael Cox, Tricky Stewart, and The AP Factor, which is dope. For this particular project, we were focused on telling my story in a way that not only resonates with the listener, but also gives R&B a new, fresh sound while staying true to myself.
How have you been handling the coronavirus situation?
I've been exercising, stretching, spending quality time with my family (which is great since I'm usually on the road), and writing. Focusing on my mind, body, and soul while also expanding my horizon and self-development has been very important to me during quarantine. And of course, I've been going hard on the music end! The more centered and focused I am, the harder I can go musically.
Follow Matt B Website | Instagram | Facebook | Spotify | YouTube
Let us know what you think of "Deep" @CelebMix.