The American actor, Morris Chestnut, who is mostly known for playing Ricky Baker in the 1991 film Boyz n the Hood, has been announced as the co-host for Indie Night Film Festival Atlanta, alongside the founder & CEO of the festival, Dave Brown. The film festival will be a monthly film showcase that will be hosted in Atlanta, Georgia, starting on June 11, 2023.
Morris Chestnut is a celebrated actor who has had a massive career in the acting industry thus far. You may know him for playing Ricky Baker in the 1991 film Boyz n the Hood, Jeff Carswell in the 1992-1993 TV series Out All Night, Mal Robinson in the 1997-1998 TV series C-16: FBI, Lance Sullivan in the 1999 film The Best Man, Jackson Smith in the 2001 film The Brothers, Tracy Reynolds in the 2002 film Like Mike, Ryan Nichols in the 2009-2011 TV series V, Detective Reilly in the 2013 film Identity Thief, Officer Paul Phillips in the 2013 film The Call, Dr. Ike Prentiss for seasons five and six (2013-2014) of the TV series Nurse Jackie, Tony Rice in the 2014-2015 TV series Legends, David "Dave" King in the 2015 film The Perfect Guy, Dr. Beaumont Rosewood, Jr. in the 2015-2017 TV series Rosewood, Will Keaton in the 2019 TV series The Enemy Within, Barrett Cain for seasons three and four (2019-2021) of the TV series The Resident, and Raymond Dupont in the 2021-2022 TV series Our Kind of People. He also reprised the role of Lance Sullivan for the 2013 sequel to The Best Man, titled The Best Man Holiday, as well as the 2022 limited TV series sequel to the films, The Best Man: The Final Chapters. He has also won an NAACP Image Award for Outstanding Supporting Actor in a Comedy Series for his portrayal of Dr. Ike Prentiss in Nurse Jackie, he also won an Acapulco Black Film Festival as part of an ensemble for Best Acting in The Best Man Holiday.
Indie Night Film Festival is the first and only weekly film festival in the world. Each Saturday about five short films, trailers, web series episodes or full films will be shown. It also will be showing the top 12 festival films of 2022 online through its "Indie Night On Demand" feature.
The inaugural premiere of Indie Night Film Festival Atlanta will take place on June 11, 2023, in Atlanta, Georgia, at the Plaza Theatre, located at 1049 Ponce de Leon, Atlanta, GA, 30306 and will be co-hosted by Morris Chestnut and Dave Brown – who is the founder and CEO of the film festival.
"I started this festival to bring attention to the lack of diversity in film," said Dave Brown. "This event is a chance to spotlight all types of talent, regardless of tax bracket. I'm excited to bring this to Atlanta, the home of my alma mater, Morehouse College."
Early Bird tickets are available at indienightff.com.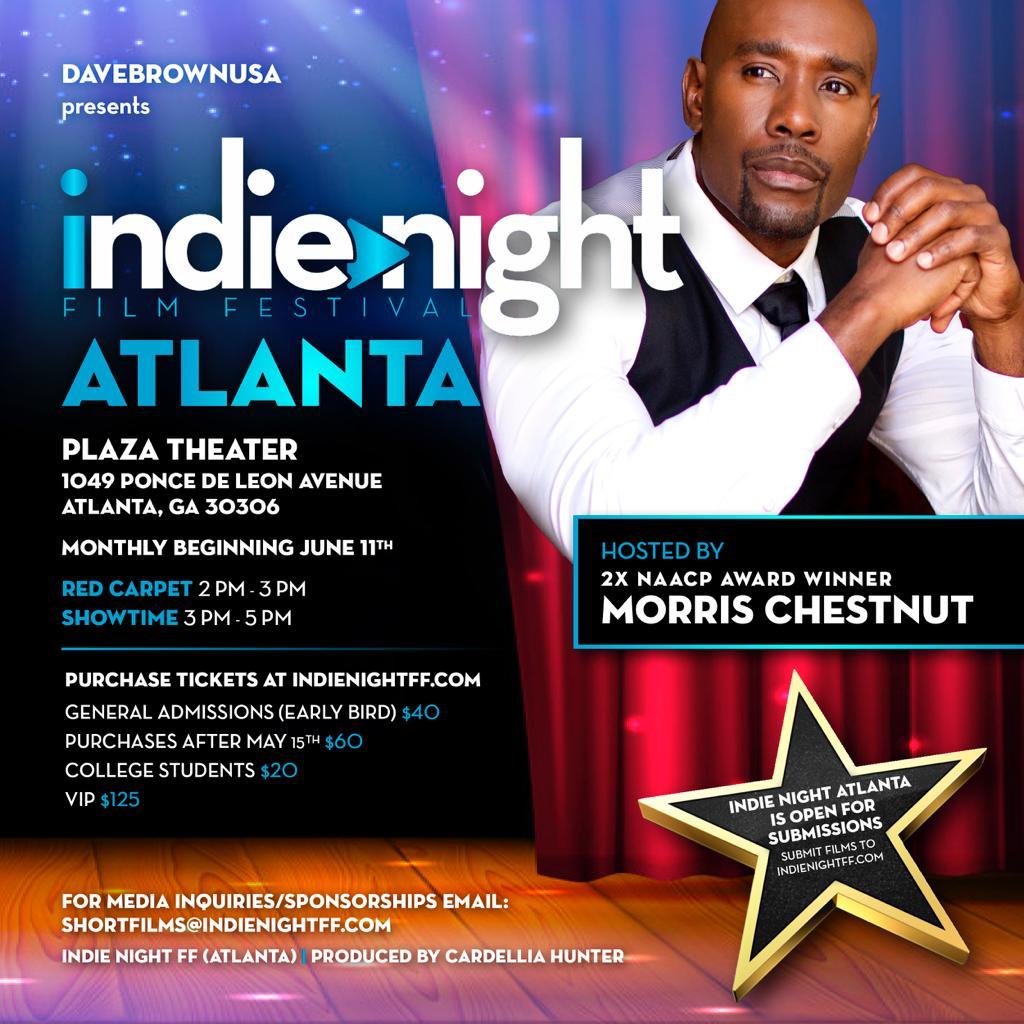 More about Indie Night Film Festival and founder & CEO, Dave Brown
Dave Brown launched the film festival in 2012, and it has gone from strength to strength every single year. For this year, Dave Brown and the festival staff plan to visit other cities to promote the festival and encourage rising filmmakers and film students to submit their work for consideration. They plan to hold a mini festival within each of the communities that they visit, outreaching and providing support for a variety of people within the film community. Whilst visiting those cities, Dave Brown and another industry host will be attending colleges, in the area, speaking about the film industry, ways to get their foot in the door, and how to get their work seen. As well as this, they'll be offering internships for students interested in working for the festival in Hollywood.
Dave Brown is the CEO of DaveBrownUSA and has been focused on networking ever since arriving in LA – the one skill he believes is the sole skill to make it in Hollywood. It's not been an easy ride to get to where he is today – let's be honest, nothing worth having is easy to get. He graduated from Morehouse College in 1992 with a degree in Mass Communication / Media Studies. He was then invited to move to the west side of the US by his college friend Morris Chestnut who has had success as an actor, having starred in the film Boyz n the Hood and the NBC show The Enemy Within. Doing so has led him to delve into a variety of activities including helping Morris Chestnut book appearances and selling high-end, high-fashion bottled water, crystalised by Swarovski.
He has dipped into many other projects including trying his hand at acting by starring in the Netflix film Day Shift, and filmmaking. He worked alongside his longtime friend, Jamie Foxx, in Day Shift and went on to promote him when he was up for the Best Actor Oscar Award. He later hosted a party for Jamie Foxx when he went on to win the award, which led to him becoming a part of Jamie Foxx's management team.
On top of all of this, since 2009, Dave Brown has served as a mentor for the Youth Services Network, which is an area non-profit that serves teen boys who are victims of abuse, neglect and abandonment. Although he has technically become a "Hollywood insider" himself rather than a newcomer, he still remembers those challenging days and tries to offer whatever help and advice he can to others to help them make it.
The 11th season of Indie Night Film Festival kicked off back in January when it was launched at TCL Chinese Theatre in Hollywood on January 14, 2023. You can submit your film right now and submissions are accepted and reviewed on an ongoing basis. Check out their official website here.
Let us know what you make of Morris Chestnut being announced as the co-host of Indie Night Film Festival Atlanta alongside the founder and CEO, Dave Brown, over on Twitter @CelebMix.