Rising star Olivia Rodrigo has entered at number one on the Official UK Singles Chart with her record-breaking debut single 'drivers license'.
Since its release last week, 'drivers license' has catapulted to stratospheric heights particularly across streaming services, and in the process Olivia has racked up 95,000 chart sales, including 10.9 million streams, to claim this week's UK official number one single.
This is the biggest opening week of overall UK chart sales for a number one debut single in almost five years, with Olivia breaking a record previously held by Zayn's 'Pillowtalk'.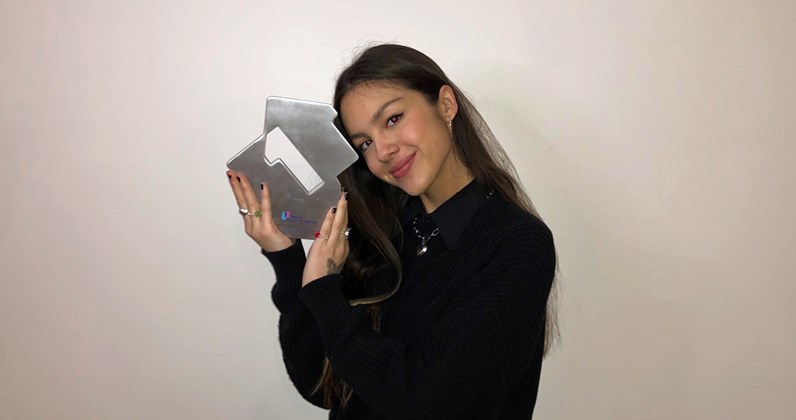 She has also set a new Official Chart record, by claiming the UK's highest number of streams ever in a single day for a non-Christmas song. According to OfficialCharts.com, 'drivers licence' garnered almost 2.407 million streams in 24 hours on January 12, beating the 2.274m record previously held by Ed Sheeran's 'Shape of You'.
At just 17 years old, Olivia is also now part of an elite group of artists to achieve a UK number one single before their 18th birthday.
Speaking about her incredible achievement, Olivia told OfficialCharts.com: "I want to say thank you guys so much it means the absolute world to me that you guys are listening to and loving 'drivers license'. Sending you all the love in the world."
Olivia's success in the UK is just the tip of the iceberg. The High School Musical: The Musical: The Series star has also broken numerous global Spotify records during the week, including the record for the most streams in a day for a non-holiday song.
The singer-songwriter set a new record on January 11 by racking up over 15.17 million global streams, however, by the next day Olivia broke her own record by garnering over 17.01 million streams in 24 hours.
Speaking about the track's success, Spotify's Global Hits lead Becky Bass told Billboard that it was unprecedented, stating: "In my experience — and as a team we were just discussing this earlier — we've never seen anything like this, where you do have a newer artist that just comes out of the gate in such a dominant way, and just continues to grow. "
The music video for 'drivers license' has also notched up more than 29 million views to date, whilst over 360,000 videos have been created on TikTok using the sound.
With her debut EP on the way, there's no doubt that the only way is up for Olivia Rodrigo. Congratulations on your debut number one single!
Are you loving 'drivers license' as much as the rest of the world? Let us know your thoughts on Olivia Rodrigo on Twitter @CelebMix