Hello and welcome! Would you like the inside scoop on the beautiful red carpet styles from the 2022 Oscars that adorned the sparkling, golden award ceremony?
As the red carpet unfurled for the biggest awards night of the year, we spotted tons of gorgeously talented stars in attendance sporting their best, fanciest, custom-made outfits and beauty styles.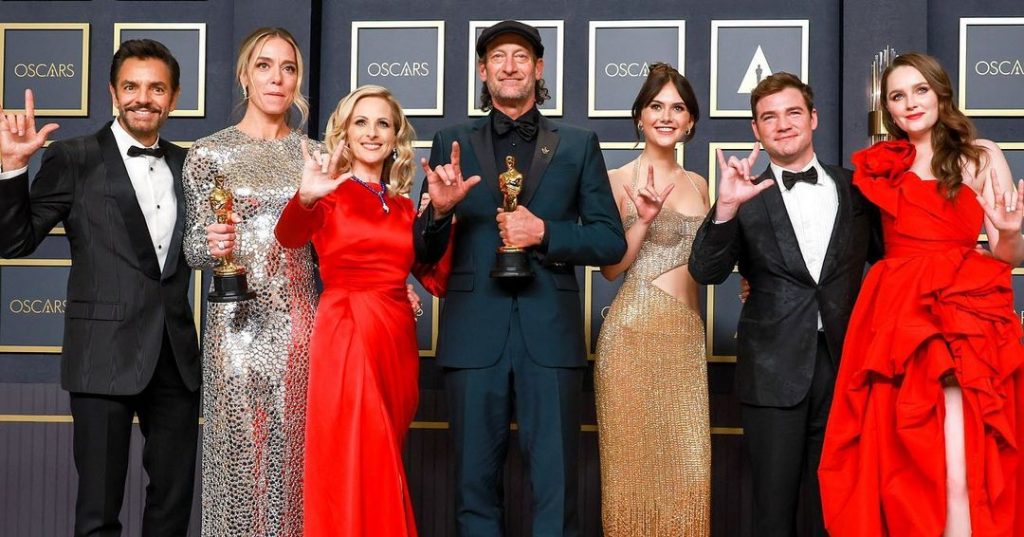 Red carpets and award shows offer ample clues to the year's hottest and upcoming fashion trends – from hot pants to enormous bows to shimmering gowns and big, bold jewellery. Inhaling all the sense of grandeur, luminous aura, star power, and charisma radiated on the red carpet, let's take you through some of our favourite looks from the night.
The Hottest Pants: Kristen Stewart
Kristen Stewart loves to break traditional norms, and this year she ditched gowns and embraced hot pants on the 2022 Oscars red carpet. She flaunted black Chanel shorts paired with a shiny suit, a white unbuttoned shirt with accessories, and black pumps with slick blonde hair on the side to finish the look off.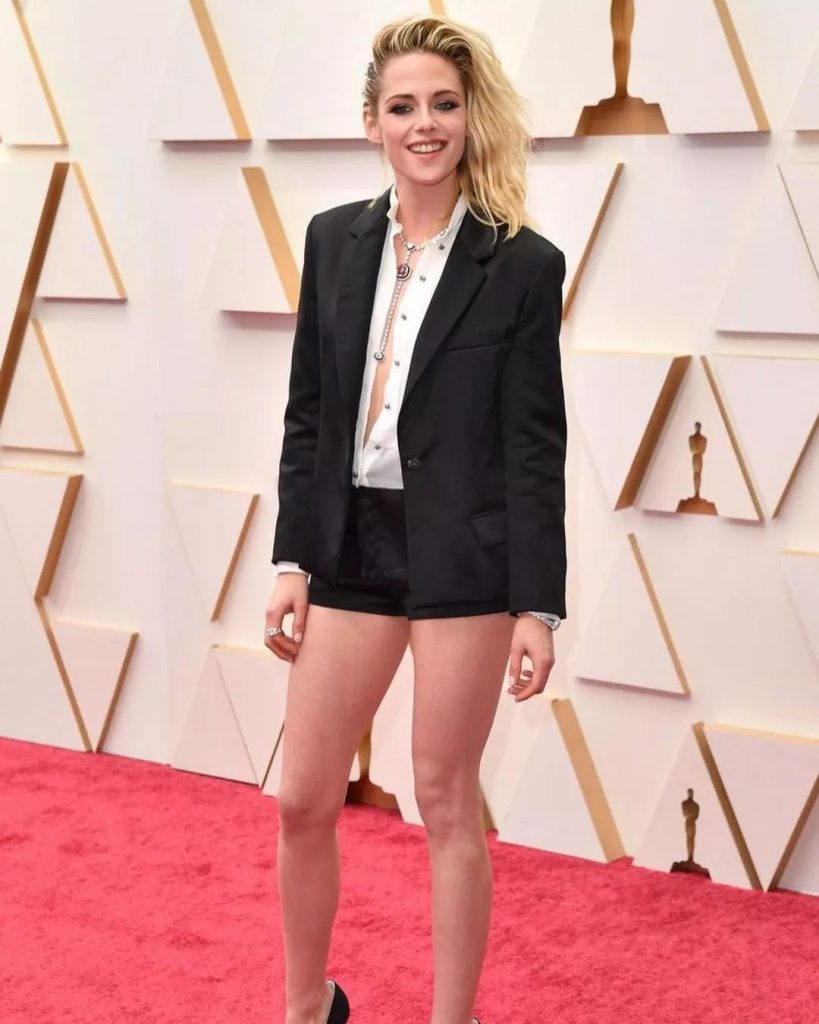 Euphoric Throwback: Zendaya
Zendaya is a treasure trove of talent. From her outstanding acting to her ear-catching singing to her stunning looks, lively humour, and elite fashion sense. Zendaya made waves on the red carpet by wearing Valentino and a long, floor-sweeping sparkling silver skirt with a cropped, button-down white shirt. She paired the outfit with matching accessories, glam makeup, and a curly hair bun.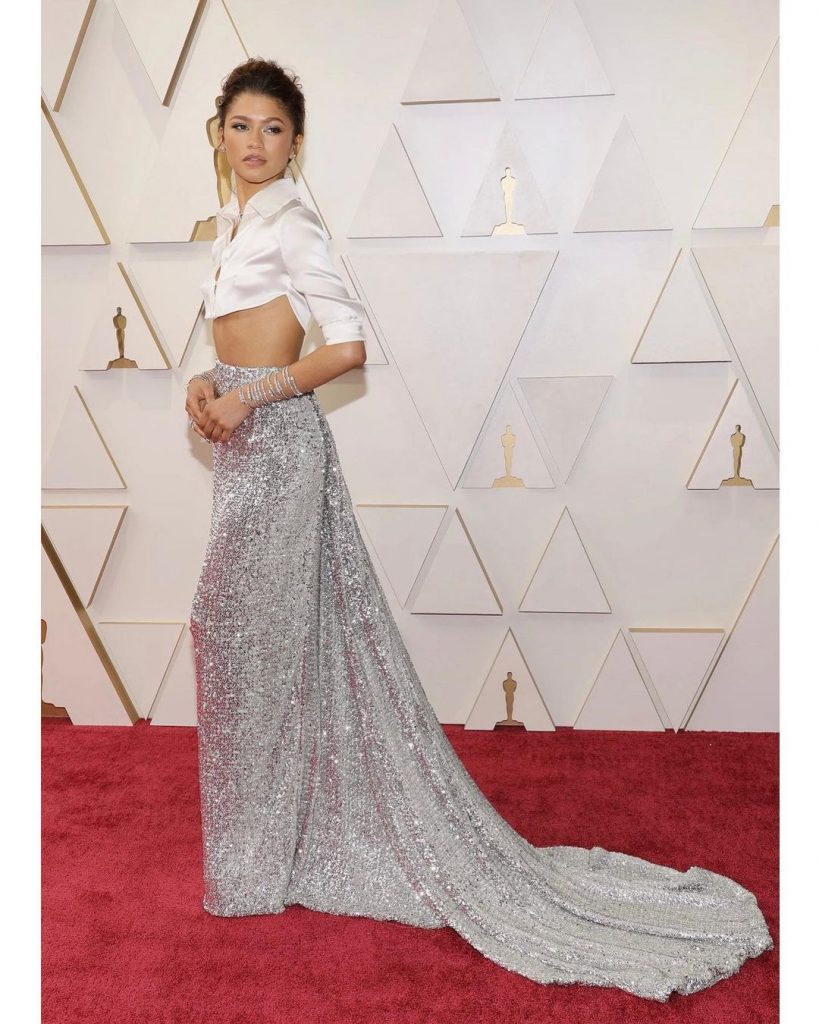 The Vintage Couple: Kirsten Dunst and Jesse Plemons
Kirsten Dunst wore vintage 2002 Christian Lacroix couture to the 2022 Oscars red carpet.
She paired the stunning, strapless, deep fuchsia tulle gown with a pair of dazzling Fred Leighton baguette diamond drop earrings and Roger Vivier shoes. She wore a top bun and loose side strands with minimal makeup.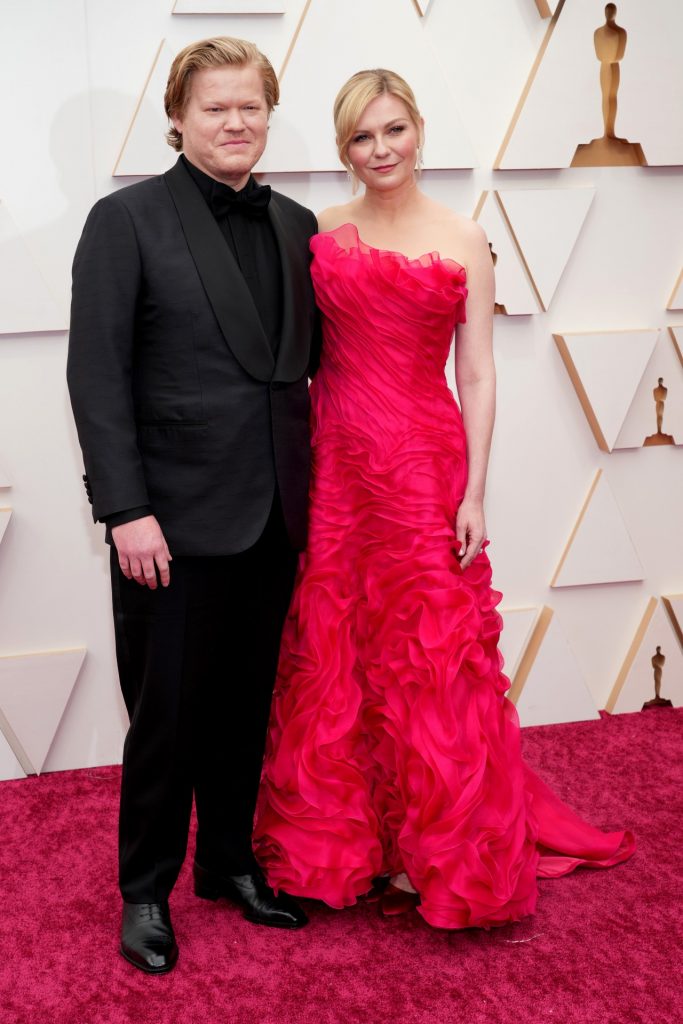 Forever Young: Penélope Cruz
Penélope Cruz graced the red carpet for the 2022 Oscars event donning a black Chanel halter ball gown, with gorgeous detailing on the bodice.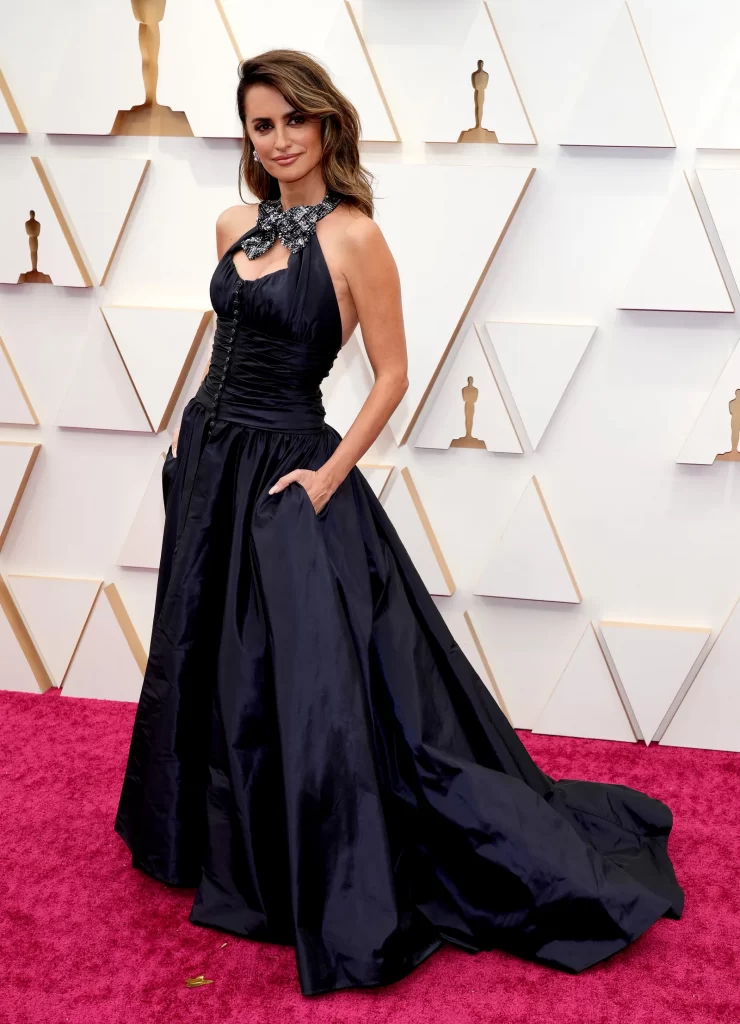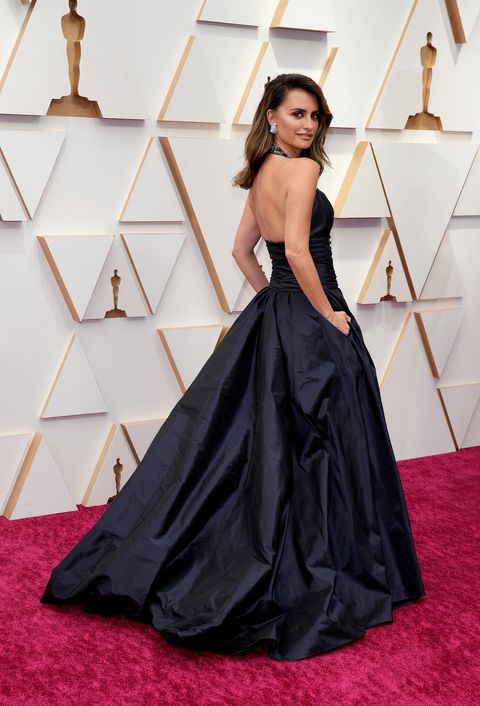 Gorgeous Green: Jada Pinkett Smith
Jada Pinkett Smith wearing Jean Paul Gaultier Couture, with a train so long and ruffled that it won't even fit into a single frame. As she paired her gown with Jimmy Choo shoes and Glenn Spiro jewellery.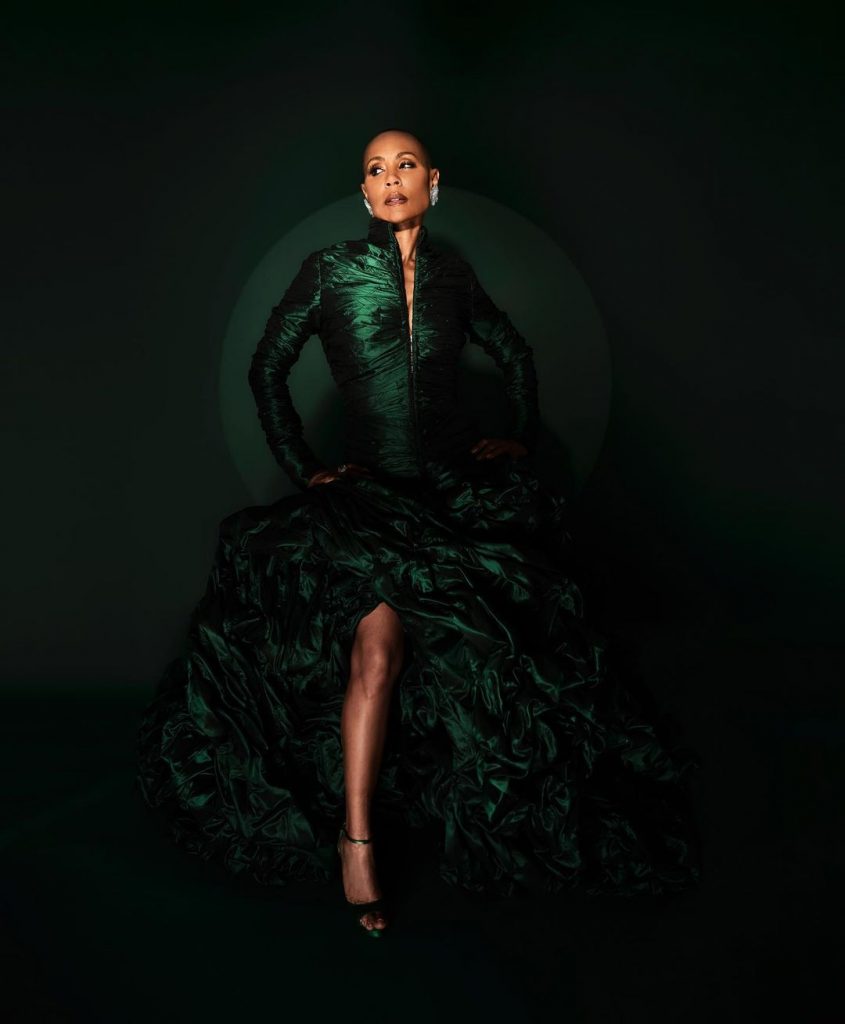 Petal Pink: Zoë Kravitz
Zoë Kravitz chose a soft pink pastel Saint Laurent gown paired with a diamond single-string necklace and an enormous bow that boosted a layer of finesse.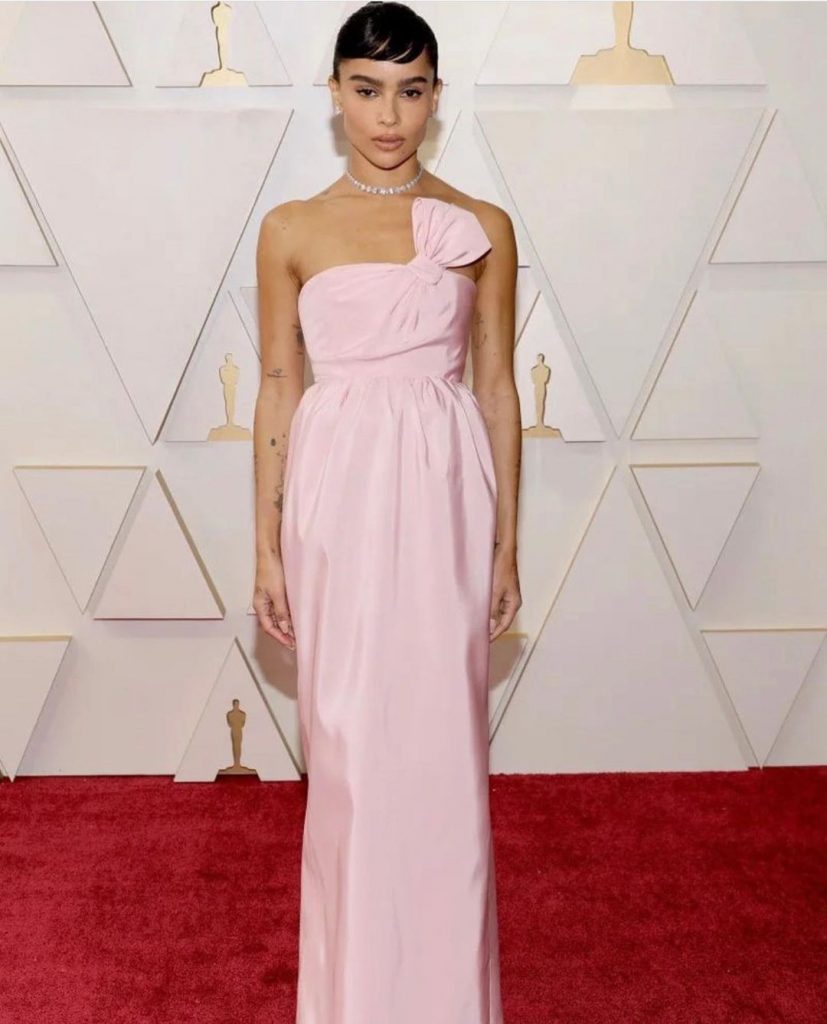 Bedazzling Bride: Alana Haim
Alana Haim looked like an enchanting bride in this dreamy, long Louis Vuitton white gown paired with minimal makeup. It is a stunning gown studded with intricate silver details that you will want to wear twice.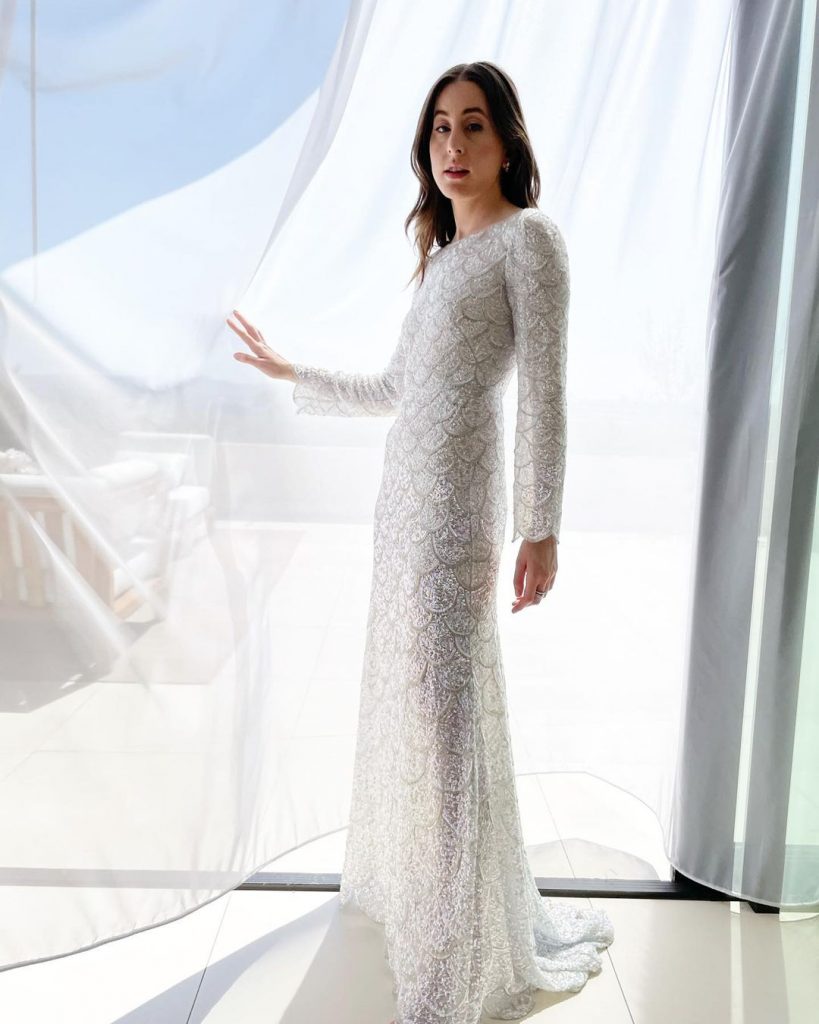 Cheekiest Chic Pants: Ariana DeBose
Ariana DeBose wore really long flared pants with a matching crop top and paired them with a smokey eye look and a De Beers natural diamond necklace.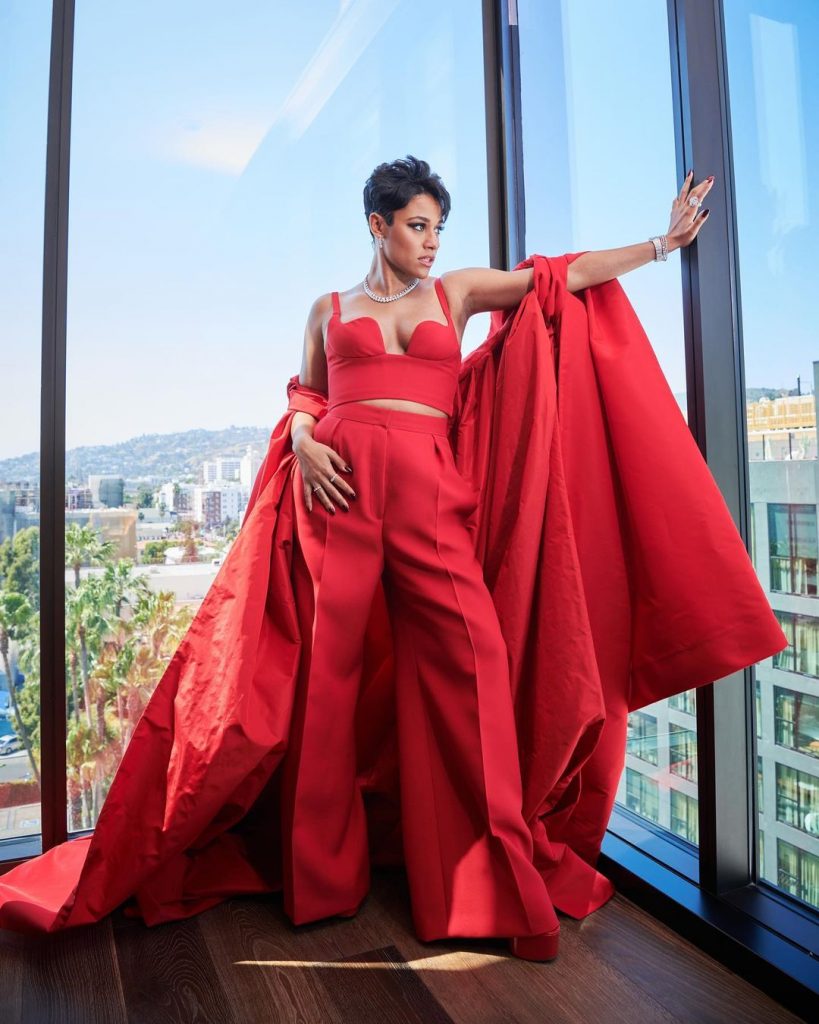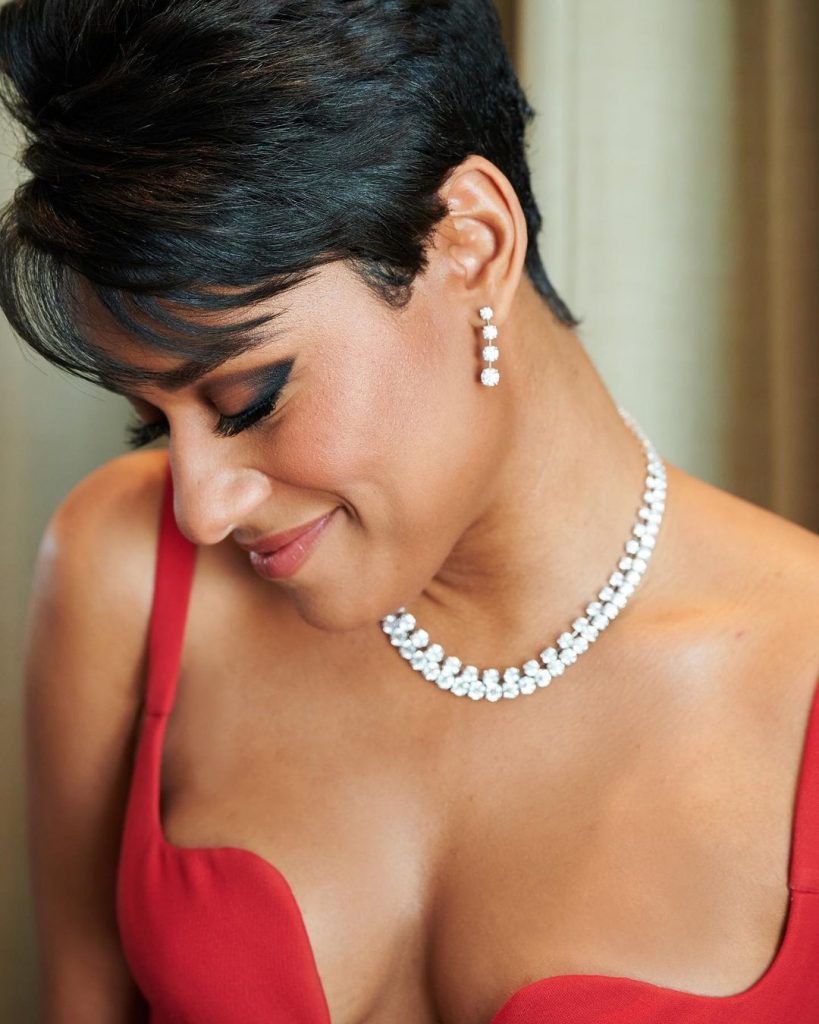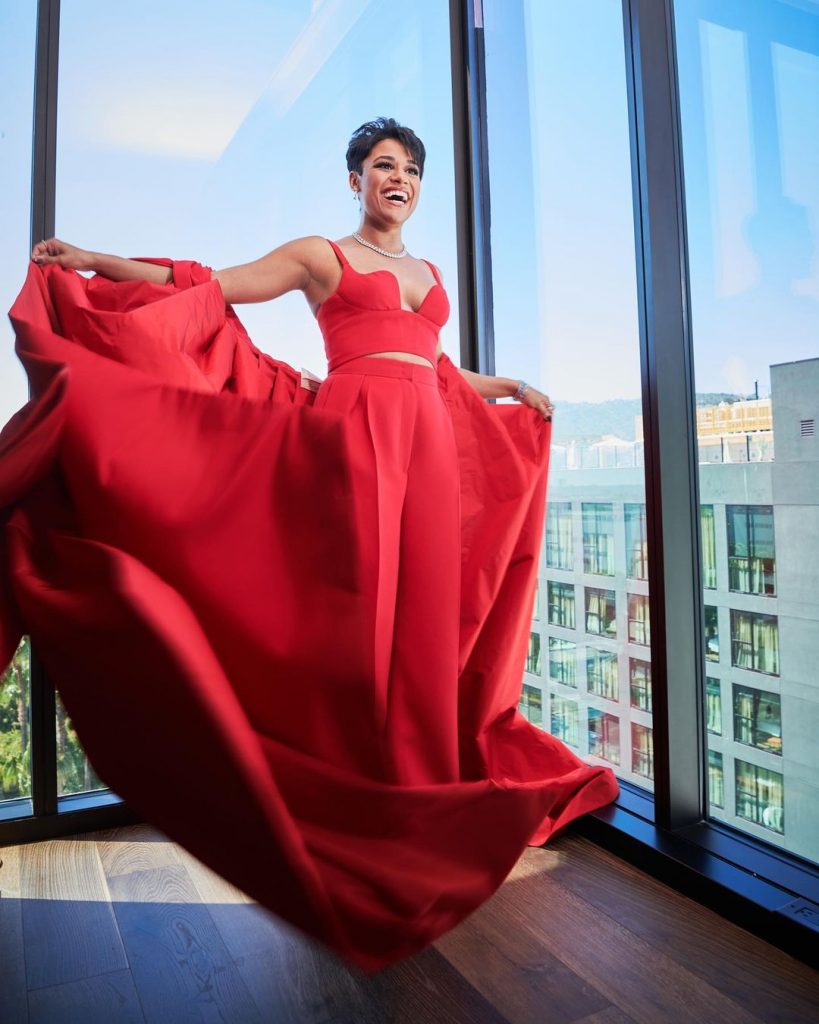 Golden Glam: Emilia Jones
Emilia Jones, wore a gorgeous cut-out golden halter-neck gown with an updo, diamond rings, and small drop earrings.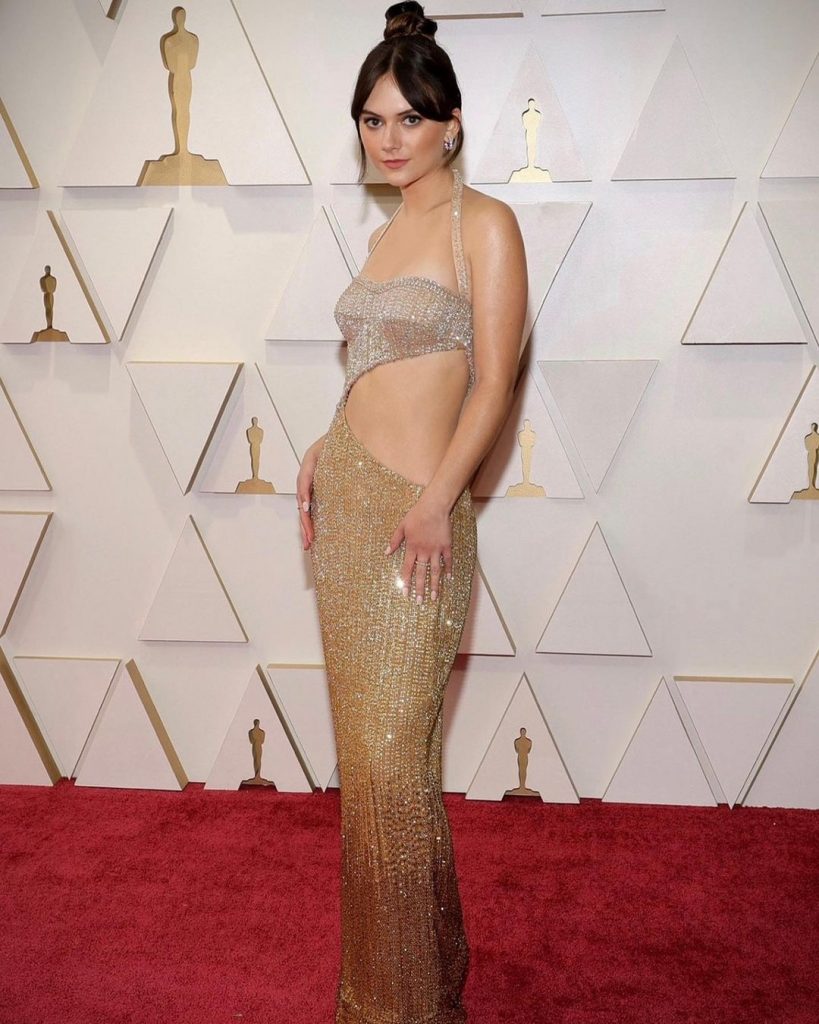 Tennis Court to Runway: Venus Williams
Venus Williams wore a sophisticated, decent white gown and finished her look with Tiffany's Bone Cuff bracelets designed by Elsa Peretti.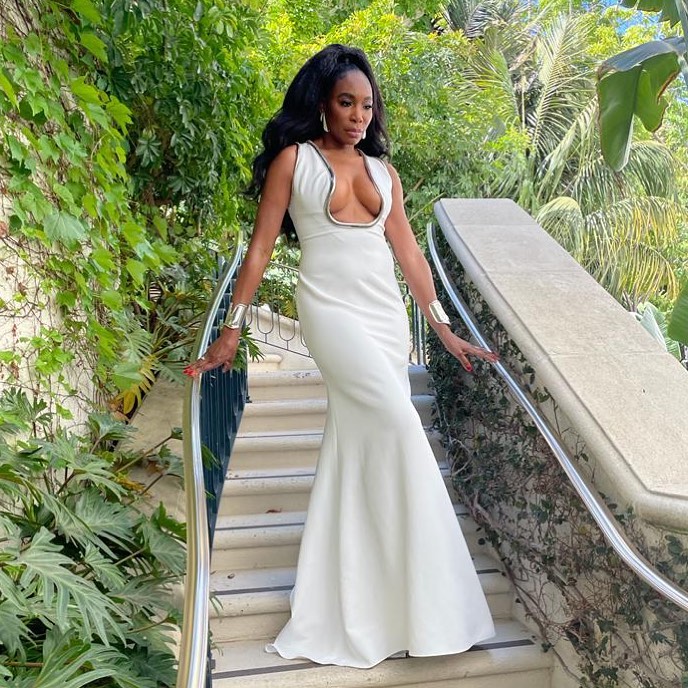 Timothée Chalamet
Timothée wore an all-black Louis Vuitton sparkling ensemble with intricate lacey details, a neck chain, and stylish rings.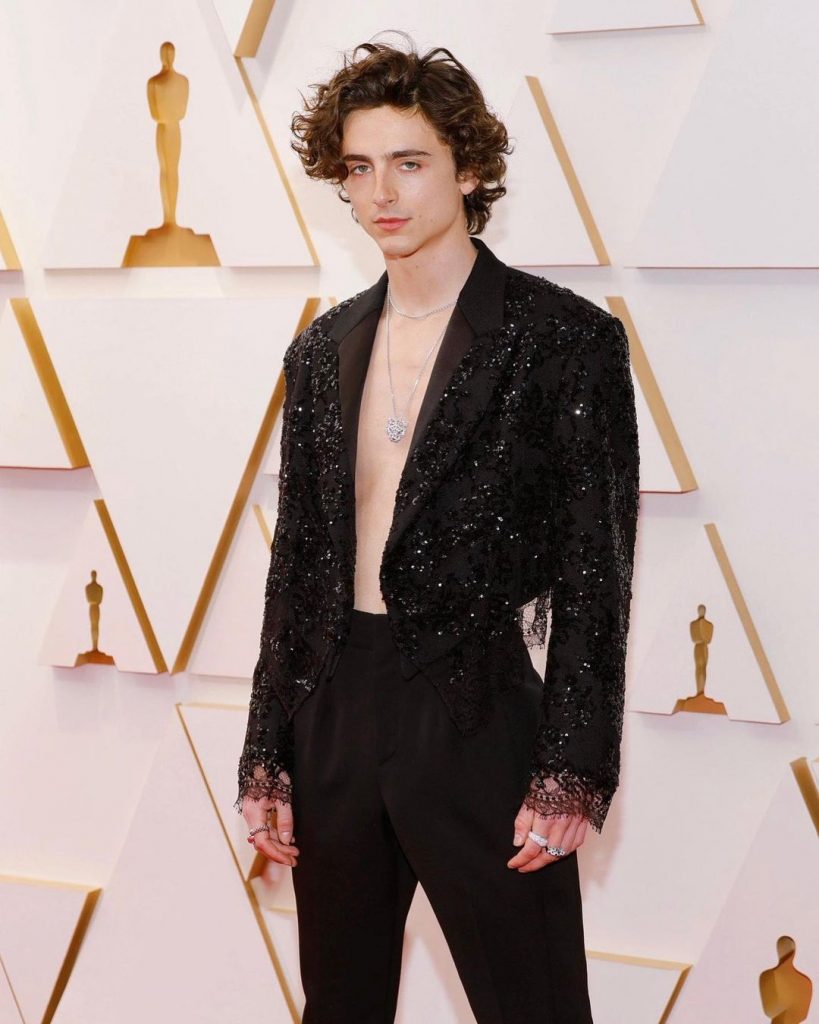 Classically Youthful: Demi Singleton
Demi Singleton looked stunning in a lavender embellished Miu Miu strapless gown with a long braided ponytail and matching heels.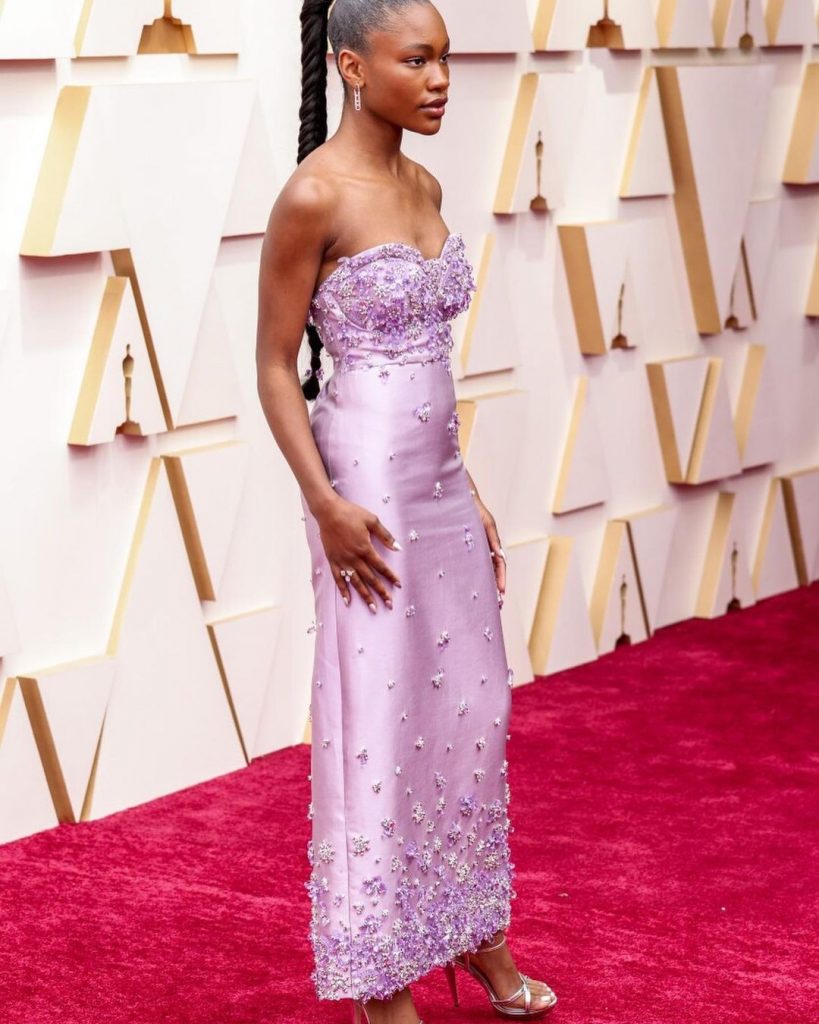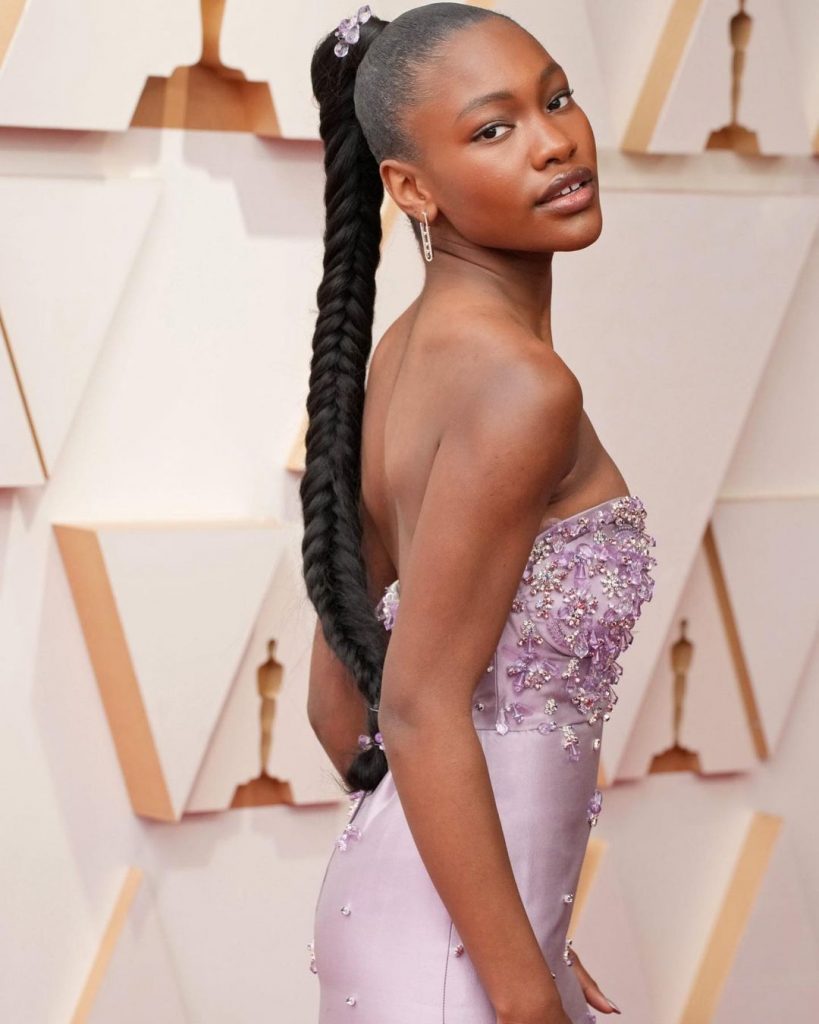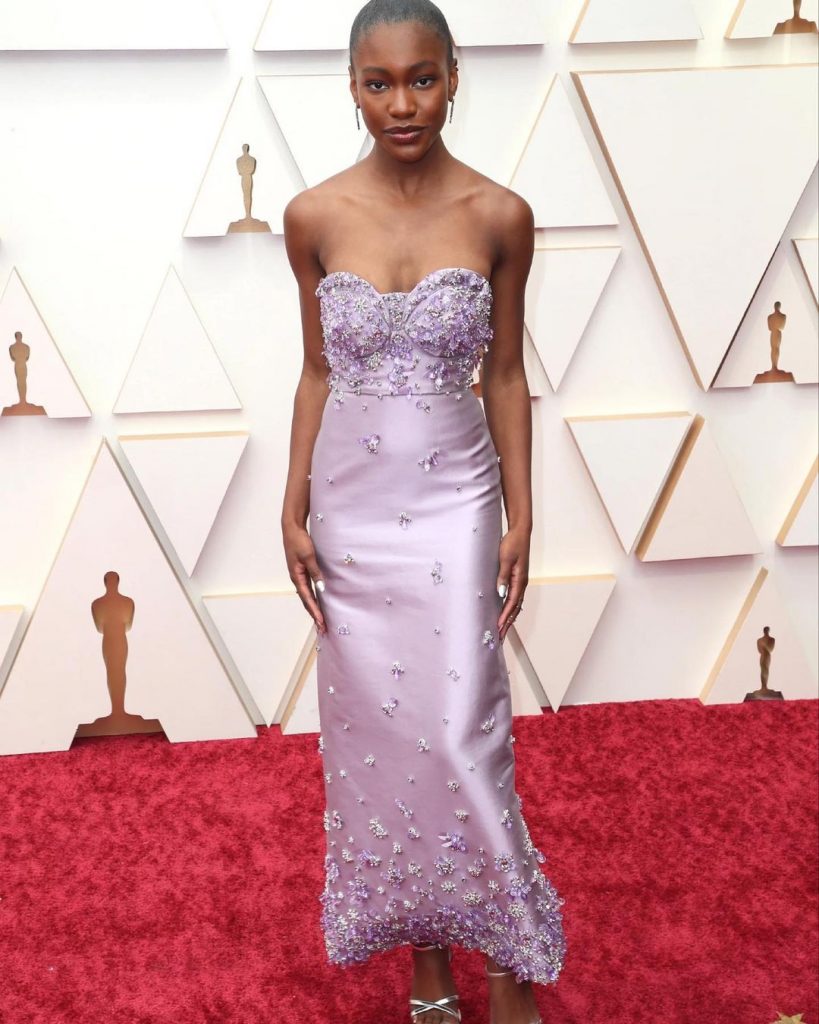 The Amazing Spider-Man: Andrew Garfield
Andrew Garfield donned a velvet wine blazer over an all-black outfit with a cute satin bow. He paired it with a designer watch and his contagious smille.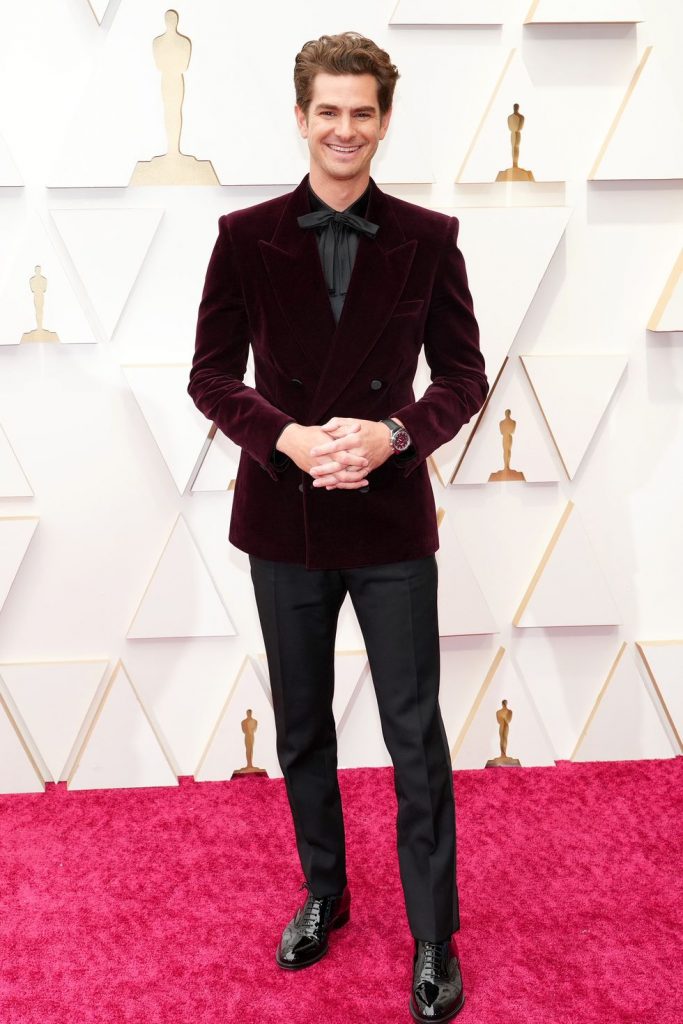 It's Monochromatic: Kodi Smit-McPhee
Kodi Smit-McPhee stood out in a crowd of classic black and metallic hues in his custom pale blue Bottega Veneta suit. He paired it with some Cartier accessories, especially those striking boots. A brilliant look, we must say!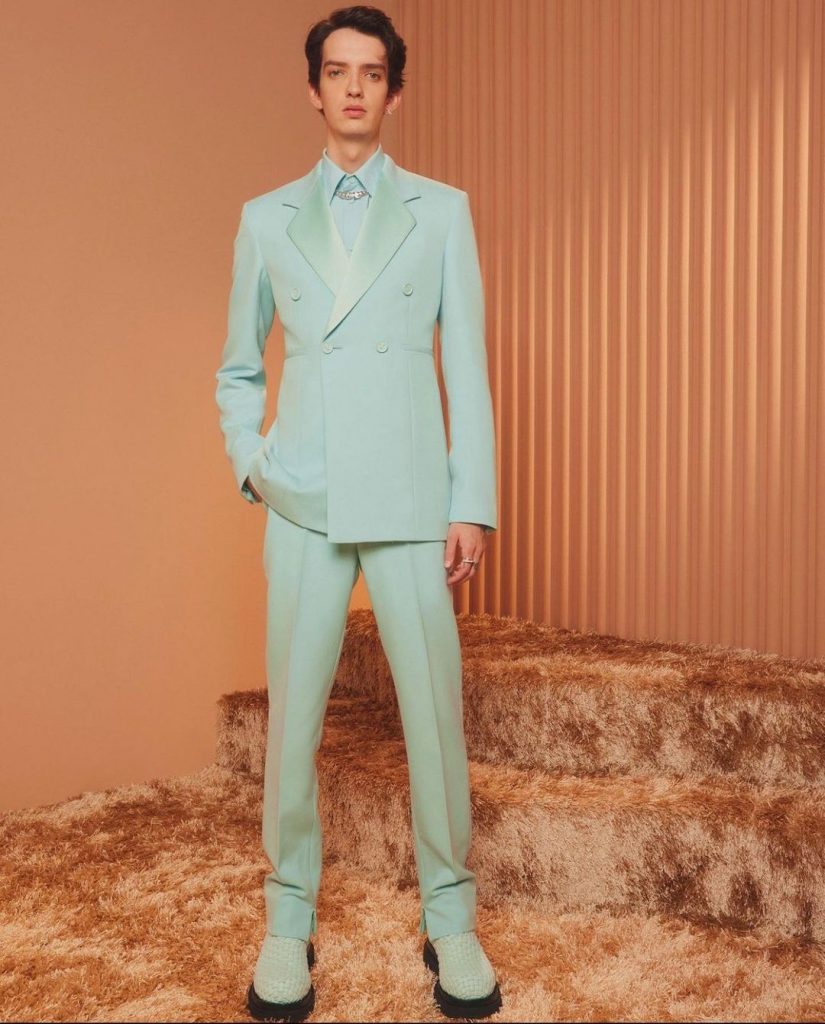 Black Beauty: Billie Eilish
Billie Eilish opted for an off-shoulder Gucci black gown complemented by Fred Leighton jewellery and Charlotte Tilbury makeup.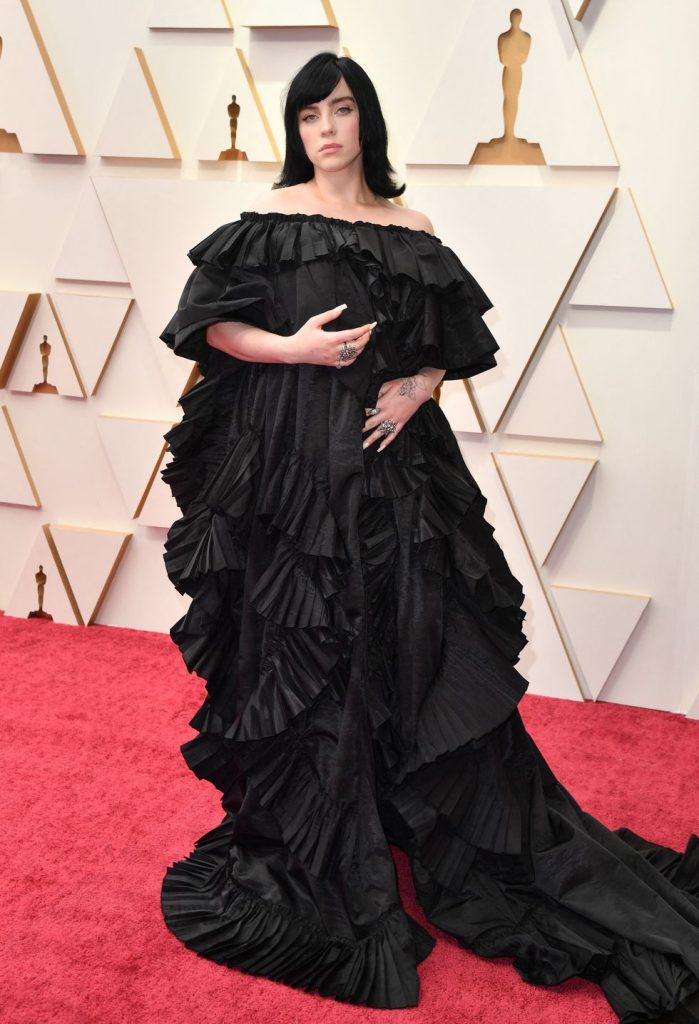 Here's Billie Eilish and Finneas celebrating their big Oscar win!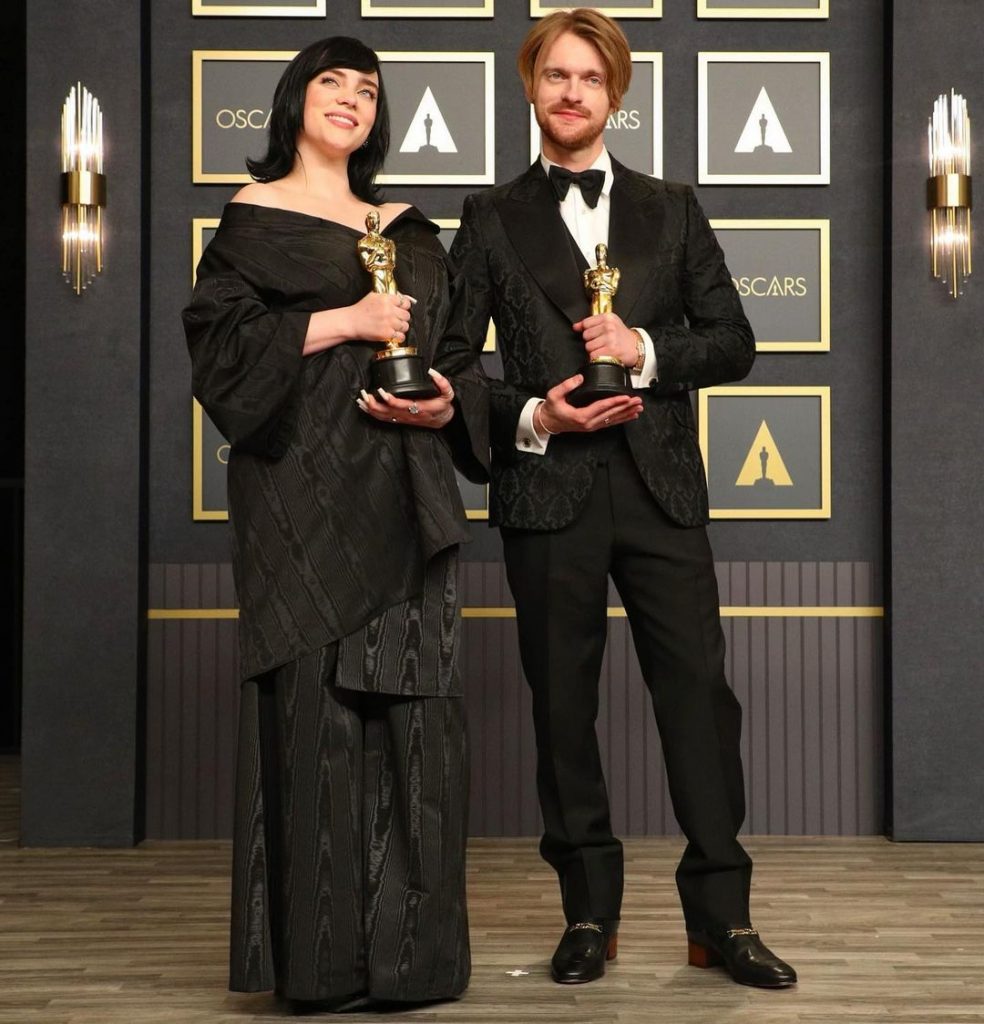 Rising Spotlight: Renate Reinsve
Renate Reinsve put on a black and beige Louis Vuitton outfit with intricate lacey detail and tied her hair back, sporting a minimalist look that turned heads.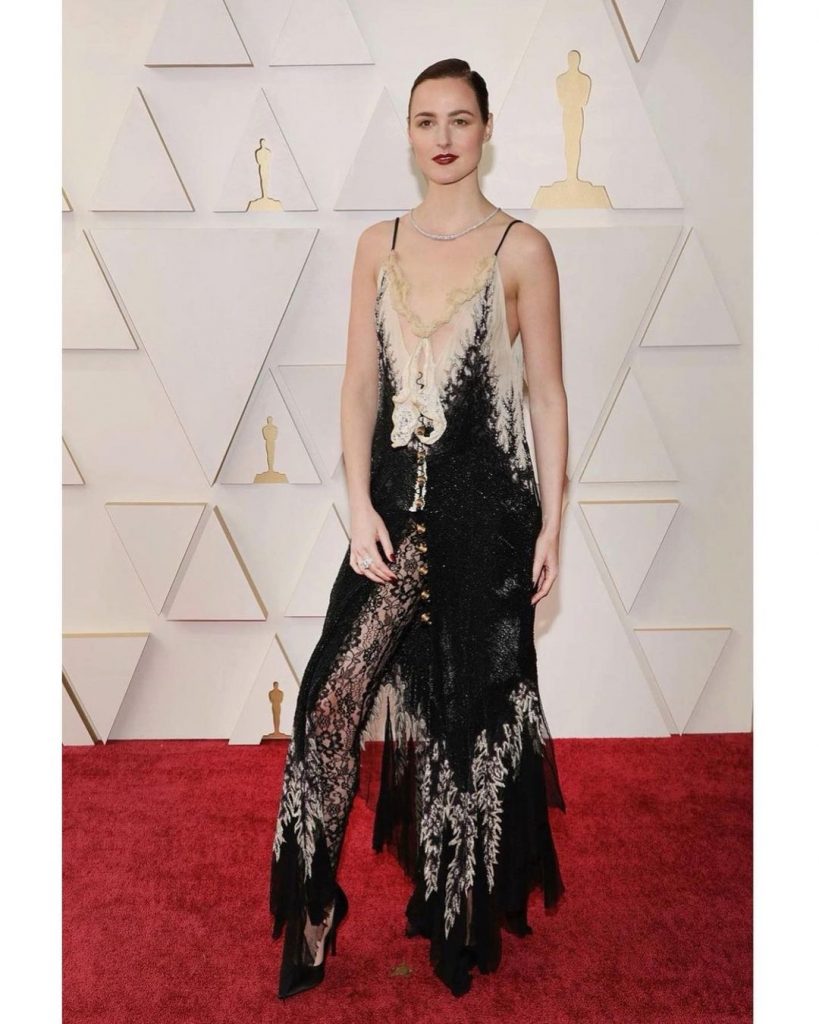 Fiery Red Alert: Tracee Ellis Ross
Tracee Ellis Ross took to the stage in a fiery red Carolina Herrera gown with a low-cut, plunging neckline. Adding a mermaid-style hem, she accessorized her look with a diamond necklace by Niwaka Collections and matching Louboutin heels.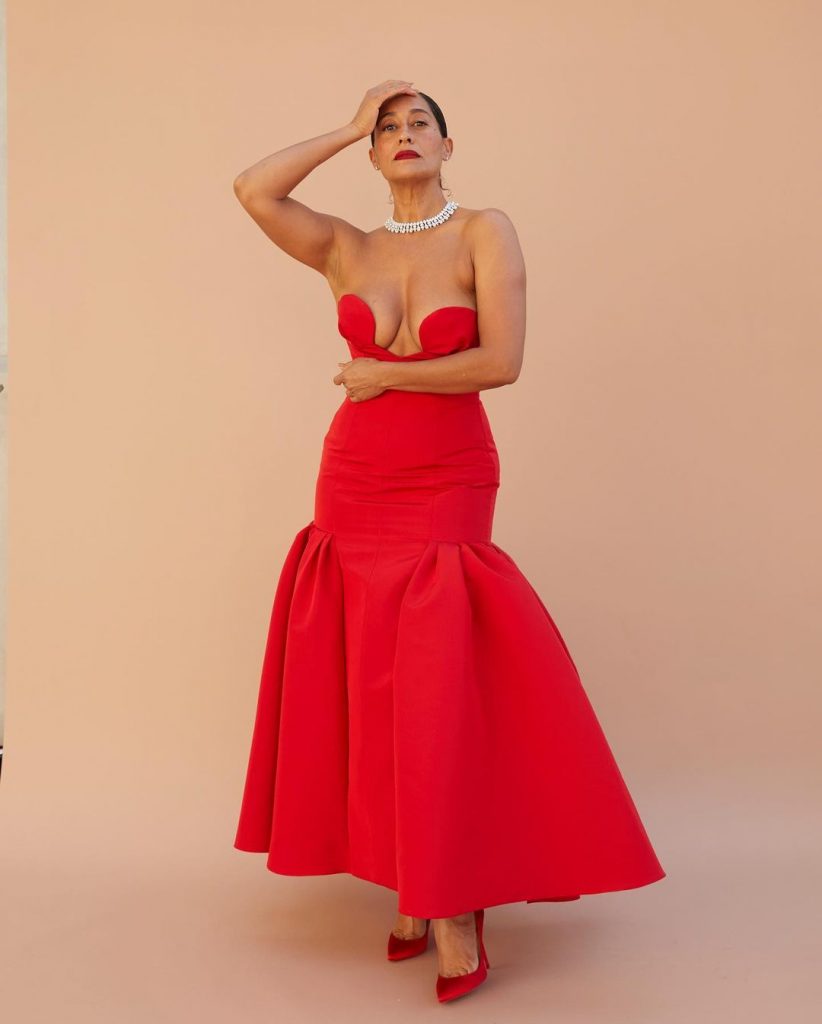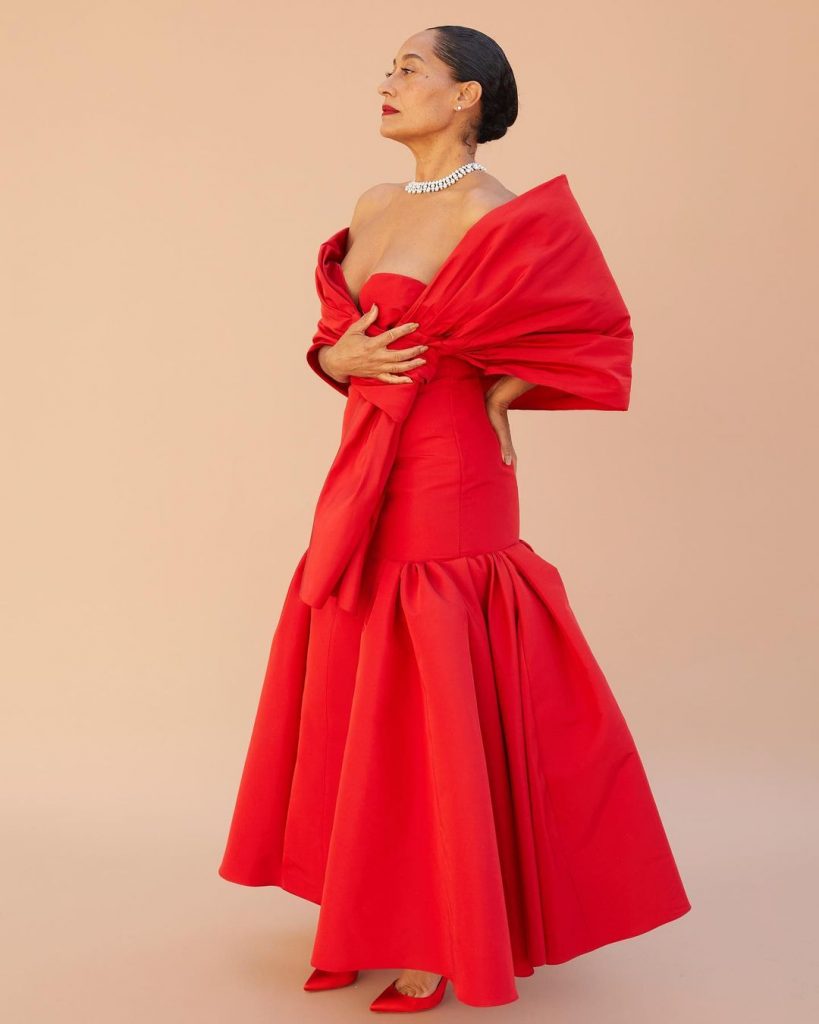 Glamorous Gucci Diva: Jessica Chastain
Jessica Chastain chose a Gucci gown filled with two unique hues that are rarely paired together but made her look exquisite with a ponytail, diamond dangler earrings.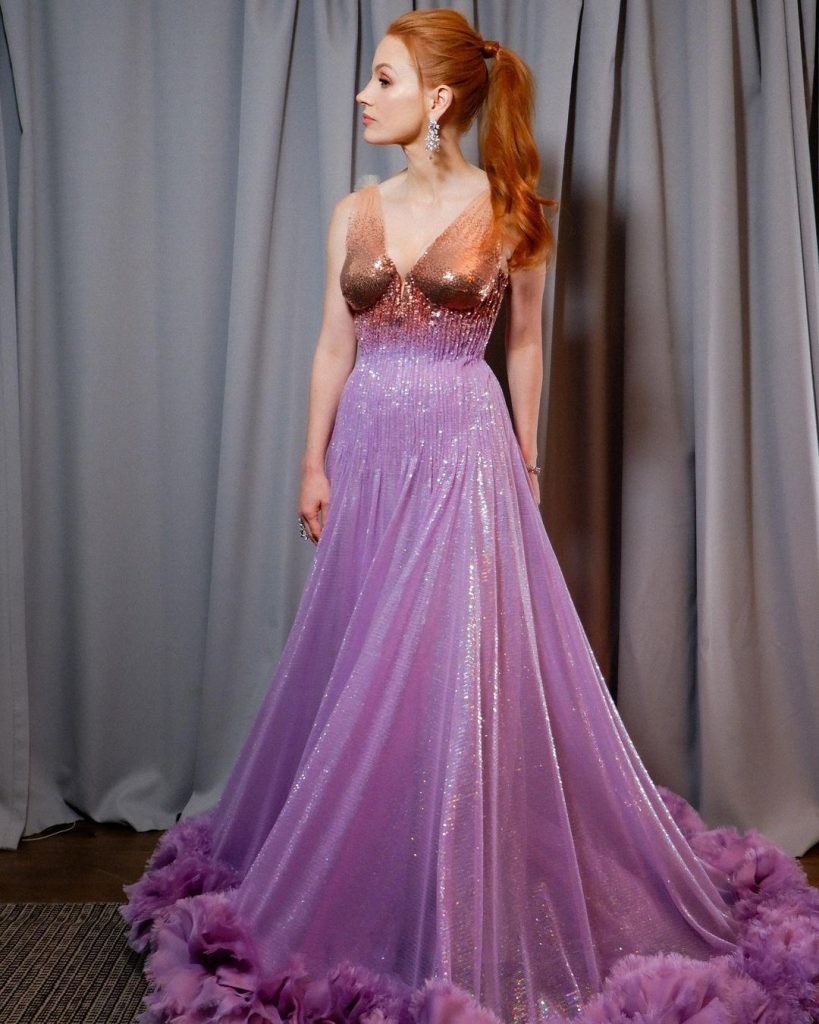 An honourable mention goes to this green, body-fitted, strapless gown with a hint of golden shimmer paired with an emerald stone-studded, bold diamond necklace, which gave her a goddess-like appearance.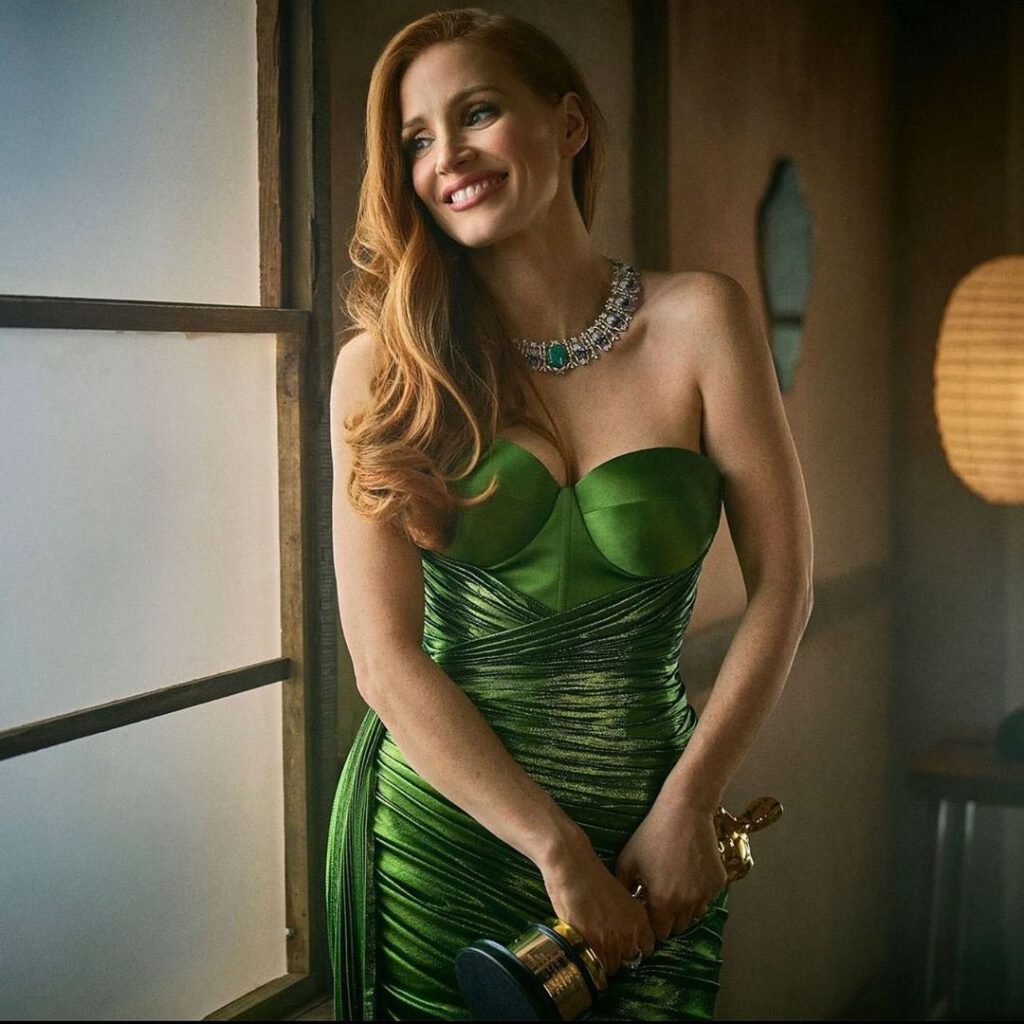 Hair, what?: Rita Moreno
Rita Moreno ditched the fancy hairdo and opted for a black-feathered ADRIENNE LANDAU hat with her one-shouldered Carolina Herrera black gown paired with Verdura earrings and flats.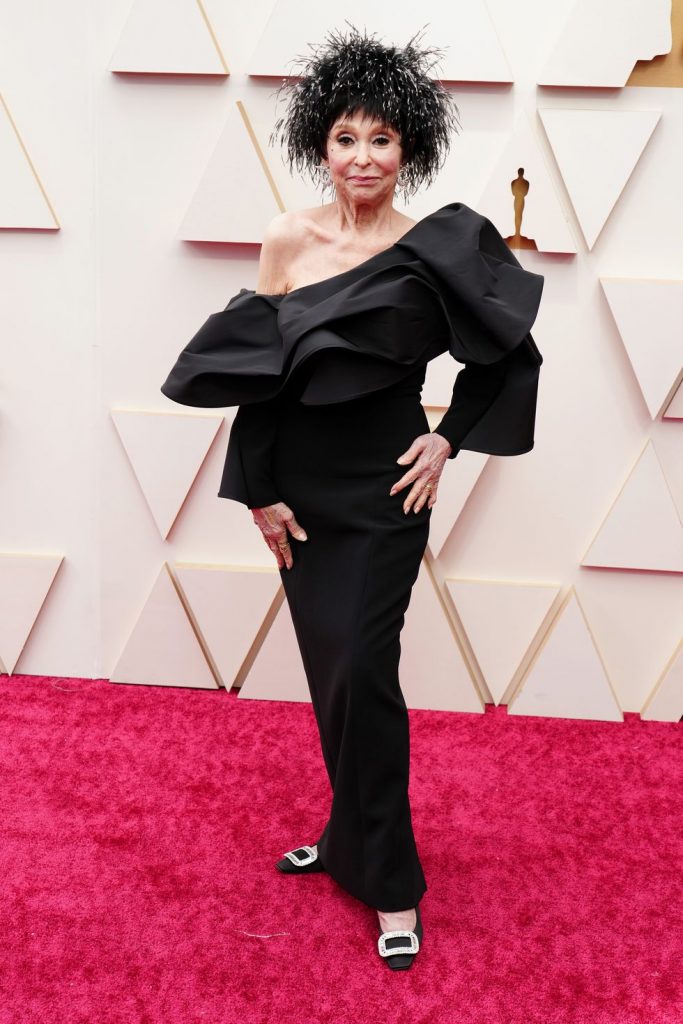 Wonder Boy: Shawn Mendes
Shawn Mendes strutted down the red carpet in a Dolce & Gabbana black tuxedo paired with a Vacheron Constantin watch, looking neat, classic, and sophisticated.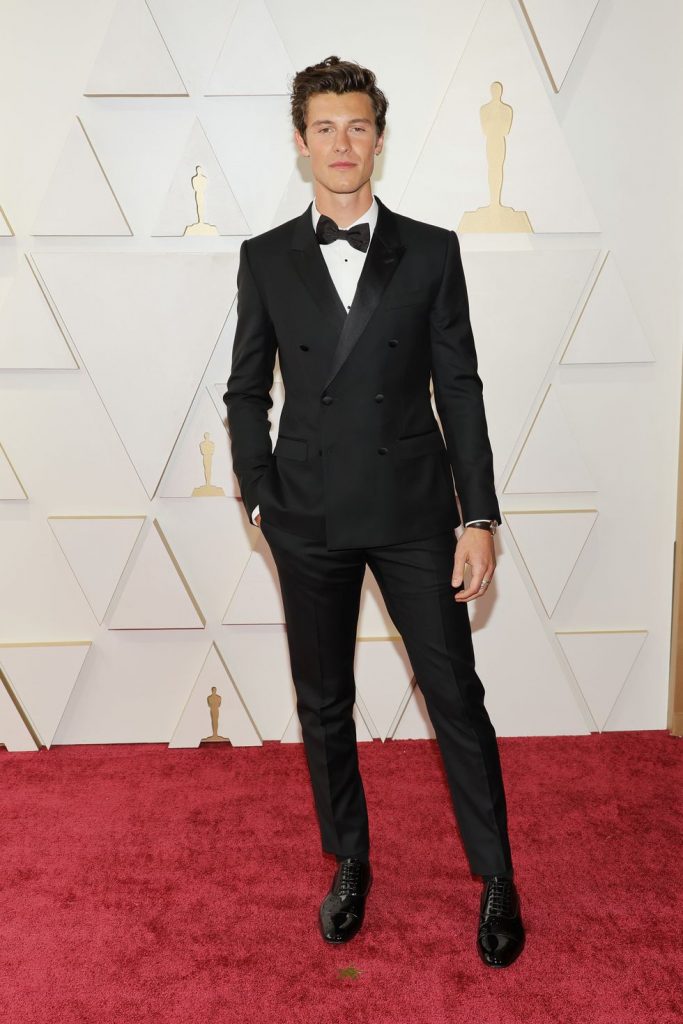 The Rap Mermaid: Megan Thee Stallion
Megan Thee Stallion donned an icy blue, curvaceous Gaurav Gupta thigh-high-slit gown that matched Lorraine Schwartz's jewellery and looked astonishing, from her exquisite neckline to the intricately long train.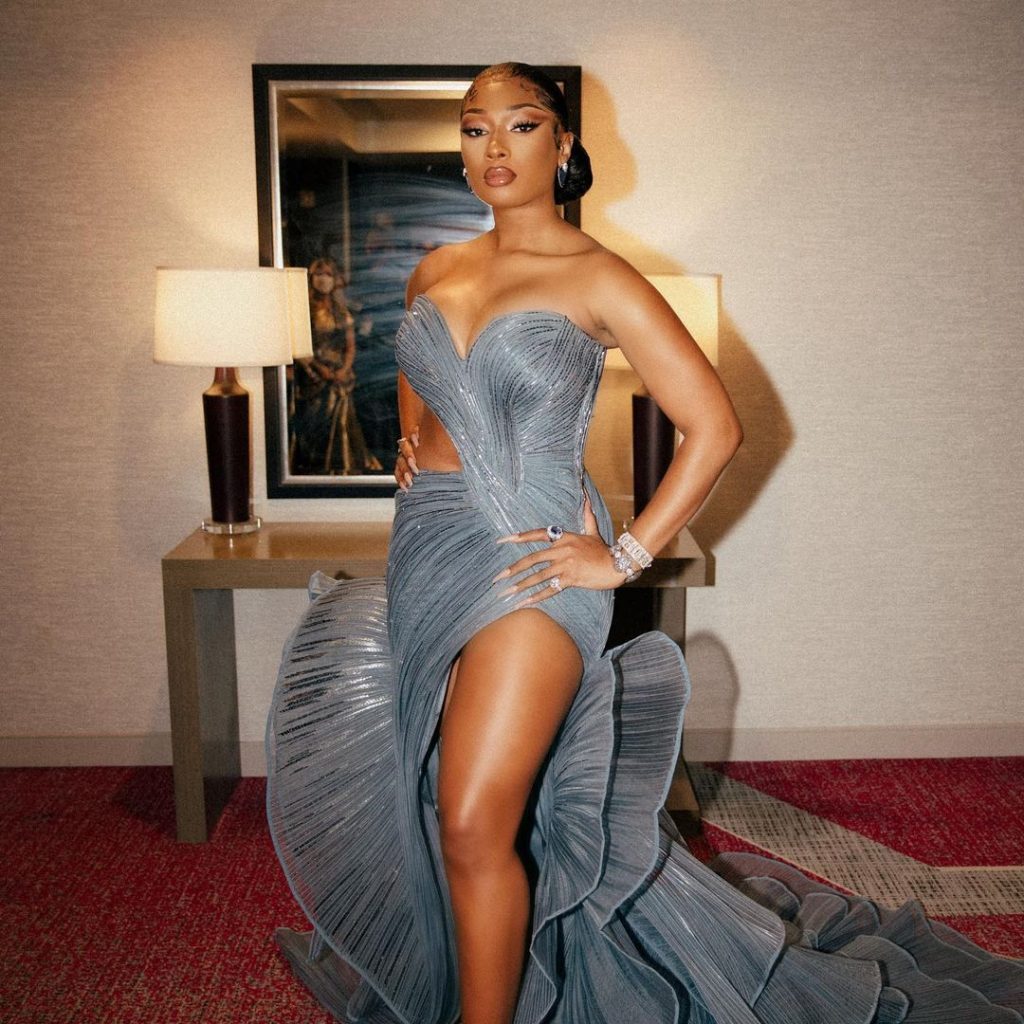 Silver Lining: Olivia Colman
The actress graced the red carpet in a dazzling silver pleated Dior gown as she exuded the essence of elegance.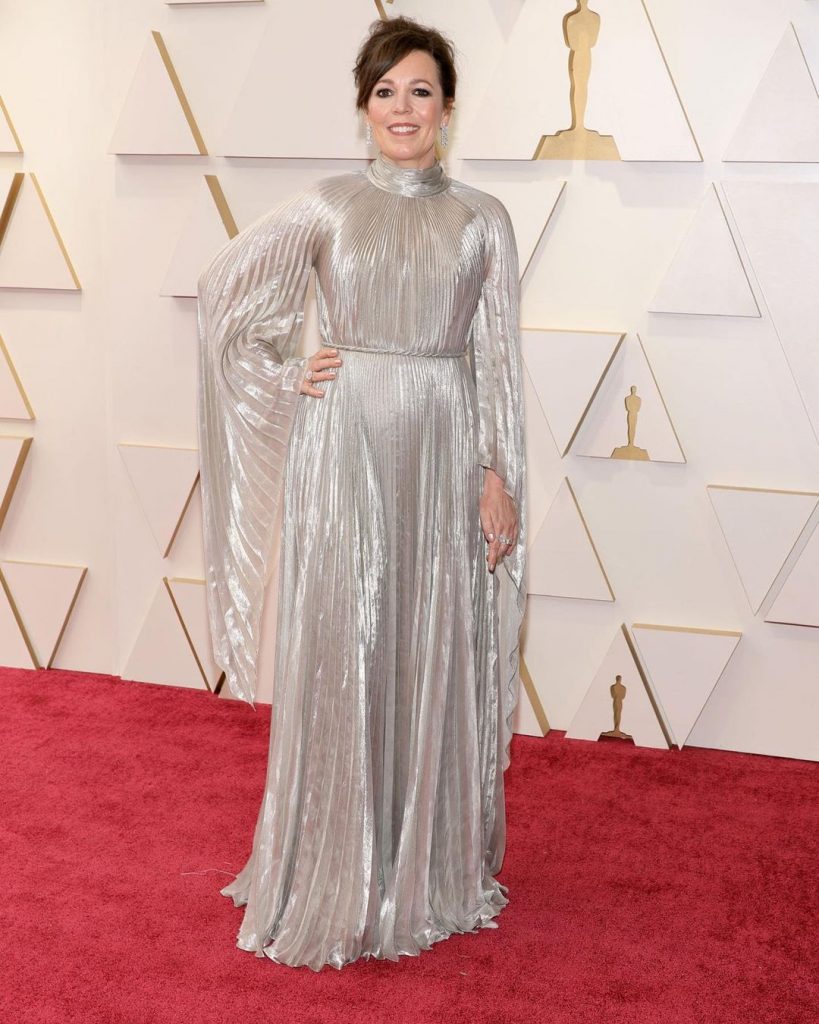 The Ultimate Diva: Nicole Kidman
Nicole Kidman attended the award in an Armani Privé busty gown with a voluminous, embellished bow-like train, which was undoubtedly one of our favourite looks.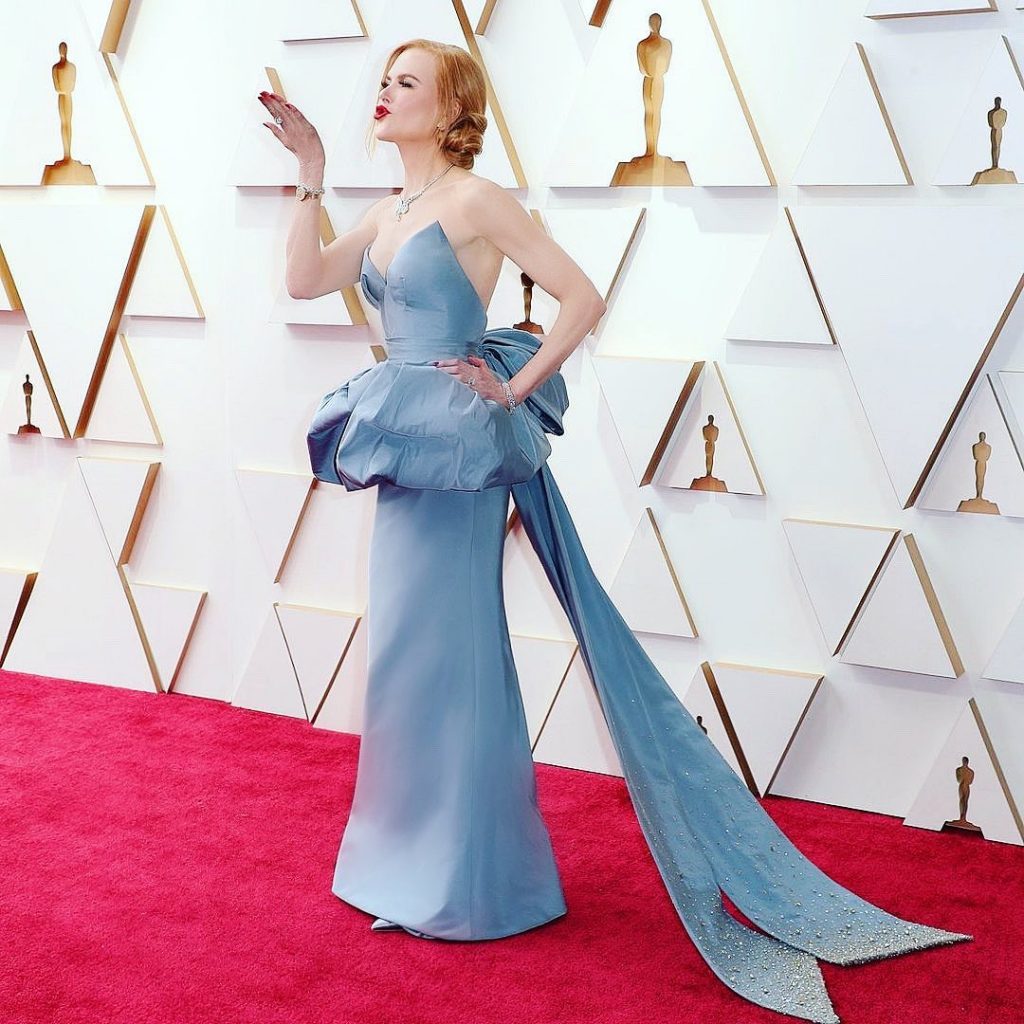 Did your favorite celebrity win? Which celebrity red carpet look wowed you at the 2022 Oscars? Tweet us at @CelebMix to let us know!