The BRITs 2022 were one of the most memorable, astonishing, and extravagant events held this year so far that lauded talent and fashion. The glamorous red carpet fashion affair had all eyes drawn to the stunning looks donned by the stars of the night. It was great to see so many well-deserved wins, and these accolades are impressive, but what makes an awards ceremony even more exciting? Yes, you are right- the alluring fashion looks adorning the evening like a golden star.
The biggest names in music from around the world — including Adele, KSI, Ed Sheeran, Olivia Rodrigo, Joy Crookes, Anne-Marie, and many more — arrived at O2 Arena London to attend BRITs 2022 ceremony.
The stylish attendees finally stepped out on the red carpet, bringing the glitz and glamour with their top-tier fashion looks for the night, leaving behind all the virtual celebrations, awkward TikTok dances, and Zoom dressing sessions from the past year. Since the BRITs are renowned for their glitzy gowns and dramatic looks, the stars have indeed donned the finest evening attires the fashion world has to offer.
This year was no exception, as BRITs 2022 promised to be dramatic, custom-tailored, a little vintage, and styled with slight '90s flair. This award night certainly provided a glimpse into the 2022 fashion trends- whether it's sequins, cut-outs, dramatic silhouettes, or black remains the color of elegance, all coupled with dramatic makeup and bold accessories to accentuate the looks.
We bring you the most elegant, sophisticated looks to the hottest and boldest styles from the red carpet and the Brit award ceremony.
Joy Crookes
As Joy Crookes strode the BRITs 2022 red carpet, it was as if a golden goddess just descended from the skies, glistening and bursting with golden splendor and looking magnificent. She put a lot of effort and worked tirelessly on this outfit, and she collaborated with stylist Natalie Roar and custom designer Kate Walker Studio, resulting in an exquisite, breathtaking, and elegant ornate golden delicate ensemble that set her apart from the rest of the BRITs 2022 attendees on the red carpet.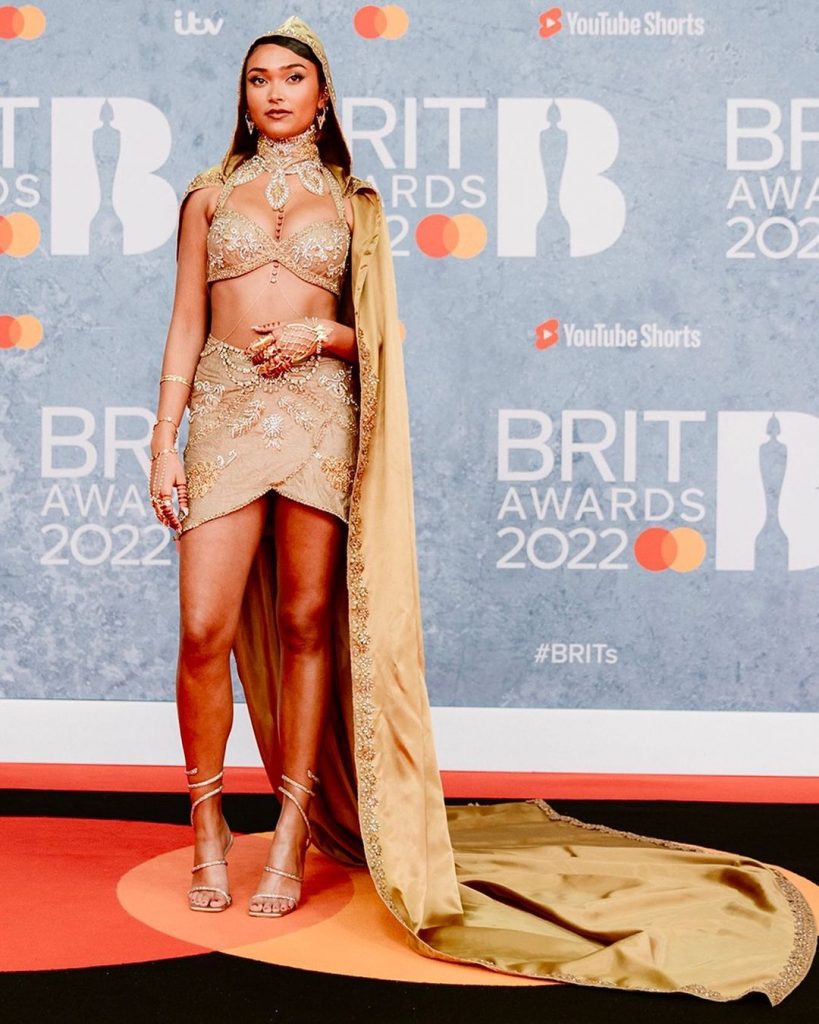 Drawing strong inspiration from South Asian culture and Bollywood fashion, Joy donned a beaded top with a bejewelled bralette top coupled with an asymmetrical skirt and an embellished hooded long cape sweeping the floor. Her stylish golden heels coordinated with shimmery makeup, and she completed her look with chains with gold details and gold finger cuffs adorning her hands.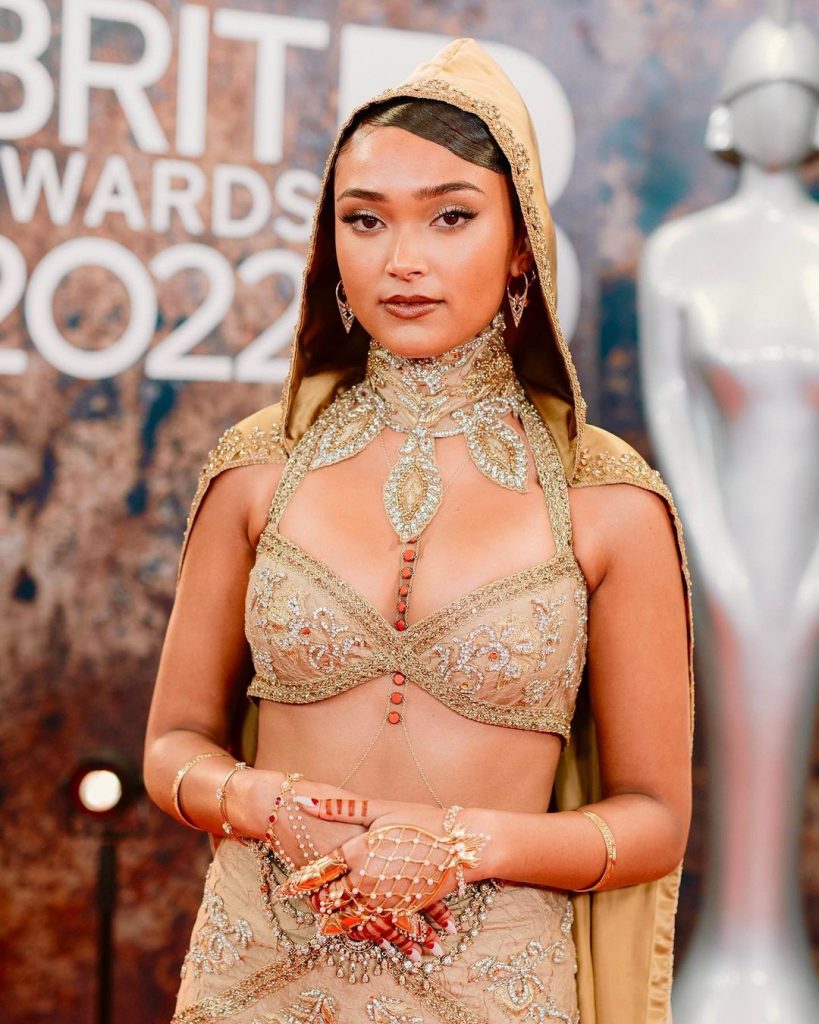 Adele
Adele swept the night with her outstanding performance, consecutive wins, and breathtaking fashion affair. The star started the night in a classic black, old-school glamour look with nude nails and her hair swept off her shoulders. She donned a gorgeous long-sleeved long-length Armani Privé gown at BRITs 2022, made of black velvet and featured a delicate plunging sweetheart neckline, which wrapped around her shoulders and then fell down her back into a train that swept along behind her.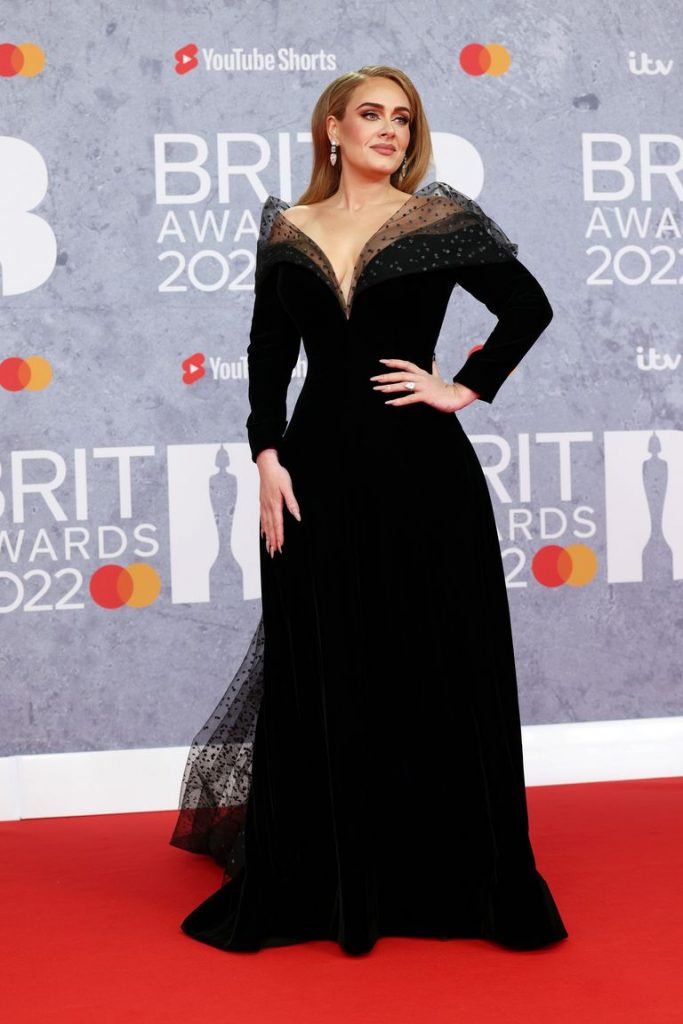 For the award ceremony (and as the finale ensemble for the evening), Adele opted for a black tuxedo jacket-inspired and off-the-shoulder mini dress by Marianna Senchina and paired it with double hoop danging earrings and nude makeup.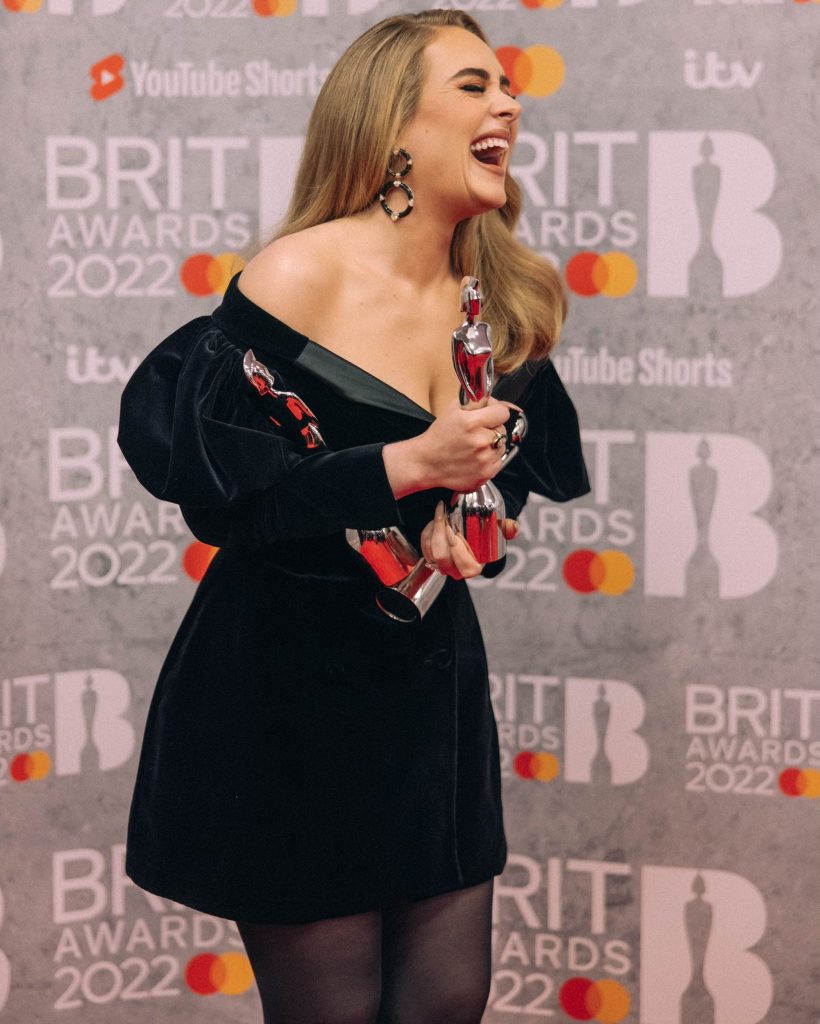 Her performance attire consisted of a shimmering olive green Valentino dress covered in sequins, off-the-shoulder neckline, and ruffled long-sleeves. She completed her look with Valentino Garavani Atelier shoes, adding a classic and royal touch to enhance her look.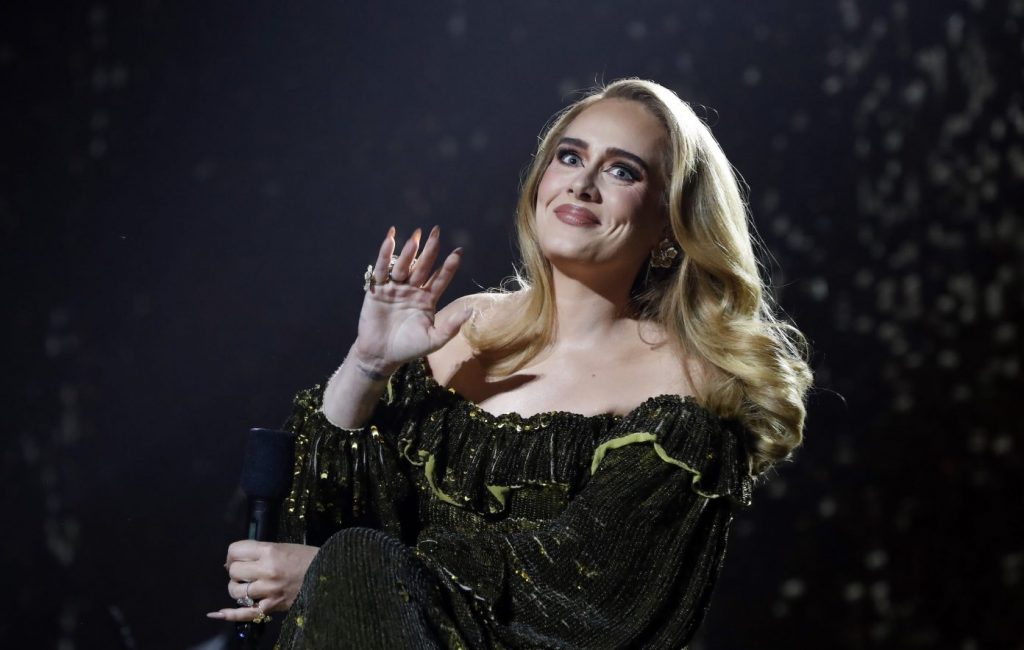 Olivia Rodrigo
Olivia Rodrigo donned a metallic mirrored silver, thin-strapped Alexandre Vauthier cowl-neck slip dress from the spring/summer 2022 haute couture runway at BRITs 2022, completed with finger rings and natural glam look.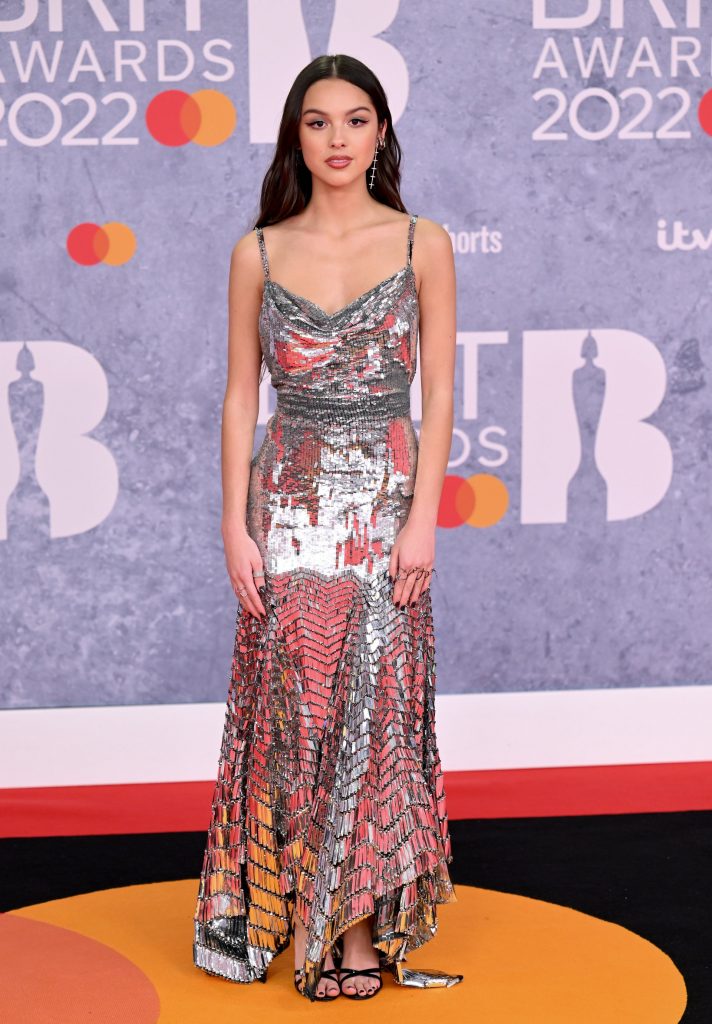 Maya Jama
Maya Jama's cut-out outfit immediately reminded us of Cher's Oscars outfit from 1986, which made a memorable fashion statement back then and drew everyone's attention. Though not as extravagant and elaborative as Cher, Mônot dressed Maya in a black two-piece with zigzag hemlines, which she carried gracefully.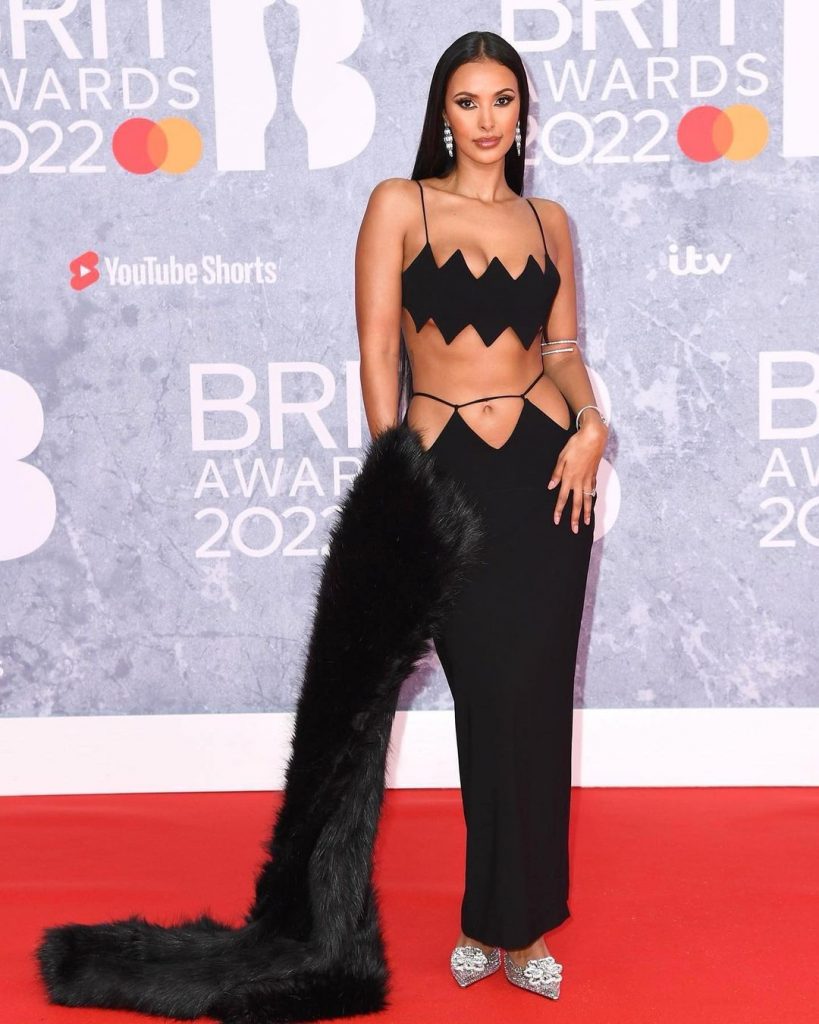 Ashley Roberts
Ashley Roberts wore a trendy black cut-out long with waist-high slit dress by Mônot, and she kept her look simple with only accessory as arm-long gloves.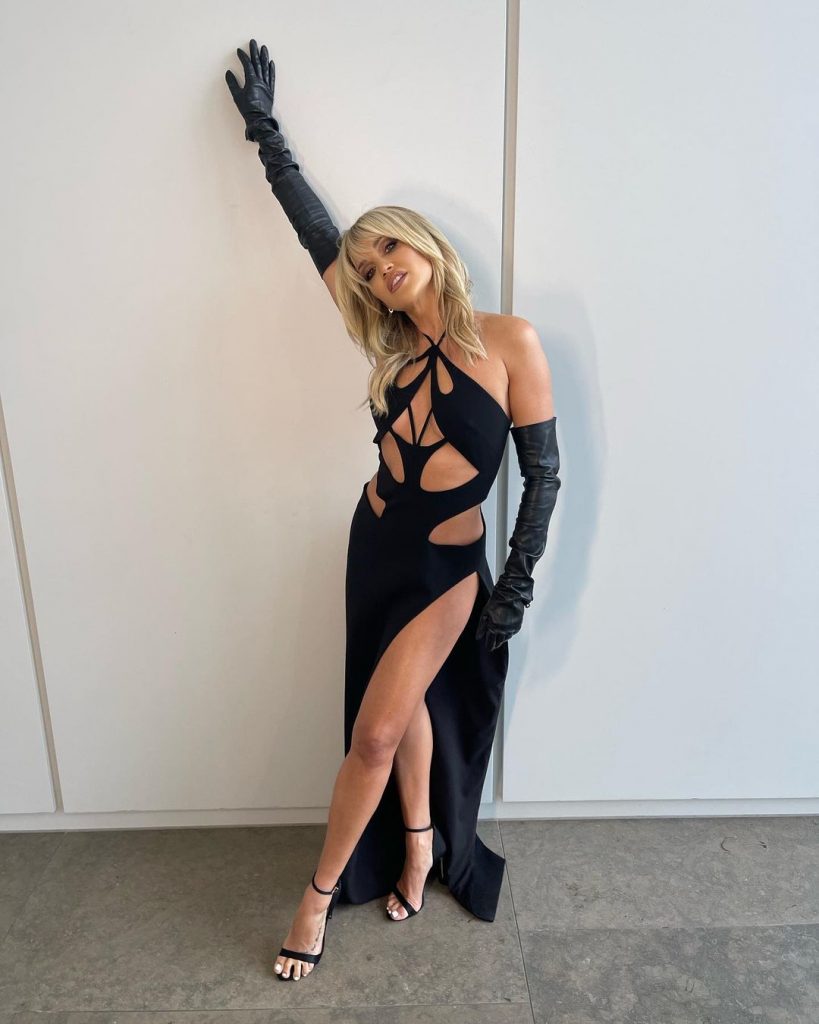 Anne-Marie
The British music star Anne-Marie lights up the BRITs 2022 red carpet, wearing a Philosophy Spring/Summer 2022 collection, with jewels by Alighieri. She looked absolutely fierce in a cut-out top under her tailored minimal black leather jacket, quite unlike the pastels and ribbons she usually sports.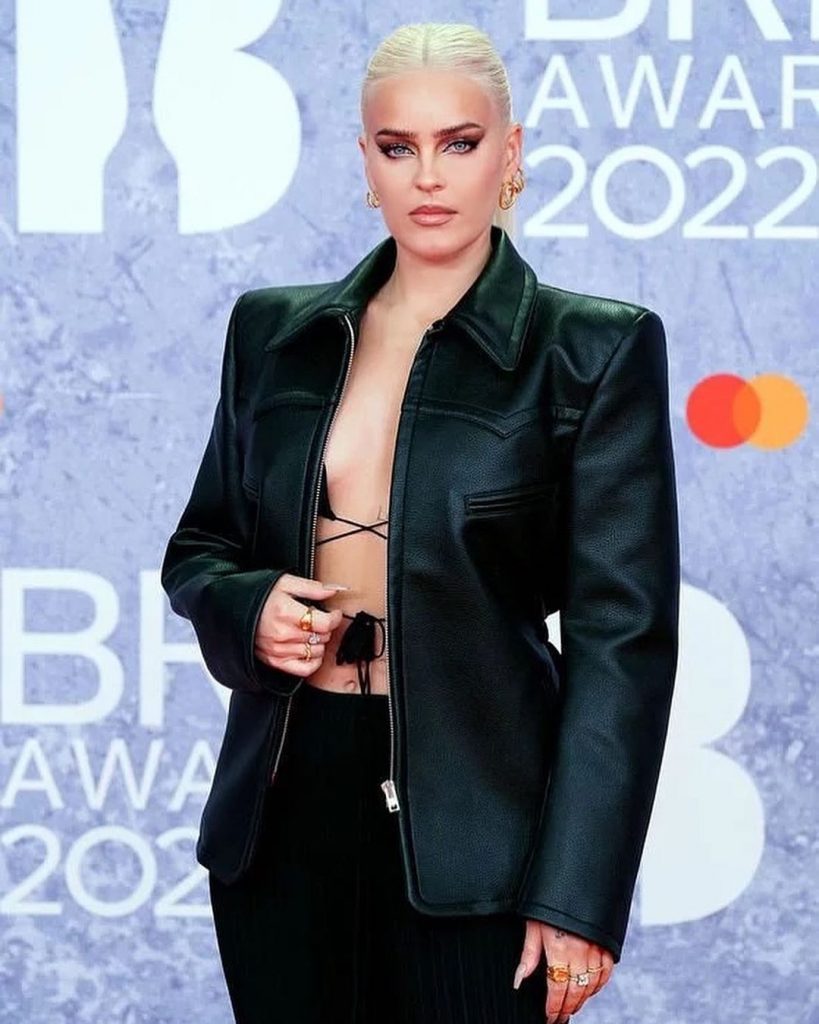 For her BRITs performance, Anne-Marie donned a Philosophy di Lorenzo Serafini custom-made red sparkling dress short dress and drew everyone's attention.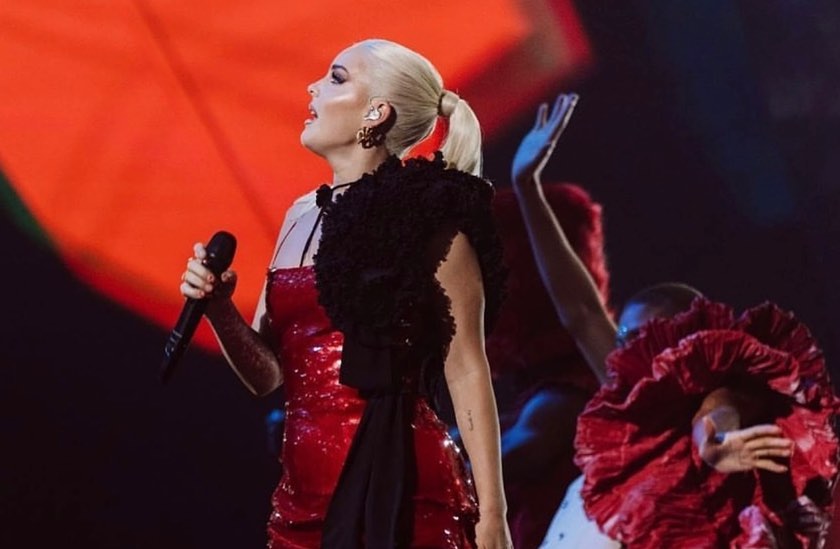 Jaime Winstone
Jaime dressed up in Annie's Ibiza, known for its sustainable fashion. She accessorized her outfit with colorful ostrich green feathers, big platform black, chunky boots and matching greenish eye makeup.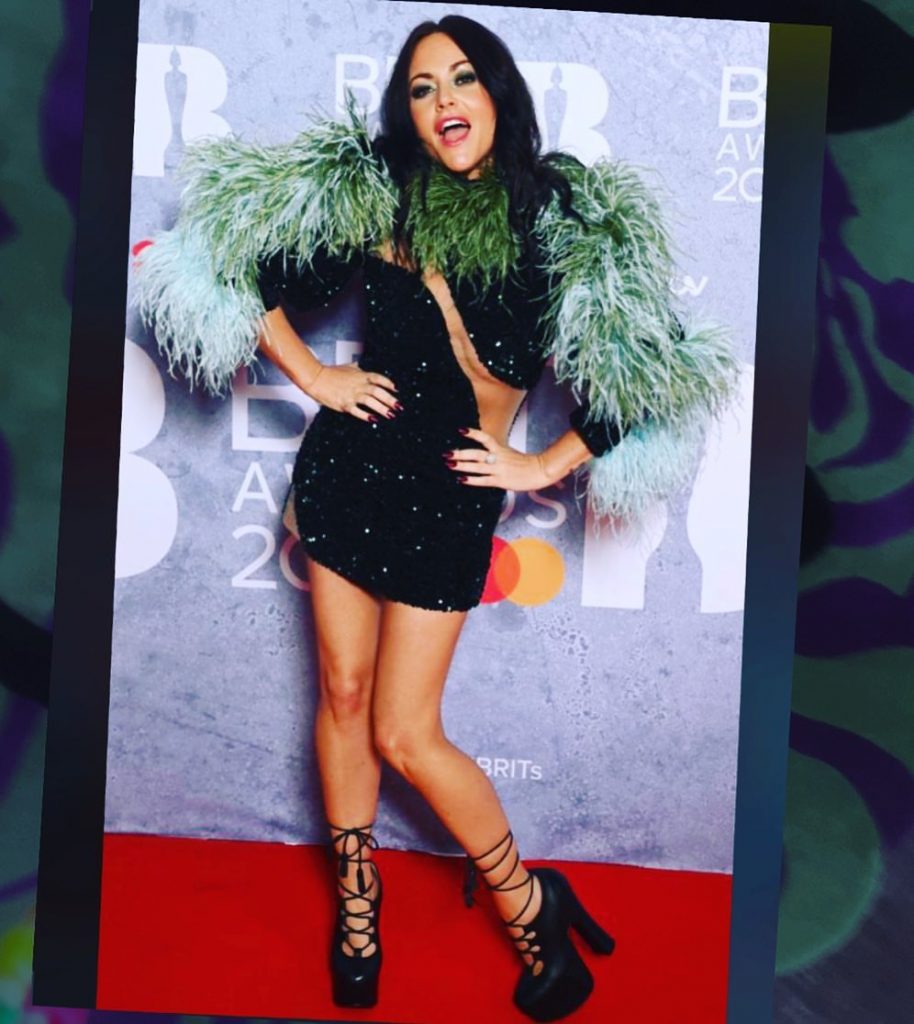 Lola Young
Lola Young wore a black cut-out transparent outfit, paired with a metallic black jacket, gold accessories, boots, and a trendy two-bun hairstyle. Her style was definitely on point, and we absolutely loved it.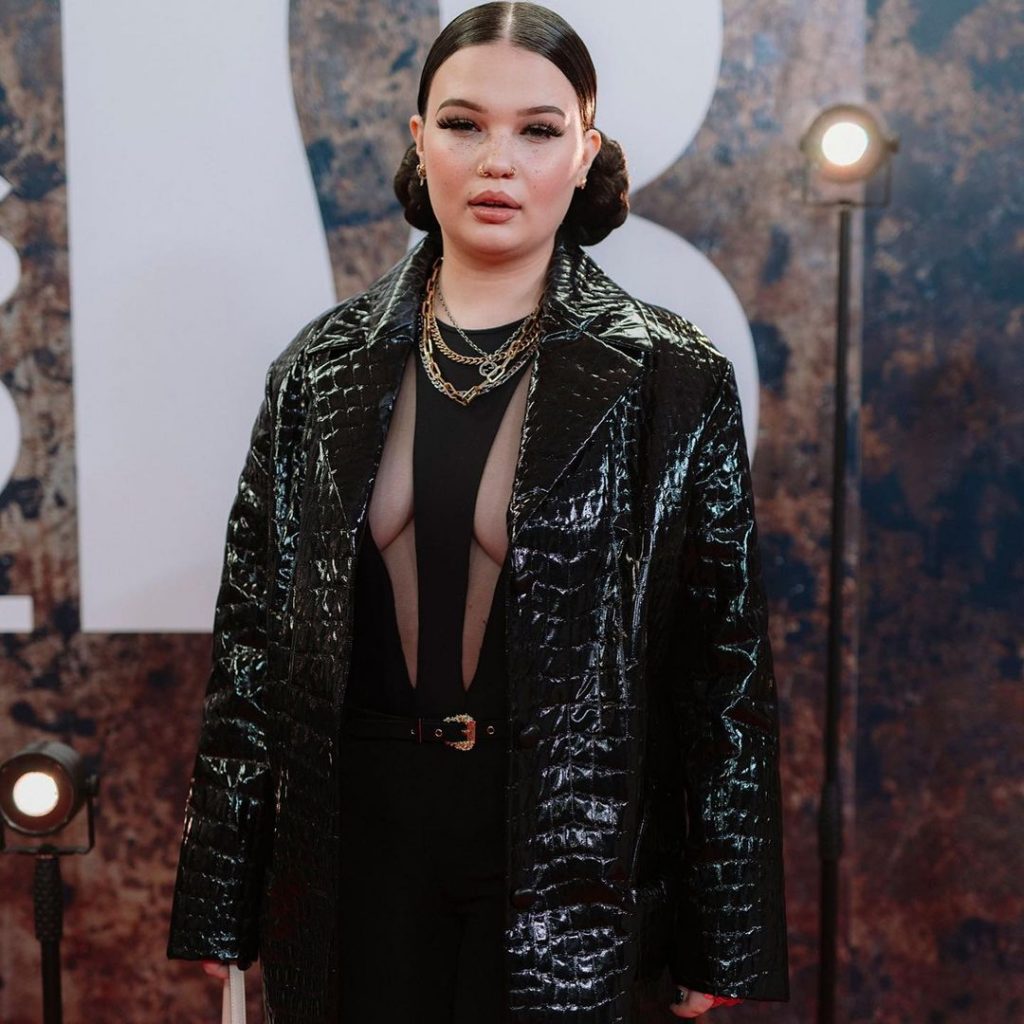 Oti Mabuse
Oti Mabuse stunned us in an elegant, shimmering black and gold Envy room dress adorned with frills and gold heeled sandals by Gina Shoes as she walked down the red carpet at BRITs 2022.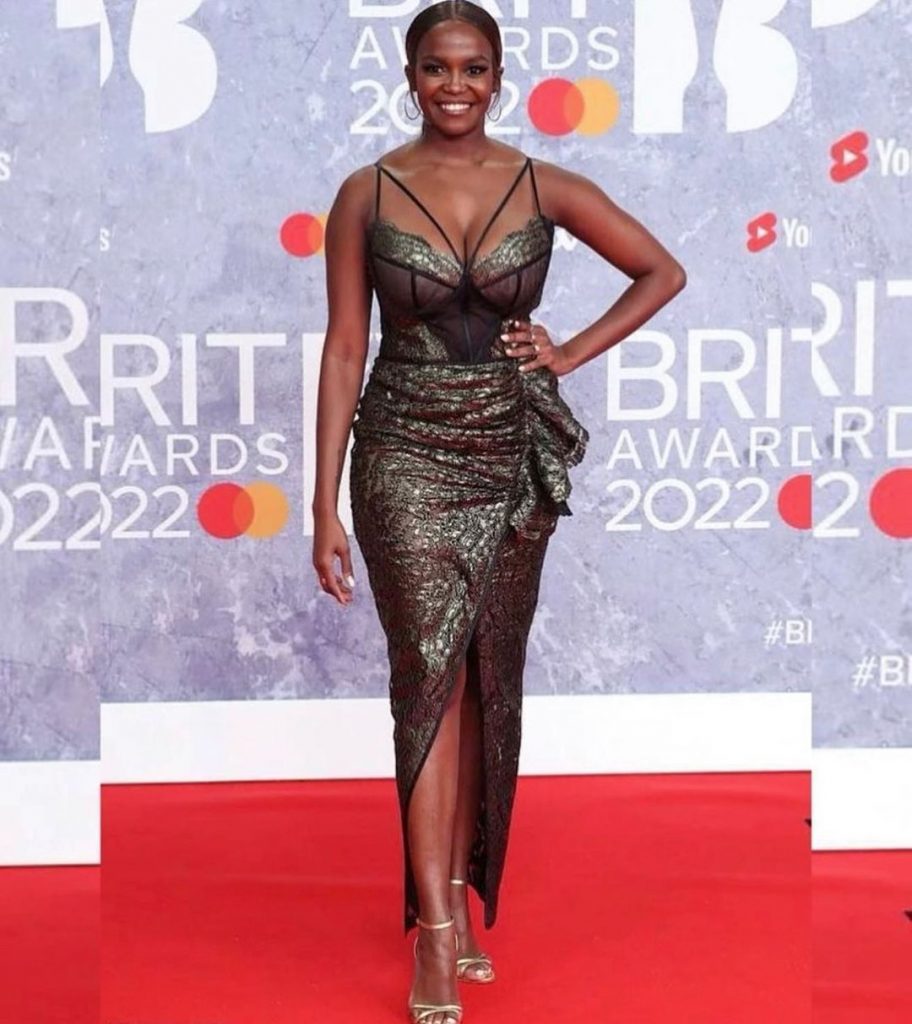 Ed Sheeran
Ed Sheeran looked sophisticated and vibrant, wearing a bright cobalt blue velvet suit by Etro.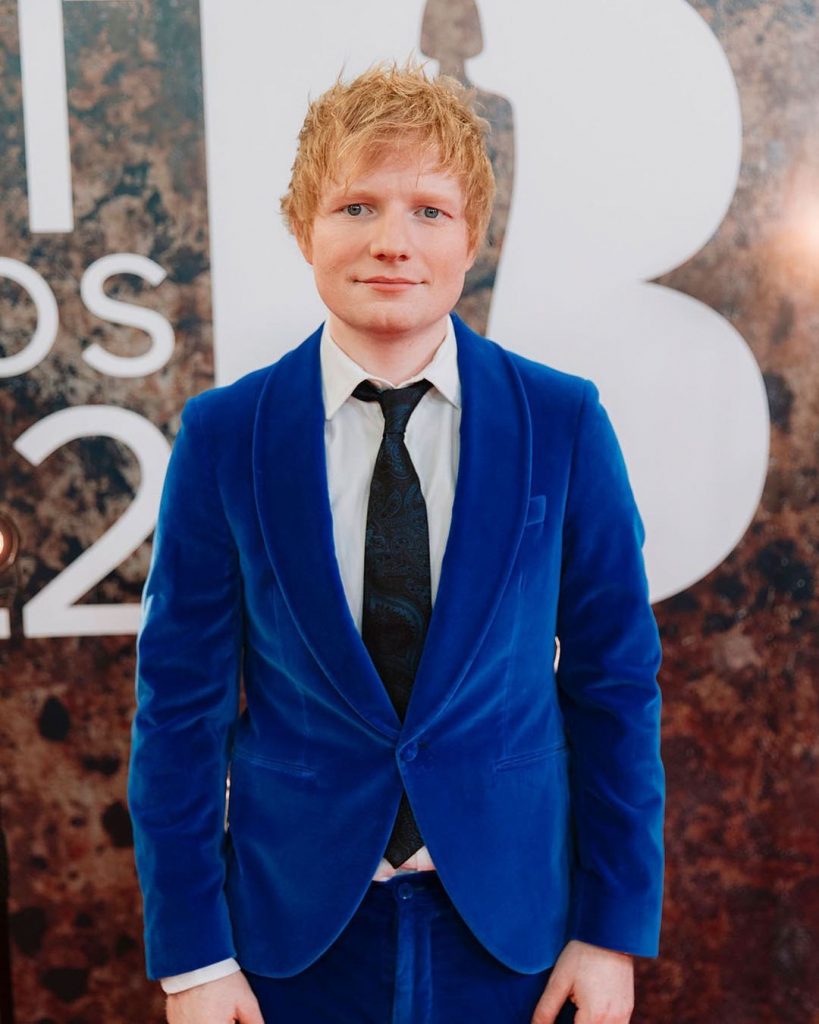 Little Simz
Little Simz accentuated a casual look with Matrix-inspired vibes. She donned Prada and wore a lime green shirt, black trousers, a long leather coat with big, chunky-soled shoes, and red sunglasses.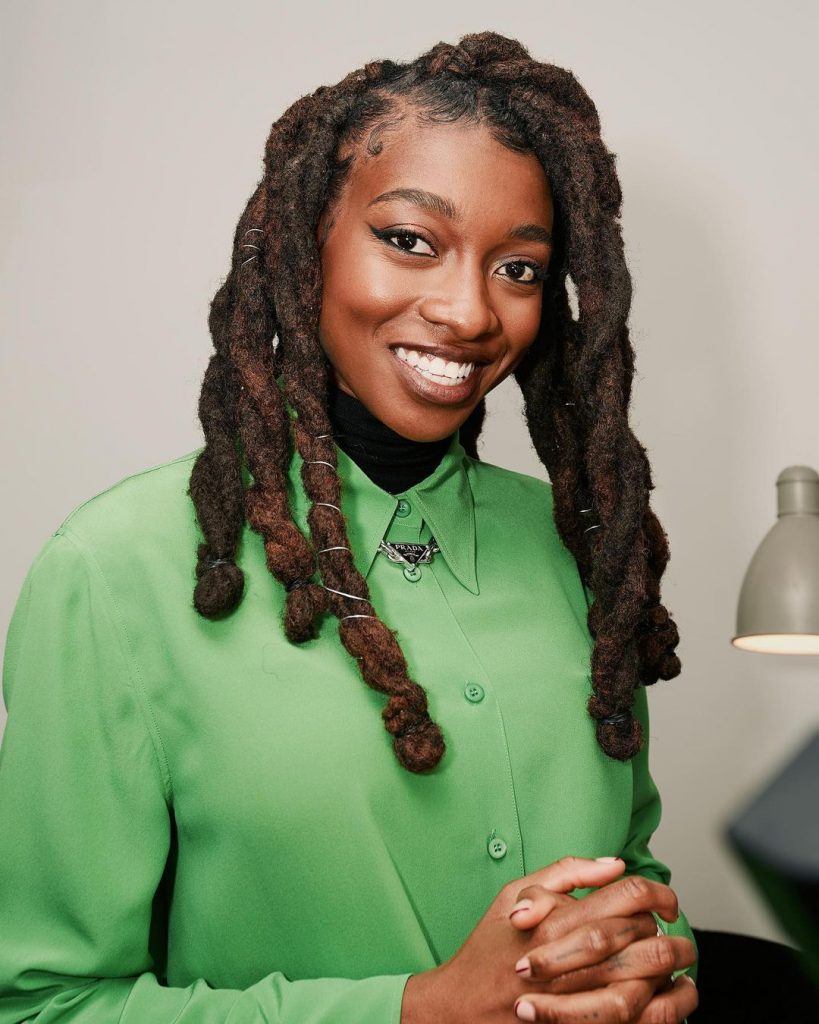 Maneskin
The Gucci outfit Maneskin wore boasted candy colors, ruffles, and frills. Damiano David really stood out in his vibrant outfit for the night when he wore vinyl trousers with a pink shirt, a fringe purple jacket, and a choker with a cherry pendant.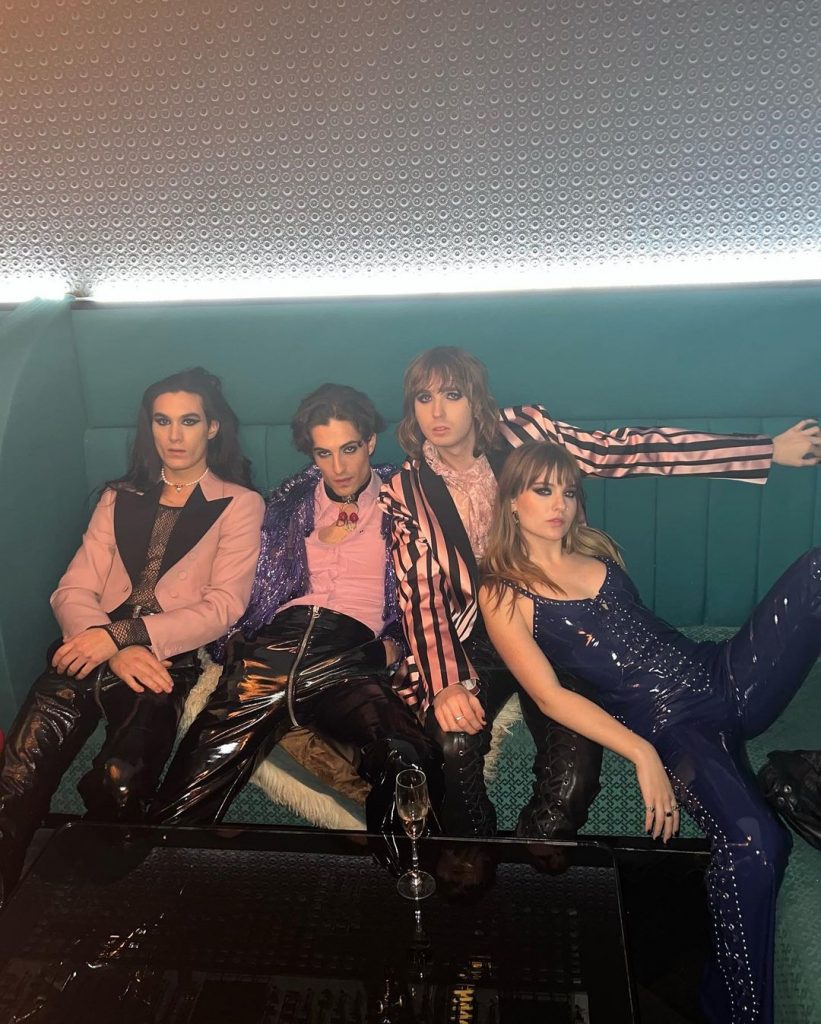 Zara McDermott
Zara McDermott wore a custom-designed black gown by Chanel Joan Elkayam. She wore a black corseted, thigh-high split gown adorned with delicate silver embellishment and off-the-shoulder silver chain straps and finished her look with flowy blonde hair.
Raye
Raye wore a monochrome orange metallic dress with big hoops and matching purse from Versace's special spring/summer 2022 collection.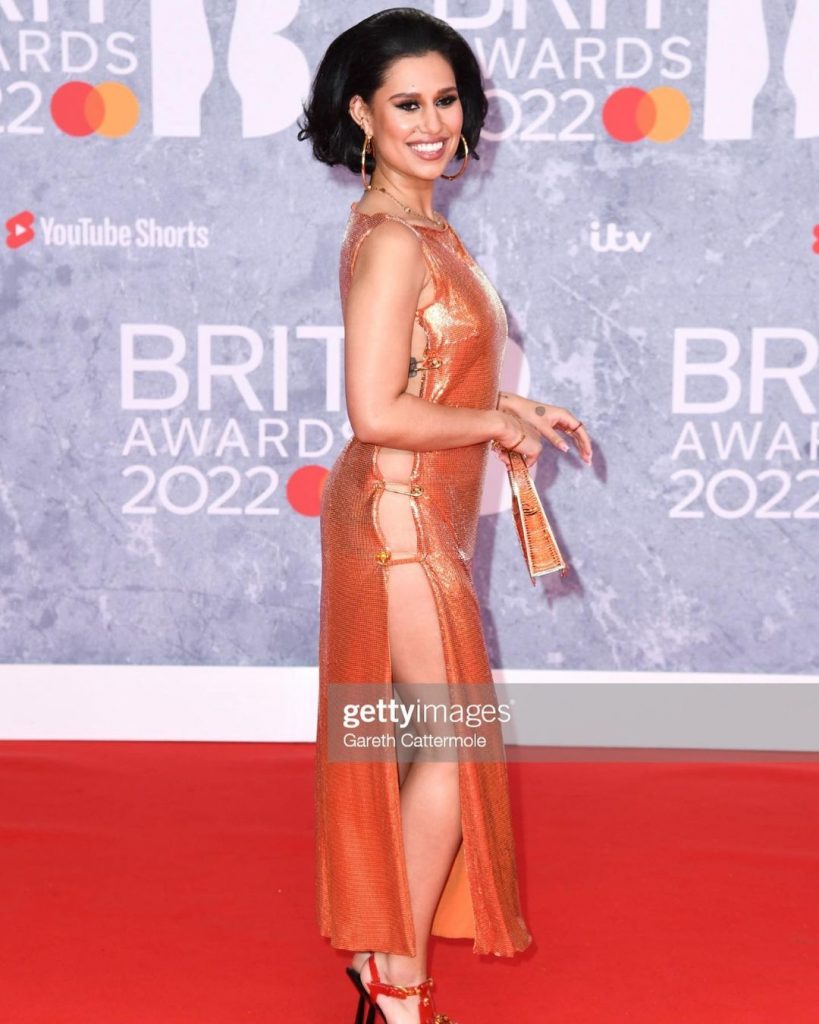 Griff
Griff wore a checkered shift, salmon pink, and black Anthon Raimund dress to the BRITs 2022, keeping her look simple.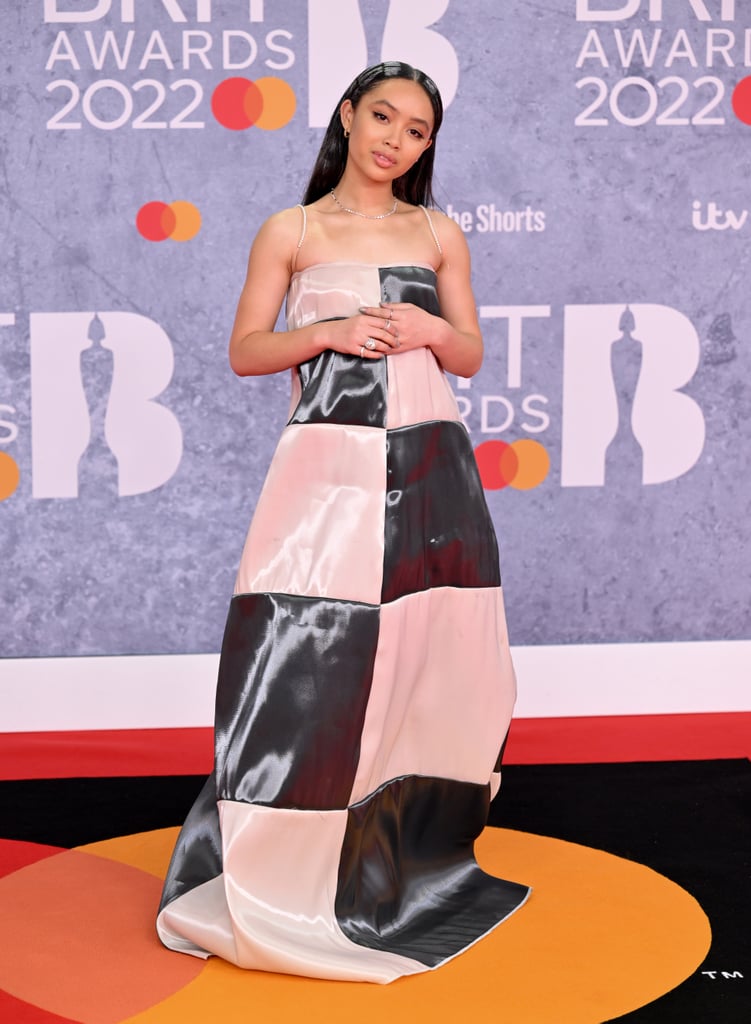 KSI
KSI opted for an eclectic black harness over a smart grey suit, trousers with vertical split-hem, and big, chunky shoes. He accentuated his look with a stylish hairstyle and unusual purple gloves.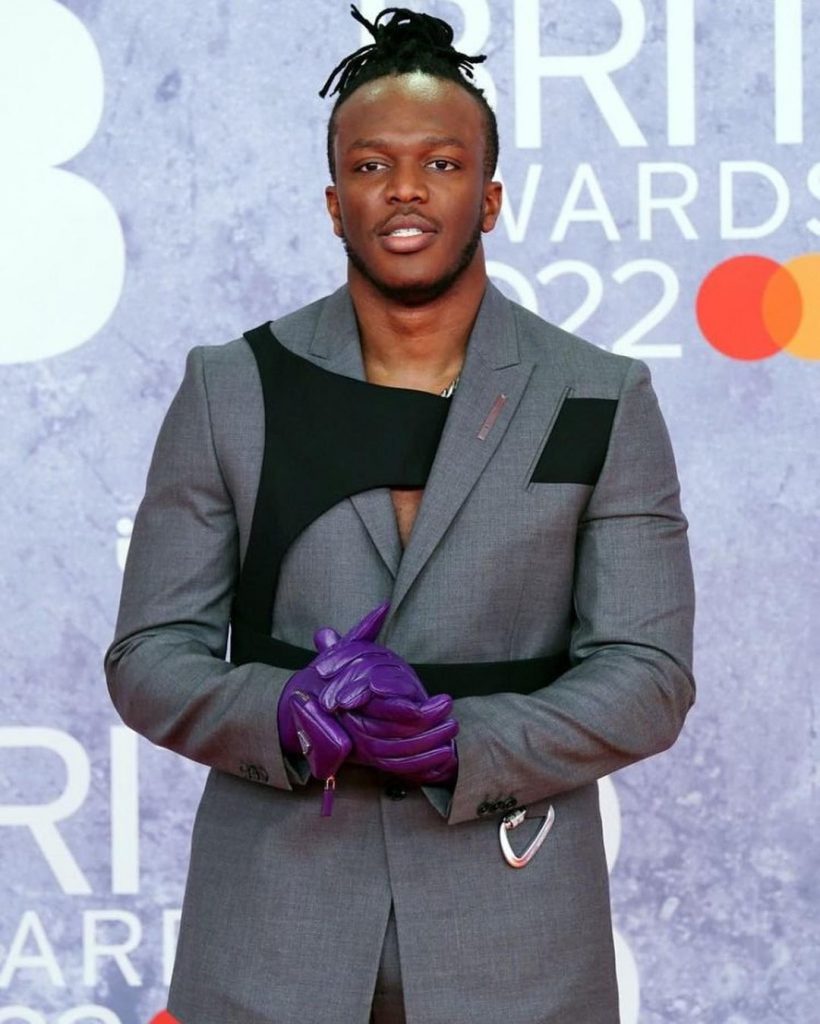 Holly Humberstone
Holly Humberstone brought an air of the '90s to the BRITs 2022 with two all-black stunning outfits. The first outfit she wore was a black lace Gucci dress with feathered cuffs and paired it with jewels by Tasaki. Another outfit from Depop had coordinated pieces that had long crisscrossed sleeves. She completed her look with smokey eyes, nude makeup, and understated accessories.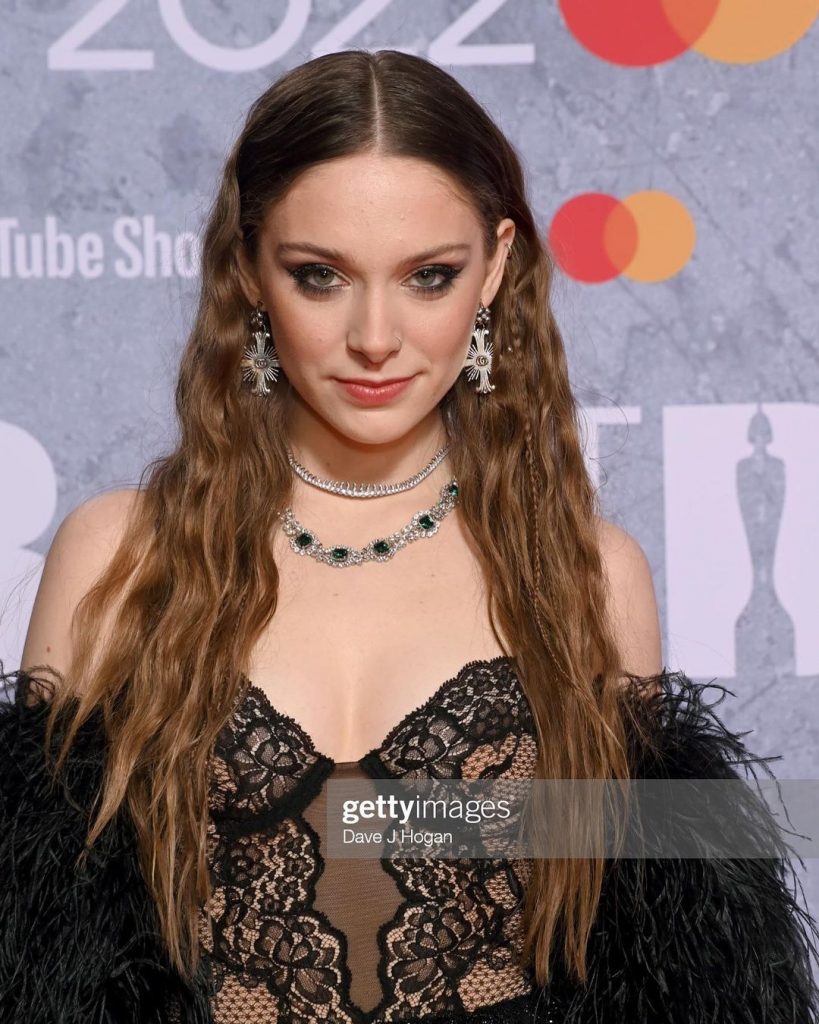 Abby Roberts
Abby Roberts wore a sheer black dress with a cropped bodysuit beneath, coupled with a gold cross pendant boldly dangling from her neck, dark maroon nails, a fur coat draped over her shoulders and arms, and a warm pink flowy hairstyle.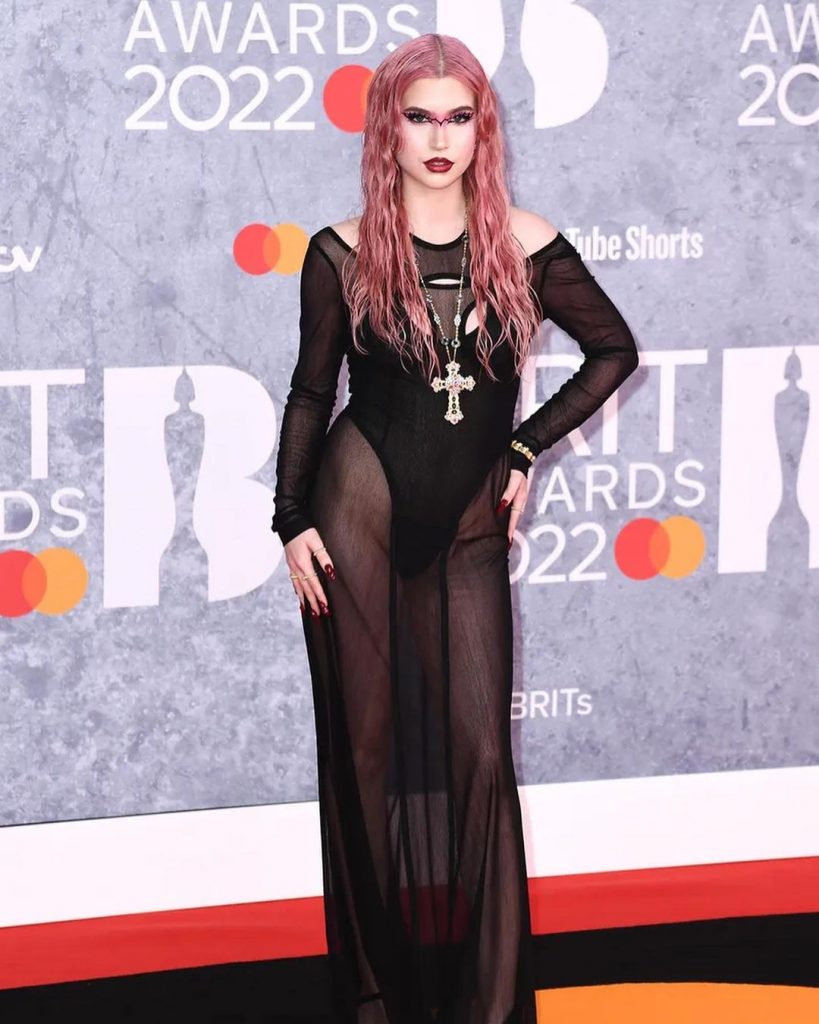 Bree Runway
Bree Runway wore a strapless black gown and long silk cape from the archives of Jean Paul Gaultier. She coupled her look with stellar gold accessories, and high round bun looking gorgeous.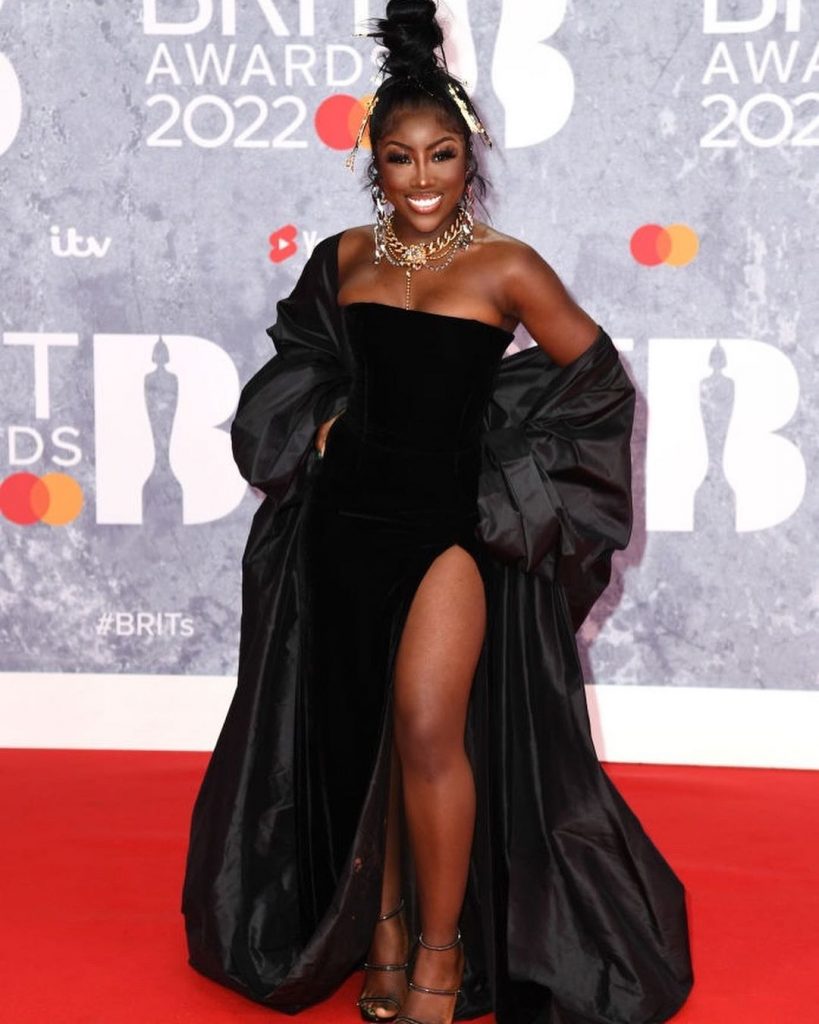 Becky Hill
Becky Hill wore a green mirrored short dress by Alberta Ferretti and jewels by David Morris. Here's her heartwarming winning speech while donning a stylish look for the evening!.
Molly Rainford
Molly Rainford wore a blue, sheer thigh-slit floral dress with big embroidery on the dress. Wearing a watch and flowing hair in curly blond, she kept her look so minimalist.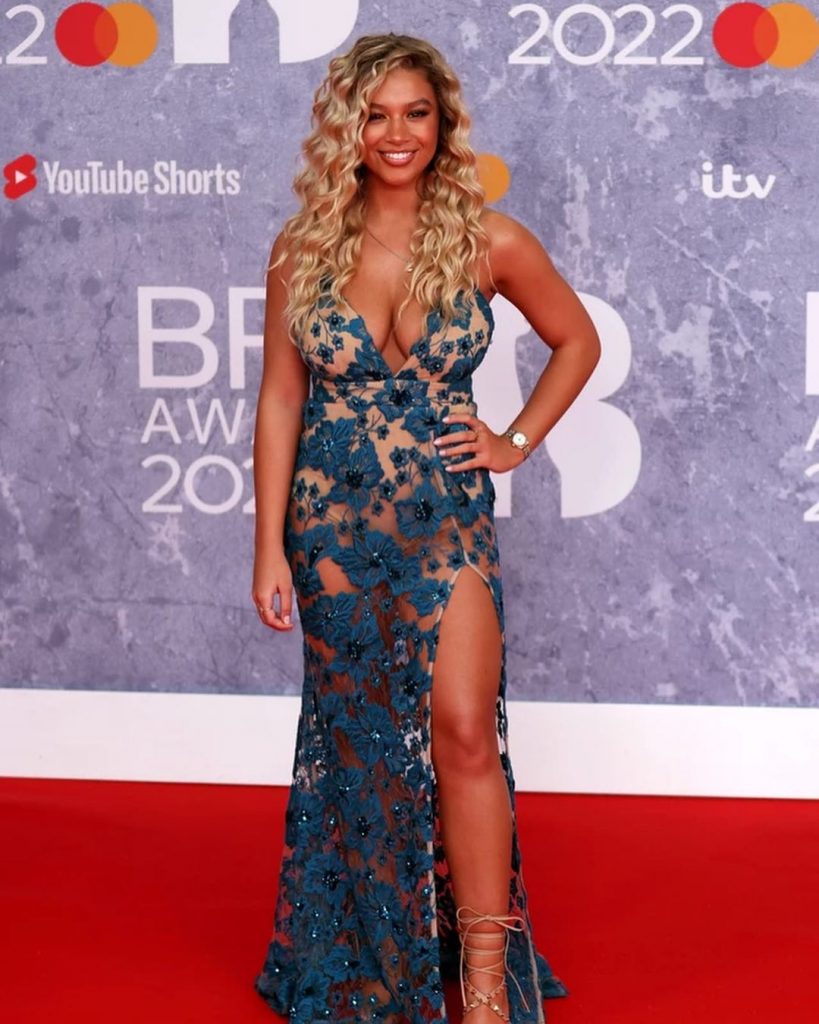 Vick Hope
Vick Hope donned a sparkling golden gown by Nadine Merabi, and she kept her overall look simple with loose waves and jewels by Lark & Berry.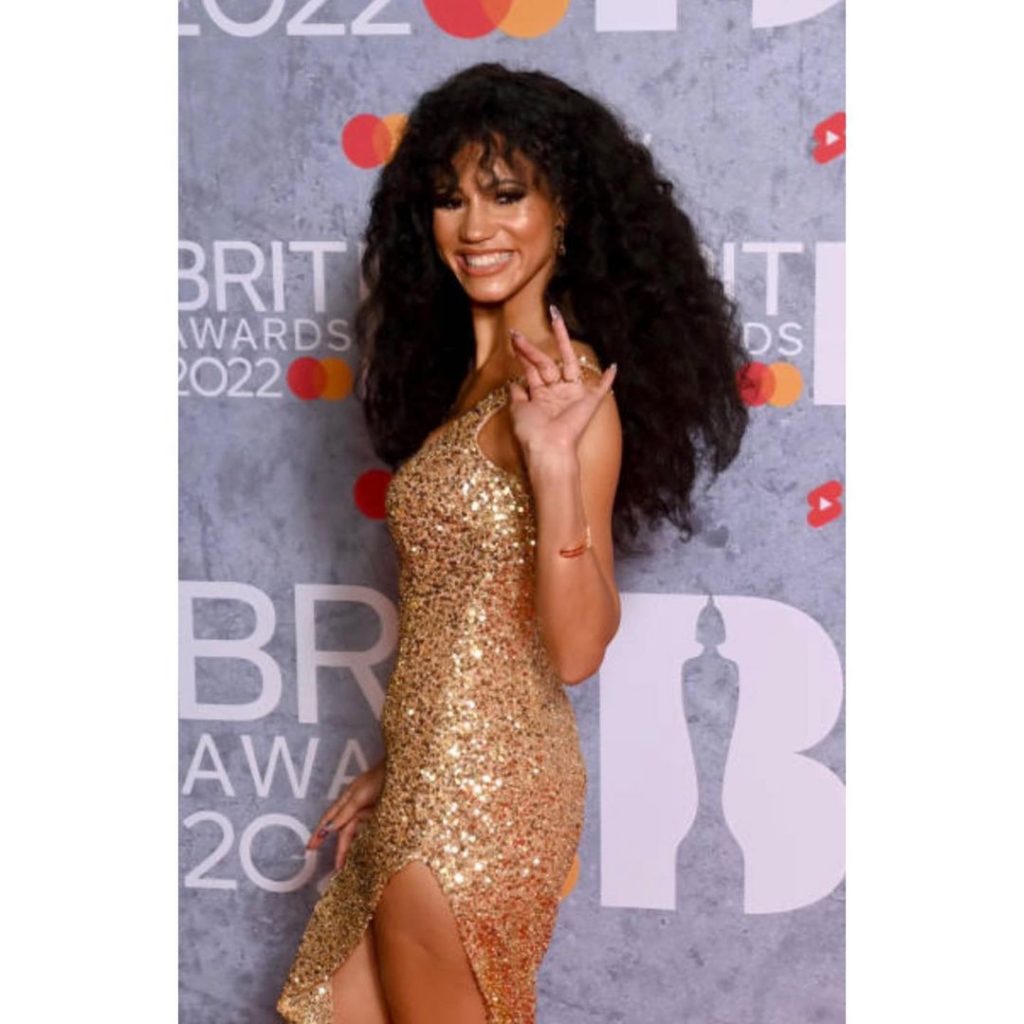 Mo Gilligan
Mo Gilligan hosted the BRITs for the first time and wore a sleek and crisp black tuxedo.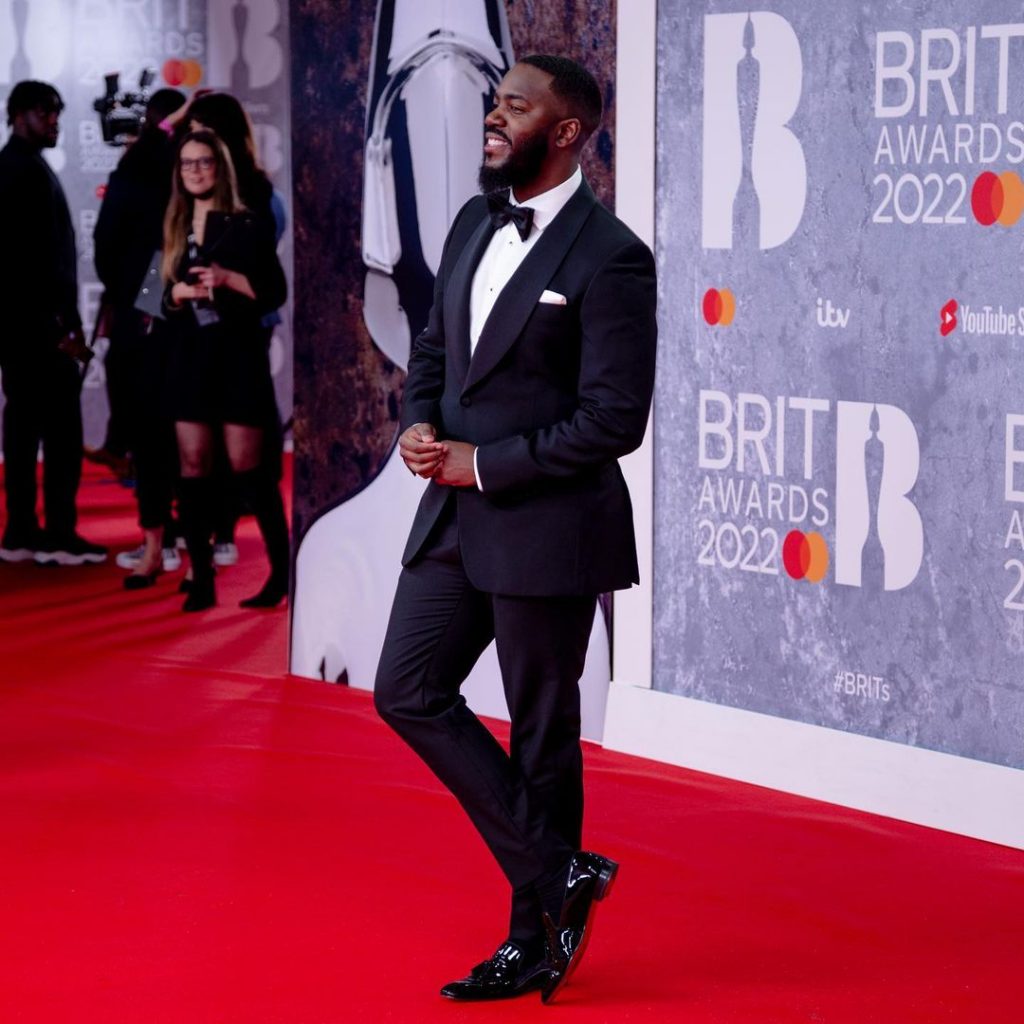 Alex Scott
Alex Scott wore Aadnevik's black empire cut, sleeveless, lacey see-through dress, paired with long train, straight, sleek hair, big hoops, and big high-heeled platforms sandals.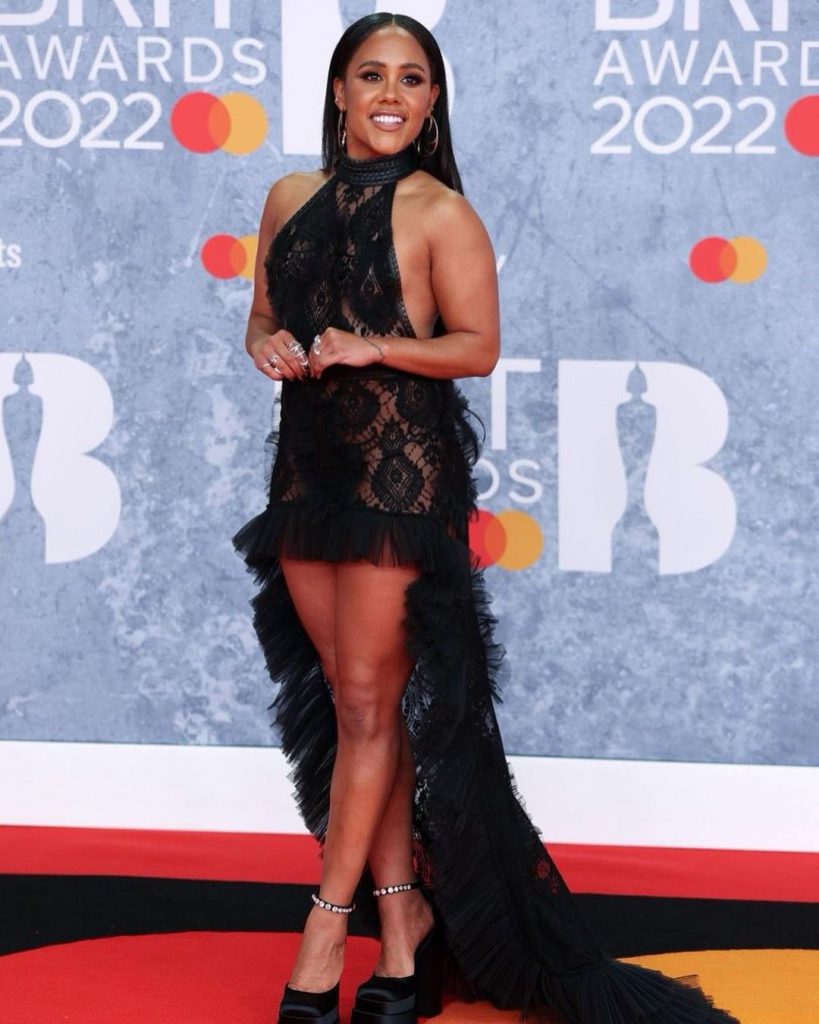 Which was your favorite look from the night? What celebrity blew you away with their style, and who didn't live up to your expectations? What was your favorite moment of the evening?
Tell us everything and join in the conversation by tweeting us at @Celebmix!