Much to the disappointment of practically everyone,  the 2016 Oscar nominations were announced in the past week — and they are overwhelmingly white. For the second year in a row, actors and actresses of colour were nowhere to be seen. Directors and producers, too, were scarce.
Some argue that the calendar film year of 2015 simply lacked racial diversity and that the Academy didn't disproportionately favour white film contributors over their counterparts of colour.
However, with living, breathing evidence in the form of Straight Outta Compton, Creed and Concussion, we'd expect a little more recognition than absolutely zero acting nominees of colour at the Oscars.
Just take a look at some of the responses in the #OscarsSoWhite hashtag on Twitter.
https://twitter.com/GeeksOfColor/status/691090139733434368
H8 that when media asks celebs 4 comment on #oscarssowhite the article bcomes clickbait & trivialized rather than an actual important convo

— Rowan Blanchard (@RowanBlanchard) January 23, 2016
To advocate for a more racially diverse award ceremony, many big names have boycotted this years' Oscars, including Jada Pinkett Smith, husband Will Smith and Spike Lee. Ice Cube has recently been quizzed on what he thinks of the boycotting and he replies spectacularly:
"You can't boycott something you never went to anyway."
In the wake of the disastrously exclusive Oscars nominees list and a largely white-dominated industry, we'd like to highlight five actors and actresses of colour who absolutely killed their roles in recent years.
5. Lucy Liu in Charlie's Angels
The Charlie's Angels enterprise is something of a childhood wonder. Even years after the last instalment's release, the films continue to resonate absolute kick-ass entertainment and thrill for all ages.
However, it is the modern reboot of the original television series that most will be more familiar with. 2000's Charlie's Angels stars three lead women — Drew Barrymore, Cameron Diaz and Lucy Liu — playing private investigators in pursuit of a kidnapped software prodigy. Each leading lady has a defining character trait, but Liu's depiction of Alex Munday is something of a show stopper.
Aerospace engineer for NASA, dancer with the Stuttgart Ballet, technology pioneer — these are just a sampling of Alex Munday's intelligence, steel and character. It's not difficult to see why Lucy Liu seemingly found no difficulty in portraying such an established intellect. It takes one to know one.
4. Dev Patel in The Best Exotic Marigold Hotel
Featuring a slew of big name actors and actresses, it must've been tough trying to stand out on the set of The Best Exotic Marigold Hotel. Veterans, like Judi Dench and Maggie Smith, all lent their excellent theatrical abilities.
For one actor, Marigold Hotel would prove to be a consolidation of several breakout film appearances. Dev Patel, best known for his lead role in Slumdog Millionaire, follows the Hindu faith and was born in Kenya to parents Anita and Raj. Patel, being a person of colour and within a minority group, was able to gauge his hotel manager character in Marigold Hotel, Sonny Kapoor, and his difficulties with xenophobic peers.
Patel has been described as a "born comedian" and one with "physical presence and fantastic instincts". Not only that, he was a star student in school according to his drama teacher:
"Dev was a gifted student who quickly impressed me with his innate ability to communicate a wide variety of characters imaginatively and creatively."
3. Lupita Nyong'o in Star Wars: the Force Awakens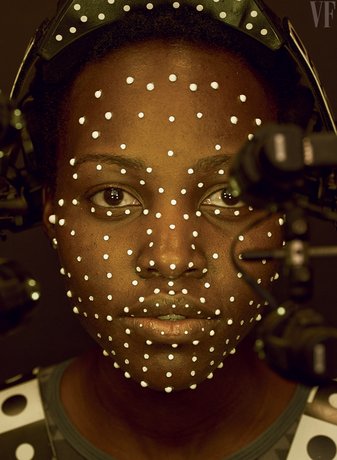 A controversial trailer debut has ruffled many racist feathers in the Star Wars world. The hashtag #BoycottStarWarsVII surfaced in response to the racially diverse cast, of which included the incredible actress of colour, Lupita Nyong'o. As per usual, the more tolerant side of Twitter responded with its own hashtag:
Once again, Bigots prove they never do the research #BoycottStarWarsVII #ForceIsStrongerThanBigotry pic.twitter.com/v2tRGcE9QB

— TK-421 (@TrooperTK421) October 20, 2015
Putting all this to one side, it doesn't take an incredibly crafted film critic to understand why the executives cast Lupita as Maz Kanata, a millennium old pirate who acts as a host to miscellaneous groups of people across the galaxy. Maz Kanata is an independent, strong character portrayed by an independent, strong actress.
As aforementioned, Nyong'o has spoken out about the entire #OscarsSoWhite controversy, saying that the film industry as a whole needs to broaden its horizons as filmmakers and as award board members; only then will the Oscars nominees list fairly reflect the film industry and acting community.
2. Idris Elba in Luther
Already ignored for his work in Beasts of No Nation this year, Idris Elba's work in Luther from 2010 to 2015 has proven to be critically acclaimed. The crime drama television series features Elba as a murder detective, with cognitive prowess and a long track record of passionate dedication. At times, his dedication can be consuming and eventually leads him to a failed case in court, in which the murderer is allowed to walk away unharmed.
The mini-TV series has been received positively, which Elba's acting will certainly play a part in. Both a success in the US and in homeland UK, Luther is being considered for a silver screen debut. Avid fans will surely be hoping that Idris Elba reprises his role as John Luther.
1. David Oyelowo in Selma
One of the most poignant speeches in history was paid tribute to in an equally poignant film, as paid tribute to in an equally poignant film, Selma. Selma recreates history and also makes history, with its connection to Martin Luther King Jr.'s "I have a dream," speech and the 1965 marches in Selma to Montgomery for voting rights. Met with an incredible reception from film critics and film lovers alike, the historical drama movie was nominated for four Golden Globe awards, including Best Director and Best Actor. The film, surprisingly, received a nomination and even won an Oscar in 2015 — one of the first and possibly, one of the last.
In a racially exclusive industry, it's hard to fathom if the future will bring much social change to the systemic racism that runs rampant. However, Selma certainly sets a precedent for future filmmakers and acting talents alike to push the envelope in films, both artistically and socially. The director of Selma, Ava DuVernay, was the first black woman to have her directed film nominated for "Best Picture" at the Oscars.
David Oyelowo plays Reverend Martin Luther King Jr. in a role which he describes as "nothing less than a calling". He went on to tell Variety:
"I felt God called me to play that role,"
Oyelowo also spoke about his concerns regarding the marginalised market for a Christian film. "And that's one of the challenges I think that face us as content creators as it pertains to faith-based movies… It immediately conjures up something that isn't for me.
"It's the same thing with black cinema. It subliminally says to a white person, oh, well that's not for me. That's for them which… is not the case."
Well, that's the end of our list, but trust us — it's not an exhaustive one. There are plenty of films and television series worth mentioning that we simply can't type out with our fingers! In the same breath, the impressive skills of actors and actresses of colour will continue to stun, even if the Oscars refuse to admit it.
Did we miss your favourite actor or actress? Throw us a line at @CelebMix on Twitter or comment below… We'll be sure to include them next year! (We'll wait and see if the award ceremony decides to continue its all-white streak for a third year.)