Japanese alternative-rock band RADWIMPS will be returning to North America for a six-date tour across various states. The tour is set to coincide with the physical release of their brand new soundtrack album in connection with Makoto Shinkai's new anime film, "Suzume" (which is also known as "Suzume no Tojimari" which translates to "Suzume's Locking Up"). The release of this film follows up Makoto Shinkai's gorgeous previous film, "Weathering With You", which RADWIMPS also did the soundtrack for.
The tour will be powered by Crunchyroll – who will be distributing "Suzume" in North America, and partnering with Sony in territories outside of Asia (apart from Europe where Sony and Wild Brunch will be partnering up for the distribution). It will see RADWIMPS start off in San Jose at San Jose Civic on April 16 and will see the band perform in Mexico City as well as Toronto, Canada, all before wrapping the tour up on April 29 in New York City at the Palladium Times Square.
There will be presale information available on RADWIMPS's official website along with special VIP packages, which include early entry and VIP-only merch. A special presale code for Crunchyroll users is also confirmed for the upcoming North American Tour. Fans can follow Crunchyroll News and Crunchyroll's social accounts for more information.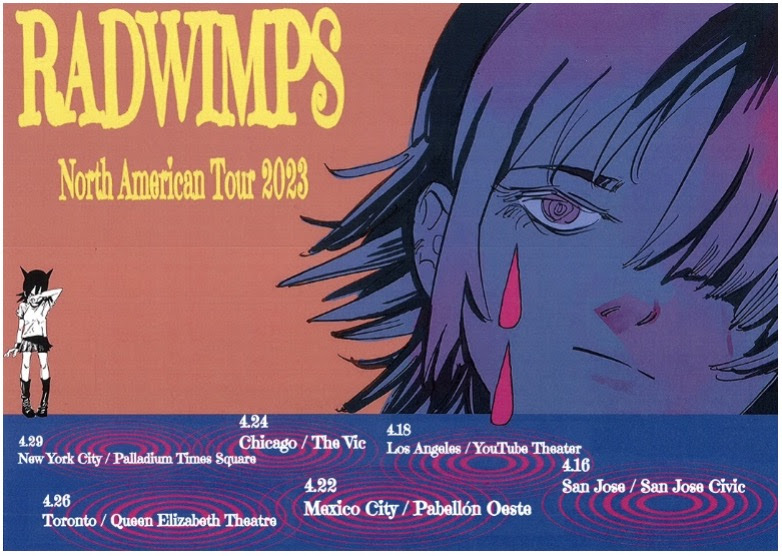 RADWIMPS North America Tour
Sunday, April 16 – San Jose, San Jose Civic
Tuesday, April 18 – Los Angeles, YouTube Theater
Saturday, April 22 – Mexico City, Pabellon Oeste
Monday, April 24 – Chicago, The Vic
Wednesday, April 26 – Toronto, Queen Elizabeth Theatre
Saturday, April 29 – New York City, Palladium Times Square
Teaming up with the highly acclaimed film music composer Kazuma Jinnouchi, together they've created the absolute perfect soundtrack to the film "Suzume". As mentioned, this isn't the first Makoto Shinkai film that they've created the soundtrack for, having previously provided the soundtrack to "Your Name" and "Weathering With You", both films of which had global success and, in turn, pushed RADWIMPS into the global spotlight. The "Suzume" soundtrack was released back in November and was preceded by two singles, the title track "Suzume" and "KANATA HALUKA", back in September and October, respectively. Those two tracks have quickly racked up Spotify streams, with the former at over 31 million streams and the latter at 16.7 million streams.
The physical release of the "Suzume" soundtrack will coincide with the movie launch stateside and RADWIMPS's US tour. Vinyl editions are now available for preorder here.
The Japanese anime film, "Suzume" is the story of a young girl travelling through various plains across Japan while closing doors and trying to prevent a series of disasters across the country, with the help of a mysterious young man. The film opened in Japan on November 11, 2022. It was number one for three consecutive weeks and saw 9.39 million tickets sold with a gross of over 12.48 billion Yen at the box office in just over two months, making it the fourth-highest-grossing film of 2022 in Japan. The film has been selected to be part of the competition line-up at the 73rd Berlin International Film Festival, making its international debut premiere. This marks the first time an anime film has competed in the festival since 2002 when "Spirited Away" was a part of the line-up.
Watch the official trailer for "Suzume" here:
RADWIMPS are a four-piece Japanese rock band that formed independently in 2001. They consist of Yojiro Noda, Akira Kuwahara, Yusuke Takeda, and Satoshi Yamaguchi. They garnered a young generation fanbase when they secured a major record label and dropped an album in 2005. To date, they've released 14 studio albums, with their soundtrack albums to "Your Name" and "Weathering With You" leading the band to be recognised at the Japanese Academy Awards for Best Original Score. Their most recent studio album, titled "Forever Daze", was released in 2021 and was created during the height of the pandemic – which came with its own challenges. The band went on a nationwide tour across Japan in promotion of the album release.
Let us know your thoughts on RADWIMPS going out on tour across North America in the promotion of Makoto Shinkai's new film "Suzume" on Twitter @CelebMix.