Even in a pandemic, the Recording Academy made the Grammy Awards happen! The 63rd annual awards took place in the Staples Center and outside of it, with no guests except for the celebrities performing, presenting and nominated on Sunday, March 14th.
Trevor Noah hosted the awards with numerous performances during the night. In case you missed it, we're here to recap the highlights for you.
Dua Lipa Was the Best Dressed of the Night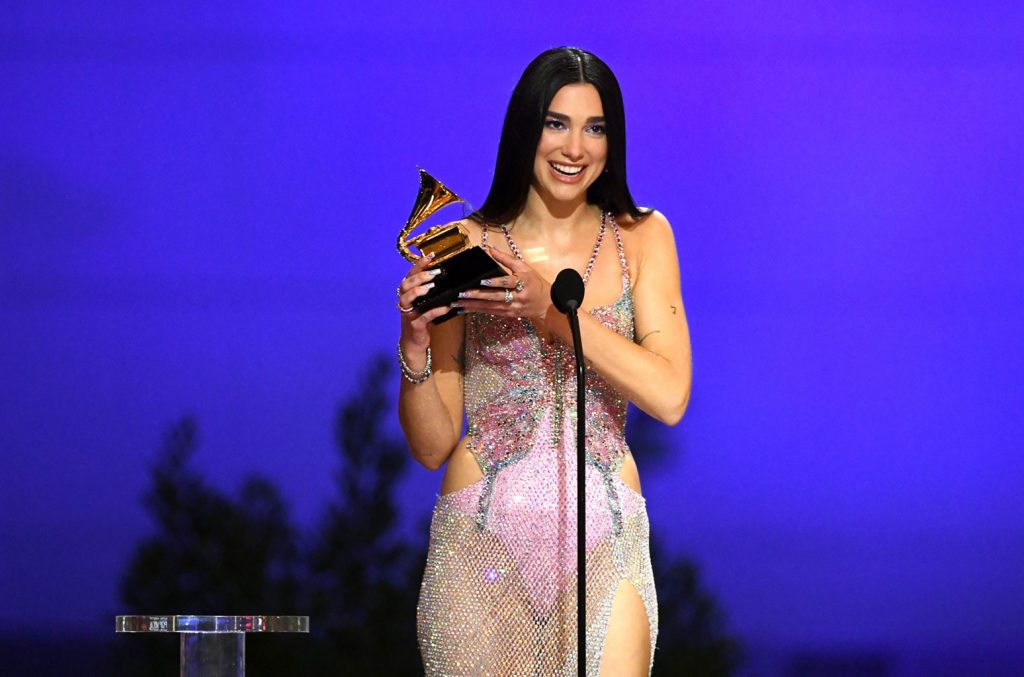 Not only did Dua dazzle on the red carpet in a slinky dress, but she also was a vision in pink as she performed her hits, "Levitating" with Da Baby and "Don't Start Now." Her red carpet look, styled by Versace, was see-through and covered in crystals and butterflies. She was definitely a show stopper, even when winning for Pop Vocal Album.
Taylor Swift Breaks Her Own Record and Becomes the First Woman to Win AOTY 3 Times
It's one thing when you set a record, it's another thing when you break that record. Swift was nominated for six awards on Sunday night and ultimately only took home one, but it was the biggest one. She is the first woman to win Album of the Year three times, breaking her previous record of being the first woman to win AOTY twice. She joins the rankings of Frank Sinatra, Stevie Wonder, and Paul Simon. Swift got emotional as she thanked her boyfriend and co-writer, Joe Alwyn. She has won AOTY in three different decades, for three different genres, and three different albums ("Fearless," "1989," and "folklore").
Beyoncé Becomes the Most Awarded Female In Grammy History
Not only was she the most awarded and nominated of the night, with four wins and nine nominations, but she's now racked up 28 in total, making her the G.O.A.T. as the most decorated female in Grammy history. The singer is tied with Quincy Jones. She needs three more to tie the Hungarian-British conductor, Georg Solt, who has 31 wins. Beyoncé won for Best Rap Performance and Rap Song with Megan Thee Stallion for "Savage," Best R&B Performance for "Black Parade," and Best Music Video for "Brown Skin Girl."
Blue Ivy Wins a Grammy
Although it was not seen on TV, Beyonce and Jay-Z's oldest daughter, Blue Ivy, snatched a Grammy win for Best Music Video for "Brown Skin Girl." The nine year old, and the second youngest winner in Grammy history, shares it with SAINt JHN, Wizkid, Beyonce, and the directors/producers. Blue is following in her parents' footsteps and this win is only one of many more to come.
Harry Styles Wins his First Grammy
After opening the show with his fun and cheeky song, "Watermelon Sugar," Styles shined in three different outfits (four if you count his performance), donned with feather boas, and was nominated for three Grammys, his first ever nominations. Ultimately, he took home the Grammy for Pop Solo Performance for "Watermelon Sugar" and even got bleeped in his speech. He is the first member of One Direction to be nominated for/win a Grammy.
Bruno Mars Makes His Comeback
It feels like it has been a while since Bruno Mars was performing for us. He and Anderson .Paak performed their new hit, "Leave The Door Open." The duo is now known as Silk Sonic. They matched in maroon, 70-styled suits. The song will appear on their upcoming album, out this year, which is the follow-up to 2016's "24K Magic."
Exes Taylor Swift and Harry Styles Chat During a Commercial Break
For those of you who have been living under a rock and didn't know Taylor Swift and Harry Styles (AKA Haylor) dated for a brief time in 2012 and 2013, we are telling you now. The exes, who both took home Grammy's, were spotted chatted and smiling. The pair has definitely written songs about the other, but they seem to have no bad blood between them. One thing we need to know- what were they talking about? Hopefully, it was a future collaboration. Either way, we love to see exes getting along.
Woman dominated the night, taking home the four major awards and records were broken. For an award show in a pandemic with no audience, it turned out to be a great night.
What was your favorite moment of the night? Tweet us at @CelebMix.