Singer/songwriter Amelia Warner has released her new EP, Haven, via Decca Records and it's absolutely beautiful record to listen to.
Haven was recorded at the countryside home Amelia shares with three children and her husband actor Jamie Dornan.
First known and admired for her acting work in Lorna Doone, Aeon Flux and Mansfield Park, to name but a few, Amelia went on to carve out a successful career in the music under the pen-name of 'Slow Moving Millie'. Her cover of The Smiths' 'Please, Please, Please Let Me Get What I Want' landed her the coveted John Lewis Christmas advert in 2011.
Amelia soon realised it was composing music rather than being in the spotlight as a singer or actor which is the self-professed introvert's true haven and has provided the biggest highlights of her career to date.
She penned the stunning soundtrack for the 2018 Irish-American film Mary Shelley, directed by Haifaa al-Mansour and starring Elle Fanning, which won her the 'Breakthrough Composer Of The Year' award at the 2019 International Film Music Critics Association Awards and a nomination in the 'Discovery Of the Year' category at the World Soundtrack Awards.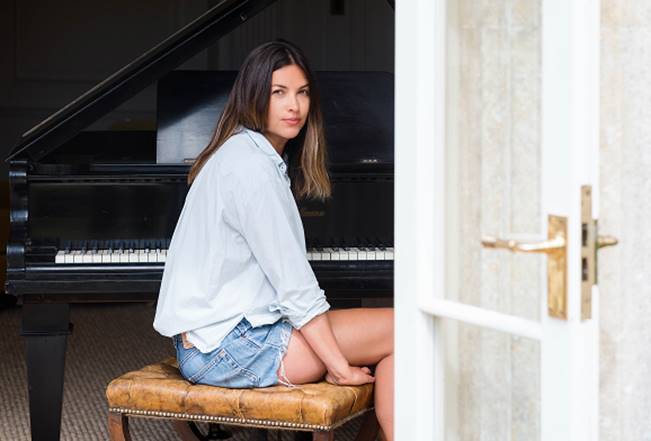 Haven was written both before and during Amelia's last pregnancy. After giving birth to her daughter she recorded the EP at home in her living room with the help of Mike Lovatt and Dan Newell on trumpet, Richard Watkins on horn, Andy Wood on trombone, Owen Slade on tuba and Mitch Taylor on guitar.
It's no wonder that Haven throughout the five tracks featured on it really envokes a sense of home, something everyone can relate to at the moment, and that is valued more than ever. It's an extremely relevant record, that is highly relatable.
The track Drawing Room, even features birdsong captured from Amelia's own garden which compliments the simple melody of the track.
The two tracks that we absolutely adore on the EP are We Came Home and For Love. Both tracks really capture the essence and feel of the EP.
They are inspiring and hugely emotive tracks, backed by brass instruments and Piano, that feel like nice comfort blankets that ensnare your senses. Letting you drift a way with your thoughts, content and surrounded by the warm glow of the music.
The entire EP is a beautiful body of work. An emotive oasis of tranquillity and calm, that no matter where you listen to it will make you feel like you are at home.
Let us know what you think of Haven at @CelebMix!