Electronic duo SOFI TUKKER (Sophie Hawley-Weld and Tucker Halpern) have teamed up with Australian rapper Allday for their brand new single, "Swing".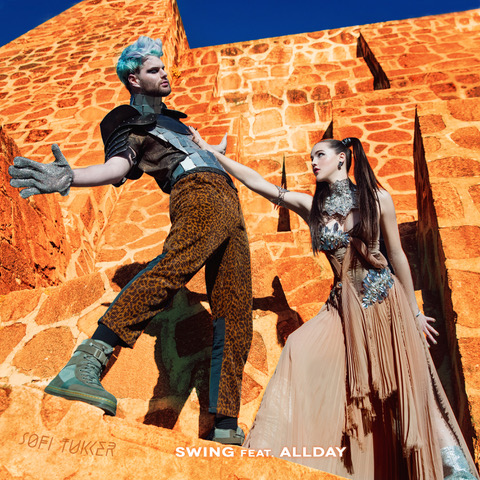 "Swing" is a catchy electro-fused anthem with a soaring uptempo chorus, which includes lyrics taken from a poem and sung in Portuguese.
Rapper Allday has been specifically enlisted for the release of the song as a single, providing a chilling rap halfway through the track.
The song is the latest single to be released from the duo's second EP "DANCING ON THE PEOPLE", which was released in September 2019.
Speaking of the track, SOKI TUKKER said: "You never know when you release a song where it will connect. Australia really embraced our song "Swing", which we never would have expected from a song sung entirely in Portuguese. So we wanted to make a special version of the song with one of favorite Australian artists, Allday. We got to perform this version of the song together in LA and it felt soooo gooood. We are SO EXCITED that it's finally out in the world!"
Allday added: "I heard this song at a festival and was like "wow what is this" then a couple weeks later I met Sophie and Tucker and they asked me to rap on it. I said 'yes please.'"
SOFI TUKKER first got started in the music industry when the two members, Sophie and Tucker, met in 2014, where they began writing and performing songs together.
The two released their debut EP, "Soft Animals" in 2016, while the EP's single "Drinkee" was nominated for a Grammy nomination for Best Dance Recording at the 2017 awards.
They subsequently released their debut album, "Treehouse" in 2018, which hit number 5 on the Billboard Top Dance/Electronic Albums Chart and received a Grammy nomination for Best Dance/Electronic Album at the 2019 ceremony.
Following on from the success of the European leg of their R.I.P. Shame World Tour last year, SOFI TUKKER will be returning to the continent for the tour's second leg this year, and they are also set to perform at festivals throughout the summer.
The duo also have plenty more new music coming, and they are also set to appear on the soundtrack to the upcoming DC Comics film Birds Of Prey, with new track "Feeling Good".
"Swing" is officially out now, and you can listen to it below:
To keep up with SOFI TUKKER, make sure to follow them on social media:
Twitter | Facebook | Instagram | SoundCloud
Let us know your thoughts on the song over on Twitter @CelebMix!