"Meet me at midnight!"
Taylor Swift summoned her fans on January 27 to convene an urgent meeting after a suspiciously long period of internet silence, during which she debuted the eagerly anticipated "Lavender Haze" music video as a delectable surprise.
When debuting the premiere of the self-directed music video from her 2022 studio album, "Midnights," the singer-songwriter described the visuals as ones that helped her "conceptualise the world and mood of "Midnights," like a sultry sleepless '70s fever dream."
She also noted that "Lavender Haze" is the first of the three song visuals that Taylor Swift wrote besides directing, followed by "Bejewelled," where she played the role of Cinderella and "Anti-Hero," which involved the singer facing her innermost demons. This also implies that more music videos are on the way, and hey, who are we to complain?
On Twitter, Swift thanked model and actor Laith Ashley for costarring in the "Lavender Haze" video as her love interest, writing that she "adored" working with him.
"You are brilliant and this is an experience I will never forget," he replied. Laith Ashley made history as the first trans man in the pit crew on "RuPaul's Drag Race."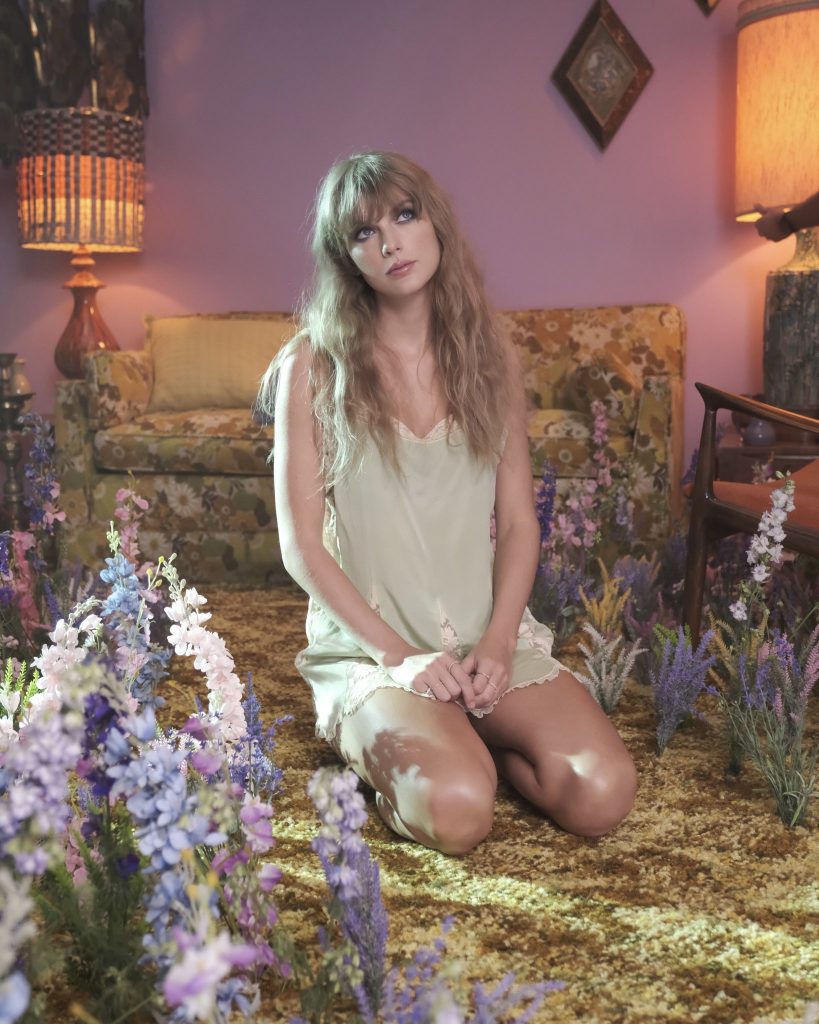 Last year, Taylor Swift offered details on her album's track list before the release, describing "Lavender Haze" as one that took inspiration from the series 'Mad Men.'
"I looked it up because I thought it sounded cool," Swift said. "It turns out that it's a common phrase used in the '50s where they would just describe being in love. Like, if you were in the lavender haze, then that meant you were in that all-encompassing love glow."
Taylor Swift continued by saying that when you're in the lavender haze, "you'll do anything to stay there and not let people bring you down off of that cloud," drawing comparisons to her relationship with Joe Alwyn in which they have had to disregard "weird rumours" throughout their six-year relationship to protect the real stuff.
Inherently, in true Swift fashion, Taylor peppered ample Easter eggs throughout the music video, left, right, and centre, prompting us to have late-night discussions on social media with Swifties.
Her enthusiasm for hiding Easter eggs in music videos dates back to her first album, encrypting the lyrics with secret messages using capital letters, and since then, descended into colour coding, numerology, word hunts, elaborate hints, and Easter eggs.
We have to agree: Taylor Swift's music videos are more than just eye candy and promise visual pleasure; they also encourage rigorous cerebral work and improve our investigative abilities. Just ask any Swiftie in town!
From giving nods to her superhit songs from the album like "Mastermind," "Karma," and "Maroon," references to her past self, fan-favourite lyrics, references to her romance with beau Joe Alwyn and subtle hints at the possibility of another re-recorded Taylor's Version album, "Lavender Haze" music video has left us giddy with anticipation for what else is to be served on our music platter this year.
Here are 15 Easter eggs you may have missed watching the "Lavender Haze" music video!
Clock Strikes Midnight
Let's start with the easiest hint: the clock strikes 12:00 a.m., an obvious Easter egg for Swift's namesake album "Midnights," and the opening lyric "meet me at midnight." What we have seen is that every music video released from this album featured clocks or references to them which is intriguing, don't you think?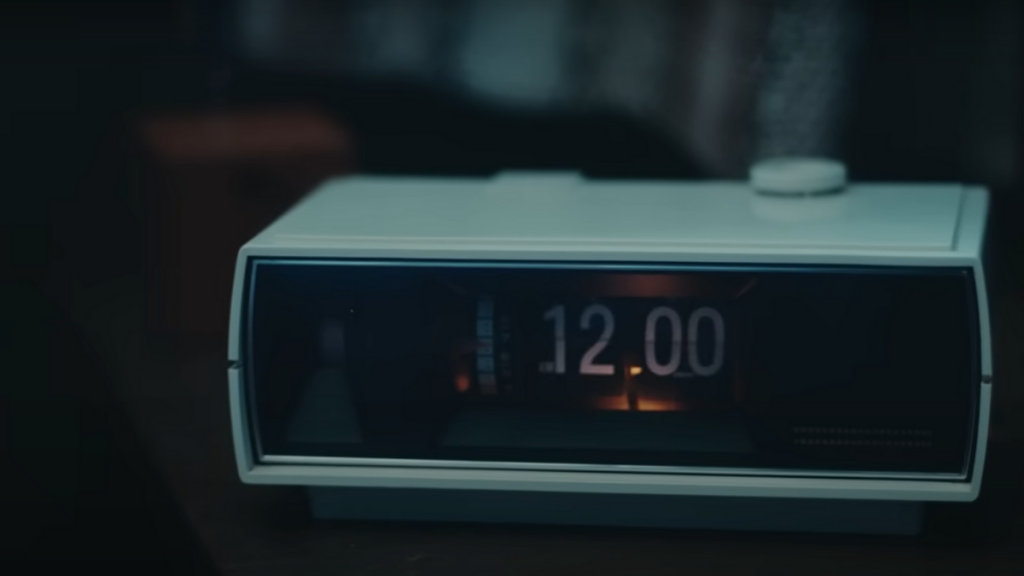 The "Mastermind" Vinyl
The camera lingers over a vinyl titled "Mastermind," the 13th track on "Midnights," so could it be a hint for the next single with another riveting music video for us to unscramble? It could be a nod toward the first line in the song: "Once upon a time, the planets and the fates / And all the stars aligned," alluding to Taylor's relationship with longtime boyfriend Joe Alwyn.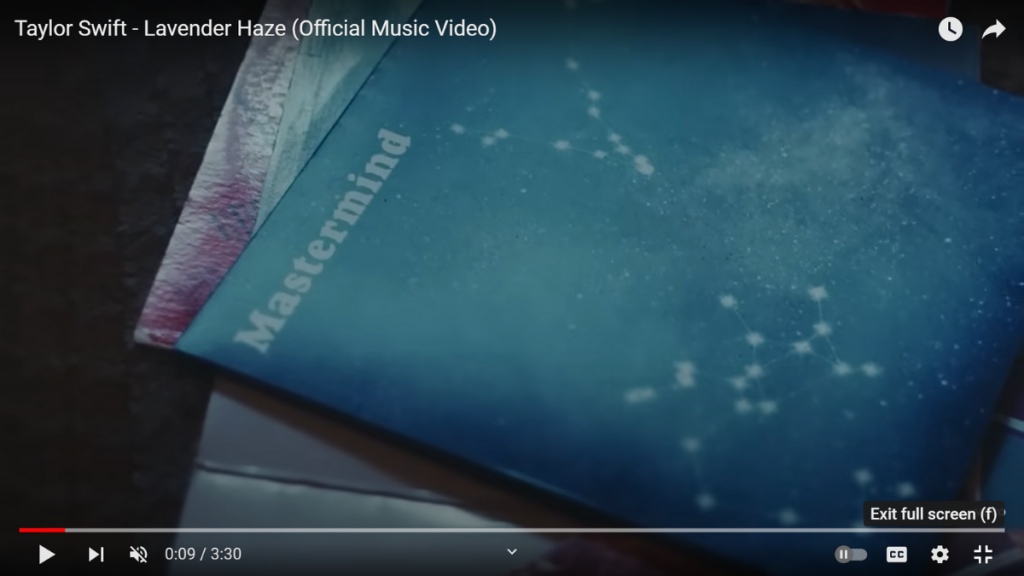 Constellations Connection
In the video, the "Mastermind" vinyl cover features two constellations: Sagittarius and Pisces, which aren't randomly picked. These are the star signs of Swift and her boyfriend Joe Alwyn. As fans already know that "Lavender Haze" is one of the many songs on Midnights, that acknowledges and pays homage to their relationship. If that's not romantic enough, then what is?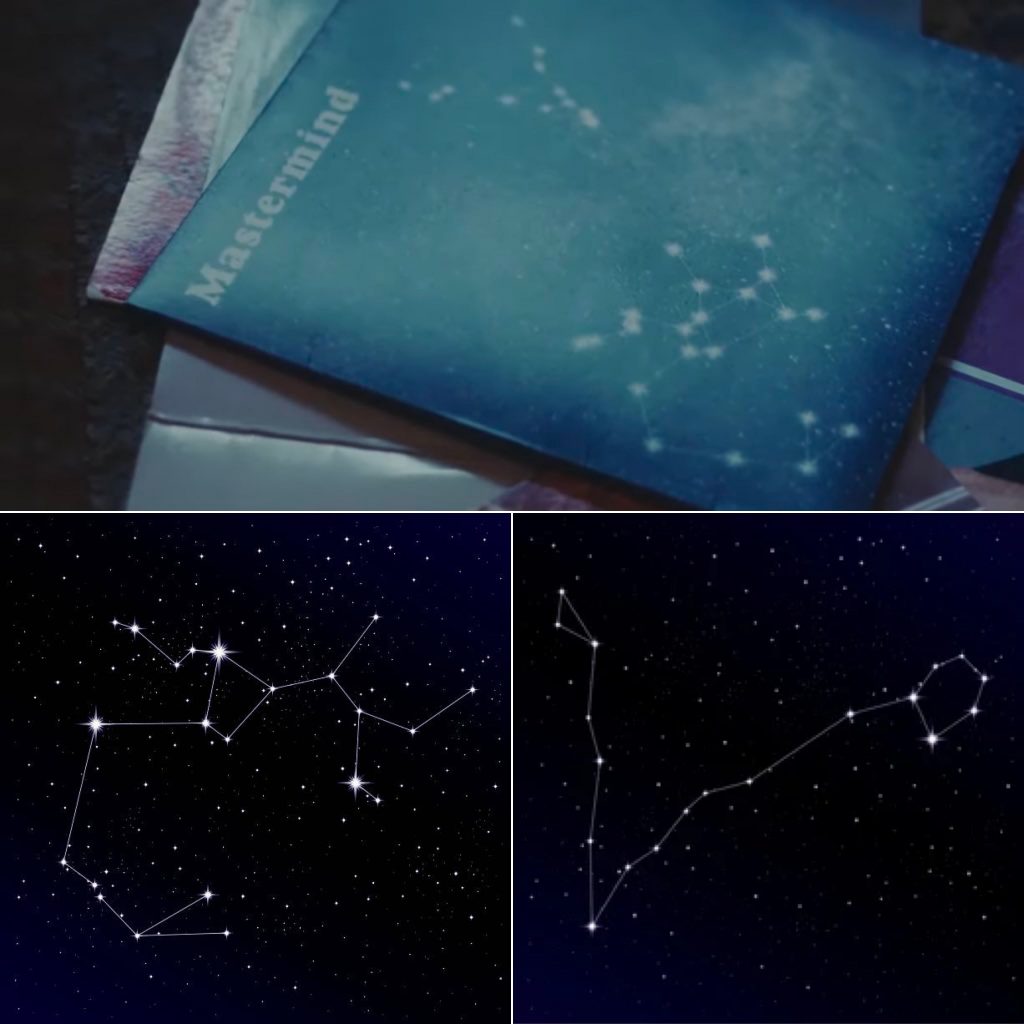 The Incense: "Maroon"
Taylor Swift gives a nod to another song from the "Midnights" album, "Maroon," as we see the camera panning to vinyl and incense burning on a sideboard in the bedroom, illustrating the opening lyric: "When the morning came we were cleaning incense off your vinyl shelf / 'Cause we lost track of time again."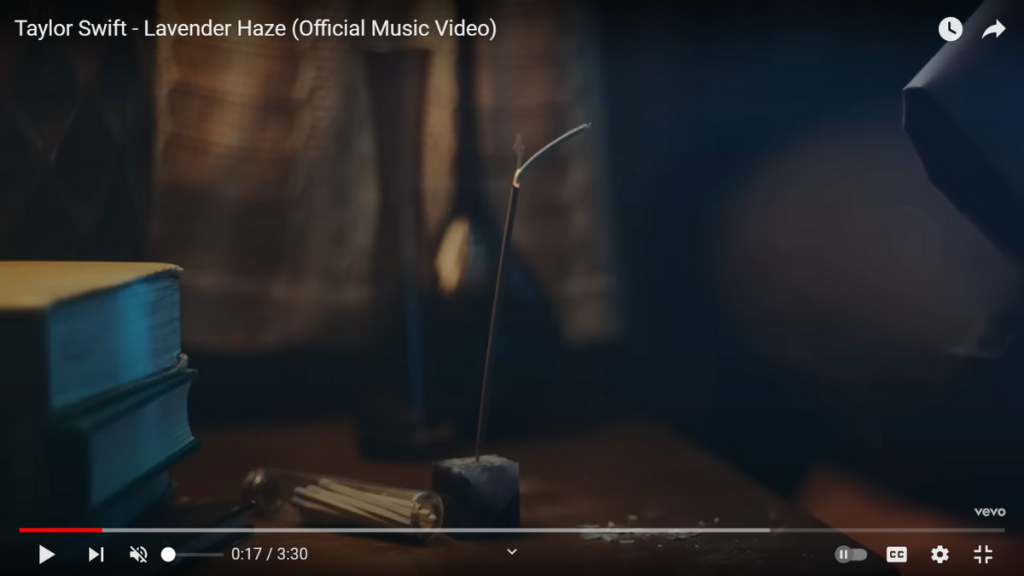 Cloud Puff
After the clock strikes midnight, Swift wakes up with a rain cloud over her head which takes us back to the "Me!" music video, how the imagery represents the singer's inner demons and outside threats to her peace and happiness. This underscores the theme of the "Midnights" album: clouded mind, midnight conversations, and confrontations that keep her up all night.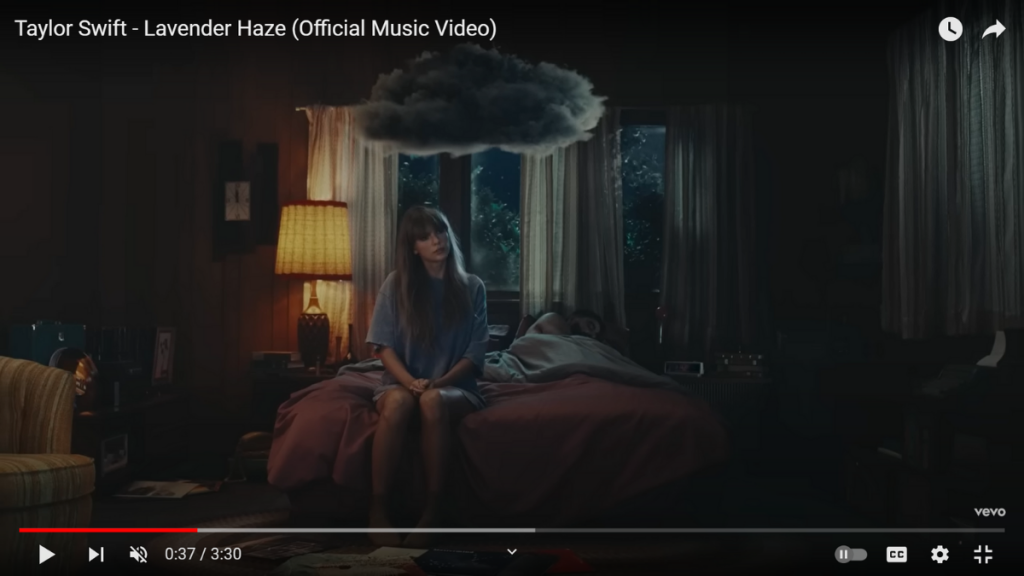 The Weather Forecast and "Midnight Rain"
Swift also references "Midnight Rain," aka the sixth track on the album, with the weather forecast on TV, which literally says there's a chance of rain at midnight. Also, in a later scene, Ashley is wearing a jacket with the sun on its sleeve, which nods to the lyric, "He was sunshine, I was midnight rain." This also connects to the previous rain cloud and is enough proof to make "Midnight Rain" a strong contender for the next single release.
Number 13"
It wouldn't be a Taylor Swift music video (or literally anything) if it didn't include at least one 13, right? The midnight forecast on TV featuring Ashley serves as the perfect opportunity to sneak Swift's lucky number. This time, Swifties spotted "13" as the temperature in Nashville, Tennessee — the city which kicked off Swift's career.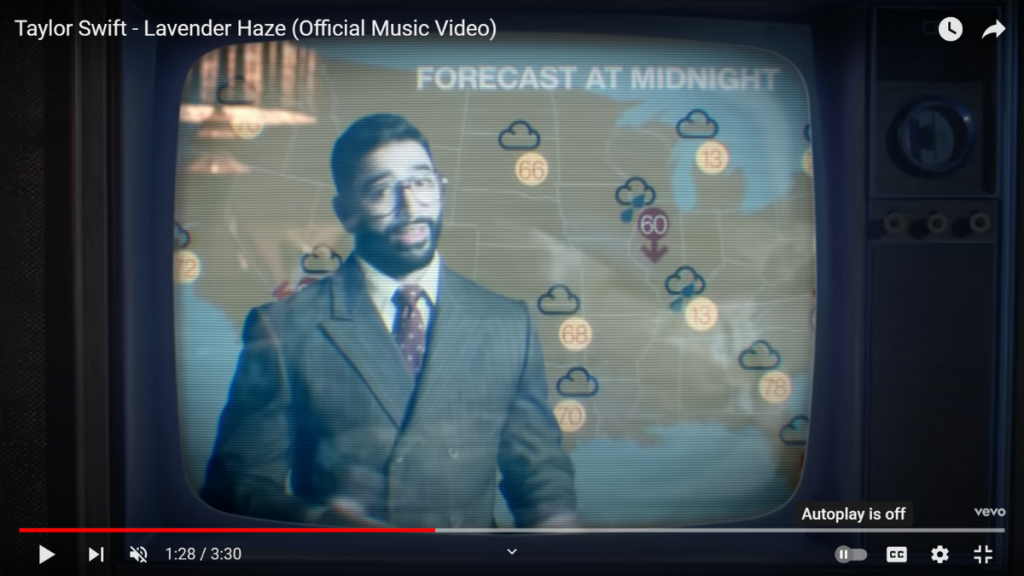 The Weather Reporter
Of course, we knew since the beginning that the weather reporter is Swift's love interest, it could allude to the lyrics in Taylor's song, "Karma": "Karma is the guy on the screen / coming straight home to me."
"Bejeweled"
Of course, the "Bejeweled" tabletop made it to the cut, referencing her previous single and dazzling music video.
"Karma Is A Cat"
In another scene, Taylor Swift crawls like a cat across the room, which could be an Easter egg towards this "Karma" lyric: "Sweet like honey, karma is a cat purring in my lap 'cause it loves me."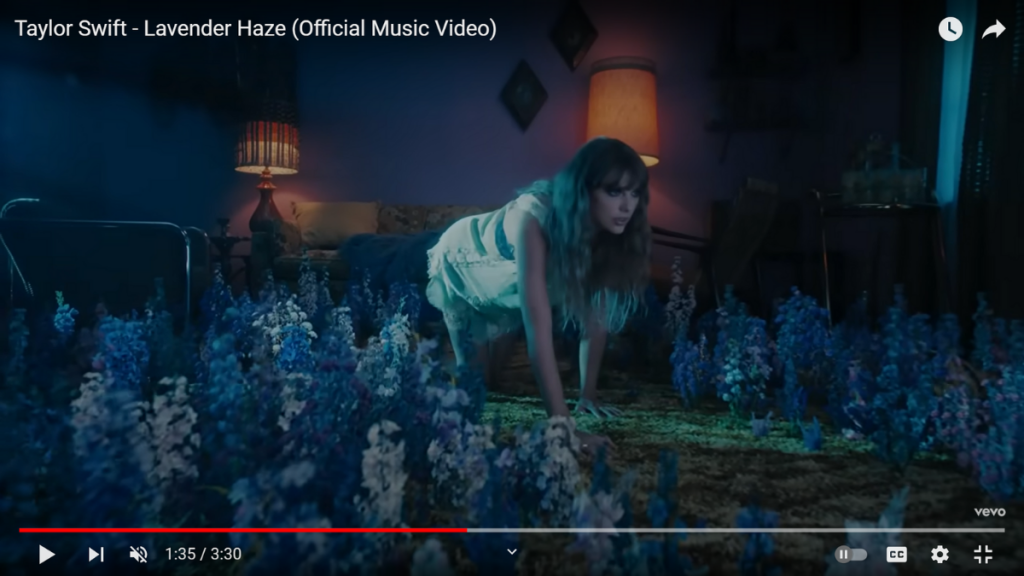 "Our Song" Nostalgia
This might be a coincidence, but in a true Swiftie fashion throwback, we drew parallels between the "Lavender Haze" video and the "Our Song" video from her debut album. From the opening scene with light-blue toenails, to another scene, where we find Taylor laying down in a beautiful field of lavender, both resemble her debut "Our Song" music video, where she lies down on a bed of roses alluding to its lyrics: the only main difference being the colour schemes as suited to respective songs.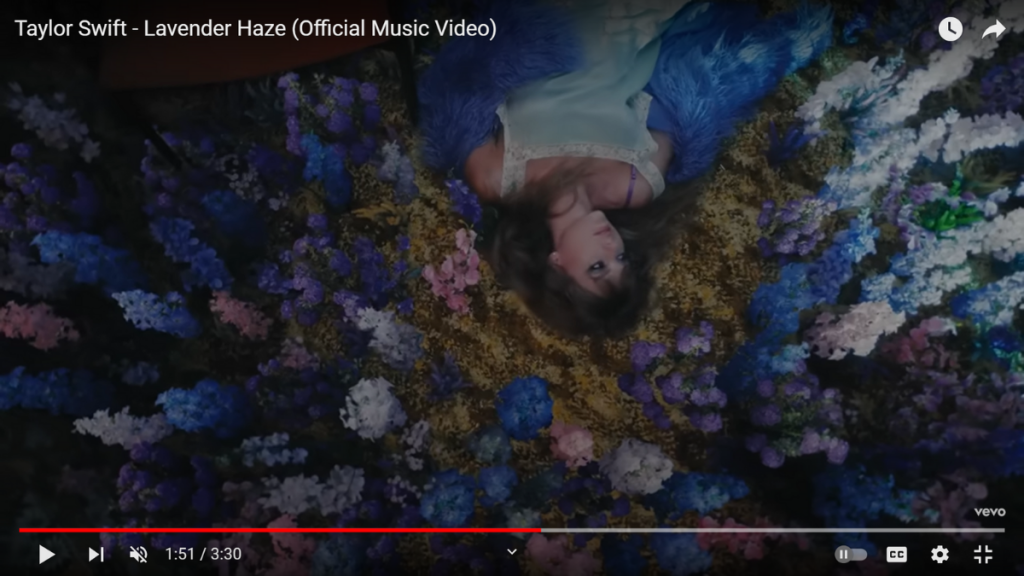 Daisies on Sofa
She lounges on a daisy-patterned sofa, calling back to "Anti-Hero." The "Anti-Hero" music video is set in a house full of daisy motifs. The floral pattern could be a reference to "Don't Blame Me," the fourth track on "Reputation" ("I once was poison ivy, now I'm your daisy").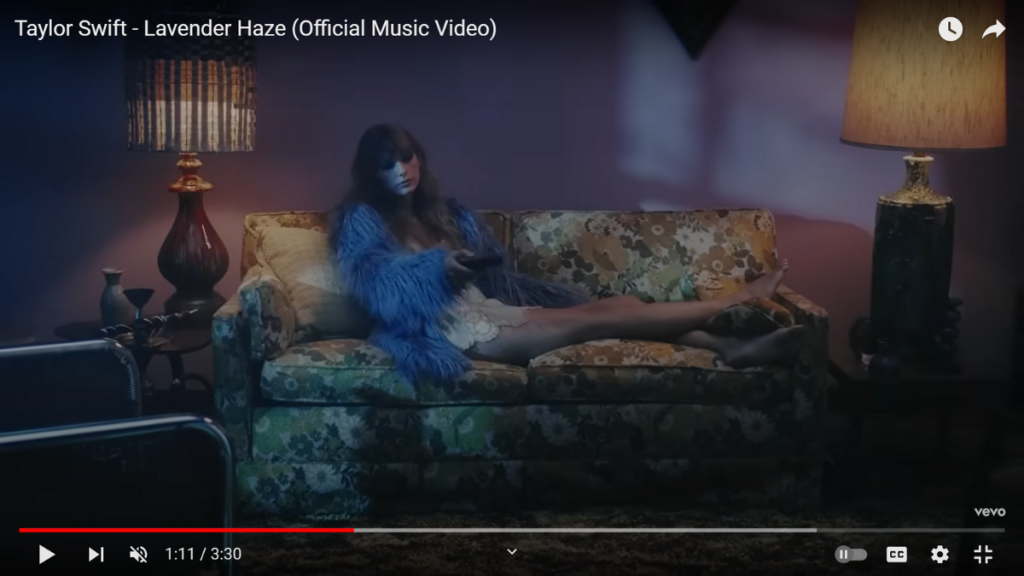 Speak Now (Taylor's Version)
This is one of the most-discussed Easter eggs in the "Lavender Haze" music video with multiple theories, including another re-record coming our way. Like previous "Midnights" music videos so far, we again spotted koi fish here when Swift opens up the TV screen after the weather report.
This fueled fans' speculations even harder that Taylor might re-release the "Speak Now (Taylor's Version)" album soon. This is because Swift famously played the guitar with Koi Fish decals during her Speak Now music tour from 2010 to 2012.
The purple imagery throughout the video also serves as a nod to "Speak Now"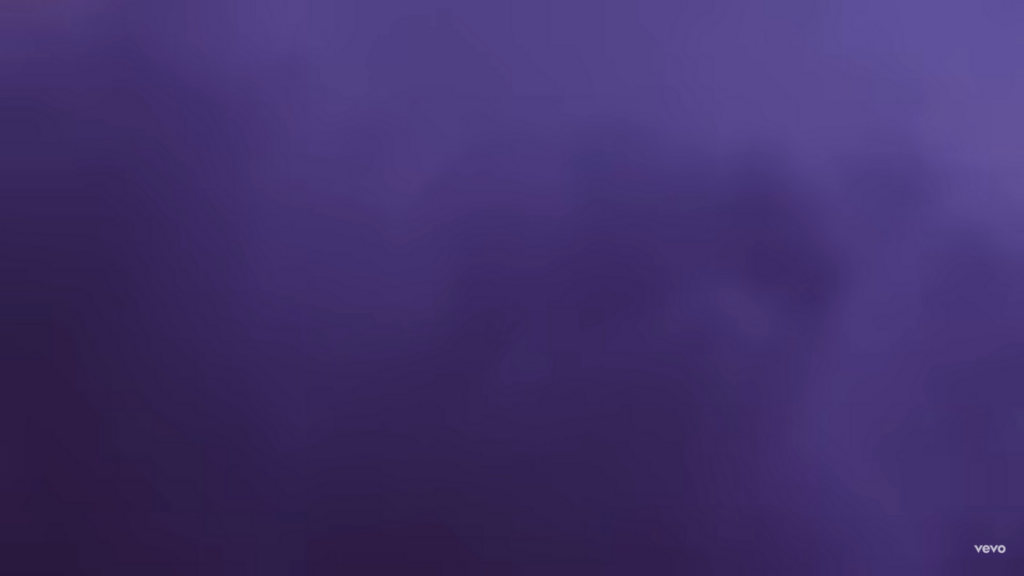 The second theory relates to a belief in Japanese culture: Koi fish stands for basically anything that is good; luck, prosperity, vitality, and longevity. It is renowned to swim against the water current, thus overcoming obstacles, which is something Taylor relates hard to throughout her career.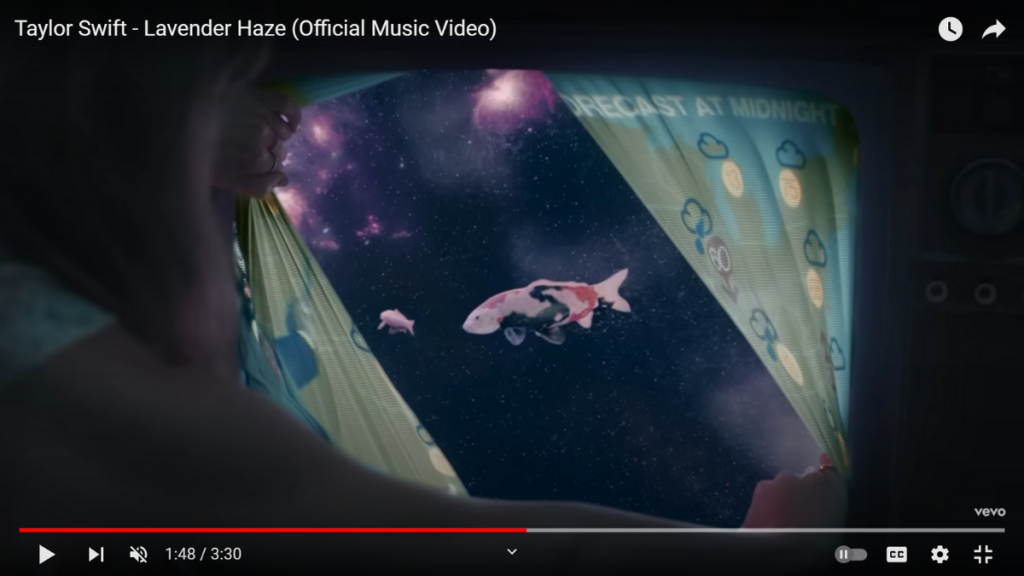 Fishbowl & Pushing Walls
Do you recall Taylor Swift's infamous stuck-in-a-fishbowl sequence from the "Lover" music video? However, in this MV, Taylor pushes down the walls of the house in the closing moments, and outside, there is a dreamy landscape scene with a galaxy filled with clouds and koi fish that roam wherever they please.
This implies three things: (1) the conclusion of this album era and hinting at the dawn of the next; (2) Taylor overcoming her challenges and embracing the goodness in her life (thus, the koi fish) since she now feels free; or (3) a positive portrayal of her relationship with Alwyn.
In an interview with CBS, Swift said, "I frequently say that my life is like a fishbowl. If I were to like, fall in love, someone would choose to live in that world exclusively with me and be in that fishbowl with me.
Smoke Puff
The scene where Taylor Swift blows lavender smoke pays a subtle homage to Lewis Carroll's Alice in Wonderland where the caterpillar blows a ring of smoke. She has previously made references to this well-known tale: (1) lyrics to 1989's "Wonderland" song; (2) Folklore's "long story short," and; (3) "Anti-Hero" music video, where she consumes miniature bottles and eats tiny food.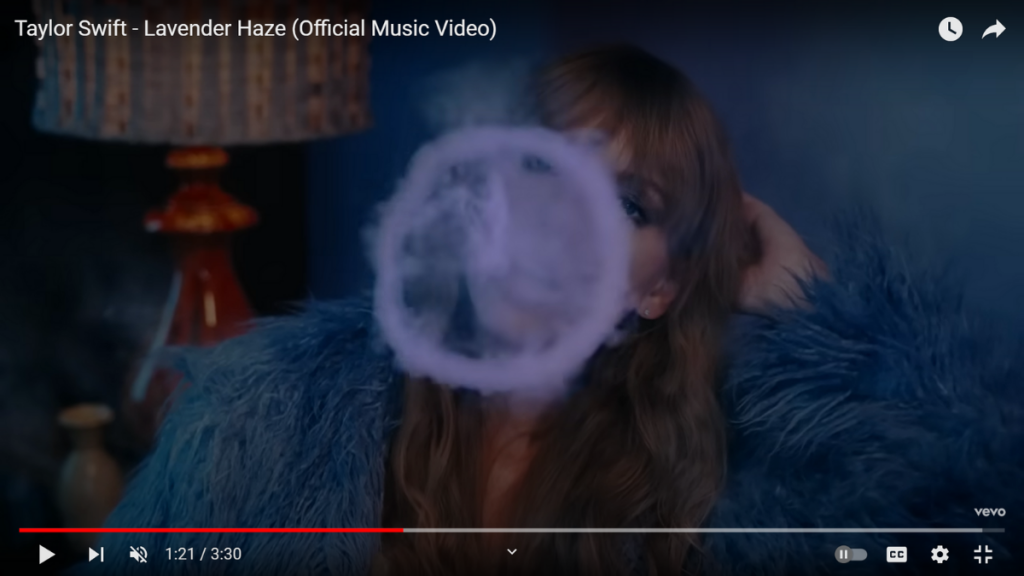 In need of a rewatch? Us, too. Catch Taylor Swift's full "Lavender Haze" music video below.
Did we miss any Easter eggs in the music video? Let us know your favourite clues and favourite song from "Midnight." Share your thoughts with us on Twitter at @CelebMix!