The countdown is on, as Taylor Swift is merely a few hours away from unveiling her much-awaited, tenth studio album: 'Midnights,' and we can't keep our calm.
TS10 finds inspiration from the 'terror and dreams' that the singer has experienced at night, telling the stories "of 13 sleepless nights scattered throughout my life." Here's every glimmer of information we know so far, from the release date, the tracklist, the album schedule, and the forthcoming UK stadium tour.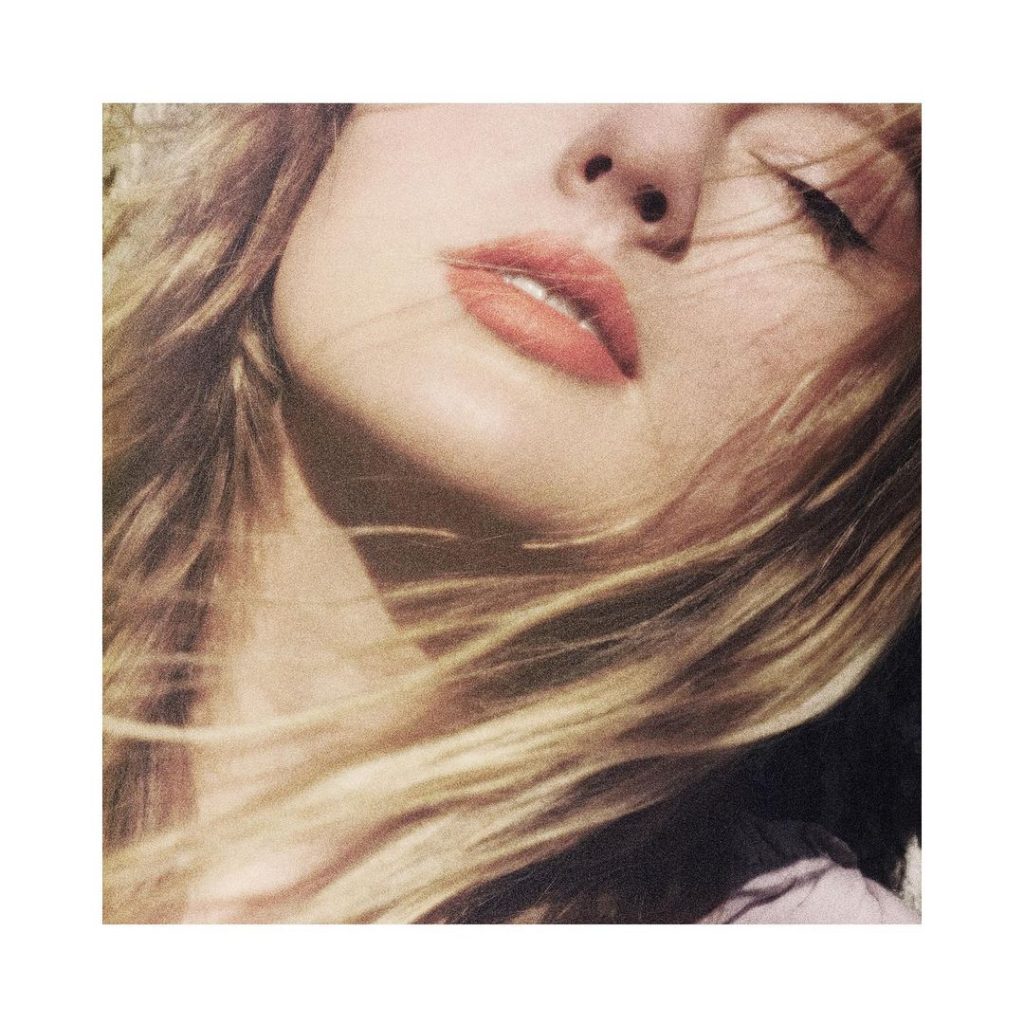 'Midnights': Release Date and Inspiration
Taylor Swift's "Midnights" is slated for release on October 21, 2022!
She has also confirmed an interview on The Tonight Show Starring Jimmy Fallon the following Monday (October 24).
She first made the surprise announcement during the MTV VMAs 2022 while accepting her award for Best Video for 'All Too Well (10 Minute Version) (Taylor's Version)'. She stated that she's got yet another album coming, a brand new creation she's been working on through all her sleepless nights.
'Midnights' is the follow-up album to Taylor's two 2020 blockbuster albums, 'Folklore' and 'Evermore', as well as 2021's re-recorded albums: 'Fearless' (Taylor's Version) and 'Red' (Taylor's Version). It is conceivably another pop-rock record which is "a collection of music written in the middle of the night, a journey through terrors and sweet dreams. The floors we pace and the demons we face."
She dropped an Instagram post at midnight, detailing the inspiration behind the album. In her post, she said: "We like awake in love and in fear, in turmoil and in tears. We stare at walls and drink until they speak back. We twist in our self-made cages and pray that we aren't—right this minute—about to make some fateful, life-altering mistake. "
Taylor also shared a video on Instagram and TikTok, captioned: "The Making of Midnights," that revealed her toiling away at her songwriting, hitting the studio, and producing the record with her frequent record producer, who has produced some of Taylor Swift's most incredible and fan favourite songs, spanning "Out of the Woods" to "Lover," and dates back to '1989' album.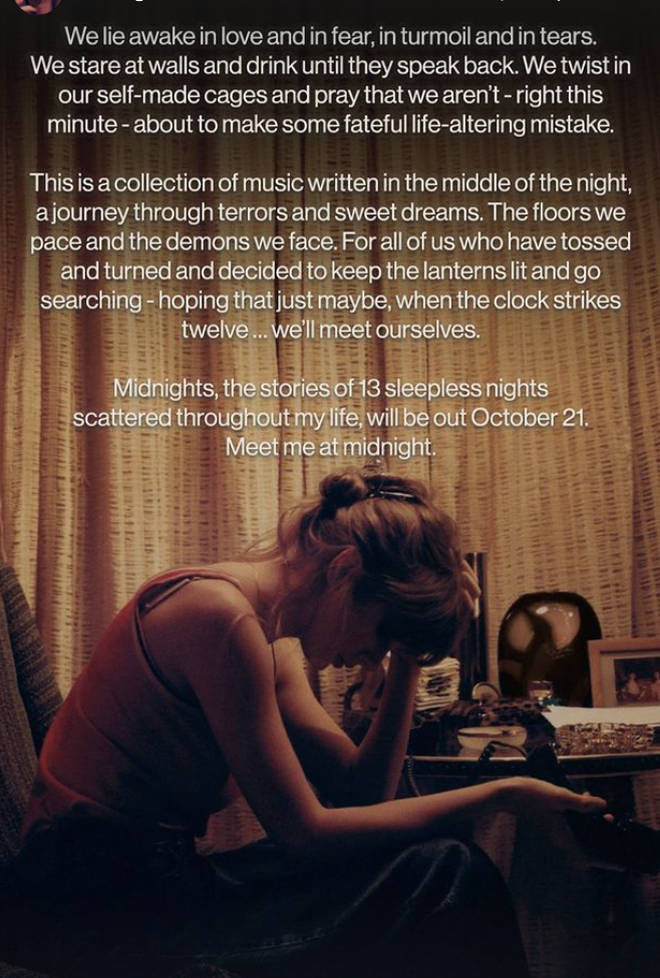 'Midnights' by Taylor Swift: Tracklist & Collaboration
Taylor has finally given us all 13 song titles from "Midnights" which will indisputably reel you in. She unveiled the full track list for her 10th studio album after teasing us all with her Midnights Mayhem With Me TikTok segment, where she would release a song title one at a time!
Here's the tracklist for Side A and Side B:
'Lavender Haze'
'Maroon'
'Anti-Hero'
'Snow On The Beach' featuring Lana Del Rey
'You're On Your Own, Kid'
'Midnight Rain'
'Question…?'
'Vigilante S**t'
'Bejeweled'
'Labyrinth'
'Karma'
'Sweet Nothing'
'Mastermind'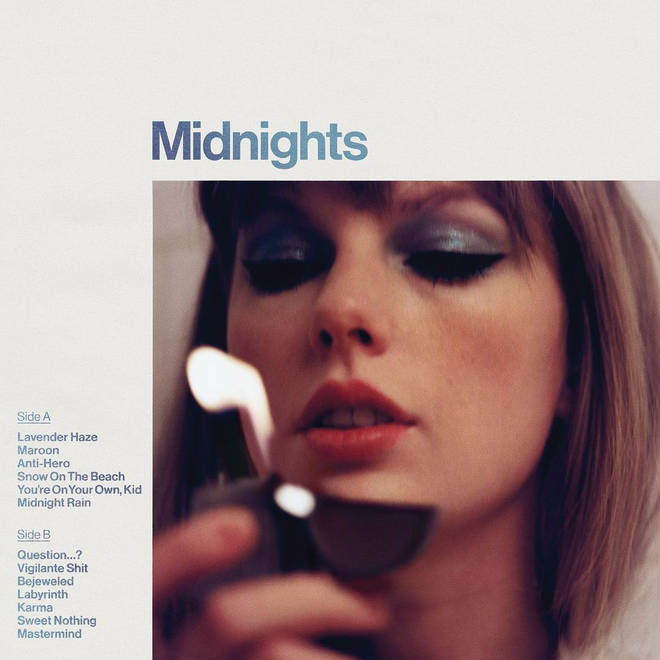 Tay's already confirmed that the first single from the album will be "Anti-Hero," to be released at 8 am EST (1 pm BST) along with the album, which delves deeper into her insecurities. She said that the upcoming single is "one of my favourite songs I've ever written," and noted of its significance: "I really don't think I've delved this far into my insecurities in this detail before."
"Anti-Hero" accompanies a cinematic music video in which—in true Taylor Swift fashion—we might find some hidden Easter eggs. We don't know about you, but we are so eager to crack open those and decipher the mysteries around the album.
For all those Swifties who were desperate to know whether there would be any collaborations on the album, the answer is YES! Tay revealed her forthcoming collaboration with none other than Lana Del Rey on the song "Snow On The Beach." "[The song] is about falling in love with someone at the same time as they're falling in love with you," she said in a video shared on social media.
The announcement sent the fans into a frenzy on social media, and indeed, it is absolute madness. We can't wait to see what these two ladies have in store for us with this one. Although, fans speculate that 1975 might feature on her album after the band's manager posted and liked a tweet about a collaboration.
Last but not the least, Joe Alwyn is back again with another song along with Taylor Swift for the forthcoming album under his pseudonym William Bowrey. For now, we only know that the romantic duo has worked together on "Sweet Nothing" and details are yet to be revealed. The romantic duo previously collaborated on "Exile" and "Betty" on "Folklore," as well as "Champagne Problems," "Coney Island," and 'Evermore" on "Evermore."
Is Taylor Swift Going On Tour?
This is not a drill: Tay is finally embarking upon a tour in the UK after a wait of a lifetime (well, five years, but it felt like 50 years). A post on Taylor Swift's website has confirmed that a UK 'Midnights' tour is happening.
Swift fans have been waiting patiently for the musician to announce a fresh run of performances because Taylor hasn't toured since the Reputation Tour ended in 2018. While the rumour mill amongst fans on social media has been endlessly dropping "theories" on the 32-year-old songstress's return to the road, this announcement comes directly from Taylor Swift's website.
On October 17, when 'Midnights' became available for pre-order, we got the confirmation that fans would then be eligible for pre-sale tour tickets. The announcement appeared on Taylor's official UK store, causing the site to crash, which was predictable. An avalanche of Swifties are already checking their bank accounts and flocking to the website to pre-order and secure their pre-sale ticket spots before they all sell out… in a flash!
Once bought, you'll get a presale link to access her show dates and details. But be sure to pre-order the record before 5 am on October 21!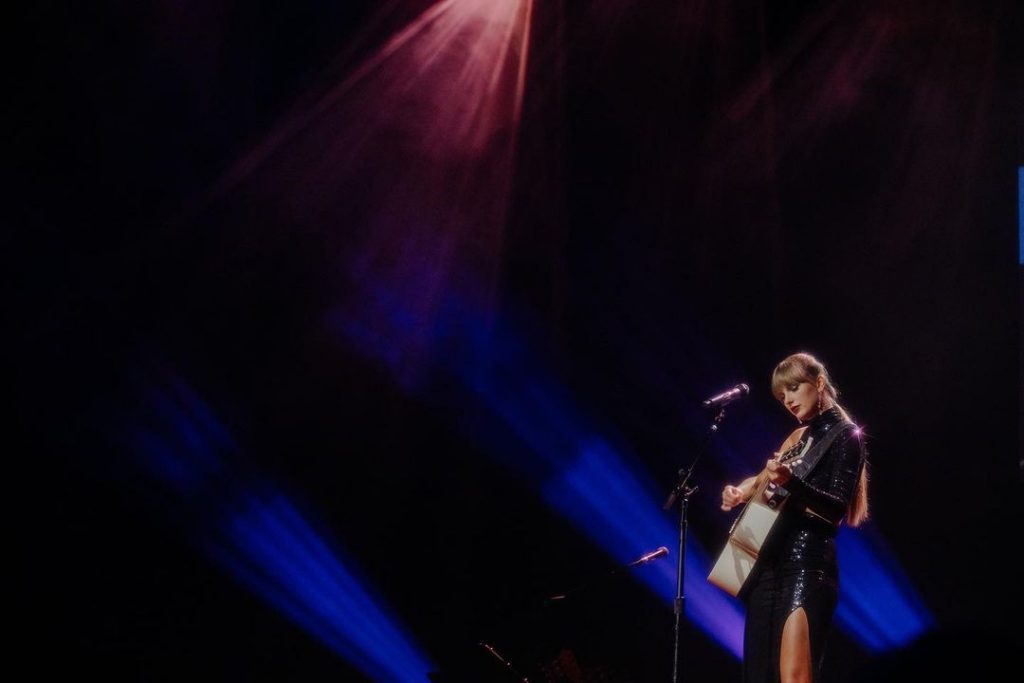 Fans who pre-order her new album from the official UK store will receive pre-sale code access "for forthcoming and yet-to-be-announced Taylor Swift show dates," according to a post on Swift's website. The post continued: "If you have already pre-ordered via this store, you are automatically eligible to receive a code for access to the pre-sale and do not need to order again."
Since the last tour, Taylor has released a whopping six projects including "Midnights," so be prepared for a massive repertoire and beautifully curated and explosive concerts oozing her passionate onstage energy and applauding, buoyant fans all around the sold-out stadiums whom you can hear from miles away.
Share your thoughts with us on Twitter at @CelebMix!