ABSOLUT brings IRL and URL together with the unveiling of 'Second Skin Couture', a physical and digital fashion collaboration from Tayce, Chet Lo and the Institute of Digital Fashion designed to suit anybody regardless of shape or gender.
Drag race superstar Tayce, celebrity favourite London designer Chet Lo, and the team from next-gen collection Institute of Digital Fashion staged a dramatic unveiling of their first-ever collaboration together, Second Skin Couture – a fashion collection that blurs the boundaries between IRL and URL – part of ABSOLUT Vodka's #BornToMix programme to bring different minds together to drive progress and challenge existing norms. 
As the lights dimmed, attendees and VIPs including Roman Kemp and Kimberly Wyatt were surprised to see a display of diverse models walking down the runway – wearing bodysuit skins, as if naked. With the click of a button, a stunning AR dress that changes colour came to life on the phones of the FROW.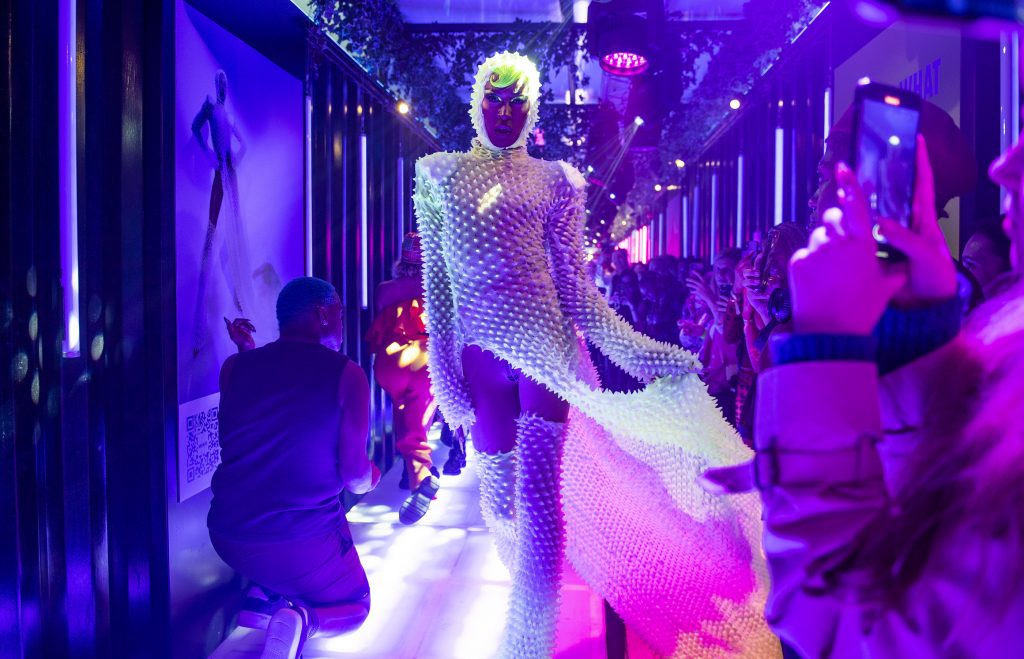 In true showstopping style, Tayce emerged, strutting down the length of BOXPARK Shoreditch, wearing the physical version of the dress, hand-knitted by Chet Lo and translucent, like a second skin. 
Tayce was joined at the event by designer Chet Lo (whose designs have been seen on the likes of Dua Lipa, Doja Cat and Kylie Jenner) and founding members at Institute of Digital Fashion Catty Tay and Leanne Elliot Young – all of whom came together for this unique project for Absolut.
Second Skin Couture aims to challenge existing stereotypes and perceptions of fashion and provide a vision of the future. In this world, what you wear isn't tied to the binds of gender, seasonal trends, religious expression, or function. 
The team at IODF, creators of the digital 'second skin' wearable, said: "We believe in using technology as a democratic tool for change, therefore when it came to making the "Second Skin" wearable we designed a garment to fit anybody, regardless of shape or gender. Effectively, we are challenging the current preconceptions while providing a more inclusive vision of the fashion future and we're thrilled to be working with ABSOLUT to launch their progressive #BORNTOMIX series"
ABSOLUT's Born to Mix will see unexpected and diverse creatives work together on a series of projects designed to drive conversation and progress in the UK. As a spirit crafted to be mixed, ABSOLUT Vodka has always believed that whether its drinks, ideas, or people, life is more interesting when we mix things up. 
Head down to BOXPARK Shoreditch 2-10 Bethnal Green Rd from 12th May to enjoy two weeks of Absolut events and experiences – from making your own cocktails, to photo moments with friends.