Filthy Tricks have released their latest single Leah, and Harry Styles Mum, Anne Twist has been supporting it by promoting it on her Instagram story.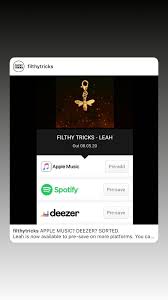 Leah' follows their last release 'Walk In Line' – a track which had their 2020 off to a flying start when local rugby league team Warrington Wolves used it to soundtrack their 2020 season promotional video.
The Warrington five-piece which consists of Liam Rimmer, Gerard Van Den Hoek, Matty Hignett, Chris James and Chris Peake ooze rock 'n' roll soul, citing Black Rebel Motorcycle Club and The Doors to Sly & the Family Stone and The Violent Femmes as influences on their music and lyrics. After releasing their debut EP 'Run The River' in June 2019, the band have gone on to support the likes of The Blinders, Children Of The State and Sky Valley Mistress, as well as playing headline gigs across Warrington, Manchester and Liverpool.
'Leah' opens with a pounding drum beat and a burgeoning guitar riff, leading into lyrics with a much more emotive undertone than the band's previous releases. The basis of the lyrics come from an extremely personal place for guitarist and songwriter Gerard Van Den Hoek, who explains how a trip to Australia had a profound effect on him.
Leah' is about changes in myself and meeting a very special person that's come into my life and made a massive impact. A couple of years ago, before we reformed Filthy Tricks, I was in a bad place and didn't realise until the band and friendships slowly started to crumble beneath me. That was down to me and my weekend ways, always putting those nights out before the important things that I had in front of me. So I finally had had enough and was sick of being stuck in the mud, so I decided to take a year out from everything and go travelling in Australia to sort my head out and wake up a little because you only get one crack of the whip in life, and that was going to be in music with Filthy Tricks for me. It still remains the best thing I've ever done because I cut ties with a lot of people and I've never been so driven to achieve this dream of mine and now it's paying off.

Gerard Van Den Hoek talking about what Leah means to him.
Let us know your thoughts on Filthy Tricks new single on @CelebMix!