German DJ and producer ATB is back once again – and this time he has teamed up with singer-songwriter Ben Samama for his brand new single "Like That".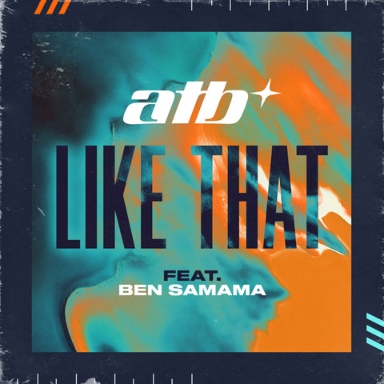 With hints of tropical house encompassed with sweet guitar riffs, a catchy rhythm and an overall electro house sound, "Like That" is an infectious dance anthem, with a smooth vocal performance delivered by Ben.
It comes after ATB previously dropped the crazy sounding "Simply Mad", under his alter-ego EANOH.
With the musician releasing banger after banger as of late, who knows what he will come up with next?
The DJ experienced huge success earlier this year, with his smash hit "Your Love (9pm)", alongside A7S and Topic.
The track is a remake of his late 90s song "9pm (Till I Come)", updated for a new audience. To date, it has achieved 470 million streams and reached the top 10 in several countries.
CelebMix also got to talk to A7S himself to find out more about his involvement on "Your Love (9pm)".
ATB has also had hits with other singles including "Don't Stop!', "You're Not Alone" (a cover of the 1996 Olive track) and "I Don't Wanna Stop".
"Like That" by ATB and Ben Samama is out now, and you can listen to it below:
Make sure to follow ATB and Ben across social media:
Twitter | Facebook | Instagram
Ben Samama: Twitter | Instagram
Let us know your thoughts on the song over on Twitter @CelebMix!