CelebMix are super excited to bring you the EXCLUSIVE PREMIERE of the brand new acoustic music video for Australian supergroup Sheppard's latest single, Learning To Fly – a rousing and empowered pop anthem that serves as the final instalment in the band's year-long song project, set to culminate with the release of their hotly anticipated third studio album, Kaleidoscope Eyes later this month.
Written in LA with long-time friend and fellow recording artist Forest Blakk, the poignant track, with it's hopeful lyrics and emotive melody, encourages listeners to embrace and remember all of life's simple joys and pleasures, whilst holding on tight to the hope of a brighter tomorrow.
Explaining the inspiration and meaning behind the track, the Geronimo hitmakers say: "It's a song about rediscovering your inner child, and re-learning to find that sense of play. Performing this made us feel much better during our mini-lockdown, so hopefully it makes someone else in lockdown feel the same!"
And of their decision to record an extra special version of the single, the trio add: "We had a very brief snap lockdown in Brisbane at the start of the year. We weren't allowed to leave our homes for 3 days, so we decided to do something productive with our time and made an acoustic 'lockdown/Zoom' version of Learning To Fly."
Watch the official acoustic music video for Learning To Fly below:
---
Sheppard: Kaleidoscope Eyes… "an album dedicated to the wonders of love."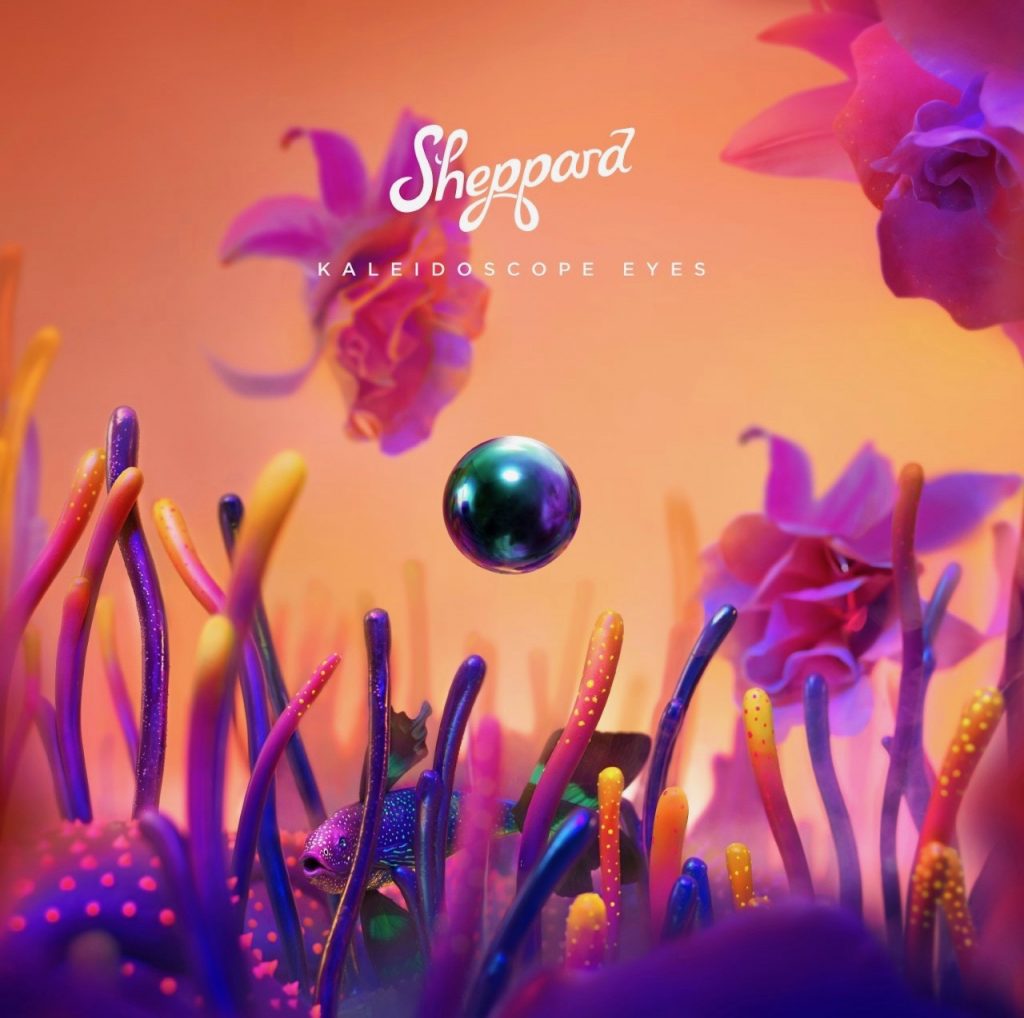 Two years in the making Kaleidoscope Eyes marks Sheppard's first full length release since 2018's Watching The Sky – a dynamic collection of up-beat, optimistic pop bops that hit #1 on the Australian album charts.
Exploring themes of love, loss, heartbreak and happiness from all angles, the album promises to be the bands most confident and profound work to date, as they reflect upon their unique life experiences, both ordinary and extraordinary, to produce an epic collection of top tier pop bobs.
"Somewhere along the album's journey, I became obsessed with the idea of a kaleidoscope." George says of the origins of the albums title. "To most people it might just be a tube with pretty shards of glass, but to us it represented so much more."
"Each time you look into a kaleidoscope, you are looking at something in a new light. It's often bittersweet, because the slightest change can shift the entire picture forever." Amy explains further. "On the other hand, if you continue to tumble, you'll eventually find new beauty in a different arrangement of the same pieces. It's a strangely beautiful metaphor for love and how the world seems much brighter when you're in love. That message has managed to wind its way throughout the entire record."
Kaleidoscope Eye is set for release on February 26th, pre-save here.
---
Let us know your thoughts on Sheppard over on Twitter @CelebMix now!