Matchbox Twenty took the stage for a completely sold-out show at the Wind Creek Event Center in Bethlehem, Pennsylvania, on July 19, 2023.
Nearly three years after the band was scheduled to hit the road, the group surprised fans with a lengthly setlist consisting of both old and new tracks that made it all worth the wait. Rob Thomas, the band's lead singer, rushed on stage full of energy and opened the show with "Friends," a track off of Matchbox Twenty's latest album, Where The Light Goes, released earlier this year. A group of excited fans even joined the band on stage to cheer them on for the first few songs.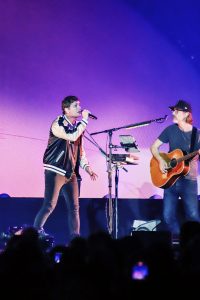 The show effortlessly transitioned from songs from over twenty years ago to songs released just a few months ago. And while the performance was geared towards people of all ages, it gave both "OG" fans and newer fans an equal opportunity to rock out to their favorites and enjoy the show. Thomas even pointed out that he recognized some supporters in the crowd from years ago who are now bringing their children or grandchildren along with them.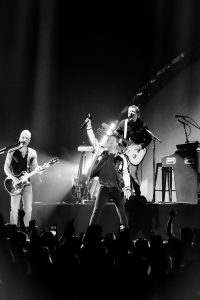 It was quite a full-circle experience for those supporting the group since the beginning. An overwhelming feeling of nostalgia nearly took over Bethlehem for fans of Matchbox Twenty's hit album, More Than You Think You Are, released in 2002. Matchbox Twenty played multiple tracks off of the project, including fan-favorite "Disease" and an acoustic version of "If You're Gone."
Thomas undoubtably brought the house down with his powerful vocals and dynamic stage presence. And in terms of on-stage chemistry, the band's connection appeared to be as strong as ever as they interacted throughout each song and worked every inch of the stage to entertain all attendees.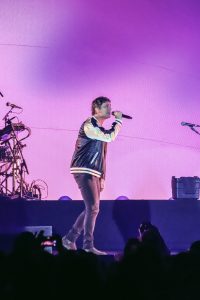 Just as it began to seem as if the show was ending, Thomas let concertgoers in on a little known secret: a planned encore. The group then returned to perform four of their greatest hits: "3 A.M.," "Unwell," "Push," and their final song: "Bright Lights."
It was truly an unforgettable show that made one thing very clear. Although Matchbox Twenty has been around for over two decades, their passion and dedicated fanbase prove that this band isn't going anywhere anytime soon.
Follow Matchbox Twenty on Spotify and Instagram.
For more information on tour and tickets, click here.