2015 has been a been a very progressive and active year for Demi Lovato. This year she came back with her fifth studio album named 'CONFIDENT.'
Demi released her single 'Cool for the Summer' on 1st July 2015 and later on 28th she released the official music video for the song. The song received positive critique and got nominated for Choice Summer Song at the Teen Choice Awards and Song of Summer at the MTV Music Video Awards in 2015.
Later in October, she released a 'live in studio' version of her song 'Stone Cold' which reflected the amazing vocal abilities of Demi as an artist.
Following up, Demi released a powerful music video for the track 'Confident.' The music video and track totally gave us confident vibes. She acted in this action-packed music video along with Michelle Rodriguez. Rodriguez stated:
"I wanted it to look like a movie, not like a vamped up, over-the-top music video or a movie in a video, but actually something that looked like it was from a spy film. I felt it was this great culmination of movie, ideas and visuals all put together into this song created by Demi Lovato."
– (Behind-The-Scene: Confident MV)
Demi Lovato dissed her haters with her latest video 'Waiting For You', released in late October. This song was a collaboration with American rapper 'Sirah.' Most fans were relating this song as a response to Miley Cyrus feud with Demi Lovato. Although Demi didn't clarify anything, she stated in her interview with The Sun:
"This song shows a side of me I've never shown before, and that's 'Don't mess with me'.

"Let's just say not a lot of people try to pull that s*** with me. But it's gonna happen. When you get two singers who both have 30million fans it's inevitable. "
Aside from producing her fifth album 'Confident', Demi also collaborated with 'Fall Out Boy' for their fourth single 'Irresistible' from their sixth studio album 'American Beauty/American Psycho.'
She also signed with the major modeling agency, Wilhelmina Models, in February 2015.
Demi Lovato also partnered with her manager Phil McIntyre and Nick Jonas to open up their own "artist-centric" new record label, 'Safehouse Records.'
On October 26, 2015, Demi Lovato and Nick Jonas announced that they would tour together on the 'Future Now Tour.' The tour will start in late July 2016, to promote their albums.
http://185.116.215.140/~celebmix/nick-jonas-demi-lovato-announce-tour
On November 9, 2015, Lovato's skincare line 'Devonne by Demi' celebrated its 1st anniversary.
In 2015, Demi Lovato guest starred in Robert Rodriguez's vampire action show 'From Dusk Till Dawn: The Series.' It premiered on Aug 25, 2015, on El Rey Network. Demi Lovato showed us the bad side of her being Maia.
The five year long on-and-off adorable relationship of Demi Lovato and Wilder Valderrama stayed strong. They both support each other and keep on teasing and uploading pictures of each other on their individual Instagram accounts.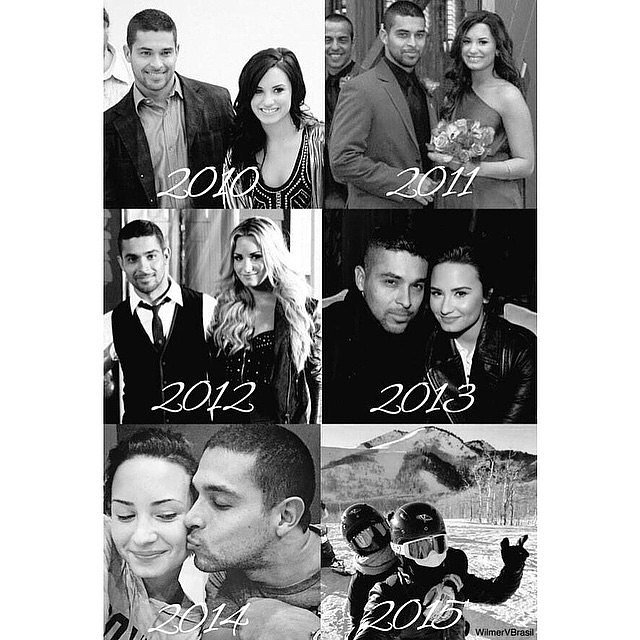 Earlier this summer, Demi lost her beloved little white puppy named 'Buddy' in a tragic accident and felt heartbroken.
On December 28, 2015, she and Wilmer both mourned the loss of their dog, Spawn. Both posted heartfelt Instagram posts in the memory of their late Doberman Pinscher.
http://185.116.215.140/~celebmix/demi-lovatos-dog-spawn-passed-away
On December 11, 2015, Demi Lovato received the inaugural 'Rulebreaker Award' at Billboard Women in Music.
Hence, Demi Lovato slayed 2015 with confidence and she worked hard to stay true to herself and to her fans. She had some ups and downs but, she proved her abilities and talents in every field of life, in the music industry and through welfare projects. This year, she emerged as an Activist, Actor, Entrepreneur, Singer and good inspiration for her fans.
What is your favorite moment from Demi Lovato's 2015?
Let us know by comment or tweet @CelebMix!