With live stream music events becoming one of our favourite parts of 2020, Ellie Goulding has announced her own version titled 'The Brightest Blue Experience'.
Taking place on 26th August 2020, the event will be recorded and live-streamed from London's Victoria and Albert Museum. The pay to view event will see material from latest album Brightest Blue make its live debut, alongside much-loved fan favourites also on the setlist. Ellie however won't be performing alone on the night as she will be accompanied by an ensemble of musicians alongside special guest who are yet to be announced. Keep your eyes peeled for the special guest's announcement in the coming weeks!
The Brightest Blue Experience will also be streamed at different times to enable fans across the globe to partake in the action. The show will be streamed at the following time for the below audiences:
LIVE #1: Ireland, UK & Europe @ 8:30PM IST&BST / 9:30PM CEST, August 28th 2020
LIVE #2: East Coast North & South America @ 7:30PM EDT / 6:30PM CDT, August 28th 2020
LIVE #3: West Coast North & Central America @ 7:30PM PDT / 8:30PM MDT, August 28th 2020
LIVE #4: Australia, New Zealand & Asia @ 7:30PM AEST / 9:30PM NZST / 6:30PM JST & KST, August 27th 2020
Speaking about the Brightest Blue Experience in a statement, Ellie said "Since touring isn't possible for the time being I'm so excited to be able to debut some of my new album to fans across the world with this one-off show. It's a truly incredible opportunity to push my creative boundaries and perform inside one of London's most iconic museums – I can't wait for you all to see the spectacle we have put together for this extraordinarily special experience."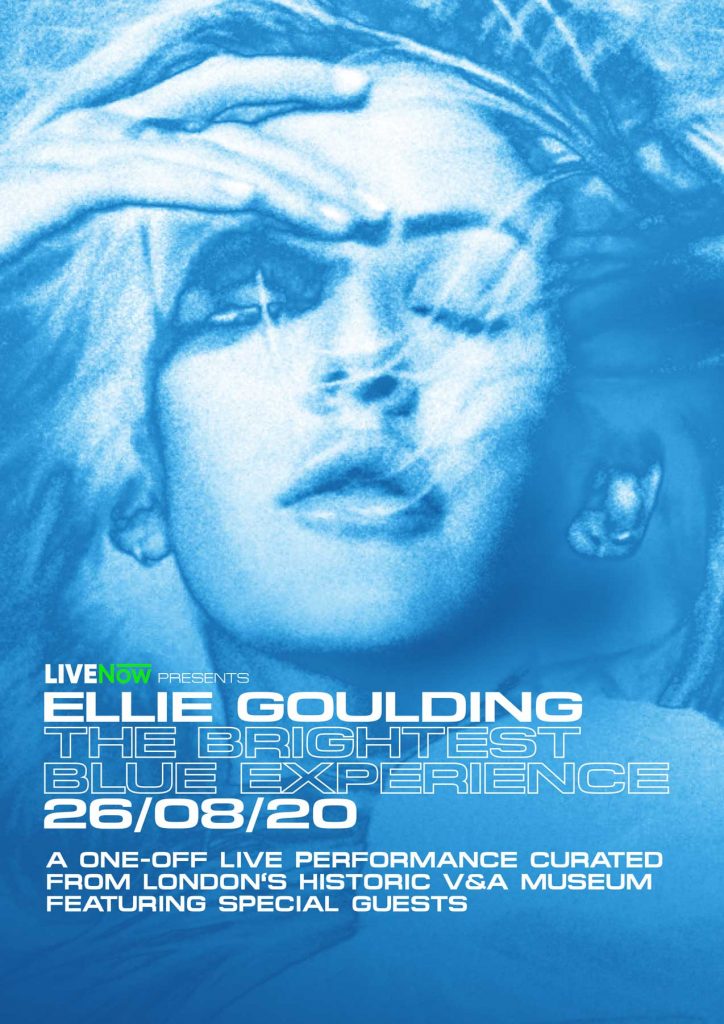 Tickets are available now from HERE. The show will not be available to view following the streaming broadcast, so be sure to get your tickets or wish you had!
Earlier this year the singer-songwriter released her fourth studio album Brightest Blue. The double-sided album was made up of Brightest Blue and EG.0; with the later featuring Ellie's recent collaborations with blackbear on 'Worry About Me' and Lauv on 'Slow Grenade'.
If you want to see Ellie Goulding live in person at a venue near you, then you're in luck as she'll be heading out on an intimate UK tour next year. You can catch her live at the following dates:
2021
28th April – O2 Apollo – Manchester
1st May – O2 Academy – Birmingham
5th May – O2 Academy – Bournemouth
6th May – Eventim Apollo – London
9th May – O2 Academy – Newcastle
10th May – O2 Academy – Glasgow
12th May – Olympia Theatre – Dublin
Tickets for all shows are available from HERE.
Will you be taking part in The Brightest Blue Experience on 26th August? Tweet us @CelebMix and let us know!