SVN could easily be dismissed as the new girl band in the industry, stepping in ready to take up the spot left by Little Mix. But the band are just so much more than that they are a sisterhood.
Made up of Aimie Atkinson, Maiya Quansah-Breed, Natalie May Paris, Grace Mouat, Alexia McIntosh, Millie O'Connell and Jay'J Richard-Noel, SVN is a group that knows what they want. They aren't a group that was just thrown together and told to get on with it. They've worked together for years as the original cast of SIX the record-breaking and award-winning musical that has taken the world by storm.
"We know each other so well," Aime tells me when I meet up with them for a chat at O2 Academy Islington ahead of their first headline show which is sold out. "We've spent so much time together over the years with SIX, that I see them more than I do my family and friends sometimes. So much so they've been there for many of the important moments in my life."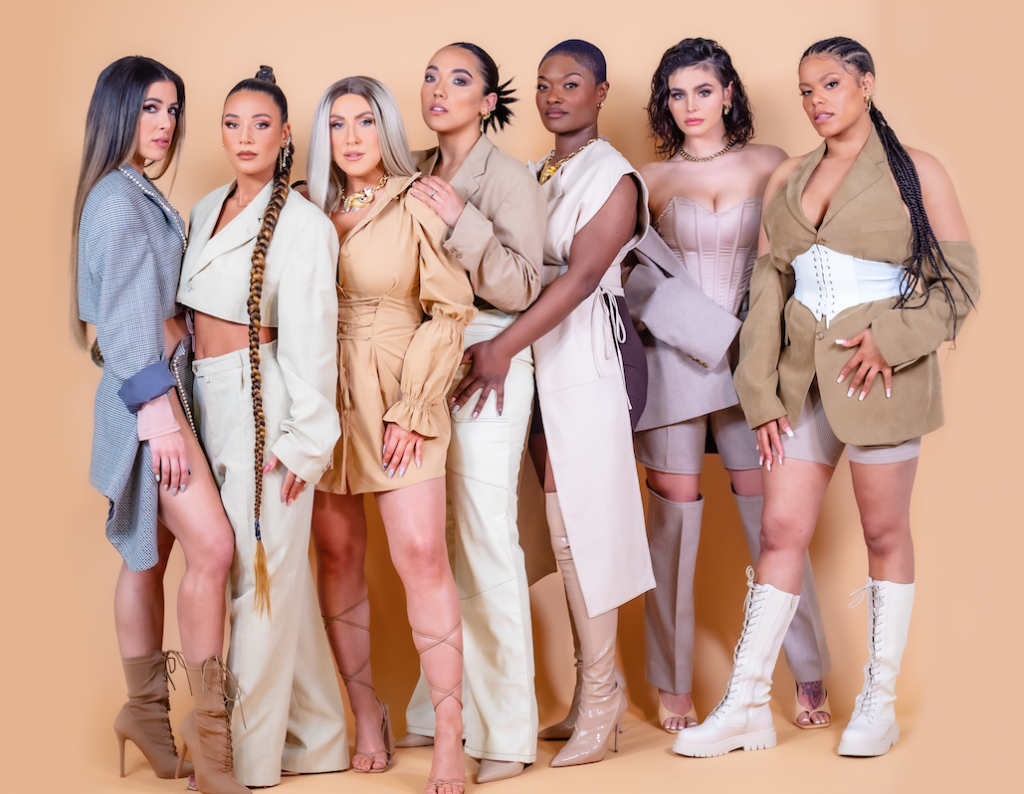 A friendship and a bond that is extremely evident as talk moves on to their first ever headline show which has sold out and has seen fans camping overnight to get a good spot for the gig. Something you equate with Louis Tomlinson, Harry Styles, Lady Gaga and many other artists who have established huge and loyal fanbases. It's something SVN before they've even performed their own headline show. It speaks of the potential the band have to take the charts and the world by storm.
"It's mind-blowing to see them out there. They've been camping out there since the early hours and were here when we got there. Wearing our merch and here to see us. It's surreal but lovely, they are very dedicated and it's because of the fans we get to do this" says Jay with the others nodding in agreement.
The general mood within SVN is upbeat and tinged with excitement and anticipation ahead of the show after a successful soundcheck. "I feel really nervous" admits Maiya "That was a bit candid," she says smiling, uncertain of if she should have said it. The girls quickly either reach out to hug her or reassure her, highlighting just how tight their bond is. A quick discussion ensues as they talk over each other discussing why nerves are good and healthy if you channel them right. And channel them Maiya certainly does as later that evening on stage there is no sign of nerves and Maiya and the rest of SVN are on point vocally and smash all their choreography.
They are a band that knows how to put on a show and seeing the energy, vocals, choreography and how they ran things again and again during sound check until all seven of them were happy. they are a group that will own whatever space they perform in.No matter how big or small. Filling it with an infectious energy that has you singing and dancing along, regardless of if you know the track or not.
Case in point was SVN premiering their brand new single "Boss" for the sold-out crowd. "I'm really looking forward to performing it" Grace says "We can't wait to see everyone's reaction as it's a very different sound to what we've released before." adds Millie, "We are really proud of it, and I think I can speak for all of us when I say it's the one we can't wait to perform." finishes Aimie.
The band write their own songs, Queen, Free and the new single "Boss" is the SVN pop sound we know and love with a merge of hip hop & rock. The drive throughout the song from the orchestration & vocals encapsulates the boss energy of the SVN women and sets out to empower all communities. With united chants 'we didn't come here to PLAY!' there's the light and shade of classic SVN legato layered harmonies with a hard-hitting staccato chorus on top, showing the gentleness yet toughness of womankind.
"We all have our strengths and know what each other is good at so it's really easy for us to all get together in Aimie's living room and just write a song. Because we know each other so well and have respect for each other's talents and strengths, there are no egos and we can come up with a track in 5 hours sometimes," explains Jay.
"SVN is our passion project. We all love it. Working together, writing together. It all feels so natural and we all what to continue to grow it and spread our message worldwide." says Natalie.
As I leave the band with hugs from each and leave them to get ready for the show and meet and greet, I can't help but wonder what the future holds for SVN, and where they will be next we chat…Wembley Stadium perhaps or Madison Square Gardens perhaps? As they collectively have the talent, motivation and devoted fanbase to achieve all they set out to do.
You can find more about SVN, here!