Maty Noyes is undeniably making waves in the music industry with her sharp tongue and remarkable talent. Although she first started releasing music in 2015, the "in my miNd" singer continues to capture the attention of millions of new listeners around the world to this day. Most recently, Noyes released a brand new single, "Lighter Thief," which features her signature vocals and follows her last single, "444." In an exclusive interview with CelebMix, Maty Noyes opens up about "Lighter Thief," upcoming projects, and more.
What can you tell us about your new single, "Lighter Thief," and the inspiration behind it?
I manifested this song when I was 13! I wrote the title down in a notebook – knowing one day it would come to me when it was meant to and this past year it finally did. "Lighter Thief" is a love song about the acceptance that it will never be perfect and that's ok as long as you feel alive and don't border too much into toxicity.
I wrote this song with two of my best friends and my boyfriend last summer. Our friends from Sweden were in town, staying with us, and when Hillbom started playing the chords on guitar, it was only a matter of seconds before the melody came pouring out and we all knew how special it was. Within the next day or two, we went downstairs to my studio and started to track and write the song.
I wanted to song to be about how the music made me feel when I heard it: nostalgic [and] a little broken-hearted with a stronger sense of perseverance. A lighter thief has a negative connotation with it – someone you might not want to like but can't be too mad at because stealing a lighter is nothing astronomical. It's just annoying and kind of rude, but maybe it does allude to deeper issues that could grow in time. This song isn't about worrying about the future – it's about embracing the now and the pain as it comes and learning to love it and be at peace with it. A lot of people want to give up on love so easily, but if there's something special there, I won't give up without a fight, because good people are worth not giving up on.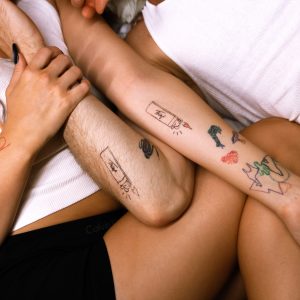 What do you want listeners to know about the"Lighter Thief" music video?
I wanted this video to show true story real intimate moments that happen in relationships behind closed doors, individually unique to this specific relationship. I sat down and really thought about what those moments were that no one else sees. The video is honestly just telling the truth through visual form.  I wanted people to feel like they almost shouldn't be watching it because it's so intimate. We also mix those shots with very cinematic Alexa shots that symbolize the overall deeper meanings of the song. Setting love on fire and letting it burn because it's better than feeling nothing at all – embracing the painful side of love and becoming one with it.
This single is part of your upcoming project, "Rainbow Syndrome." What can fans expect to hear on this new project? Will there be any collaborations? 
On this project, the only collaborations are my multiple personalities interacting with one another. Expect to be surprised, but each song takes on a life and story of its own honoring each emotion I go through through the lenses of the colors of the rainbow.
Speaking of collaborations, you have worked with some amazing artists and producers like Kygo and The Weeknd. Who else do you hope to collaborate with in the future?
My number one dream collaboration has always been and will always be Mark Ronson. I truly believe we would pull something amazing out of each other! I would die to collaborate with Kali Uchis as well. In my opinion, she's hands down one of the best artists of our time. I'm also currently obsessed with is Remi Wolf!
And for fans just discovering your music, what do you want them to know about you and the art you've been creating? 
This is a full circle moment for me. I started this journey on my own at 12 years old, and this is the first time, at 25, that I've regained control of my career. I truly have no expectations. I'm just so happy to get to do what I love again without the confines of people who don't get me at all. These songs and visuals are 100% me and I've never felt so aligned and proud of my music. There's something for everyone! These songs were created with no limits, no boundaries, and no rules.
What else can your listeners look forward to in the near or distant future?
Endless amounts of music and hopefully a tour soon so we can all sing these songs together!
Follow Maty Noyes on Spotify and Instagram.