She was the 8-year-old internet sensation from Essex, who's animated, word-perfect rendition of Nicki Minaj's 'Super Bass' made her a star around the world! And now, 11 years on from experiencing her first taste of fame, Sophia Grace is back to dominate the pop landscape once again, with the release of brand new single 'Little Things'.
---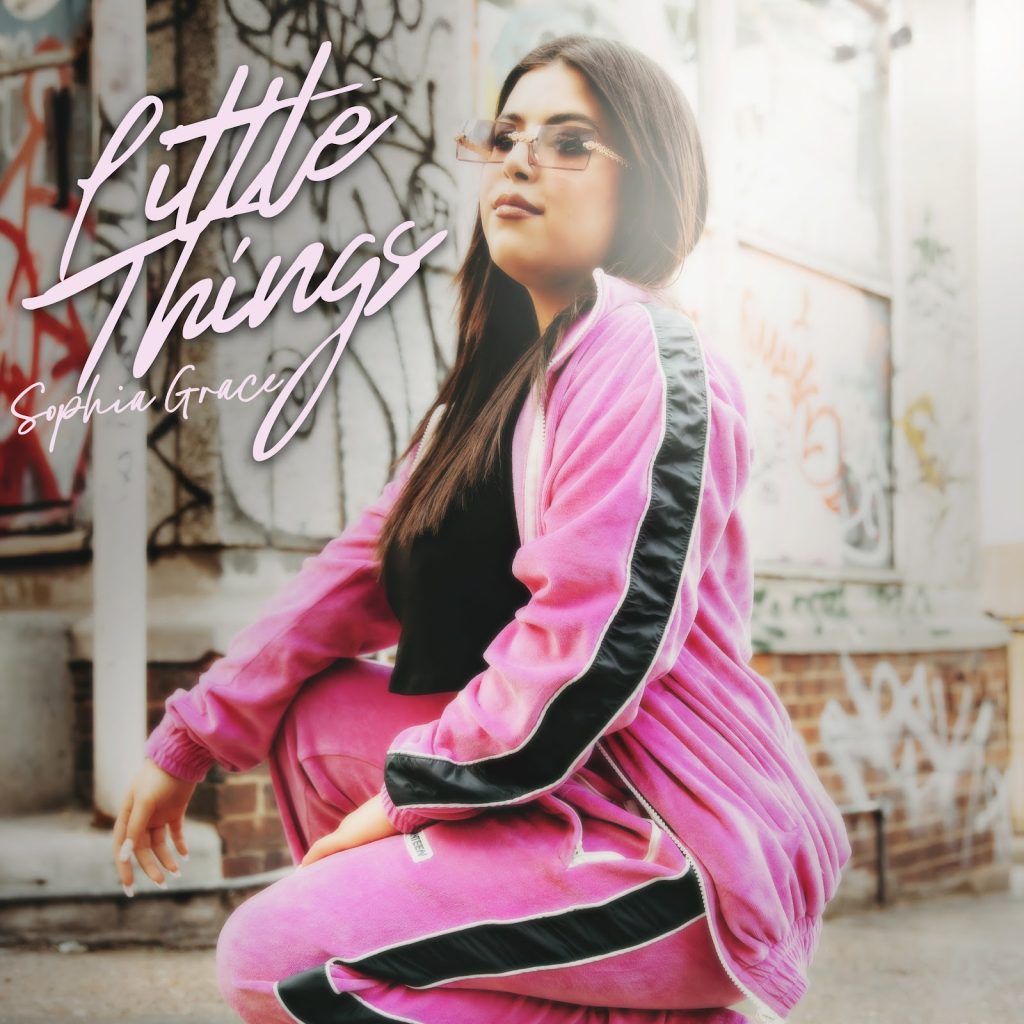 ---
"This single really marks the beginning of a new chapter for me." Sophia tells us from her family home in the East of England, as she reflects upon the current status of her recording career in 2022. "Don't get me wrong, I'm proud of everything I've done and all of the songs I've released in the past, but because I'm obviously a little bit older now, I have more of a vision and more an idea of the kind of music I want to make and the artist I want to be, and I feel like 'Little Things' is a really good representation of that."
Co-written by Sophia along with Grammy-nominated songwriter Tony Dixon (Beyoncé, Ariana Grande, Jessie J) the 00's inspired R&B/pop bop serves as somewhat of a re-introduction to fans of the now 19-year-old, something of which she admits both excites and terrifies her in equal measure.
"I think what I love most about this song, is the message behind it." Sophia says when asked about the singles poignant lyric, and why she felt it was the perfect track to kickstart the next phase of her career. "I think nowadays everybody feels like they have to live up to a certain standard because of what they see on social media, which is an impossible thing to do because half of the things we see online aren't even real, so this song is a sort of reminder to people that life is all about appreciating the simple things, that we can all take for granted sometimes."
Admitting she too can fall victim to experiencing bouts of social media envy, Sophia adds: "Listen, I do it myself, I'll be scrolling through my Instagram feed and thinking to myself 'why don't I look like that?' or 'why isn't my life like this?' you can't help but get sucked into that way of thinking sometimes. I think for girls my age, and for boys too, growing up in this era of social media can be quite daunting sometimes, so we have to really stand strong together and support each other – we're not always as alone as we feel, and it's important to always try to remember that."
In a bid to further showcase Sophia's growth as an artist, the songs message is brought to life in the form of the singles accompanying music video, shot on location in the capital and directed by Akash Bagga.
"I love London – I think it's such a beautiful city, so I was super happy when I found out we were going to be doing the video there." a smiling Grace says clearly giddy with excitement. "There are so many amazing landmarks to visit, and things to see and do, so it's cool that the video showcases all of that." As for her favourite scene in the super slick clip, Sophie explains: "Ok so there's this scene with Big Ben in the background, and we filmed it in the exact spot that Nicki Minaj filmed her music video for 'No Frauds' – how cool is that? I hope she sees it!"
---
Sophia Grace 'Little Things' (Official Music Video)
---
For somebody who has grown up in front of the camera, and appeared on television screens around the world, we wonder how Sophia feels performing now as a young adult… "I'm quite a shy, introverted person so it can be quite daunting to shoot a music video, especially when you're filming on the streets of London and people stop and watch you!" Sophia laughs. "Which is totally understandable, I'd do the same, if I saw somebody filming something I'd be curious to see what was going on, but when you're the person people are looking at, your mind can kind of play tricks on you, and you think 'are they watching because they think I look stupid?' which I know is really bad and I shouldn't think that way, but sometimes I just get too in my own head and second guess myself. But you just have to tune it out, and focus on what you're there to do… and maybe just pretend to be confident (laughs) I'm good at that!"
It seems hard to believe that it has been over 10 years since Sophie Grace, along with her then 5-year-old cousin Rosie, first made her way over to America to appear on 'The Ellen Show' having been discovered by the comedian and talkshow host Ellen DeGeneres. Keen to showcase the duo's talents to her audience, the girls were invited onto the show to chat with DeGeneres and also recreate the infamous performance of the iconic Niki Minaj track that resonated with people around the world.
"We honestly didn't plan any of this." Sophia says still clearly in somewhat of a state of disbelief at the events that followed the clip going viral online. "So many of my family and friends would say to my Mum and Dad 'oh so she's so good, she's got a great voice, you should put up a video of her singing on YouTube' but they were always totally against the idea because they just felt that I was too young."
"Anyway I think they'd just had enough of everyone going on about it (laughs) so one day when Rosie was round at my house, my Auntie Danielle took out her iPhone – everyone else in my family at the time had a BlackBerry and the cameras weren't as good – and filmed us, they uploaded it online and that was it, we really didn't think anything of it."
"I can't really remember everything exactly as it happened in real time, but I do know I was super excited when they told me that Justin Bieber had posted or retweeted the video… I mean, can you imagine, you're 8 years old and Justin Bieber is sharing a video of you singing? It's crazy isn't it?!"
"A few days or maybe weeks after the video had gone live, my Dad randomly got a call from one of the producers at The Ellen Show whilst he was at work. He used to be a cab driver so he had to pull over to answer the phone and he didn't have a clue what the producer was talking about because he'd never even heard of Ellen or of her show before! He always says when he put the phone down at the end of the call he googled 'The Ellen DeGeneres Show' and got the shock of his life!"
---
Sophia Grace's Show Stopping Performance!
---
In the years that followed their debut appearance on the much loved talkshow, the duo regularly hit the red carpet as correspondents for Ellen, became New York Times best-selling authors for the children's book 'Tea Time with Sophia Grace and Rosie', and starred in the motion picture 'Sophia Grace & Rosie's Royal Adventure' which went on to become a ratings success on Nickelodeon.
"Everything happened so quickly at that time!" Sophia reflects. "In some ways it feels like it was just yesterday, but in others it feels like a different lifetime. Surprisingly though, I can remember quite a lot of what we did, like I said maybe not exactly as it happened because I was so young, but overall I feel like I have really clear memories of all of the amazing things we got to do and people we were able to meet… I mean we hung out with Britney Spears, Rihanna, Justin Bieber, Katy Perry, Taylor Swift and One Direction… it's crazy! 
Almost pausing to catch her breath, and to take in the enormity of the experience, Grace continues: "I still can't quite believe all of the opportunities we were given back then – I'll always be so grateful to Ellen for everything she did for us. And in some ways I'm even more grateful for Rosie, because this whole experience wouldn't have been the same without her. We were already close anyway, but this just made us even closer because nobody else can really understand what we went through back then; it was such a fun way to grow up, I wouldn't change a single moment."
---
"Can you imagine how crazy it was to be 8 years old and have people like Justin Bieber posting about you on social media? I still can't quite believe it!"

Sophia on still trying to grapple with events of the last 10 years.
---
As two young girls, catapulted into the world of show-business seemingly over night, it's refreshing to hear that whilst Sophia's day-to-day life changed, the people around stayed the same – something of which the teenager remains forever grateful for.
"There's no denying that all of our lives changed once that video went viral!" Sophia says matter of factly. "And it wasn't just Rosie and I who's world was turned upside down (in a good way), things changed for our families too. We'd go back and fourth from America to the U.K. about three or four times a year, so we'd miss quite a bit of school and have to be tutored at home, but I don't feel like we missed out on anything and everyone at my school was so supportive of me! People would do drawings of us and write us little cards when we'd come back, it was so nice and I love that nobody treated us any differently… there was no reason for them too, just because we'd been on T.V. and been out to America didn't mean we were better than any of our friends."
In what was sure to be a full circle moment for all involved, both Sophia Grace and Rosie were invited to appear on the programme for one final time last month as part of the shows final season. We wonder how it felt walking back onto set and meeting DeGeneres after all these years?
"Going back over to the states, seeing Ellen and being on the show again super emotional. But I'm so, so happy Rosie and I were able to do it – it was like going back home, and seeing all of the friends we'd made over the years! People seemed really emotional to see us, and we definitely felt emotional seeing them – it was lovely! But I'm sad that the shows ending though, it feels really bittersweet. Like I said, we have so many amazing memories associated with the show and the people, it feels bit overwhelming to think that all of that is over now. But, they've had an amazing run haven't they, and all good things come to an end…"
---
Sophia Grace and Rosie's Best Moments on Ellen!
---
As the saying goes, "every ending is a new beginning" so as she closes one chapter of her life, and embarks upon another, we wonder what plans Sophia Grace has, both personally and professionally, moving forward… 
"There is so much I want to do! Because I was so young when I started out, I couldn't always do everything that was offered to me, but now I have a bit more of choice and I'm able to do a lot more… though I will only ever do what I believe in, and music will always remain my main focus."
"So with that in mind, I'm looking forward to going back into the studio soon. I'm really inspired by artists like Olivia Rodrigo at the moment – I love her lyrics and hearing what she has to say about life and relationships, it makes me want to get into songwriting more and really learn how to be better at it.
Does she ever consider what her life might have been like, had her Auntie not posted that now infamous video clip online for the whole world to see? "Do you know what, I do sometimes, and it's mad to think about! My dream was to go to university and become a doctor! Seriously, I would have loved to have gone to med school and studied more… maybe one day I will!
"I know I said it after the start of our chat, but this feels like a new beginning for me, and I'm really excited about the future, I can't wait to see what happens next!"  
'Little Things' is available to download / stream now.
---
Let us know your thoughts on Sophia Grace over on Twitter @CelebMix now!