2020 was without doubt a truly transformative year for Rak-Su – the unrivalled English R&B supergroup made up of Ashley Fongho, Jamaal Shurland, Myles Stephenson and Mustafa Rahimtulla – as they set about re-branding and relaunching the next phase of their already phenomenally successful musical career.
Having gone back to basics to hash out and remind themselves of what it was that first inspired them to embark upon this journey into the world of pop, the band find themselves in a positive, fresh and harmonious place, invigorated by their new found clarity, and united in their shared vision for what they want their future as a collective to look like.
And with the release of 5 massive hit singles in the last 12 months alone – including their brand new track Left Right featuring Zimbabwean singer Donel – and a near sold-out U.K. tour scheduled for this coming September, things are looking pretty good for the four best friends.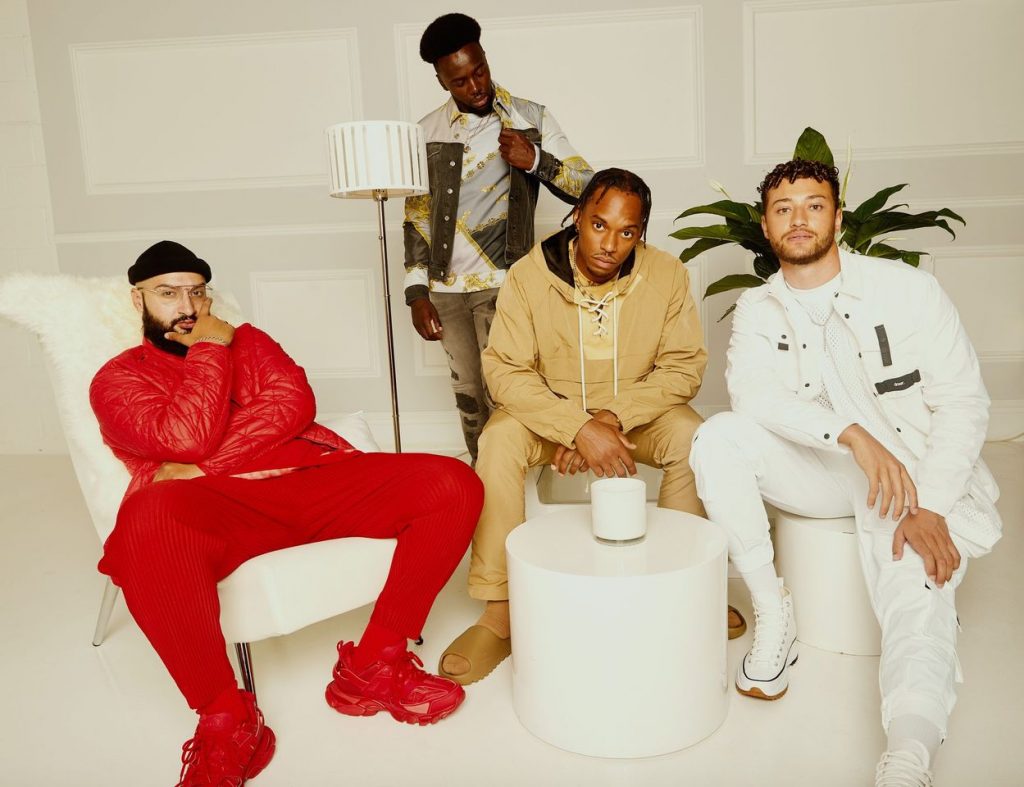 "At this point in our careers, I think it really helps that we all have the same common goal for the band." Jamaal says as we start to catch up on life since we last met, and discuss the groups current psyche at the dawn of a brand new year. "We have our goals set, and we're ready to work for them. We're not going stop – we're going to keep going, and going, and going!"
As an independent act, fiercely devoted to their craft and in total control of their destiny, the boys of Rak-Su finally know what they want, and they're no longer afraid to go out there and get it…
Congratulations on the release of yet ANOTHER top-tier, R&B/pop banger! Can you tell us a little about 'Left Right' and the inspiration behind it?
Ashley: We were in the studio one day talking about being at a party where people are too shy to get up, dance and just enjoy themselves! So we wanted to write something to just say, "don't worry about getting up and dancing – do anything you want and have fun!"
The track features guest vocals from the super-talented Donel – there's an electrifying chemistry between the four of you, how was it collaborating with him?
Jamaal: Donel is a really good friend of ours, in fact he's more like a little brother to us, so working with him was great! Us getting in the studio together was long overdue, and hopefully we'll do it again soon – we talk all the time as mates anyway, so we'll see what happens.
The video looks like it was a lot of fun to make! (We particularly love the choreography and dance break towards the end!) What was your initial concept and vision for the clip, and how did go about bringing those ideas to life?
Ashley: The video was linked to the idea of the song to be honest. We wanted to create that party vibe and just tell people to relax and have a good time! As far as the day we shot it, it was so much fun! Ray Fiasco was the director, he's amazing and everyone on set had a great time.
Rak-Su featuring Donel – Left Right (Official Music Video)
As with previous singles, you've hooked up with uber producer Ebeneezer, who adds an undeniable magic and flavour to the track, how would you best describe your dynamic making music with him in the studio?
Myles: It's been great working with him again – we have a great, great connection with him, and I think a genuine understanding of how we all each work best. The dynamic between us is so much more than that of 'artist and producer'; because now I'd say it's more like a brotherhood to be honest with you. And I've got to say for me personally, Ebs is one of those people in the industry that I really look up to! He's for sure one of the best producers I've ever seen in my life, and his writing ability is also phenomenal as well. He's like a diamond in the rough, and he's getting some big cuts now with some incredible artists so I'm excited for him – he deserves it, because he's been working so hard.
Jamaal: I completely agree, the man is a genius! There's a genuine chemistry there between all of us, which I personally think comes across in the music we're making with him.
You've released 3 tracks so far from your upcoming EP – what kind of style and sound can fans expect to hear on the rest of the extended play?
Ashley: The rest of the EP is going to a little more Afro, and there are also two garage songs there as well! One of them has been produced by Myles – so that's something we're really looking forward to as well! He's been working hard to develop on that side of things, and he's so good at it (producing) now! Overall it's still very much the sound of Rak-Su, but it's a step up.
We imagine releasing new music during a global pandemic throws up a number of challenges! Is it fair to say social media has been a huge help to you, in terms of as a way to keep this latest campaign going?
Jamaal: Oh definitely, it would have been a huge challenge for us to do all of this without social media – in fact doing this in lockdown, with no social media would have killed this campaign for sure… I don't know what we would have done! Without having these sites and platforms that allow us to create content to make that connection with our audience, we would have been done for! We had so many ideas that we had to rework, and so many things that we had to change, but I think in a way it made us more focused and more determined to get this music out there to the fans.
Ashley: We'd have had to go old school and do what they used to do back in the day, handing out leaflets to people in the street advertising that our single was coming out or go knocking on doors and do a sort of Rak-Su style carolling (Laughs).
Rak-Su: Who Am I? (Black Lives Matter)
As we've all seen lately, when used in the right way social media has the power to do some much good! But on the flip side to that, there is a dark side to the online world that can be sometimes hard to deal with, how would you best describe your relationship with the internet and social media in 2021?
Ashley: It's something we've had to learn to be quite disciplined with – right now you're speaking to us in a moment where we're quite happy, focused and we feel good about the direction we're going in as a band, but… to be really honest with you, it hasn't always been like that. There have been moments when we've felt a little bit lost, and like people didn't really believe in us and as a result our own self-belief started to waver and it became quite difficult to be engaging on social media, because when you're feeling anxious about things that are going on in your life behind the scenes, you don't want to live a lie by putting on this front pretending like everything's perfect when it's not. On the flip side of that though, we love to use it as a way to connect with our fans! And it's cool to see first hand people enjoying the art that we've created, and relating to the messages that we're putting out there – it's a beautiful thing, and that's the positive side of social media that we all need to focus on.
Being a group and having that infrastructure around you, and feeling that support during those difficult times must provide a huge sense of comfort for each of you?
Ashley: For sure! It totally helps having your brothers around you – supporting you when things are bad, and equally when things are good too, because it's important that we enjoy what we're doing, and celebrate when things are going well for us.
Myles: And to add to that, I'd say overall we are all pretty happy right now. I think everyone's in a good place at the moment – we're excited about this new music we have coming out, and we're feeling positive about the future of Rak-Su.
Ashley: I agree! We have so much fun together, how could we not be feeling good about what we're doing! When we filmed the music video, although it was a really, really long day, by the time we got to the end of it I sort of realised to myself, we'd just been laughing from the moment we got on set, to the time director called cut! It was like a 12 hour shoot and we just laughed and joked around the whole time; it was amazing!
Myles: (Nodding) We always enjoy each others company – nothing can put a downer on things right now. 
Just talking to you and watching you interact with one another, the synergy between the three of you is palpable…
Jamaal: That's cool, I like that you say that because it's not something we ever feel like we have to force, it's a natural thing that just happens when we're together.
What do you think has helped to strengthen that bond over the years?
Jamaal: Well… I mean, listen the basis to all of this (the band) is friendship and our shared vision for what we want to do together as Rak-Su, and that's to make really great, infectious music with a message. I'd also say, that because we've been through so much together, there's an unbreakable bond there that only gets stronger because of what we've been through.
Myles: We build each other up and we're there for each other no matter what! All of this, the music, the videos, the tours, it's our dream and we're getting to live it together as brothers – I'd have never believed any of this was possible without the others.
Ashley: I think the way we encourage each other makes us stronger too. I think it's so cool to watch these guys develop and grow. And through that development, we've managed to come out with some really good records over the past year or so, because during that time we really pushed ourselves into a greater creative space and as a result have come up with some of the best music, I personally think, we've ever made. So… and I know we keep saying this, but this really is an exciting time for us, because not only have we re-ignited our passion for music, but we've also transformed ourselves and our creative energy into something magic.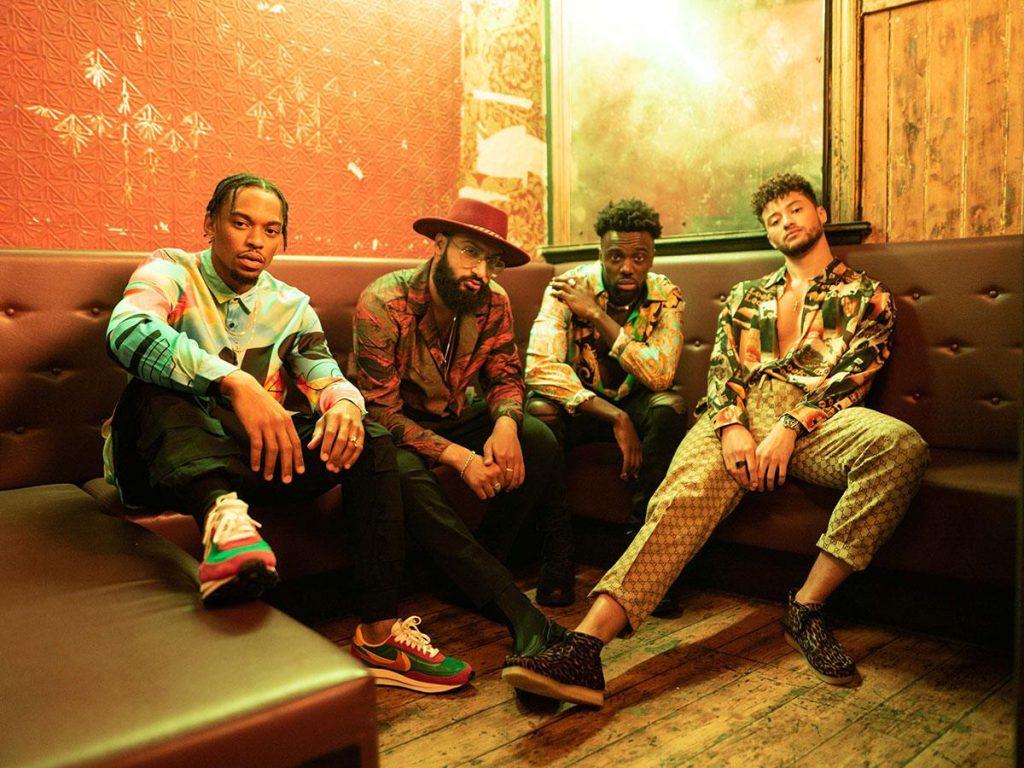 Looking forward to the rest of 2021, fingers crossed you have a tour coming up in September…
Ashley: Man, the tour is the one thing we can. not. wait for! I think for me, touring is the best part of what we do – just being out on stage in front our fans, performing the music we've written feels like nothing else! Sharing that energy and that connection with each and our audience is amazing.
Jamaal: This tour is going to be one BIG party – all good vibes! We love to interact with the fans, and be honest about how we're feeling in our music, but when it comes to our live shows, it's all about having fun. Anyone that comes along, just know it's a safe space for you all to just have a good time!
After all this time, and those moments when you felt unsure about what direction to take the band in, it must be a pretty good feeling knowing that some of the dates have already sold out?
Ashley: Yeah, you're absolutely right! To know that we sold out some of the shows so quickly, and then had to add extra dates was an amazing thing for us – it gave us a lot of confidence and motivation to keep pushing forward. And depending on what happens with the pandemic and all of the safety precautions we have to take, fingers crossed, there are some dates we have on hold…
And knowing that there's still an audience out there, and a demand for Rak-Su four years on, how does that feel?
Myles: It feels… amazing! (Laughs) It feels so good; we're so happy to still be here doing this.
Ashley: I think we said this to you before, but we really have laid the foundations now for what we want to do going forward… and there's nothing holding us back, we're going to keep going, and keep working!
Jamaal: That's right! We're keeping working, dreaming and believing, because once you believe in your dreams, and you're prepared to work for them; you're going to win! And I feel like as long as we keep going on this path, then this (being in Rak-Su) is something we could still be doing when we're in our 70's!
Stream Rak-Su's latest single Left Right here. Tickets for the bands September tour are on-sale now.
---
Let us know your thoughts on Rak-Su's new music over on Twitter @CelebMix now.