At CelebMix, we enjoy delving into the world of music and introducing our readers to rising artists who have the potential to become names for themselves in the future. This month, six new, up-and-coming musicians caught the attention of our music radar with their captivating new tunes, and we have fallen in love with their spectacular soundscapes. From profound lyricism to velvety vocals to heart-stirring melodies, these are some of the excellent new tunes that you must add to your playlist right now.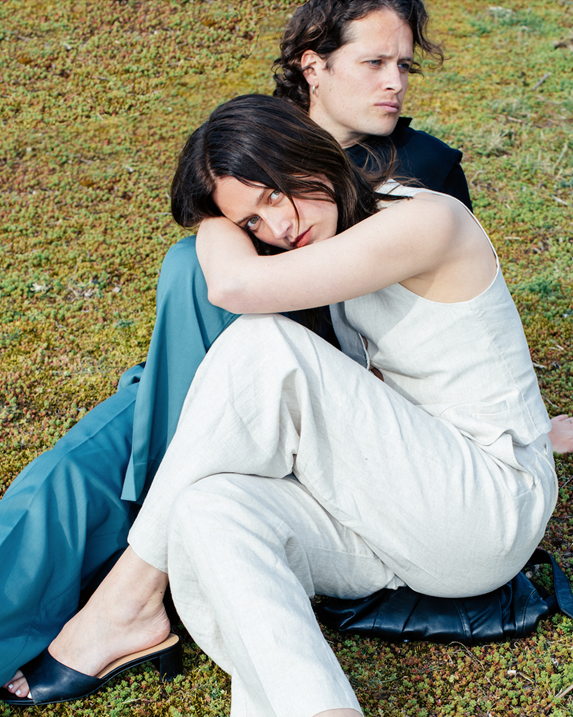 'A Little Piece Of Heaven' – whenyoung
Seamlessly blending their way through indie-pop and punk rock music, the West Ireland-based duo whenyoung exemplifies their constantly developing sound and musical styled, reflective in their new single, "A Little Piece Of Heaven." The song contemplates the boldness and haste of childhood to grow up with the naïve aspirations of adult life that fade over growing up. We realize that the simple things and brief moments of happiness surrounded by people you love matter the most in the long run of life. The duo, whenyoung, is passionate about adding identity and narrative to their music, experimenting with visual components to elicit sentiments and tell stories, and finding inspiration in different artistic mediums, including films, music, and photography.
---
'paint my nails' – hunter505
Hunter505 unveiled their latest melancholic yet empowering single, "paint my nails." Adorned with velvety vocals and an anthemic ambient built on prim bass, sharp percussion, and hushed guitar notes, it strikes the perfect balance between emo vibes and lush pop styling. The single lays the foundation for a tumultuous yet emotive journey, balancing effervescent instrumentation and carefree vibes, imbued with an earnest, impactful message about inclusivity and pushing back against gender stereotypes and toxic masculinity.
As described by the singer, he found inspiration while contemplating the love stories of younger generations in the post-modern, gender-fluid society. "As someone who has realized the negative impact of toxic masculinity on me and everyone else around me, it is important to me to push back against traditional gender stereotypes and liberate individuals to feel comfortable to fully express their genuine selves," he said. Within songs that shift from jubilant to reflective, the singer has deftly displayed his talent for investigating and addressing issues of love, pride, self-awareness, and mortality.
---
'Hooked On' – Don Amirio
Rising artist Don Amirio released a new track, "Hooked On," that explores the conflicts in his relationship while still holding on to his partner. Through soulful and emotive sonics, Don has honed a skill for blurring the lines between rapping and singing. Introspective lyricism, flowing musical compositions, chill soundscapes, and gentle yet deliberate beats bring the track to life as it delves deeper into emotional realms. The song excellently weaves a melancholic touch to the soft, fragile vocals into the heavy reverb of guitar sounds.
This song captures the feeling of sometimes thinking things may not be right, yet still feeling "Hooked On" to the other person. The song is yet another great addition to his music trajectory. He constantly explores the themes of despair, loneliness, self-discovery, and a longing for a deeper connection with unique twists and turns, which will definitely tug at your heartstrings.
---
'My Eyes Only' – Precious Pepala
Even at such a tender age, Precious Pepala has a silky voice and understanding of lyricism beyond her years that exudes universal sentiments that speak to her generation. The song is a stunning introduction of the singer to the modern pop music scene with a promise of a promising future beyond, thanks to her soaring vocals dripping with vulnerability which shies away Precious from everyone hiding her emotions.
Speaking about the track, Precious stated, "My Eyes Only' is a song about guarding your emotions and not wanting other people to see you vulnerable, especially in romantic relationships. The lyrics are a true and honest confession about how the way I want to be perceived sometimes contrasts with how I really am."
---
'Broken Record' – Somebody's Child (Cian Godfrey)
After garnering millions of streams, appreciation for his fan-lauded singles and the 2021 headline tour in UK & Ireland, Cian Godfrey, better known as Somebody's Child, has returned to the music scene with the release of his new single, "Broken Record." The song is unabashedly loud, stadium-ready, and lays out his stall wonderfully. It may be as direct as Cian has ever sounded, making it nothing short of incredible. Against a backdrop of electric guitars, Cian Godfrey tackles issues of adolescence with a combination of resentment and desire. As Cian explained, the song examines his dread of maturing, growing older, and feeling stuck while also striving to rekindle his relationship with his former self and recapture the sense of innocence he once took for granted.
---
'Venezuela' – Robbi Niles
Barbados-born Robbi Niles released bouncy production "Venezuela," with a summer-filled reggaeton soundscape brimming with his echoing love led by his floaty vocal delivery. The R&B-tinged track unveils the story of how Robbi hopes to win the heart of the girl he is chasing, Venezuela. The song is a tropical treat that finds a delicate, harmonious balance between buoyant and sultry. It shows off the genre-blended sensibilities gliding seamlessly through R&B, Pop, Hip Hop, Alternative Rock, Reggae, and Soca, along with his Caribbean influences. He has an innate ability to captivate his audiences with a smooth combination of catchy melodies and a smooth vocal delivery.
---
Share your thoughts with us on Twitter at @CelebMix!